Mass Hysteria Maniac is the seventh album that I do for the group of french metal Mass Hysteria. He came out on . This album is produced by Frédéric Duquesne and masterized by Ted Jensen.

I made the photos and artwork for this album which was released in triplicate. A first standard digipack copy, a second artwork entirely made for the limited series and finally a vinyl with there also a completely different artwork.
The genesis of Mass Hysteria Maniac.
When working on artwork, the concept sometimes happens by chance. The idea of Mass Hysteria Maniac comes from a group meeting Mass Hysteria. The first artwork that I proposed was not suitable: too violent. A direction had to be found urgently. We were looking for something that would make the recorded album resonate, however, everyone's proposals were not unanimous.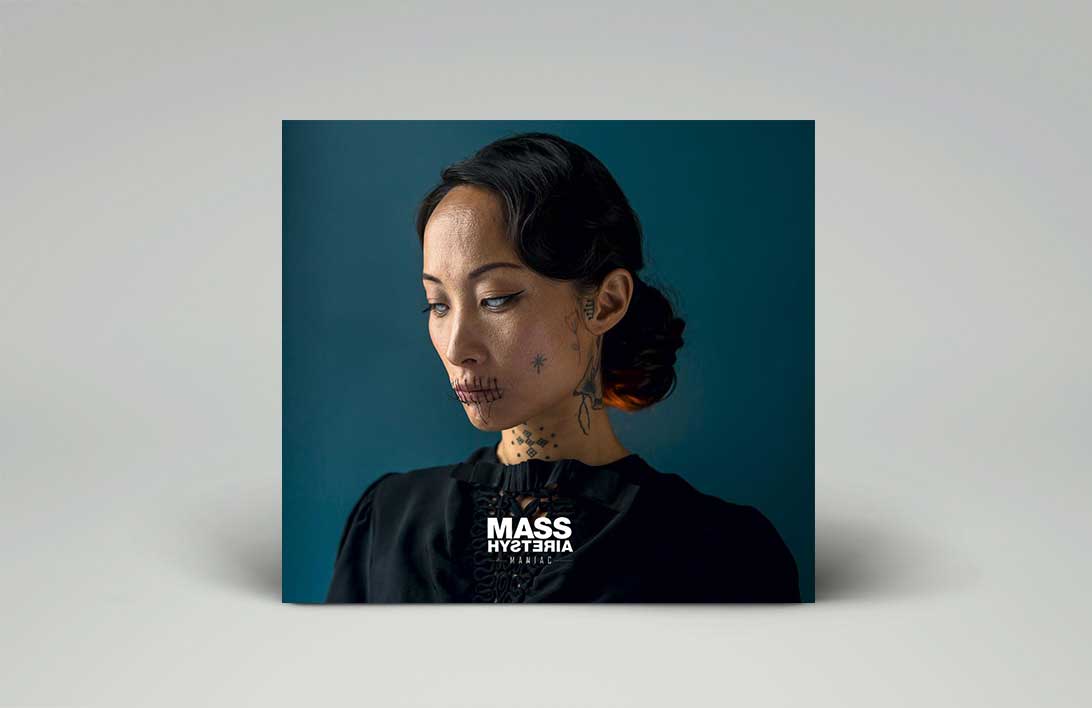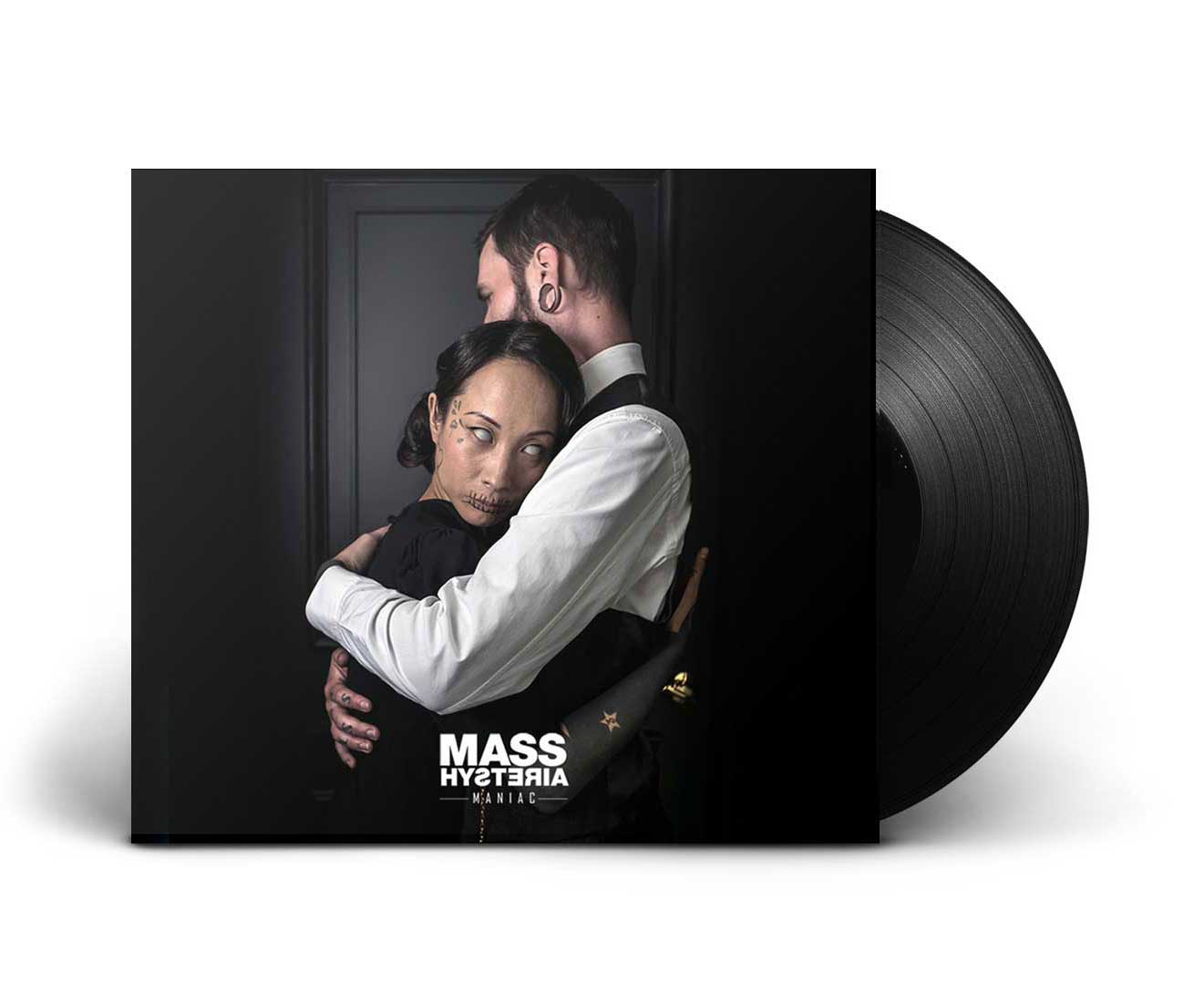 The starting point of Mass Hysteria Maniac was two drawings by illustrator Jean Luc Navette which were on the phone of Yann, the guitarist of the group. He showed these drawings to the other members of the group: the decision was made to go in this direction and create a couple. The band and I love the work of Jean Luc Navette, this drawing of a woman and a man with white eyes was the starting point of the reflection.
A place was found ( Hotel Providence in Paris) and the shooting was organized in record time. I had in mind the idea of having enough material to work on two different atmospheres. The result is three different artworks for Mass Hysteria Maniac depending on the medium (CD, Vinyl, etc.). A result that I let you discover above.
Photos from the Mass Hysteria Maniac shoot.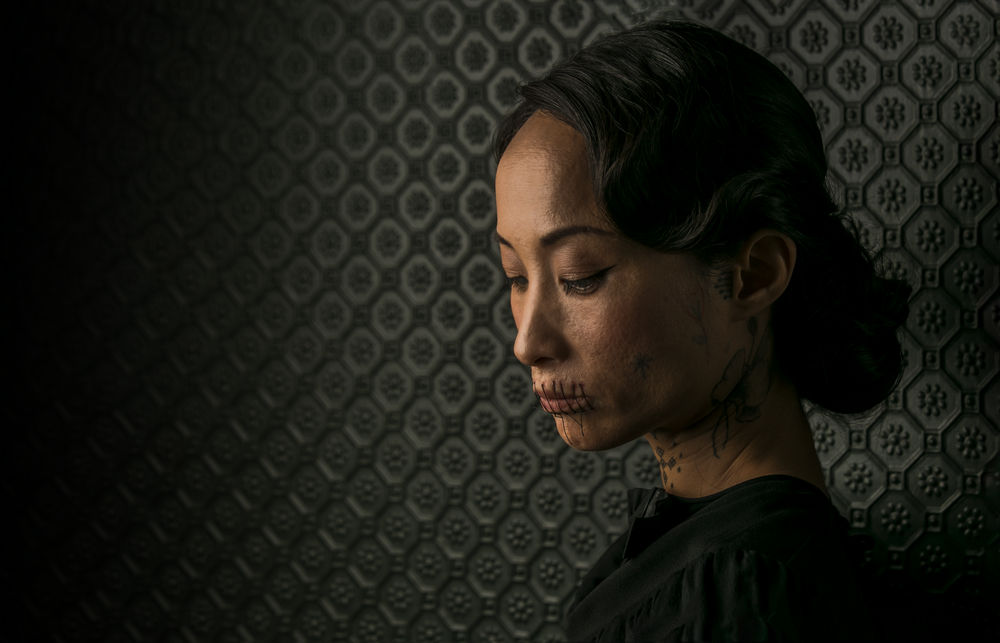 Mass Hysteria Maniac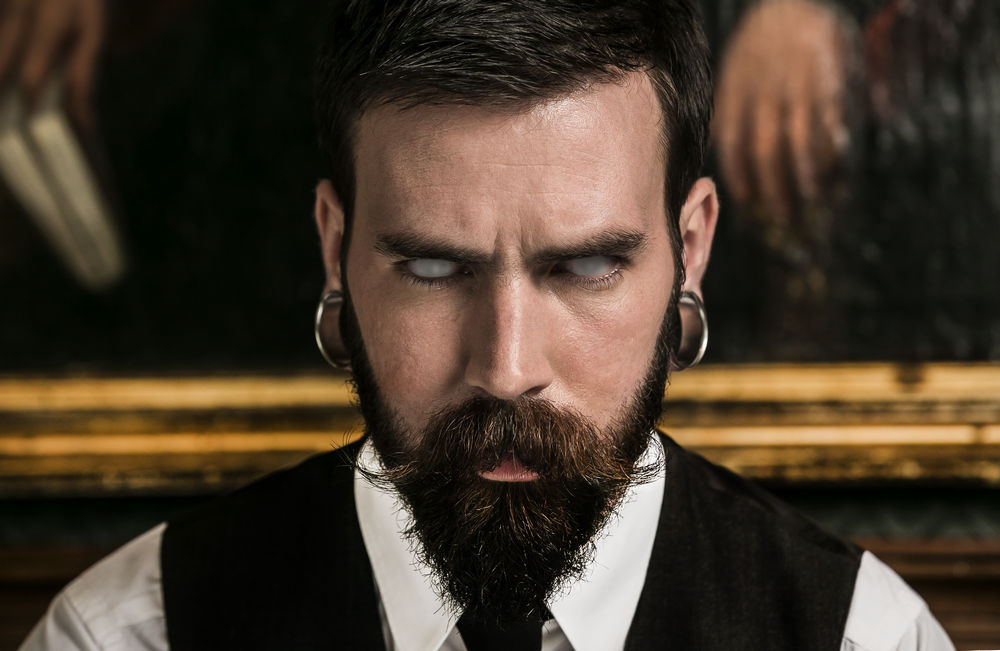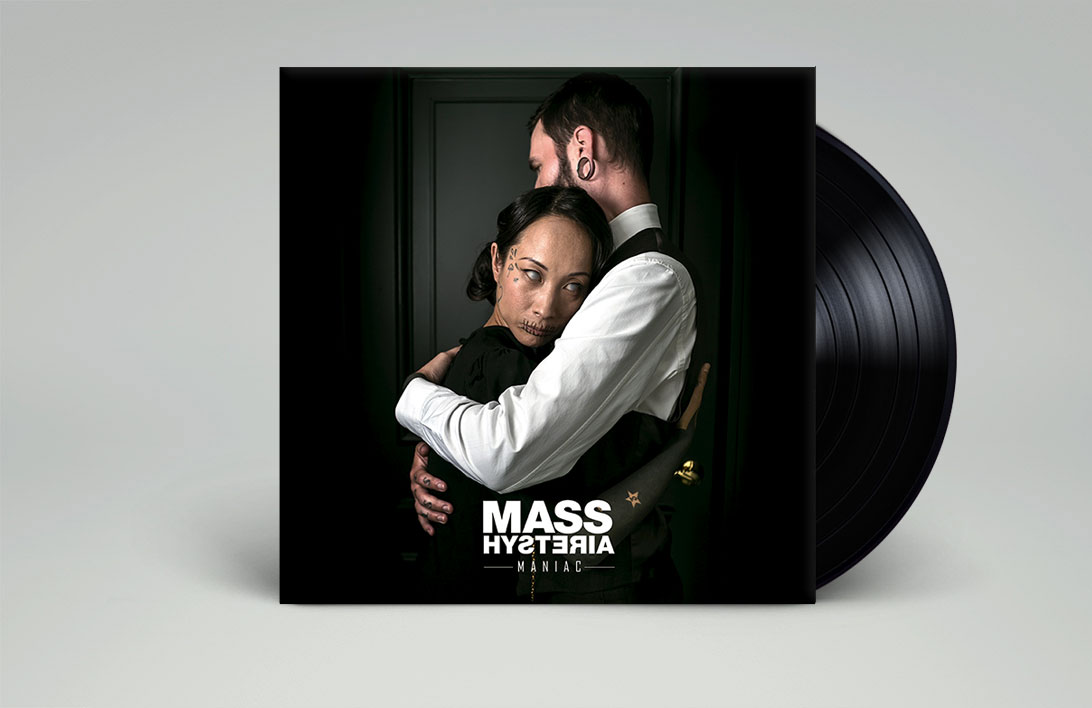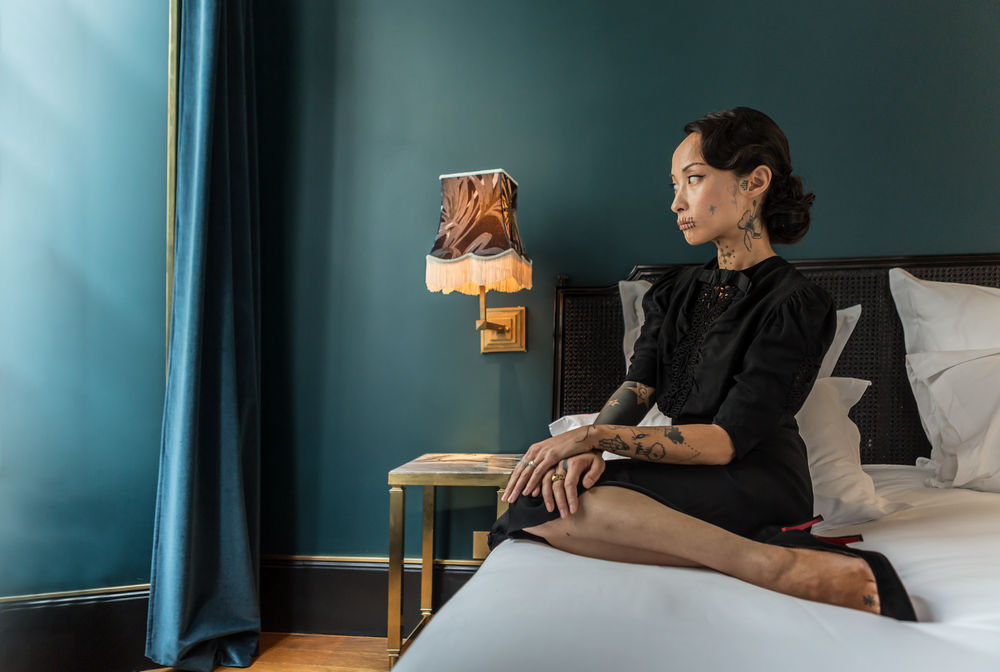 Three years after "Matière Noire", MASS HYSTERIA returns with a new album entitled "Maniac". It is probably the most metal album of all the group's discography. Energy and violence, probably explained by an intensive three-year concert tour. The production, once again signed Fred duquesne which produced the 5th album of MASS HYSTERIA and the second as a guitarist.
01. Take Back My Minds
02. My Niac
03. Share Our Shadows
04. The Heaven Ether Lair
05. Acid Shaman
06. Burn Yourself Surely
07. Blackjack
08. Complex aromas
09. Behind The Lightning
10. We Came To Hold Up Your Mind
Mass Hysteria, the group
Mouss Kelai - vocals
Yann Heurtaux - guitar
Frédéric Duquesne - guitar
Jamie Ryan - bass
Raphaël Mercier - drums
Mass Hysteria Maniac is the ninth studio album by French industrial metal band Mass Hysteria, released on October 26, 2018. Album produced by Frédéric Duquesne on guitar. Mastered by Ted Jensen.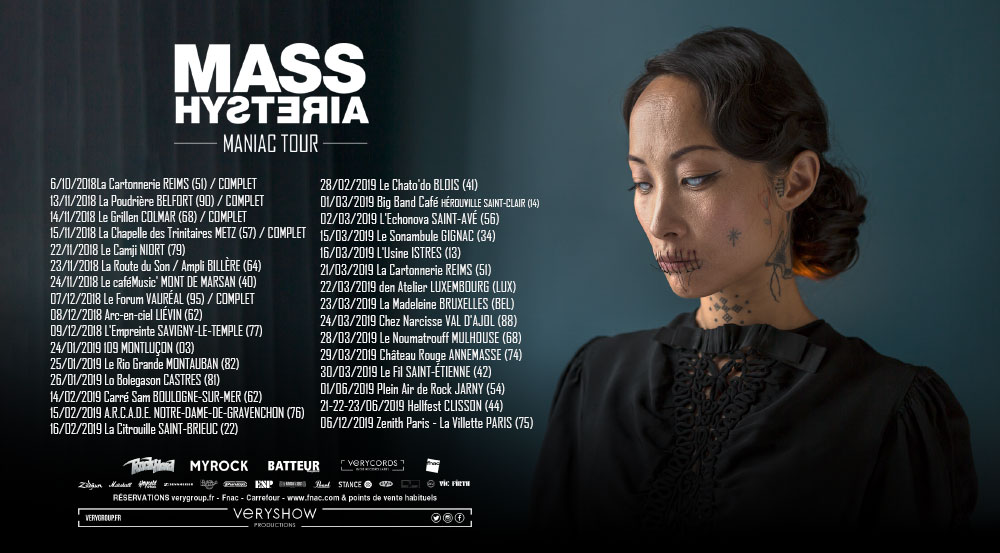 MASS HYSTERIA MANIAC TOUR 2018- 2019
Mass Hysteria Maniac Tour Date 
06/10/2018 La Cartonnerie REIMS (51) / SOLD OUT
11/13/2018 La Poudrière BELFORT (90) / SOLD OUT
11/14/2018 Le Grillen COLMAR (68) / SOLD OUT
11/15/2018 La Chapelle des Trinitaires METZ (57) / SOLD OUT
11/22/2018 Le Camji NIORT (79)
11/23/2018 La Route du Son / BILLÈRE amplifier (64)
24/11/2018 Le caféMusic 'MONT DE MARSAN (40)
12/07/2018 The VAURÉAL Forum (95) / FULL
08/12/2018 Rainbow LIÉVIN (62)
12/09/2018 L'Empreinte SAVIGNY-LE-TEMPLE (77)
01/24/2019 109 MONTLUÇON (03)
01/25/2019 The Rio Grande MONTAUBAN (82)
01/26/2019 Lo Bolegason CASTRES (81)
02/14/2019 Carré Sam BOULOGNE-SUR-MER (62)
02/15/2019 ARCADE NOTRE-DAME-DE-GRAVENCHON (76)
02/16/2019 The Pumpkin SAINT-BRIEUC (22)
02/28/2019 Le Chato'do BLOIS (41)
03/01/2019 Big Band Café HÉROUVILLE SAINT-CLAIR (14)
03/02/2019 L'Echonova SAINT-AVÉ (56)
03/15/2019 Le Sonambule GIGNAC (34)
03/16/2019 L'Usine ISTRES (13)
03/21/2019 La Cartonnerie REIMS (51)
03/22/2019 den Atelier LUXEMBOURG (LUX)
03/23/2019 La Madeleine BRUSSELS (BEL)
03/24/2019 At Narcisse VAL D'AJOL (88)
03/28/2019 The Noumatrouff MULHOUSE (68)
03/29/2019 Château Rouge ANNEMASSE (74)
03/30/2019 Le Fil SAINT-ÉTIENNE (42)
06/01/2019 Plein Air de Rock JARNY (54)
12/06/2019 Zenith Paris - La Villette PARIS (75)
---
Eric CANTO Photographer: Concert photos, portraits, album covers.
Visit my portfolio Visit the blog Visit the shop contact me
The Critique of Mass Hysteria Myniac by MétalBase
Is it still necessary to make the introductions when the name Mass is mentioned? Leader of the French metal for more than twenty years, it is always with undisguised joy that we put to our ears a new record of the Parisians. Three years after the highly acclaimed "Dark Matter", Mass Hysteria is back in the spotlight with his ninth studio album: "Maniac".
Will this new album be part of the group's qualitative discography? On the one hand, the first thing that stimulates our appetite and makes us listen more is the care of production. Still under the direction of Fred Duquesne, also a guitarist, the result deserves applause.
The sound is of surgical precision, the guitars respond superbly to the wild rhythms of Raphaël Mercier's drums. The bass gives the compositions a lot of roundness. The Mouss's voice, brings it, all the energy and the rage that we know it and gives even more values to the whole.
After Dark Matter, widely hailed by the public, a greater media presence and an emblematic gold record certified by Contraddiction, there is no doubt that Mass Hysteria is a proud representative of French metal heritage - if not rock - and that it is deserved. For the masses, this success is clearly not an excuse to calm down or to stick to what they have learned.
Indeed, the new maniacal disc is likely to surprise with its more extreme inspirations, more pronounced than ever, to show that they have not lost anything of their niac.
This niac symbolizes above all a principle that has delighted the group for a quarter of a century: that of resistance. First that of the individual who is facing himself, his emotions, which he must try to manage. This is exemplified by the intriguing entry "take back my senses".
But it's hard to find the reason when we were hit in steamroller mode by guitars and a scathing snare that opens the album. Where we obviously see the spirit of the combo is in its relationship with the collective.
Maniac embodies this fraternal resistance and in particular the link with his audience. So in the "share our shadows" scene, we'll see regular winks that keep the intensity set at the start of the album. At the peak of his technique (impressive on "Reprendre Mes Esprits"), drummer Raphaël Mercier leads the riffs in a massive, almost tribal groove that grabs the listener by the neck.
"L'Antre Ciel Ether" remains in the theme and recalls the need that links Mass Hysteria to their passion and their art.
The combo channel their anger in order to explode it surgically. "Ma Niaque" will look for its influences in the nervousness of Thrash Metal and in particular of the Slayer which hangs all over the bridge, also in the song which seems to adopt a style specific diction.
"Nerf De Bœuf", in which Mouss claims that his "anger exceeds that of the gods", brings Yann Heurtaux's Death Metal back to life, as shown by an exchange of enraged old school solos.
This anger also comes from the observations on our society with a fight against idleness and ignorance which dominates the public space: "Acid Shaman" or the disturbing "Complex aromas" with their guitars grab "the listener" and not him. let go more.
Mass Hysteria also does not fail, as usual, to express resentment against the politicians who are "the orchestra of the Titanic", and closes "Complex Aromas" with alarming, even terrible cries. Recalls, however, that the famous resistance cannot be done in retreat and passivity, then invites the listener to look to the future.
A speech that turns into catharsis, with muffled rhythms and dramatic voice repetitions.
We also find the group on a more sensitive ground with "Derrière La Foudre" which, when the intensity is omnipresent, uses breaks and samples "à la Mass Hysteria" to create a heady chorus in a more sentimental register.
The formula repeated at the end "You die of fear, but you do not die" alone carries all the finesse of Mouss's pen. Maniac ends with a little electronic / industrial candy near a combichrist: "We Came To Hold Up Your Mind" which stands out from the rest of the album, due to its obscure tone, but above all recalls the origins of the group.
In a way, Mass Hysteria Maniac delivers the same message as the Army of Shadows and Dark Matter, but driving the point home again to use their own terms.
If he can surprise by his temperament, Maniac ultimately represents what the group embodies: a group that evolves over time, that continues to be inspired by its environment and that does not take off.