MASS HYSTERIA FAILS
The album cover Failles de Mass Hysteria produced by Eric Canto, photographer : "After 6 months, my job is now finished. I am very proud to present to you the cover of my latest work: the new album of Mass Hysteria : »FAILURES« . In store September 28 in collector's edition. "
The sixth album of MASS HYSTERIA is nothing but a fucking slap in the face! The combo made the "clean". He made a clear impression on the era that followed the now legendary "Contradiction" and its famous hit "Furia".The album Mass Hysteria Flaws has sold around 7,000 copies. This is the first album with Nicolas Sarrouy on guitar following the departure of Olivier Coursier, as well as the last with Stéphan Jacquet on bass.
Far from the pop / rock of the album " 
Mass Hysteria
 "(2005) and" De Cercle En Cercle "(2001), our angry Parisians, rich in wild will, already had a certain enthusiasm and 2007 downright positive energy with" a sum of details ", which marked a comeback at the sources, "Contradiction" period.
- World On Fire (04:08)
- No more sea (04:07)
- Rifts (03:34)
- The archipelago of thoughts (03:29)
- Clean (03:13)
- Dysphoria (02:56)
- The magnetism of feelings (04:10)
- Go further (02:56)
- Breathe (04:04)
- Get High (03:46)
- Nothing to be more (03:18)
- As we dance (03:10)
Mass Hysteria Rifts - Credits 
Mouss Kelai - vocals
Yann Heurtaux - guitar
Nicolas Sarrouy - guitar
Stéphan Jaquet - bass
Raphaël Mercier - drums
Julien - samples
Eric Canto - Artwork and photos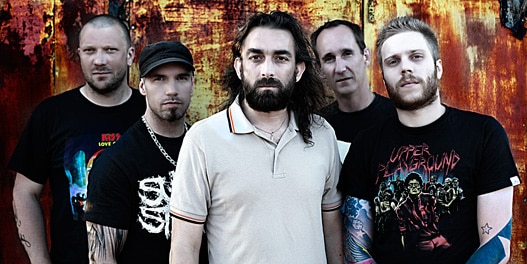 CHRONICLE MASS HYSTERIA FAILS
2009 has been a great year for Mass Hysteria. We find them in the first part of Metallica in Nimes, of Limp Bizkit in Paris, and they are releasing in this fall, their 6th studio album, with a title, Failles, and a cover which announce heavy.
Well, heavy, if you were looking for some, you will be spoiled. This album of Mass Hysteria Flaws, it's like the second wilkinson blade or the double kisscool effect. After the excellent A sum of details released in 2007 (and reviewed here) which already announced a return to the big sound of the original Mass, Failles drives the point home! No less than 12 pieces on this gallette. Oh no sorry, twelve SKUDS should I say, as this album does not offer 1 second of respite. We literally take it all in the mouth. No frills, just pure efficiency.
Zoom on the songs from the album Mass Hysteria Failles
First there is this World on Fire, English title but French song by Mouss which, in the first seconds, recalls the haranguing tone of Bernie Bonvoisin of the great era. The rhythms are monstrous, the shocking phrases fall: "Don't let hatred of the system, don't let hatred settle in / be expressed" or "financial orgasm, ejaculation of banknotes". Everyone is dressed for winter. What delirium it's going to be live this song. I would like to be there already.
And what about the huge intro of Mass Hysteria Flaws. Small bontempi piano, for an Indochina theme, and explosion of guitars. Slow, throbbing rhythm. It's funny at one point I find that the song is very rap, looks like a Diam's song (oops the reference).
The archipelago of thoughts is more classic, samples in the background, mid tempo, I still like the rhythmic break in the middle. It will give live that too. I also love the hysterical Clean, with the old Prodigy style intro. Super speed on the verse, very sick riffs and mid tempo on the chorus. Very good. He says he did Feng Shui, funny because this piece does not seem to me to be very Zen, on the contrary. Dysphoria (the opposite of Euphoria) and the only track where we find a brief moment of (relative) calm in the station wagon. Enjoy it does not last. We still note a sentence that pisses "I did not know my Everest, the greatest surpassing oneself".
Another electro intro on Le magnetisme des sentiments, a deceptively calm song.
Go further, with a superb refrain "how far can we go together? ". deceptively nagging piece of Mass Hysteria Flaws.
Another great intro with Breathe, Prodigy style again (it's the effect of the samples I imagine), which announces the explosion of the riffs of simple and effective guitars. Big roaring bass, and chorus of the group on the chorus. It makes great. Rammstein had better watch out, Mass Hysteria defeats (and without needing a porn clip).
Haaaa, I love this Get High track. The electro intro is awesome and the rest smashes everything. It's hard not to headbang on this track. In addition I can not help smiling thinking back to the interview with Yann before the concert in Nimes, where he explained that Mouss had a "Frenchy, Frenchy" accent. I think he is doing pretty well on this song sung in English (a first for the Mass).
Superb intro still drums + samples + vocals on Rien est plus. The guitar riffs are always super sharp: "Everything can change! ". In short, there is still hope yells Mouss.
As always with the Mass, we end up on the DanceFloor (see interview Yann). We end the album with Comme on danse, which I find brilliant, very rhythmic, and full of magic formulas "jump, scream, dance, see how we dance, see how we think, see how we piss off the trend". The furious will have a lot of fun in the pit this song was written for the stage. It's going to pogote!
Just a downside on Plus que no Mer which I find a little behind as a song and on the use of the voice several times passed through the radiobox style filter. I don't like it very much, but nothing serious. Rest assured.
I tell you: Mass Hysteria has a magic formula. As in Mozinor's excellent squetche on Besson's formula for making successful films. Here it is rather:
Yann and Nico riffs sharp as Gimli's double ax
shocking and committed formulas from Mouss
a rhythm section (Stephan and Rapha)
a zest of samples and electro
The recipe for a killing simply!
PS: Dosage in case of crisis (current): One listening in the morning and one listening in the evening, donf. You can easily exceed the prescribed dose.
Source: http://auxportesdumetal.com/reviews/MassHysteria/masshysteria-failles.html
---
Eric CANTO Photographer: Concert photos, portraits, album covers.
Visit my portfolio Visit the blog Visit the shop contact me