Flagship group of French metal, MASS HYSTERIA Dark matter is the eighth studio album, Matière Noire. A real storm warning in France. Originally from Brittany, Mass Hysteria is one of the main French metal groups both for its quality and its longevity. In 1993, the group stood out from their first album Le bien être et la paix (1997).
Big sound, lyrics in French, the band explodes with Contradiction (1999), less industrial and with more hip-hop influences, in 2001, the group released "From circles to circles". More atmospheric, even a little more tinged with hip-hop, notably with Acid and Base de La Brigade, the group disappoints some fans, but broadens their audience with this album. more accessible but of very high quality.
En 2005, c'est le clash. Le groupe Mass Hysteria a sorti un album avec un titre beaucoup plus pop-rock. S'il leur ouvre les portes des grandes radios, cet album est encore plus déroutant pour les fans du groupe. La direction artistique pas toujours comprise est rejointe par la production, ce que le groupe admet comme un échec sonore entre Métal et Rock, qui se cherche et ne se retrouve pas toujours.
The album contains some nuggets (Poison d´asile) and a collaboration with Miossec who signs some lyrics for the album. True daring and a desire to evolve. In 2007, everything was back to normal with A sum of details. Returning to their stylistic roots with well-digested neo-metal influences, the group lays the foundations of the style that they will keep on two subsequent albums, "Failles (2009)" and the successor "L'armée des ombres (2012)".
We should also mention the live video from 2011, recorded at Bikinil, as well as the first live album (Mass Hysteria at Olympia) from 2013.
Darker and more engaged than previous albums, " Army of shadows  Brandished the group's mantra. While the overall impression on this album was between anger and helplessness in the face of a changing world and those who shape it, MASS HYSTERIA Black Matter makes you feel like you're looking up in confusion.
Unlike the other albums, the texts of the last two opus are more concrete and anchored in the present, in particular thanks to the use of names and clear references to current events ("Sans-dents")
In terms of sound, Mass Hysteria continues to evolve. The album gives an honorable place to new arrangements: harmonica, violin, lyrical choirs, percussions, while keeping the crazy hallucinatory machines of L'armée des ombres.
All this creates new very successful titles (Vae Soli, Vector Equilibrium) and gives a new intensity to the work of Mass Hysteria. That's what makes this album original.
The rest (structures, guitar-bass-drums, lyrics…) is of a very high level, but overall remains quite classic Mass Hysteria of the last albums, with the exception of "more than metal", with a more fusion-industrial side reminiscent of the first albums.
Continuing the three previous albums, bringing a new freshness, Matière Noire succeeds with incisive lyrics and perfect arrangements that put constant pressure on the whole album. "Dark matter" is a tsunami that will hardly give you a moment's rest for 50 minutes.
There are two versions of the album MASS HYSTERIA BLACK MATTER, a first crystal version and a limited version with a different visual and a sheath including a gel pack. This limited version will not be re-pressed. The booklet is to be discovered by purchasing the album.
A lot of work but a result that seems to please… For Mass Hysteria Dark matter, the new album of the group, the original idea was a visual found by the guitarist of the group Yann HEURTAUX on the internet: a face on a brown background with ink running over a woman's face. From this base, I organized a very… messy shoot where I used this initial idea with this time an immaculate background and the wish to decline this idea on each part of the body. The result allowed for a rich artwork and 3 different covers.
► MASS HYSTERIA BLACK MATTER Limited collector's edition / Special packaging

Making-of of the Dark Matter Shooting 
List of titles from the album MASS HYSTERIA MATIÈRE NOIRE :
- Junkyard dogs
- Vae soli!
- Vector equilibrium
- Our plot
- Hope and rejection
- Everything is poison
- Hell of the gods
- Breathless
- Black matter
- More than metal
- Mother of Iroise
Credits from the album MASS HYSTERIA MATIÈRE NOIRE :
Mouss Kelai - vocals
Yann Heurtaux - guitar
Frédéric Duquesne - guitar
Vincent Mercier - bass
Raphaël Mercier - drums
Eric Canto - Artwork and photos
2015 release
Genre Industrial metal
Producer Frédéric Duquesne
Verycords label
MASS HYSTERIA MATTIÈRE NOIRE album review by www.albumrock.net
For two decades, Mass Hysteria has distilled its rebellious prose to its furious followers who are not satisfied for a penny despite two recent albums with a notorious return to form (Failles in 2009 and L'Armée des Ombres in 2012) and a turnaround in the rules of the art of an Olympia that still bear the stygmata of the group's devastating decibels.
Certain that this Dark Matter was expected and the arrival of Fred Duquesne (Bukowski) on the guitar foreshadowed the crossing of an additional stage in the quest for a chimerical sonic monstrosity. Suffice it to say bluntly, the completion is total, the ultimate culmination and without falling into a complaisant eulogy, we can undoubtedly announce that with Matière Noire Mass Hysteria is simply having its best album.
Difficult to know where to start so much MASS HYSTERIA BLACK MATTER imposes itself like an absolute success at all levels. This is certainly the first point to underline, moreover, this stylistic consistency, musical, even philosophical, evolving to this rare cohesion intrinsic to great, very great albums.
Mass Hysteria Dark Matter is a block of osmium density, a sort of homogeneous plasma of unclassifiable blackness which splits eleven grandiose tracks taking turns stealing the virtue of the record's unmistakable piece. Mouss Kelaï, the charismatic frontman of Mass Hysteria, recently said about the lack of communication leading up to the album's official release last October: "We wanted people to take the album right in the face. ". May this brave Mouss be reassured, it's done, and damn well done.
The collaboration between Duquesne and the Mass Hysteria reached its climax with Matière Noire as the sound identity of the group is asserted with a quality of production worthy of the greatest American metal groups: we border on the Killswitch Engage on "Our conspiracy" and its riff while linked to enjoyable rivers. delight in this grain of the great Slipknot of "Liberate" in the excellent release of "More than metal". The vice is even pushed to the point of titillating Metallica in the epic solo of "Vector Equilibrium".
Rarely has a French production, mastered in New York by Ted Jensen (with an impressive CV, Deftones and Pantera to name a few), will have reached this level of sound quality, this balance perfectly balanced between an elephantine rhythm section, lead guitars and racy, visceral, inhabited vocalizations.
The arrangements are subtly integrated to this brilliant 50-minute recital, opening "Vae Soli! »On some nebulous infantile electronic notes, accompanying the hymn« More than metal »with strident metronomic keyboards or even affixing a dull industrial atmosphere sharpened on the excellent« Hope and refusal ».
As a great conductor that he is, Duquesne pushed Mass Hysteria in its last entrenchments and finally gave the group all the sonic presence it deserves, that at least equal to the eloquence of its texts always more enraged, more impactful, more personal too.
Because the group is far from denying its rebellious creed, trademark of mass hysteria, which perfectly suits the supercharged atmosphere of its concerts. Mouss Kelaï has always taken care to refine his words to turn them into warlike slogans sung in chorus as well as sharp criticisms of a society which still takes as much for its rank: "Authoritarian democracy, this is the golden age. misery "he launches in the eloquent" Everything is poison ".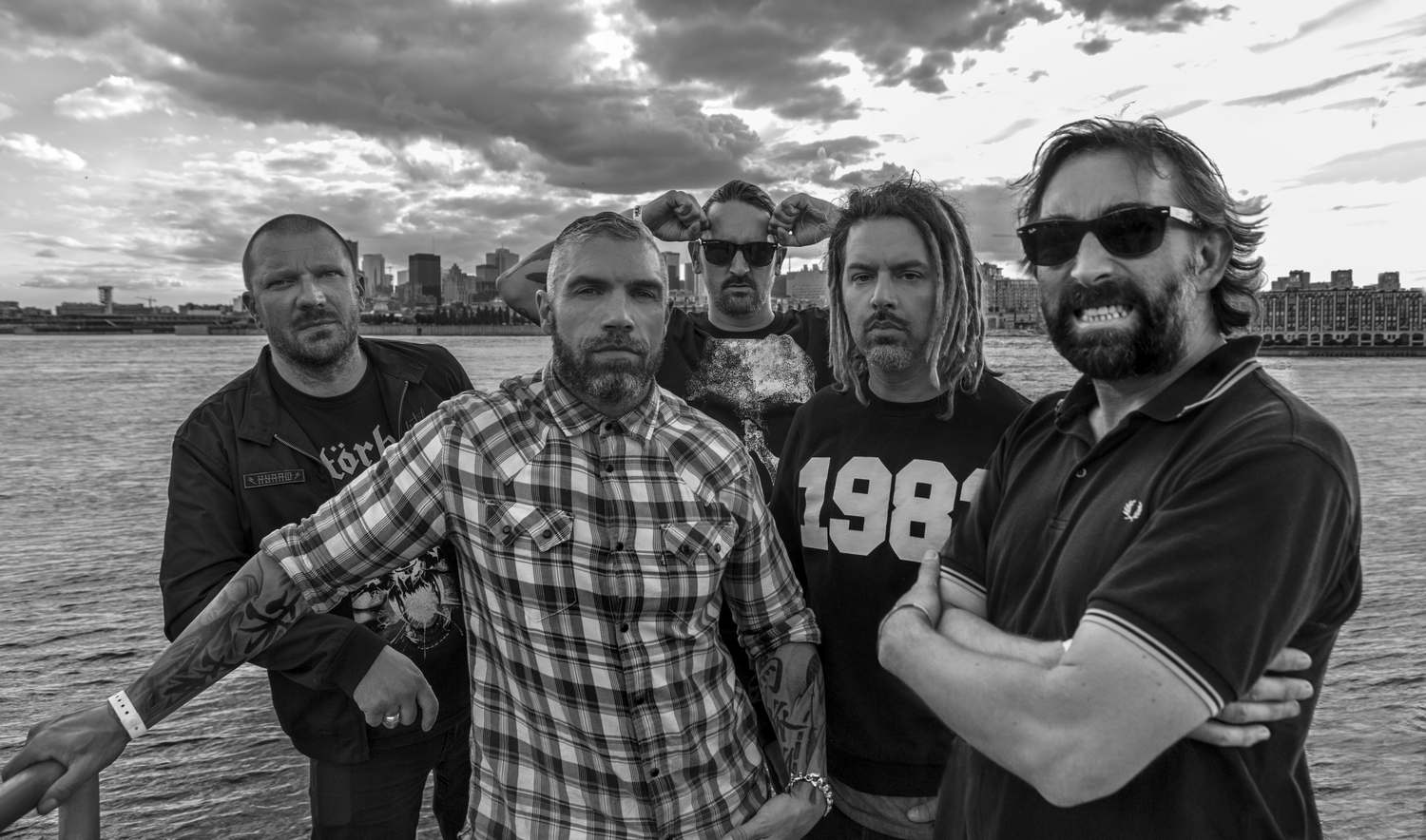 Mass Hysteria Dark matter - Photo credit Eric CANTO
We can feel the grave tone in Matière Noire, even taking a disenchanted patriotic turn in "Mère d'Iroise (" My mother of Iroise, my sweet France, never alone with you, I'm going "), evoking the absence of great men of the people in "The hope and the refusal" ("I do not see any new Jaurès on the horizon! Where are the real men from below?") as the revival of French culture by openly citing the Hellfest in "More than metal".
On this new album, it emanates a ferocious effectiveness of Mass Hysteria so much the words merge into the soundscape with this dose of percussion sufficient to mark the spirits without disturbing the fluid and infernal musicality of the group. The dantesque start of Dark Matter certainly remains the best example of rumbling rage mixed with those epic bursts of distortion that accompany Mouss's vigorous strikes: "Junkyard dogs, toothless, crazy for freedom".
Enough to launch the machine to the bottom and develop for eleven tracks a colossal power that overwhelms the listener. The strength of Dark Matter nevertheless serves a clever destiny, that of marking the ears as much as the consciences, that of disturbing the heads as much as the hearts, that of disturbing the reason as much as the convictions.
"Hell of the gods" is the standard of this involved album, just enough provocative not to fall into a boring demagoguery, and evokes the troubles of our bruised country with a sense of the most efficient texts: "Si the hell of the gods is their love of men, the hell of men is their love of the gods ".
Evils by words, in a way. Hammered throughout this title with martial rhythm and muffled dark guitar, the words of Mouss Kelaï take on a prophetic dimension in this piece denouncing religious indoctrination and the fool tyrannical oppression of intolerant of any form of freedom.
It goes without saying that during his recent winter tour, "Hell of the Gods" was a highlight of Mass Hysteria's concerts, seeing a public yet wise and studious abandon the usual madness for a tidy listening, paradoxically almost religious . Be that as it may, if Dark Matter were to reach posterity only through one of these pieces, it would clearly be thanks to "Hell of the Gods", an epic musical achievement replacing long speeches wonderfully. pompous aiming to explain, understand, analyze and so on.
But MASS HYSTERIA MATTIÈRE NOIRE will reach posterity well beyond a single title as the album is cut out to be played in concert, always very loud of course because "If silence is golden, then noise is metal "(" More than metal "). Each title suggests an obvious projection of its live interpretation, where Mass Hysteria is released from all chains and delivers with unparalleled sincerity its regenerative music. Although listening to Matière Noire, it is hard to believe that the group was restricted in any way.
Enjoy everything, don't abuse anything. Except Mass Hysteria Dark Matter. Truly.
Eric CANTO Photographer: Concert photos, portraits, album covers.
Visit my portfolio Visit the blog Visit the shop contact me
Bonus: MASS HYSTERIA Dark matter Daily Rock's opinion
Mass Hysteria is releasing a new album "Dark Matter" on October 23 and for this occasion David and Dany have listened to the 11 tracks that make up this new French effort and here is what they think. Artist: Mass Hysteria - Album: Matière noire Label: Verycords - Release date: October 23, 2015 - Genre: Industrial metal.  The French group Mass Hysteria came to present us their greatest successes during their visit to Foufounes Électriques last August.
The old truckers then gave a frenzied performance but no one could predict the surprise that awaited us when the album came out. I say surprise because we are probably entitled here, with the album MASS HYSTERIA Matière noire, to the best album of the group in career. I can already hear you, bunch of unbelievers, saying to me: "Better than Contraddiction (1999)? Impossible".
Probably recognized by fans as the best album of the group Contraddiction is a pure masterpiece, but Matière Noire has a little something more. A particularly dark and aggressive atmosphere, even more than what the band of Mouss Kelai has accustomed us to in the last twenty years.
The qualifier "industrial" is still present in some compositions but the mix relays more electronic sounds in the background to leave more room for the abrasiveness of the guitars. The electronic elements are more used to create epic moments than melodic ones, for example during the refrains of Vector equilibrium where the Gregorian voices add gravity to the words. The play L'Enfer des Dieux also benefits from the electro touch by giving it a new more universalist perspective, going hand in hand with the theme (religious fanaticism). 
However, the group tends to move away from the classic rap-metal sound, heard a thousand times in the 90s. MASS HYSTERIA Dark matter is closer to certain Trash, even Hardcore sounds. Some guitar parts suggest an influence closer to Max Cavalera (ex-Sepultura, Soulfly), mainly on Chiens de la cassis, Tout est poison and À bout de souffle, than Tom Morello (RATM, Audioslave).
MASS HYSTERIA Dark Matter projects the group into postmodernity with all the paradoxes that entails. This album will ensure the posterity of Mass Hysteria and record them in the annals as a group of great importance free and enraged, but full of hope and ambition.
REFUSE AND RESIST !!! "Let us never forget that we are one of those who eat life. "
Long live heretics. Long live those who walk upright. Long live those who want a country. Best titles: Mother of iroise, Pread only metal, Hell of the gods
Text: David Atman