Earplugs for concerts
People sometimes ask me for advice on photographing concerts. This ranges from the objective to be used, how to be published or how to improve the technique.
These are all good questions ... But the best advice I can give to any photographer concert is simple: put on earplugs for concerts!
If the bass speakers at the front of the stage are already shaking the ground, stirring the bones, and helping you digest your beer with their sonic vibrations, imagine what they are doing to your ears.
According to the WHO, the sound levels of rock concerts reach an average of 112 dB, at which the safe exposure is measured in minutes. Not 20 or 30 minutes, but one or two.
It won't even allow you to listen to a full song in the pit, let alone the entire concert. With repeated exposure, all of those uncontrolled decibels result in permanent hearing loss.
That ringing in your ears, it's not a big hornet, it's tinnitus.
Earplugs for concerts: a wide choice
When it comes to protecting your ears at concerts, there are many solutions and sizes. Perhaps the simplest solution is the earplugs for concerts.
Due to their compact size, earplugs for concert are often considered the best form of protection for your ears. They are light, portable and easy to use. They are likely to last a long time.
In front of this vast choice, then here is a selection of earplugs for concerts for concerts and their prices. You choose !
ETY ER20-SMF high fidelity concert earplugs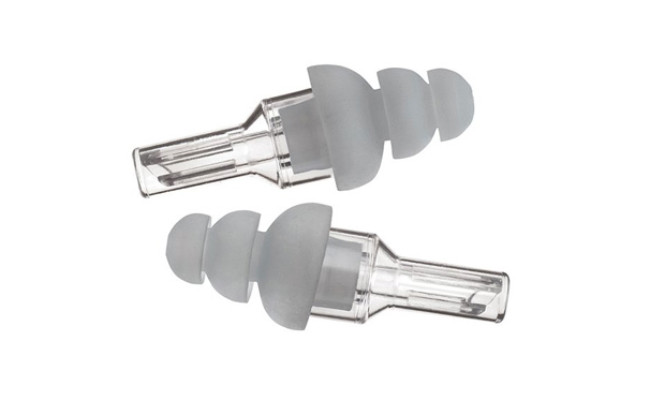 These QTY concert earplugs are the world's most loyal on the market right now, holding the number one spot for many of us. These affordable concert earplugs reduce most noise to a safe level while maintaining speech clarity and rich music. This makes it a perfect and economical option for concerts. Although ETY high fidelity earplugs are reusable, you will need to replace them every 3 to 6 months, depending on how often you use them.
But at this price, it's definitely not a breaking point. If you're still not convinced, these handy earplugs come with a cable and a carrying case so you can be sure you don't lose them. Standard size earplugs are available in 5 colors. So take your pick ...
To buy them: Click here
Eargasm high fidelity concert earplugs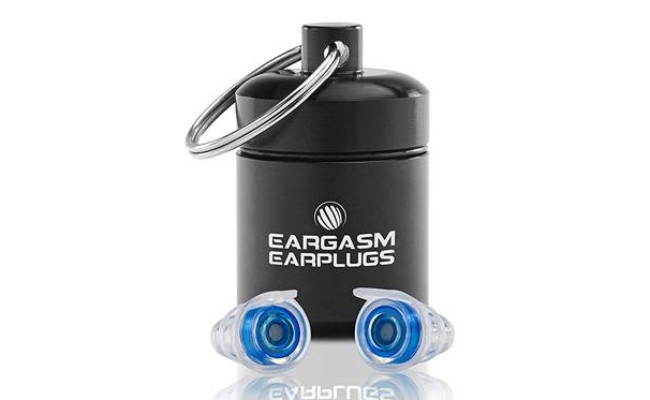 Say goodbye to possible ear damage with these innovative Eargasm attenuation filters. Although your price is much higher than the top pick, if you are willing to part with so much money, this is a solid investment.
Using revolutionary technology, these hi-fi concert earplugs can evenly reduce noise while preserving the full sound spectrum without compromising safety. Due to their small size, these inconspicuous cards are virtually invisible to others. Whether you want to turn down the volume at a live gig or on your motorbike, you can do so with Eargasm earplugs.
Pros: Preserves sound quality and reduces noise levels // Two different sizes included for a nickel fit // Compact carrying case // Tabs for quick and easy removal.
To buy them: Click here
LiveMus! C HearSafe Earplugs for concerts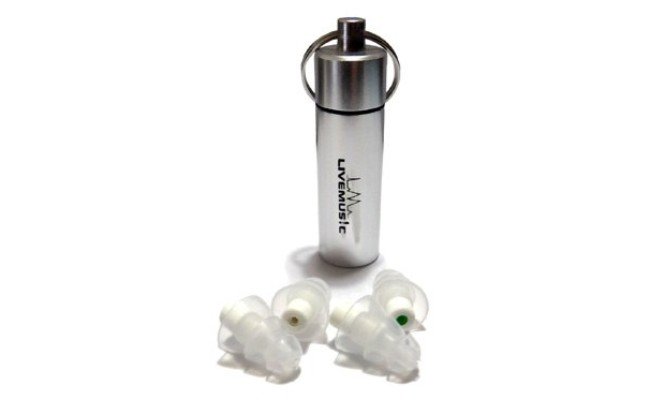 Invest in your health and buy two pairs of concert earplugs with the highest level of noise reduction from LiveMus! The LiveMus is equipped with a portable aluminum carrying bag and a practical cable inside. HearSafe concert earplugs can be used continuously for 6 to 12 months and require minimal maintenance.
Unlike other similar options on the market, these earplugs are an improvement over traditional earplugs. This precision mechanic has been developed with a precision filter with different strengths and reduces and attenuates the background noise to give you a high quality sound experience while preserving your ears.
Goodies: Hypoallergenic soft silicone material // aluminum storage // Two pairs
To buy them: Click here
DownBeats Reusable Concert Earplugs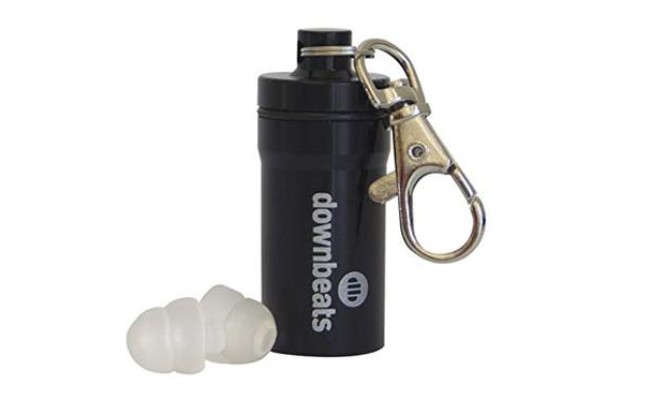 These reusable high-fidelity hearing protectors from DownBeats are more than just earplugs for concerts. With these sound filters, therefore, you don't have to compromise on quality.
These practical headphones have been carefully designed to ensure music can be heard perfectly and safely. They also come with a sturdy aluminum case and a handy key fob, so you can make sure your ears are protected wherever you go. Just hang them on your keys, belt or bag and go.
Advantages: Special high-fidelity protection for concerts // uniformly reduces the sound for a quality experience // Aluminum case.
Buy them : Click here
Vibes high fidelity concert earplugs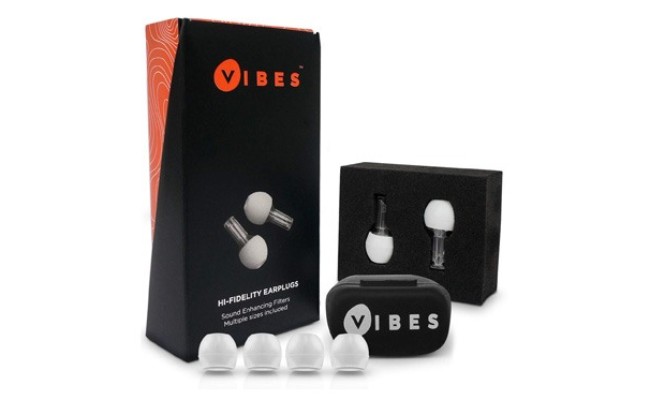 With these acoustic filter concert earplugs from Vibes Concert, you can turn down the volume without reducing the experience at every concert you attend.
These sleek and stylish noise canceling headphones can lower the sound level by 22 decibels as they increase the clarity of the sound and make the music experience even more intense. These handy concert earplugs are designed for comfort and can be worn all day. You take care of your ears without affecting the sound experience. V
Goodies: Reduces noise levels by up to 22 dB // Virtually invisible design // Convenient carry bag included // Comfortable size options
---
---
FAQ: Frequently asked questions about earplugs for concerts.
After reading all of our top tips and knowing all the considerations to consider when shopping for the best concert earplugs, it's time to answer some of the burning questions.
How are concert earplugs different from standard earplugs?
Standard earplugs are usually foam and are only used to block noise. Concert earplugs are high fidelity earplugs that take into account the frequency of the ear to ensure the original quality of the music, while being quieter. In other words, they enhance the sound and protect you instead of blocking it and affecting your music experience.
Why should I wear earplugs for concerts?
We are not here to scare you, but the WHO (World Health Organization) conducted a study in middle and high income countries and found that almost 40% of young adults and adolescents are at risk of NIHL because of the harmful noise levels in their free time are.
There are MANY people who could permanently damage our ears. Once you lose your hearing, it cannot be restored.
How do loud noises damage the ears?
Over the years, experts have found that prolonged exposure to noise levels of 85 dB and above can lead to hearing loss. Since most venues and clubs have 100 dB, you can do damage without hesitation. The maximum time to hear noise at these levels is only 15 minutes. If you often go to a concert, festival, or nightclub for hours on end, you need to protect your hearing.
Are foam concert earplugs good for concerts? 
Foam earplugs can protect your hearing, but block sound instead of protecting it. Foam earplugs block sound frequencies and produce muffled sound, while earplugs produced for concerts only reduce the volume. Although you tend to buy foam earplugs because they are much cheaper,
What level of noise reduction is required for concerts?
A pair of earplugs has a noise reduction rate of 10dB, which protects you for up to two hours. The higher the better, of course! Especially if you want to stay longer than this period. However, choose at least one pair above 10dB to ensure your safety.
What does the legislation say about the noise level at concerts in 2020?
At concerts or festivals, the noise level can reach 102 dB if the standard is met. Longer exposure times to this intensity can lead to irreversible hearing damage.
To avoid damage to the ears, theoretically we should not be exposed to a sound level of 80 dB for more than 8 hours. This exposure time is halved for each 3 dB increase in volume.
In other words, if the rules are followed and the volume is constant at 102dB, we shouldn't be exposed for more than 4 minutes without a break if we don't want to damage our ears.
It is therefore important to protect yourself in order to maintain your hearing!
---
Eric CANTO Photographer: Concert photos, portraits, album covers.
Visit my portfolio Visit the blog Visit the shop contact me