the Graspop Metal Meeting is a Belgian heavy metal festival which has been held in Dessel every year since 1996. Despite the small size of the Graspop Metal Meeting site (with a perimeter of only ~ 4 km), the festival attracts a large number of international spectators, with a total of 152,000 spectators. visitors during the 2015 edition.
History of the Graspop Metal Meeting
the Graspop Metal Meeting was not originally a festival of heavy metal ; Rather, it was conceived as a local family rock festival, first held in 1986. In 1995, the headliners were Joe Cocker and Simple Minds.
However, due to the fact that the public is saturated with family festivals, the number of visitors has fallen to a historically low level.
The founder of Graspop Metal Meeting, Peter Van Geel realized that traditional rock music did not have enough appeal to festival visitors. Reflecting on the most memorable acts of previous years ( Motörhead , Ramones, Paradise Lost, etc.) and his own musical preferences, he spoke in favor of a radical reorientation.
After discussions with Werchter festival promoter Herman Schueremans, Van Geel contacted Bob Schoenmaekers, the owner of the Biebob concert hall and metal club in nearby Vosselaar.
A few years earlier, Schoenmaekers had organized his "Midsummer Metal Meeting" in Vosselaar and due to space limitations he was considering an open-air festival. The first contact quickly led to a close collaboration. The duo have decided to launch a brand new metal festival under the name "Graspop Metal Meeting". The date of choice was to be the last weekend of June.
The new leadership has proven to be successful. The festival has seen an ever-increasing number of visitors over the years and has been able to attract the most popular international groups of its kind. Since the festival's inception in 1996, Iron Maiden has been the most frequent headliner with 10 appearances.
Other bands that have been in the spotlight are Hatebreed, Saxon, Sick Of It All, Slayer  ), Cradle Of Filth, Epica, In Flames Moonspell, My Dying Bride and Within Temptation.
The stages of the Graspop Metal Meeting
Main Stage 1 & 2:
The two main stages welcome large groups and headlining acts. Before 2014, there was only one main stage.
Marquee:
A tent stage, which mainly hosts thrash metal, death metal, black metal or even stoner rock bands.
Metal Dome:
Host more intimate groups and local artists.
Jupiler Stage:
First staged in 2014, this is a small outdoor stage, mainly dedicated to metalcore, hardcore and deathcore music.
Where does the Graspop Metal Meeting take place
The Graspop Metal Meeting is located in Belgium Graspop Metal Meeting
Map showing the location of Graspop Metal Meeting in Belgium.
The festival is located in Kastelsedijk, Dessel, approximately 60 km from Antwerp, 99 km from Brussels and 35 km from Eindhoven in the Netherlands.
Dessel is a municipality of 9103 inhabitants in the province of Antwerp in Belgium. The overall community of 27.03 km² is located in the Flemish region, also known as Flanders, it is the officially Dutch speaking part of Belgium. The distance to the neighboring country, the Netherlands, is less than 10 km.
Most of Dessel's economy is determined by different regions of the nuclear industry. Dessel is the twin city of Hesse-Lichtenau.
Graspop Metal Meeting Tickets
Combination tickets for the Graspop Metal Meeting include camping Thursday through Monday, parking a vehicle and entry to the festival site. Day tickets are available and before 2013 they did not include camping; camping tickets can be purchased separately.
Camping tickets allowed day ticket holders to spend the night on the campsite. A camping ticket was valid on the same day as the festival ticket. From 2013, a day ticket includes entry to the campsite.
In 2009, Graspop Metal Meeting introduced a VIP ticket. The VIP package includes: a parking space in the VIP parking lot; which is closer to the festival grounds, access to the VIP lounge and separate entrances to the campsite and the festival arena.
Accommodation
Most people who stay at Graspop Metal Meeting will camp in a tent. Camping accommodation is provided at the cost of a combined ticket but festival-goers must bring their own tents.
Caravans and tent trailers are not allowed on the campsite. However, you can reserve a location in addition to the main ticket which gives access to Graspop Metal Town.
Graspop Metal Town
Graspop Metal Town is located just 1 km from the festival site and is a true open-air hotel with proper sanitary facilities, breakfast tent, bar and reception. You can either spend the night in a festihut, or reserve a place for your motorhome, caravan or tent.
Festihuts
Introduced in 2008, the festihut is a wooden cottage equipped with beds or bunk beds and mattresses.
Pitches
Metal Town can accommodate 250 standard pitches and 50 XL pitches, for people wishing to bring a caravan, mobile home or tent.
The posters of the Graspop Metal Meeting
Graspop Metal Meeting 1996
Sunday June 30
Iron maiden
Slayer
Life of Agony
Channel Zero
Sick of It All
Fear Factory
Tiamat
Skin
Gorefest
Type O Negative
Morbid Angel
Downset.
Shelter
Helloween was announced, but had to cancel and was replaced by Skin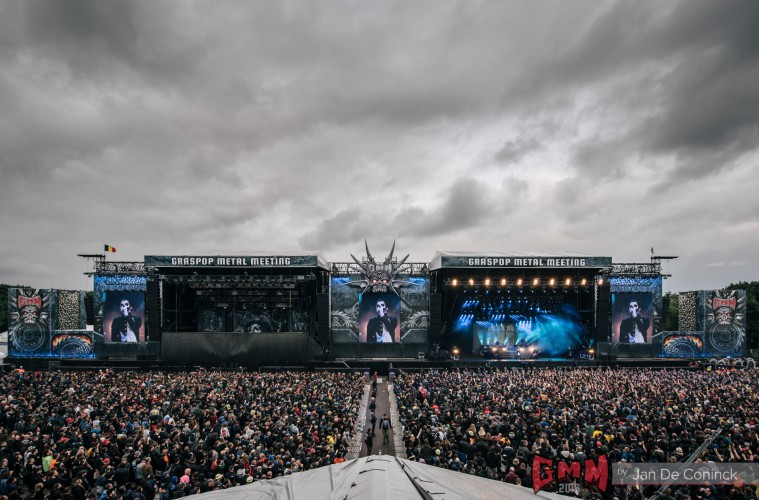 Graspop Metal Meeting 1997
Sunday June 29
Megadeth
Alice cooper
Biohazard
Saxon
Obituary
Grip Inc.
Samael
Entombed
Piston
Tiamat
Moonspell
Cradle of Filth
The Gathering
Dimmu Borgir
Madball Millencolin
Lagwagon
Ryker turns handsome
My Dying Bride was announced as headlining in the Marquee but they had to cancel due to their drummer's illness.
Graspop Metal Meeting 1998

Sunday June 28
Black sabbath
Dream theater
Deftones
Soulfly
Savatage
Coal Chamber
Obituary
Spiritual Beggars
Paradise Lost
Moonspell
Dimmu Borgir
In Flames
within Temptation
Primus
Madball
Pro-Pain
The Misfits
Congress
Graspop Metal Meeting 1999

Sunday June 27
Manowar
Sepultura
Motörhead
Stormtroopers of Death
The Gathering
Kreator
Primal Fear
Darkane
Ancient Rites
Danzig
Slapshot
Ryker from
Pitchshifter
Ignite
Out
Graspop Metal Meeting 2000

Saturday June 24
Iron maiden
Machine Head
Rollins Band
Saxon
Will
Gamma ray
Entombed
Dirty Deeds
Anathema
Tristania
Samael
Apocalyptica
Cannibal Corpse
God Dethroned
Oceans of Sadness
Cro-mags
Madball
Skarhead
No Fun at All
Graspop Metal Meeting 2001

Friday June 22
Nevermore
Rose Tattoo
Destruction
Devin Townsend
Ancient Rites
Metalium
Saturday 23 June
Judas Priest
Cradle of Filth
Megadeth
Motörhead
Savatage
Primal Fear
Farmer Boys
Kill II This
Piston
Marduk
Dropkick Murphys
Shelter
Backfire
Awkward Thought
Graspop Metal Meeting 2002

Friday July 5 [20] Saxon
Anathema
Kreator
Moonspell
Doro
Rage
Manic Movement
Saturday July 6
Slayer
Dream theater
Machine Head
Bruce dickinson
Halford
Tristania
Edguy
Caliber
Evergrey
My Dying Bride
Immortal
Cannibal Corpse
Hypocrisy
Arch Enemy
Dismember
Biohazard
Slapshot
Vandals
D.RI
deviant
Subzero
Graspop Metal Meeting 2003

Friday July 4 [21] Type O Negative
Sepultura
Opeth
Samael
Mastodon
Oceans of Sadness
Stratovarius
Apocalyptica
Overkill
Master plan
Atreyu
Saturday July 5
Iron maiden
Alice cooper
in temptation
Anthrax
Murderdolls
Arch Enemy
Doro
Pro-Pain
Killer
Ministry
Lacuna Coil
Six Feet Under
Finntroll
The Haunted
Deströyer 666
Stone Sour
Sick of It All
Hatebreed
Prong
Graspop Metal Meeting 2004

Friday June 25
Circle II Circle
Action in DC
Cowboys and Aliens
Exodus
Hypocrisy
After forever
Suffocation
Dillinger Escape Plan
Epica
Saturday June 26
Alice cooper
Slipknot
Motörhead
Soulfly
Queensrÿche
Pleymo
Brides of Destruction
Evergrey
Sunday June 27
Main stage
Judas Priest
Life of Agony
Fear Factory
Saxon
Dimmu Borgir
Therion
Death angel
Dying Fetus
Malevolent Creation
Hatebreed
Ill Niño
Ignite
Chimaira
Killswitch Engage
Shadows Fall
Graspop Metal Meeting 2005

Friday June 24
within Temptation
Papa roach
Alter bridge
Nevermore
Megadeth
Metal Church
Grave Digger
enslaved
Immolation
Kreator
Dillinger Escape Plan
Madball
H 2 O
Caliban
The Eighties Matchbox B-Line Disaster
In search of
fall
Axamenta
Judasville
Cowboys and Aliens
Chimaira
Sengir
Saturday 25 June
Slipknot
Slayer
accepted
Hatebreed
Kamelot
Epica
Soilwork
Skitsoy
Sirenia
Samael
Amon Amarth
Gorefest
Behemoth
Anthrax
Sick of It All
Mastodon
Rose Tattoo
Pro-Pain
Peter Pan Speedrock
Sunday June 26
Iron maiden
Dream theater
Dio
Yngwie Malmsteen
Primal Fear
Axel Rudi Pell
Dragonforce
Lacuna Coil
Dark Tranquility
Graspop Metal Meeting 2006

Friday June 23 [23] Edguy
Trivium
Y&T
Anvil
Satyricon
Moonspell
The Gathering
Stream of Passion
Leaves' Eyes
Sengir
Die krupps
Evergrey
Soilwork
36 Crazyfists
Gojira
Darkane
Axamenta
Leng Tch'e
Callenish Circle
Panchrysia
Iconoclasm
Battalion
The Maple Room
Saturday June 24
Guns N 'Roses
Soulfly
Alice in Chains
Stone Sour
avenged sevenfold
Bullet for My Valentine
Bloodsimple
Opeth
My Dying Bride
Nile
Obituary
Ancient Rites
Akercocke
Death angel
Ill Niño
'Pain' by Jon Oliva
The New York Dolls
The Datsuns
Caliban
Action in Dc
Up the Irons
Ozzy Oz
Purple strangers
Nutellica
Sunday June 25
Motörhead
Saxon
Helloween
In Flames
Armored Saint
Dragonforce
Machine Men
Ensiferum
In-Quest
Arch Enemy
Agnostic Front
Ignite
Devildriver
Beyond fear
as I Lay Dying
Graspop Metal Meeting 2007

Friday June 22
Aerosmith
Chris Cornell
in Temptation
Static-X
Thin Lizzy
Fastway
Blind Guardian
Joe satriani
Pain of Salvation
Grave Digger
Epica
Sabaton

Therion
Type O negative
Celtic Frost
Amorphous
Vader
1349
Volbeat
Belphegor
Textures
Crimson falls
TAB
Saturday 23 June
Iron maiden
Korn
Heaven & Hell
Life of Agony
Stone
Sour Lamb of God
Lauren Harris
Dimmu Borgir
Tiamat
Cannibal Corpse
Atheist
Sirenia
Brutal Truth
Me First and the Gimme Gimmes
Drowning Pool
Less than jake
Legion of the Damned
Rose Hill Drive
Spiralarms
Bloodsimple
Scarve
Thurisaz
Suhrim
Spoiler NYC
Sunday June 24
Ozzy Osbourne
Slayer
Children of Bodom
Papa roach
Hammerfall
Black Label Society
Chimaira
Devildriver
Amon Amarth
Finntroll
Korpiklaani
Moonsorrow
Turisas
Eluveitie
Stormrider
Oceans of Sadness
El Guapo Stuntteam
Spoil Engine
Asrai
Welkin
Graspop Metal Meeting 2008

Friday June 27
Judas Priest
Whitesnake
Def leppard
Saxon
Yngwie Malmsteen
You're here
Ministry
Will
Symphony X
MoonSpell
Black Stone Cherry
Morbid Angel
Nile
Obituary
Deathstars
Behemoth
Firewind
Damn your idols
Saturday June 28
Kiss
Cavalera Conspiracy
Iced earth
Sonata Arctica
Forbidden
Sabaton
Bring me The Horizon
36 Crazyfists
Agent Steel
Bleeding through
Throwdown
Delain
Valient Thorr
Alestorm
Die Mannequin
Hacrid
Sunday June 29
Iron maiden
In Flames
avenged sevenfold
Bullet for My Valentine
Apocalyptica
Rose Tattoo
Lauren Harris
Arch Enemy
Madball
Converge
Comeback Kid
Disfear
Action in DC
Shai hulud
Graspop Metal Meeting 2009

Friday June 26

Mötley Crüe
Heaven & Hell
Soulfly
Papa roach
Dragonforce
Buckcherry
Dream theater
Blind Guardian
WASP
Samael
Taake
Lauren Harris
Saturday June 27
Slipknot
Korn
Journey
Hatebreed
Mastodon
Black Stone Cherry
In-Quest
Lacuna Coil
Death angel
Gojira
Legion of the Damned
Kataklysm
Keep of Kalessin
Volbeat
Monster Magnet
Duff McKagan's Loaded
Dagoba
Delain
Negură Bunget
Manic Movement
Sunday June 28
Marilyn manson
Nightwish
Disturbed
Chickenfoot
Trivium
Lamb of God
UFO
Children of Bodom
Epica
Sacred Reich
Candlemass
Scar symmetry
Warbringer
Anthrax
Devildriver
Suicidal tendencies
God forbidden
Flyleaf
Graspop Metal Meeting 2010

Friday June 25

Aerosmith
Motörhead
Stone Temple Pilots
Slayer
Billy Talent
ReVamp
Tarja
Therion
Anathema
Krypteria
Ghost brigade
Saxon
Doro
UDO
The Poodles
Anvil
Raven
Nile
Sepultura
Devin Townsend Project
Devil's blood
bleeding through
oceans of sadness
Saturday June 26
Soulfly
Channel Zero
slash
Carcass
Bullet for my Valentine killing machine
Sabaton
Immortal
Paradise Lost
Obituary
Cannibal Corpse
Airbourne
sick of everything
Fear Factory
Walls of Jericho
Death by Stereo
Sylosis
Eluveitie
Tankard
3 Inches of Blood
Spoil Engine
Dear Superstar
Iron mask
Sunday June 27
Kiss
Hatebreed
Killswitch Engage
pain
Jon Oliva's Exodus
Evergrey
Atreyu
Amon Amarth
Bloodbath
Behemoth
Alestorm
Katatonia
Necrophobic
Devildriver
Finntroll
Korpiklaani
36 Crazyfists
The Faceless
Deadlock
Between the Buried and Me
Graspop Metal Meeting 2011

Friday June 24
Scorpions
Volbeat
Korn
Journey
Foreigner
Dio Disciples
FM

Frozen earth
Epica
Watain
Compliance corrosion
The murder of the black dahlia
Arkona
Parkway Drive
The Damned Things
Heaven will burn
Sepultura
Duff McKagan's Loaded
Angel witch
The Rods
Sweet savage
Endless Dark
Revoker
Saturday 25 June
Judas Priest
Whitesnake
Channel Zero
Black Label Society
Firewind
Lacuna Coil
Diablo Blvd
Cradle of Filth
Arch Enemy
Moonspell
Triptykon
Suicide Silence
Kvelertak
Bullet for My Valentine
Monster Magnet
Times of Grace
Bleed from Within
Kylesa
Adept
Bread
Electric Wizard
Spiritual Beggars
Ghost
Black spider
after the funeral
Sunday June 26
Slipknot
Rob zombie
avenged sevenfold
Mastodon
Kreator
Anvil
Pagan's Mind
Cavalera Conspiracy
Opeth
Legion of the Damned
Moonsorrow
Amorphous
Bring me The Horizon
Dublin Death Patrol
Terror
Pro Pain
DRI
Rise to Remain
Graspop Metal Meeting 2012

Friday June 22

Ozzy
Slayer
Sabaton
slash
Black Label Society
Godsmack
Trace
Amon Amarth
Paradise Lost
Sacred Reich
Ensiferum
Skeletonwitch
Kyuss lives!
Sick of everything
Devildriver
August burns red
Unearth
Cannibal Corpse
Obituary
Aborted
Possessed
Winterfylleth
Saille
Saturday 23 June
Limp Bizkit
Twisted Sister
Megadeth
Trivium
Thin Lizzy
Primal Fear
Adrenaline Mob
Powerwolf
Dimmu Borgir
My Dying Bride
Exodus
Eluveitie
Death angel
Alestorm
Pennywise
Fear Factory
Comeback Kid
Ihsahn & Leprous
Nasum
Brutal Truth
Suicidal angels
Dear superstar
Heidevolk
Kobra and the Lotus
Sunday June 24
Guns N 'Roses
Motörhead
Machine Head
Killswitch Engage
Europe
Sebastian bach
Behemoth
Jon Oliva's Pain
Gotthard
Ugly kid joe
MaYaN
Hatebreed
Gojira
AxWound
H 2 O
Emmure
Cancer Bats
Rival Sons
Spoil Engine
Black spiders
Graspop Metal Meeting 2013

Friday June 28

Twisted Sister
Korn
Coal Chamber
Papa roach
Helloween
Grave Digger
Heathen
Crucified Barbara
Kreator
Mayhem
Dark Funeral
Korpiklaani
unleashed
Varg
Soulfly
Heaven will burn
Prong
all that remains in
asking Alexandria
Veil of Maya
Katatonia
Rotting Christ
Entombed
Love and death
Bliksem
The Monolith Deathcult
Generation Kill
Saturday June 29 [30] Slipknot
Saxon
within Temptation
Bullet for my Valentine
The devil wears Prada
Rockstar
Brainstorm
Vanderbuyst
Iced earth
Hypocrisy
U.DO
Steak Number Eight
Mug
Amaranth
Pod
Down
Agnostic Front
Caliban
Absu
Lock Up
Black Aura
Dunderbeist
Between the Buried and Me
Sylosis
Hacktivist
Sunday June 30
Iron maiden
In Flames
Stone Sour
Parkway Drive
Hellyeah
Pretty maids
Voodoo Six
King diamond
Epica
Ghost
God seed
Moonspell
Winterfylleth
Will
Newsted
The Sword
Karma to Burn
Red fang
Bullet
Heaven's Basement
King Hiss
Graspop Metal Meeting 2014

Thursday June 26
Jupiler Stadium Metal Dome
Diablo Blvd
Evil Invaders
Ostrogoth
Dyscordia
Friday June 27 [32] Avenged Sevenfold
Slayer
Steel Panther
Ghost
Seether
Jeff Scott Soto
Sabaton
Behemoth
Sepultura
Doro
Annihilator
Lynch mob
Alestorm
Opeth
Watain
Triptykon
Candlemass
Napalm Death
Solstafir
Novembers Doom
Unida
Orange Goblin
Walking Papers
Of Mice & Men
Miss May I
Suicidal Angels
The Treatment
High Voltage
Emmure
Buckcherry
Blessthefall
Huntress
Battlecross
Saturday June 28
Volbeat
Alter bridge
Mastodon
Gamma ray
Skillet
Prime Circle
Limp Bizkit
Trivium
WASP
Gojira
Powerwolf
Dagoba
Satyricon
Eluveitie
Legion of
Damned nile
necrophobic
in solitude
Dark Tranquility
Cult of Luna
Amplifier
Enslaved
Amenra
Nails
Carach Angren
Stahlzeit
Kylesa
Pro Pain
Walls of Jericho
protest against the hero
Skyharbor
Sunday June 29
Black sabbath
Soundgarden
Alice in Chains
Anthrax
Black Label Society
The murder of the black dahlia
Rob zombie
Hatebreed
Bring me The Horizon
Suicide Silence
Comeback Kid
Powerman 5000
Meshuggah
Paradise Lost
Death: DTA
Tiamat
The Church of Pungent Stench
Cynic
Glorior Belli
Metal Church
Sebastian bach
Vandenberg's Moonkings
Rhapsody of Fire
Gloryhammer
Scorpio Child
Collibus
Architects
We Came as Romans
Thy Art Is Murder
Letlive
Crossfaith
Graspop Metal Meeting 2015

Thursday June 18
Present Danger
Up the Irons
The Art of Pantera
Diolegacy
Powerstroke
Bliksem
Oceans of Sadness
Your Highness
Hell City
Friday June 19
KISS
Slash with Myles Kennedy and the Conspirators
Cavalera Conspiracy
Epica
Thunder
HEAT
Marilyn manson
In Flames
Body Count
Life of Agony
Asking Alexandria
Butcher Babies
The Dead Daisies
Marduk
Cannibal Corpse
God seed
Sigh
aborted
Der Weg Einer Freiheit
Ihsahn
Samael
Evergrey
Sarke
Do Obliviscaris
Blues pills
Avatarium
King Hiss
Stray from the Path
Heidevolk settled the
things
correctly snot
In Hearts Wake
Saturday June 20
Korn
Five Finger Death Punch
Godsmack
A day to remember
Hollywood undead
Lower Than Atlantis
Judas Priest
Alice cooper
Sonata Arctica
Exodus
Danko jones
Orchid
At the Gates
Arch Enemy
Korpiklaani
Vallenfyre
Kataklysm
Morgoth
Orphaned Land
Alcest
Primordial
Lacuna Coil
The Ocean
Shining
The Haunted
Hawk eyes
Orange
Chelsea Grin on
a Burning Body
Sunday June 21
Scorpions
Motörhead
Airbourne
Black Stone Cherry
Tremonti
Pop Evil
Faith is no more
in temptation
Lamb of god
Papa roach
Parkway Drive
Amorphous
Septicflesh
Sylosis
Winterfylleth
Den Saakaldte
Dragonforce
FM
Equilibrium
Devilment
Evil Invaders
Battle Beast
Kobra and the Lotus
The Charm The Fury
Graspop Metal Meeting 2016

Thursday June 16
Dirkschneider
Primal Fear
Trivium
Eurostars Wrestling
Spoil Engine
Killer
Fleddy Melculy rejects
Bark
Knives to a shootout
Friday June 17th
Black sabbath
Megadeth
Foreigner
Bad Religion
The Winery Dogs
Monster truck
King diamond
Amon Amarth
Disturbed
Heaven will burn
six times: AM
Soilwork
Firewind
Apocalyptica
Dark Funeral
Moonspell
Arcturus
Fleshgod Apocalypse
Carach Angren
Myrkur
Zakk Wylde
Amaranth
Loudness
Virgin steele
Grand Magus
Raven
Bloodbound
August burns red
Atreyu
Norma Jean
Turnstile
Monuments
Saturday June 18
Volbeat
Slayer
Bullet for My Valentine
Will
Skillet
Halestorm
Bliksem
Nightwish
Ghost
Dropkick Murphys
Killswitch Engage
Pennywise
Municipal Waste
Abbath
Gojira
Satyricon
Obituary
Paradise Lost
Shining
God Dethroned
Secrets of the Moon
Rival Sons
Tesseract
Kadavar
Slavs
Collibus
Anti-Flag
Beartooth
Skindred
Burning Down Alaska
Sunday June 19
Iron maiden
Anthrax
Saxon
Tremonti
Shinedown
The Raven Age
Twisted Sister
Trivium
Powerwolf
Sick of It All
Overkill
Delain
Behemoth
Sacred Reich
Moonsorrow
Sikth
La Muerte
Oomph!
Obscura
Crobot
Graspop Metal Meeting 2017

Thursday June 15
Brides of Lucifer
Slayensemble
Cover pawns
of christ
Thurisaz
King Hiss
Wolves Scream
Hexa Mera
Born of Pain
Off the cross
Bear
Carnation
Friday June 16
Rammstein
Europe
Dee Snider
Black Star Riders
Blue Öyster Cult
Battle Beast
Slydigs
Emperor
Epica
Sepultura
Metal Church
Comeback Kid
Evil Invaders
Wives of Lucifer
Tarja
Amenra
Sólstafir
Christ
rotten Melechesh
Beheaded
Tribulation
The Dillinger Escape Plan
Alcest
Prong
Psychotic waltz
King's X
Sinistro
MaYaN
Northlane
Shvpes
Dee Snider replaced WASP
Saturday June 17th
Deep purple
Alter bridge
Gojira
Danko jones
Rhapsody
Axel Rudi Pell
In Flames
Five Finger Death Punch
A Day to Remember
Max & Iggor Cavalera: Return to Roots
Architects
Devildriver
Avatar
Ministry
Amorphous
Mayhem
Devin Townsend Project
Sanctuary
Subrosa
Helmet
Monster Magnet
Clutch
Red fang
Coheed and Cambria
Baroness
Toseland
Code Orange
Crown the Empire
as Lions
Sunday June 18
Scorpions
Evanescence
Steel Panther
Airbourne
Ugly kid joe
The Raven Age
Sabaton
Rob zombie
Mastodon
Hatebreed
Alestorm
The Charm The Fury
Primus
Opeth
Anathema
Graveyard
Kvelertak
The Black Dahlia Murder
Memoriam
The Monolith Deathcult
Queensrÿche
Gotthard
The Dead Daisies
Hardline
Grave Digger
Like a Storm
Inglorious
Sum 41
Suicidal Tendencies
Suicide Silence
Chelsea grin
Amoré Touch
Hacktivist
Graspop Metal Meeting 2018

In 2018, the Festival will have 4 full days and was fully booked for the first time in its existence.
Thursday June 21 [34] Main stage 01 Main stage 02 Marquee Metal dome Jupiler stadium
Guns N 'Roses
Jonathan davis
Black Stone Cherry
Kataklysm
Dool
Madball
Fleddy Melculy
Bury Bury Tomorrow
Friday June 22
Iron maiden
Killswitch Engage
Powerwolf
Shinedown
Avatar
Tyler Bryant and The Shakedown
Parkway Drive
avenged sevenfold
Hollywood undead
Tremonti
Stick to Your Guns
Diablo Blvd
Ayreon
Watain
Vader
Septicflesh
Carach Angren
Arkona
Akercocke
Galactic empire
The Darkness
Piston
In This Moment
Zeal & Ardor
The Raven Age
Savage Messiah
Less than Jake
Anti-Flag
L7
Silverstein
Saturday 23 June
Volbeat
Rise Against
Arch Enemy
Skillet
Vixen
Backyard Babies
Marilyn manson
Megadeth
Kreator
Marduk
Exodus
Amaranth
Asphyx
Batushka
Bölzer
Baroness
Sons of Apollo
Kadavar
Planet of Zeus
The Vintage Caravan
Thundermother
Stone Broken
Underoath
Miss May I
Crossfaith
Boston manor
Our Hollow, Our Home *
Sunday June 24
Ozzy Osbourne
Hollywood vampires
Limp Bizkit
Billy Talent
Eisbrecher
Vandenberg's Moonkings
A Perfect Circle
Judas Priest
Bullet for My Valentine
Body Count feat. Ice-T
Powerflo
Pro-Pain
Meshuggah
Dead cross
Corrosion of Conformity
Lacuna Coil
Carnivore AD
Shining (SE)
Týr
Mantar
Bloody Beetroots
Skindred
Tesseract
Eskimo Callboy
Ego Kill Talent
Emmure
Blessthefall
Graspop Metal Meeting 2019

Thursday, June 20

Philip Anselmo & The Illegals
Sonata Arctica
Aborted
Raven
Off the cross
Concealment of reality
Hemelbestormer
The Amity Affliction
Beartooth
Nasty
Black peaks
Friday June 21
Lynyrd skynyrd
Architects
Glenn hughes
Eisbrecher
like a storm
Slayer
Amon Amarth
Anthrax
Will
Hatebreed
Death angel
Eagles of Death Metal
Cult of the Luna
Candlemass
Crowbar
Whitechapel
Wiegedood
Mysticum
Starset
Carpenter Brut
Deathstars
Combichrist
Candlebox
The Hu
Saturday 22 June
Slipknot
Disturbed
Slash ft. Miles Kennedy and the conspirators
Behemoth
Three days grace
Bad wolves
Lamb of God
Godsmack
Trivium
Halestorm
Hammerfall
Gloryhammer
King diamond
Ministry
Clutch
Legion of the Damned
Borknagar
Immolation
Do Obliviscaris
Cellar Darling
Demons and wizards
Krokus
UFO
Phil Campbell and the Bastard Sons
Grand Magus
Beast in Black
Lovebites
Refused
Sunday 23 June
KISS
Def leppard
Whitesnake
Gojira
Deadland Ritual
FM
Sabaton
Rob zombie
In Flames
Delain
Inglorious
Carcass
Cradle of dirt
Eluveitie
possesses
Insomnium
Fleshgod Apocalypse
Equilibrium
Skálmöld
Hawkwind
Kvelertak
Uncle Acid and the Deadbeats
Living Color
Nashville Pussy
Orange Goblin
Crisix
Graspop Metal Meeting 2020 (cancellation)
In 2020, the Festival plans to organize the 25th edition. Therefore, they would have celebrated it as a full 4 day festival. Bands intended to perform included Iron Maiden, Judas Priest, Aerosmith, Mercyful Fate, Disturbed, Faith No More, Killing Joke, The Offspring, Korn , Airbourne and others. On April 15, 2020, the festival announced on its Facebook page that the 2020 edition would be canceled due to the ongoing COVID-19 pandemic.
The festival has been postponed to 2021.
---
Eric CANTO Photographer: Concert photos, portraits, album covers.
Visit my portfolio Visit the blog Visit the shop contact me