Gibson les Paul: The Story of a Myth
Gibson, arguably the most iconic guitar brand in the world, is an American brand that has shaped the sounds of generations of musicians for over 100 years. From Slash to Jimmy Page, Gibson is now a myth.
Founded in 1894 and headquartered in Nashville, Tennessee, Gibson Brands has a heritage of world-class craftsmanship, legendary musical partnerships, and progressive product evolution unlike any other guitar brand.
The Gibson Brands portfolio includes Gibson, the number one guitar brand, along with many of the most popular and recognizable music brands including Epiphone, Kramer, Steinberger, MESA / Boogie and Gibson Pro Audio division, KRK Systems.
Gibson Brands is dedicated to quality, innovation and sonic excellence so that music lovers of generations to come continue to experience the music shaped by Gibson Brands.
The signature model of Gibson The Paul
the signature model of Gibson The Paul ended up defining the sound of rock music - a role he still enjoys today. Yet its conception was a protracted process, with many twists and turns. Here we present its history firsthand, both from its creators and from its most famous players ...
Gibson LES PAUL history: the story
This is the story of the initiate of the beginnings of the Gibson Les Paul , the company's first solidbody electric guitar. After Fender's introduction of the Broadcaster and Telecaster in 1950 and 1951, Gibson decided to compete, hiring the most famous American guitarist of the time, Les Paul, to endorse his new instrument.
GIBSON Paul Custom, Les Paul Standard or "Burst"
In the years that followed, Gibson's Paul Goldtops (introduced in 1952), Les Paul Custom (1954) and Les Paul Standard or "Burst" (which replaced the Goldtop in 1958) provided a solid and comfortable base for the solidbody range and which also featured some economy models: the Les Paul Junior (1954) and the Les Paul Special (1955).
This oral history of the early Les Pauls and his famous players comes from the archives of interviews I have done over the years for my books on Gibson.
People you'll hear from are: Billy Gibbons, who was in his pre-ZZ Top Moving Sidewalks band in 1968 when he acquired a Burst; Ted McCarty, who joined Gibson in 1948 and became president two years later; Jimmy Page, who got a Les Paul Custom circa 1964 and, at Led Zeppelin, bought a Burst from Joe Walsh in 1969; and Les Paul himself - who, along with Mary Ford, scored an American No.1 hit with How High The Moon in 1951.
Les Paul "I had tried to make a guitar that sustained and reproduced the sound of the string without anything added. No distortion, no change in response from what the string was doing. No vibrating top, no further enhancement, advantageous or disadvantageous.
I wanted to make sure he just gave you the rope because the rope was excited: you plucked the rope, and that's what you got. It was my whole idea in the early '30s. I worked on it, worked on it, stuffed rags into the guitars, then finally plugged them in completely, made one-inch tops on them. Then finally saying, "Look, I'm just going to go over a newspaper. "
"I approached Gibson in 1941. They laughed at the idea, they called me the kid with the broomstick with the mics on it. The factory was in Kalamazoo, Michigan, but the offices were in Chicago, and that's where I went. The newspaper was what I brought them. I actually built it at Epiphone. I knew the people there, and I could have the factory every Sunday, there was no one other than the guard.
"So every Sunday I went and worked there from 1939 to 41. Epiphone says, what the hell is this?" I say it's a log, it's a solidbody guitar, and they say, well why? And I say, well… but I was aiming for Gibson, I was not aiming for Epi. I knew Epi was about to sink. Gibson was the biggest in the business and that's where I wanted to go. I took it from Chicago to Maurice Berlin, the president of CMI, the Chicago Musical Instrument company [owner of Gibson], and they laughed at it.
"I moved to California, I went into the military, I went with Bing Crosby, I continued to play my journal, and Leo fender came into my backyard, and Merle Travis saw it, just like all the other guitarists, all the other makers, they all saw it.
Vibrola, I started on it in the 1930s and then I discovered that a guy had already invented a vibrola, but it was dead, it was extinct, it died in its tracks. So I said, "I'm going to make my own vibrola," so I made mine and Bigsby came into my backyard, with Fender. "
Gibson wants a strong body
Ted McCarty "The salons of the late 1940s were in Chicago in June and New York in about January. We would take prototypes to the show, show them, they would get a reaction from the dealers - because it was a dealer show, you had to be a dealer to get in - and depending on the reaction, we would come back to the factory and the sellers. Looks like he's a good seller, he's a good seller, but I couldn't do much with this one. Alright, you got it. This is how we chose the line, you might say.
"We realized that Leo Fender was gaining popularity in the West with his strong Spanish body. It didn't happen anywhere in New York or that part of the country, it was strictly in the West.
I looked at him and looked and said, "We have to get into this business. We give him a free race, he's the only one to make this kind of guitar. Had that real shrill sound that country and western boys loved. It was becoming popular. So we discussed it and decided, let's do one.
"Now Les Paul was known to me, Les Paul was a bit of an innovator, but he played Epiphone. And I was trying to make him play Gibson, oh, for a few years. He wasn't going to get away from Epiphone, he was loyal to them. He had made some improvements, some changes, in his Epiphone that he was using. They didn't make an Epiphone with his name on it - all they did was Epiphone.
The Design of the Gibson Les Paul
Les Paul "Leo Fender saw what I was doing and he started to create one. And when Gibson heard about it, they said to find this guy with the broomstick with the mic on! They came straight away, as soon as they heard what Leo was doing. They came to me and I said, "Well, you're a little late. But alright, let's go. "
Ted McCarty "We started to build a strong body and we had a lot to learn. For example, the stiffer the material, the harder the wood, the higher the sound and the longer the sustain.
Hit the string and it would ring for a long time to hold. It might take too long. One of the things we did was take a piece of iron rail from the railroad tracks, put a bridge, pickup, and tailpiece on it, and test it out.
You could hit that string, walk, come back, and it would still ring. Because what makes it slow down is the fact that the wood gives a little.
"We made a guitar from solid maple. It was not good. Too shrill, too much sustain. And we made one in mahogany. Too soft. I didn't really have that thing.
So we finally found a maple top and mahogany back, made a sandwich out of it, glued them together.
GIBSON Les Paul: the form
Then we decided, what about the shape? We wanted something that wouldn't be too heavy. The Fender was a much bigger, heavier guitar. So we made ours a little smaller, traditionally shaped.
Les Paul and his wife Mary Ford at a press reception at the Savoy Hotel in London for the unveiling in 1952 of the signature Les Paul model. Note the DeArmond Dynasonics under the P-90 neck pickup covers
"We had always carved the tops of our beautiful guitars, and we had real carving machines. Leo Fender did not have a carving machine. They joined their necks with a plate on the back of the guitar. We have always stuck our necks together, made it an integral part. So I said, "Okay, let's cut off the top of this thing, like we would on an L-5 and an L-7." "
"We finally found an attractive guitar. And as far as we're concerned, he had the tone, he had the resonance and he also had the sustain, but not too much. Now we needed an excuse to do it. None of the other big guitar companies had anything to do with a solid body.
Their attitude was to forget it, because anyone with a bandsaw can make a solidbody guitar. Bandsaw and router, that's all you needed.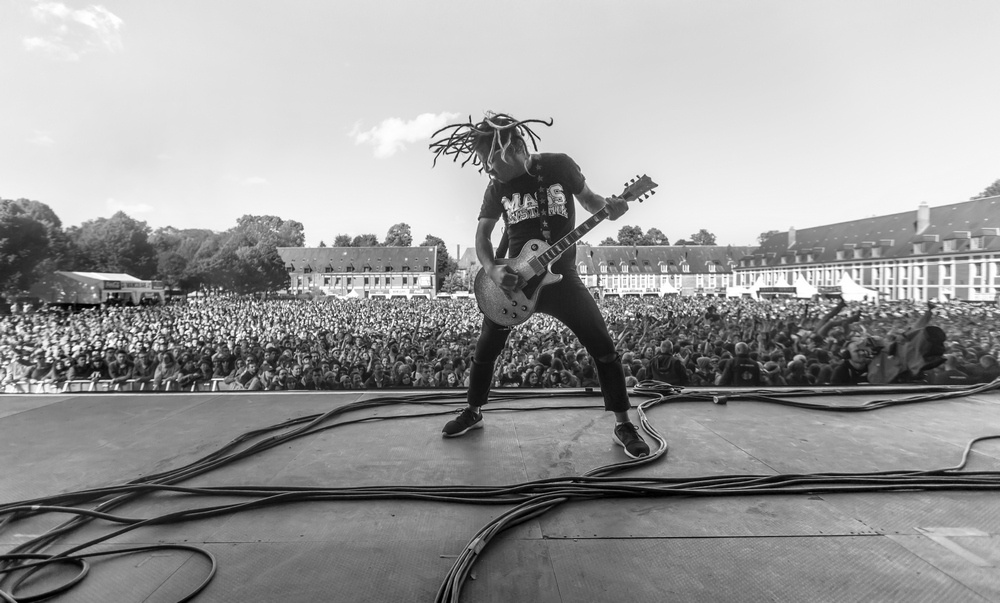 "So I started to think. At that time, Les Paul and Mary Ford were riding very high, they were probably the number one vocal team in America. They were making a million dollars a year. And knowing Les and Mary, I decided that maybe I should show them this guitar.
Ted McCarty "Les and his group were in a hunting lodge at Delaware Water Gap, which is in the mountains of Pennsylvania. I had spoken to Les by phone and spoke to Phil Braunstein, his CFO, an accountant from New York. So I made an appointment with Phil, I went to New York, I had breakfast, I got in his car, and I had this [prototype] guitar with me.
"It was a day's drive from New York there, we got there at night, rainy, a miserable night. "I said, 'I've got something here, Les, that I want you to see.' We had an amplifier and we plugged this guitar into it. He took it, and he played it - and he played it and he played it. There was this upstairs balcony with bedrooms leading next to it, and Mary Ford was upstairs, so he yelled, "Mary, come over here, I want you to see this.
"Mary came down. He said, "Play that, Mary, I want to hear and see what you think." She took it and played it, and she said, "I love it. Les said, "Let me have it," and he played it some more, and he turned to Mary and said, "Look, they're getting too close to us, Mary, I think we should join them. What do you think?' She says, "I like it." "
Les Paul "It was a flat guitar at the time, it wasn't an archtop. I drew everything there except the belly, the arched top. I had a flat-top. I was sitting there with Maurice Berlin at CMI, and he said, "You know, I like violins. And he took me through his safe and showed me his collection, and he said:
"Would you consider doing it in an archtop?" And I said I would love to. He said, "No one else - Fender, no one else - can do it, and we have the facilities to do it. So I said, 'Sure, let's do it. So we made them.
Ted McCarty "Les had taken his Epiphone and made a lot of changes to it, put microphones in it that he had made. I had been after him for a few years, trying to convince him of Gibson, I had not succeeded. So I said, "This is what we want to do, we want to call it the model Gibson Les Paul. "
I told him we would pay him a royalty. I'm not a lawyer, neither Phil Braunstein, nor Les. So we started to enter into a contract. And I have a theory on contracts. The simpler they are, the better. If you have five pages of gobbledegook, which I call "boilerplate", you hire a smart lawyer and he will find loopholes there.
A simple, everyone can understand. So we started, the first thing we did was write down how much we would pay him per guitar.
"We hit it off all night. So I came back to the factory and now we had a model Gibson Les Paul. I had been trying to convince Les to let us make him a guitar for years, without success, but we finally had something he liked. So we started to produce them.
Gibson and the imperfections of wood
Ted McCarty "We did the gold finish because it covered the imperfections of the wood, the cosmetic aspect. If it was maple [like the last Burst], it had to be fiddle maple, had to be perfect, couldn't have flaws, couldn't have mineral streaks. But we used to cover it with this [golden] paint.
The lack of fingerboard binding and diagonal bridge pickup height adjustment screws indicate that this now heavily modified 1952 Goldtop model is one of the very first ever made.
"We added the Gibson Les Paul Custom just to have another one. You have all kinds of players who like it and like that. Chevrolet has a whole bunch of models, Ford has a whole bunch of models. And there was a good reason for it. We had more and more problems getting real good light Honduran mahogany. We would have mahogany and there would be streaks in it and so on.
"So that the Gibson Les Paul Custom either a solid body, it was not a sandwich, it was solid mahogany, but painted black. So you had some with streaks? You made it into customs. I embellished it with binders and other items, and I sold it for a higher price. "
Billy's Divine Music with GIbson Pearly Gates
Billy Gibbons "This guy I knew in Houston, John Wilson - he had a 12 string Rickenbacker, they sounded like The Byrds, they were called The Magic Ring - he rang the bell one day and said, 'Hey, the word is that you are looking for one of these Gibson Les Pauls. I said yeah. He said, "There's a farmer, rancher, up the road, just outside the city limits, a big ranch over there, a big rancher, cattle, and horses. Now, he's got one of those things.
"We got a 1936 Packard automobile, and we had a friend of the band, Renee Thomas, she had the opportunity to audition in California to win a role in a movie, so we gave her the Packard. She called, said she's in California and got the part. Finally, she sold the Packard drummer and sent me this check for, I believe, 350 $. I swear, the check came in the mail, and my mate stops and says, "Hey, let's go check out that guitar.
This magnificent '59 Burst was the inspiration for Gibson Custom's 2016 Minnesota Burst, 39th in a series of painstaking recreations of historic instruments.
We're getting there, the guy said, "You want it, you can have it." I said, "How much do you want? He said, "How much do you have? I pulled out the check and said I just got this today, 350 $. He said, "I'll take it. So I took off with this guitar!
"We named this car Pearly Gates and when Renee sold it I called it back, I said, 'I got this guitar with the money.' She said, "Well, we're going to call this guitar Pearly Gates and you're going to play some divine music.
"I'll tell you, man, it's kind of a guitar!" It was in 1968, just after the summer. I wondered along the way why this particular example of Gibson Les Paul ['59 Burst] is so sturdy.
Really, the only explanation is that it just happened to be set up on the right day. The right combination of wood. "Everything was assumed at the time. The particular day when all the disparate elements came together was just that magical moment, I guess.
Jimmy Page and the GIBSON Les Paul
Gibson Les Paul Standard
jimmy Page "I had my [three humbuckers] Gibson Les Paul Custom in the 60's… there was [Selmer store in Charing Cross Road] and then there was one further down, at the time he was affiliated with 'one way or another called [Lew Davis], and I bought it in there.
I remember coming in and there was some kind of crate, and the guys behind it, and right on the wall… I said, "Oh my God, let me try! What he was doing in there and why, but it was there. It was just… I fell in love with this bloody thing.
"There weren't many around. It was just such a beautiful thing and it looked so wonderful. The middle setting wasn't what you expected, but it was a really sharp sound that was really superb. I personalized it with switches so you can go into any combination, and [in 1970] this is the one that got stolen.
Jimmy Page in 1975, the year he bought a Burst backup to replace the "number one" Gibson Les Paul Standard that was his mainstay.
"In 1969 Joe Walsh came to the Fillmore or Winterland, either one, in San Francisco and he insisted, he said, 'You have to buy this guitar!' [It became Page's 'Number One' Burst.] And it actually looked like it had been refurbished. I said, "I don't necessarily need it".
"No, you have to have it, try it, you will," and all that. I said, "I already have the habit. "No, no, you have to try it!" You must buy this guitar!
"He continued to insist. I said, "Ah, no, no, no, I can't afford it. You know how it is. ' It wasn't like dealing with Selmer. He really played sports - he still does sports now. Because everybody's going, you sold him a Gibson Les Paul for anything, hundreds of dollars. It was prorated, he didn't steal from me and he didn't give it to me as a gift.
"I knew it was a good guitar. I knew there would be no turning back, the squeak I was getting from my Telecaster, which every night there was an entire episode of monitoring. The first album is done on the Telecaster, because it's a transition from The Yardbirds to Led Zeppelin, it's exactly the same guitar.
Everyone had that if they started to ride a loud Telecaster. So Joe insisted that I buy it, and I bought it, and I released the second album with it.
Gibson Les Paul Custom from 1956
This Gibson Les Paul Custom from 1956 has a "basic" single coil in the neck position. The Custom was introduced in 1954 to fulfill Gibson Les Paul's wish for a more luxurious guitar that looked like "a tuxedo"
"There's no guarantee I would have played the… I don't know, it's hypothetical, but I might not have found the Whole Lotta Love riff on the Telecaster. That big sound that you're working with, you're inspired - well, I am - and I know other people are, by instruments, the sound of instruments.
And then they play something that they've never played before - and it's really user-friendly, and suddenly they have a kind of riff, which is unique to this moment. I'm not saying it's the first thing I played on it, but it was coming.
"I always knew the Gibson Les Paul was a very user-friendly guitar compared to, say, a Strat or something like that. It's really sympatico. So many things start to sing, you know? Really sing. "
---
Eric CANTO Photographer: Concert photos, portraits, album covers.
Visit my portfolio Visit the blog Visit the shop contact me