Ghost, what is it?
Ghost band is a metal band that formed in 2006 in the small town of Linköping, Sweden. Contrary to popular belief, Ghost is not a "group" but the project of the founding member, singer, songwriter and leader of the group: Tobias Forge.
Ghost is best known for his occult / black-metal theaters and his captivating stage performances. The foundation of Ghost is as follows: a devil pope and his minions (the nameless ghouls, and now the ghoulettes); it is the recurring theme of all albums and eras.
Ghost's most distinct characteristic is his "uniforms"; The Nameless Ghouls wear identical masks and clothing, while Tobias has concealed his identity under a full prosthetic mask and makeup that would create his demonic popes who have changed in every era of the group, thus far.
Despite the fact that the Nameless Ghouls were meant to be nameless, fans began to name nicknames for what are now known as the "Original Ghouls".
Solo guitar = Fire Ghoul
Bass = Water Ghoul
Rythym Guitar = Aether Ghoul (later called Omega and "stompy")
Keyboards = Air Ghoul
Drums = Earth Ghoul
The names came from the symbols that were labeled on their costumes; once the "original" Ghouls range was dismissed from the group (2017); the new set of ghouls also took on nicknames.
Until the end of 2018, anonymity was the most compelling part of Ghost; many people were first drawn to Ghost for the mystery that accompanied this underground band singing rhythmic yet heavy tunes about Satan and Hell.
No one knew who they were, no one knew where they came from, but they couldn't look away from the "scary" sight. However, a few months ago, Tobias "unmasked" himself on a Swedish radio show and confirmed what the more intense already knew; Tobias Forge IS Ghost.
The reason? Well, no one really knows what prompted him to take the plunge except Tobias who said the 'mystery' can't stay alive that long these days with camera phones and instant communication, therefore he prefers to make the "exit" than it is announced elsewhere.
For the first three albums, Tobias Forge took on different incarnations and characters from Papa Emeritus. So far we have had a Dad Emeritus I, II and III. With their latest album, we were also introduced to Papa Nihil (aka Papa Zero) who is basically the manager of the devil-pope (also the father of all Papa).
Papa Emeritus faced him against Ghost from 2008 to 2012, then in December 2012, Ghost debuted "Secular Haze", along with Papa Emeritus II, as an announcement for their second album "Infestissumam", in their hometown of Linköping.
Three years later, in 2015, Papa II introduced the audience to his "younger brother," Papa Emeritus III, who would take the responsibility of trying to overthrow the Church and the government, as Papa II had been fired for not having succeeded in this goal not fulfilling his duty to overthrow the churches, it was the beginning of the Meliora era, which really brought Ghost into the hard rock / metal scene.
In September 2017, in Gothenburg (Gothenburg), Sweden, Papa Emeritus III was dragged off the stage by two men, the men then escorted Papa Nihil introducing that the next chapter and the current era would begin ...
Fun Fact: You can actually visit the Dead Dads at 'Worship of the Relics' when you purchase Meet and Greet Passes for the current tour.
Papa III and I died in Stockholm, Sweden.
It wasn't until January 2018 that we learned of the release of Prequelle and were informed by the clergy (which is essentially the ghost HQ) that we won't see a daddy return, at least not yet.
In April 2018, Ghost made his Cardinal Copia debut to a private audience on a secret acoustic show, confirming to fans that Ghost is no longer "controlled" by a daddy. The cardinal is the first "leader" and member of the clergy not to belong to the Nihil lineage. The cardinal was brought in by Sister Imperator, who holds a high title in the clergy, to step in as the leader of Ghost due to the fact that the emeritus line is now entirely dead,
Papa Nihil is unsure of the Cardinal, despite Sister Imperator insisting that Ghost needs "a new leader with youth, stamina and sexual charisma," which Nihil reluctantly accepts simply because that he wants to continue the Ghost mission of spreading Satan's message.
In conclusion, where the band is right now is: The Cardinal is still opposite Ghost and touring the fourth and final Prequelle album which was released in 2018. Tobias Forge recently stated that the fifth album and the fifth era of Ghost will always be led by the Cardinal, it is rare for Ghost to keep the same character ...
The albums and their concepts
Music is actually a controversial topic with Ghost, as many "metalheads" tend to reject the idea of letting Ghost sit in the Metal genre; and a lot of elitists don't like Ghost.
Part of the fun of being a fan of this band is that you are always up against something new; be it the music, characters, costumes, plot, etc.
Eponymous opus (2010) - Ghost Band
In 2006, while Tobias Forge was still part of his group Subvision (which included members who would go on to become "original" unnamed Ghouls), he wrote the song "Stand By Him" and then reunited with a former Repugnant's bandmate to record the song.
In 2008, Tobias Forge, and what would soon be an unnamed ghoul, wrote and recorded "Stand By Him", "Prime Mover" and "Death Knell", and it was in this process that the two decided to continue this satanic theme, but in a "theater group" format because they thought that their appearances would not be taken seriously with the songs.
Using Tobias' love for horror films and Scandinavian black metal lore, he came up with the original concept of masked limbs for the "Nameless Ghouls", while he donned the character of "Papa Emeritus" in papal insignia and cadaver painting. -a face painting.
Tobias Forge offered the vocal role to several other Swedish musicians, as he wanted a more "behind-the-scenes" role of writing lyrics and music, and playing guitar only on stage. However, since too many people rejected the idea of being a "devil pope", Tobias had to do it himself, and voila, the rest is history!
In March 2010, Tobias Forge posted Ghost's first three songs on MySpace and in less than two days he was approached by record companies and managers! Ghost then finished his album in Linköping and released his first single "Elizabeth" in June 2010, then released Opus Eponymous in October 2010.
The album reached number 50 on the Swedish top, and has already started to create a lot of buzz with the debut album. It is ominous, heavy, satanic and still manages to make your body vibrate with those melodic hooks. Opus, is also the cornerstone of Ghost's concept albums and the foundation of our current story line position.
Thematically, Opus sets up the group to "liberate" the antichrist into the world, as the album's goal is the "ritual and conception of the antichrist" and it is not before the second Infestissumam album, where we actually get the Antichrist.
Infestissumam (2012) - Ghost Band
In February 2012, "Special Ghoul" (which is Tobias disguised as Nameless Ghoul when he does interviews, because the Dads didn't do interviews) announced that the band had finished writing and recording their song. second album. As previously mentioned, in December 2012 in Linköping, Sweden, the band performed "Secular Haze" and their ABBA cover of "I'm a Marionette" before presenting Papa Emeritus II, announcing that he [Papa II] will be covering. the group as he [Papa I] was fired from the clergy.
It was at the same time that Ghost faced a lot of backlash from the United States, legally. First, they had to temporarily become Ghost BC in the US to avoid legal issues. Then, Infestissumam's US release date was pushed back due to the fact that no US manufacturing company wanted to squeeze the albums due to the blasphemous illustration on luxury CDs, with the companies complaining that 'it was "essentially a 16th century orgy".
Sadly, Ghost decided to change the album cover to avoid further delay and reserved the "luxury cover" for all European copies and vinyl copies in the United States.
Infestissumam is the album that really made Ghost a live band, as the band toured back to back for two years in a row. It is also this album that allowed the group to quickly build up a large fan base!
In April 2013 they played Coachella, then in July they played Lolla Chicago; which is actually quite important considering that in 2012 the band Ghost was still in its "scary phase" and more "intimidating". At the end of 2013, they opened for Iron Maiden & Slayer, then Avenged Sevenfold & Deftones, and ended 2013 with an opening for Alice in Chains in Europe.
In November 2013, Ghost released their cover EP, If You Have Ghost, produced by Dave Grohl. (Dave also admitted playing drums for Ghost in costume a few times!)
In terms of Infestissumam theme, this is the album in which the antichrist was finally born!
The clergy are celebrating and preparing the planned movement to release antichrsit to the world, so that they can take over the world. Musically you can already tell that Ghost Band has started to grow financially, in terms of production value, but you can also hear that Tobias Forge has found the sound of Ghost Band.
He took out a lot of elements "heavy metalAnd sweetened them with melodic pop touches.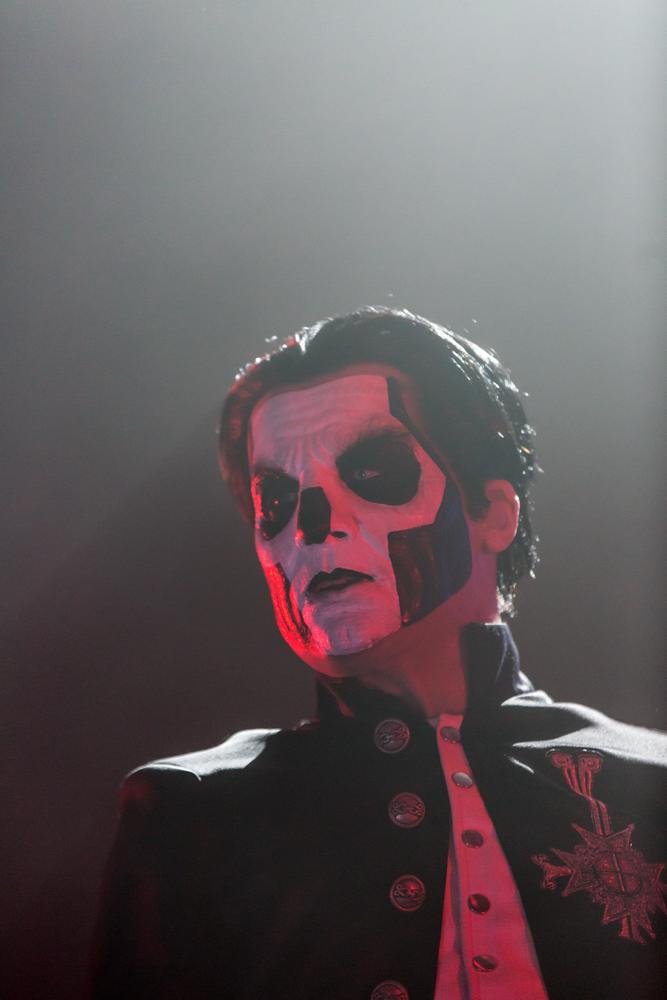 Meliora (2015) - Ghost Band
In May 2015, it was announced that Papa Emeritus II had been fired for failing as the Pope's antichrist leader for Ghost Band, due to his failure to overthrow churches of all religions nor to succeed the governments of the world (how ambitious, eh?). While the buzz of the hype was still strong, Ghost released the single "Cirice" for free download on the band's official website as a preview of Meliora, which was released later in August 2015.
Meliora is truly Ghost Band's "revolutionary" album in terms of international success, stage production and thematic concepts; Once Meliora was released, Tobias and Ghost Band didn't back down, because it really made Ghost Band one of the biggest bands of the decade.
According to Tobias, however, not all of this success has come with lack of effort. Tobias Forge worked with Swedish producer Klas Åhlund, best known for his production of pop music. He would later reflect that Klas' pop expertise had been the perfect missing touch that Ghost Band lacked to create the perfect "dark ABBA record".
Meliora speaks of the antichrist and succeeds in his title of "all-powerful" overthrowing God. As Tobias Forge explained (as Special Ghoul): "The lyrics are about the emptiness that occurs when there is no god, when there is no one to help you. But even then, there will always be f * ckers to guide you. And the group is basically described as the religious party that comes with a guiding hand. We offer the only place in the world that is spiritual ".
It continues with "the backdrop that we wanted to paint in front of which we play these songs, is meant to be a futuristic, super-urban, metropolitan, pre-apocalyptic, dystopian image" that also reflects modern society.
This album proved Tobias Forge's ability to master the skill of creating a concept album. There are so many little details he thought of, from the technical details of the costumes to the color choices of the artwork, to the connections with their fourth album. Tobias Forge was finally able to fulfill his dream of a doomy-clerical-rock album, and clearly Tobias' vision paid off as the band won a Grammy for Cirice in the "Best Metal" category. Performance "in 2016.
Prequelle (2018) - Ghost Band
Prequelle is Ghost Band's fourth and final studio album, and is the debut album with the identity of Tobias Forges. Since the public "kidnapping" of Papa Emeritus III in 2017 on their show in Gothenburg, fans had high expectations and expectations for this record; creating a lot of pressure on Tobias, as this is the first album where he could be personally criticized for the work of Ghost Band.
Tobias had been planning Prequelle for years, he apparently started planning this album before Meliora. Prequelle is the plague after the apocalypse, literally. Tobias describes the album as "survival through a tumultuous time when your existence is fundamentally threatened" which, despite Meliora's medieval theme, also reflects modern world issues.
Tobias entered this album to revolve around the concepts of 'death and woe', which is why the central theme of Prequelle is the plague and the black plague, but he said it was important to balance it with "Mortality issues" such as memento mori and "seize the day" because the other half survived.
These themes described also manifest personal issues in Tobias Forge's life at the time of the recording of Prequelle, as this album was written and recorded while he was battling a lawsuit back home in Sweden with the old Ghouls (and longtime friends). Therefore, the theme of "memento mori", as Tobias said, is not only about the characters he created, but also to himself.
Despite the album's two Grammy nominations, this album received mixed reviews across the board. On average, critics gave this album a 4.5 out of 5 star rating, while fans, on average, gave this album 3 out of 5 stars.
Why? Most likely because of its pop-centered tones. Previously, Ghost Band albums had a pop aspect but were still heavily hard-rock. However, that's what Tobias wanted, he wants Ghost Band to grow as a stadium band, he wants to sell stadiums and big tours, and he mostly wants radio hits, which he got with the singles "rats" and "danse macabre".
Style and musical influences from Ghost band
Ghost Band's music has been categorized into many genres, critics have categorized them as hard rock, heavy metal, doom metal , pop rock, rock progressive, psychedelic rock, occult rock, and rock arena. Adrien Begrand of PopMattersa said Ghost Band is reminiscent of "the early sounds of Black Sabbath, Pentagram and Judas Priest, as well as the progressive and psychedelic rock of the late 60s".
Speaking to Noisey.com, an unnamed ghoul described Ghost Band as a group of black metal in the traditional sense, but said they probably don't meet the standards of the current black metal scene. This Nameless Ghoul describes the music of Ghost Band as a mix between pop music and death metal.
In an interview, an unnamed ghoul said they were influenced by "everything from classic rock to the extreme underground metal bands of the 80s, to film scores and the grandeur of emotional harmonic music ".
A member of the group said that the Swedish and Scandinavian black metal movement of the early 1990s played a major role in their act, [105] and said that each member came from a metallic background.
However, the band has stated on several occasions that they are not aiming to be a metal band. For their second album, Ghost Band chose a more diverse writing style; one member said: "We have tried to make each song have its own signature."
Only a few members write songs. Authors compose an acoustic outline of songs before other instruments are added to make it sound like a band, rather than being dominated by the guitar.
Their words are often satanic in nature; one Ghoul said: "The first album is about the coming Devil, spoken in biblical terms, just as the church will say the Last Judgment is near." [Infestissumam] speaks of the presence of the Devil and the presence of the Antichrist. "
However, the group has repeatedly said their image is ironic, citing that "We don't have an activist agenda. We are an entertainment group. "Infestissumam also deals with" how people relate to a deity or to God, themes like submission and superstition, the horrors of being religious. "
Additionally, an unnamed ghoul said the second album was about "how mankind - mostly men - what it has viewed as the presence of the devil, throughout history and even today. And that's why the record is fueled by sexual themes and women. .. the Inquisition was mainly men accusing women of being the devil ".
The group's set design is influenced by Kiss, David Bowie and Alice Cooper, but one member said they were more influenced by Pink Floyd.
Members of Ghost band 
Tobias Forge - vocals, guitars, bass, keyboards (2008-present)
Papa Emeritus - vocal performance (2010–2012)
Papa Emeritus II - vocal performance (2012-2015)
Papa Emeritus III - vocal performance (2015-2017)
Cardinal Copia - vocal performance (2018-2020)
Papa Emeritus IV - vocal performance (2020-present)
A Group of Nameless Ghouls - guitars, bass, drums, keyboards, backing vocals (2010-present)
Papa Nihil - saxophone (2018-2020)
Former members of Ghost band
Martin persner
Simon Söderberg
Mauro rubino
Martin Hjertstedt
Henrik palm
Gustaf lindstrom
Aksel Holmgren
Rikard ottoson
Linton Rubino
Megan thomas
Papa Emeritus I, II, III and Nihil
---
Eric CANTO Photographer: Concert photos, portraits, album covers.
Visit my portfolio Visit the blog Visit the shop contact me