I met Reuno, the singer of Lofofora, a few years ago during one of his solo projects. When the group contacted me shortly after to take care of the album visual, I must say that I was ... happy because a big fan of the group.
Some groups have very specific ideas, others don't. For this album of Lofofora, Reuno had one thing in mind, the album was going to be called " Ordinary monster". He wanted something that could relate, represent this monstrosity without going through too simple shortcuts, like a boss in a suit, ...
The job was to try to talk about a monstrosity that could be in all of us. Not to judge this or that person or caste, but to speak of human monstrosity. This series is therefore not explicit, we do not know if the man, whose face we cannot see, is burying or unearthing something. If he collapses at the sight of what he finds or if he collapses at the sight of what he digs up. This monstrosity is latent ...
There are groups that we no longer present, because they occupy the french metal scenee for many years. Lofofora is one of them like Mass Hysteria or No One is Innocent.
The Parisian metal group discovered in the mid-90s with the first album and the hits L'œuf and Holiday in France, then omnipresent on radios and televisions, has continued to occupy the French scene, to turn, to d '' record albums.
Since the release of Lofofora in '94, each album had its quota of pearls: Peuh! with Amnes story and Long live fire, Hard as iron with Charisman or The substance and the form. Not to mention Monkey Memory, one of my favorite albums from the band. The group has occupied the stages of France for more than 20 years now.
The album Lofofora Ordinary Monster
Ordinary Lofofora Watch opens up into familiar territory: Reuno has lost none of its aggressiveness, a flow that is recognizable among a thousand. He spits, screams, calls, as he has done for over 20 years. As he says on Utopiste, he hasn't said his "last word" and we can "kill him, and worse yet, but never silence him".
The texts come back to the group's flagship subjects, mass brutalization with "bullshit in the bar". The conquerors are reminiscent of the conquest of the New World seen by the natives and it is not very beautiful, a guy with no history strangely resembles macho blues, so much bitter insight on society.
Ordinary monster is inspired, Daniel's riffs are devastating (Utopiste, Un Mec Sans Histoire) even if we generally notice a less groovy approach than in the past, heavier and heavy (Frustrasong is a good example). Ultimately, it's its dark side that appeals to you the most.
Lofo has never released something so dark. This obscurity, the revelation of which takes time, occurs everywhere, starting with Reuno's texts which, if they are darker than usual, remain of high quality.
Sign that after so many years the guy still has something to say… The way he sings is also changing: less jerky, deeper, darker… The last song has reached the top of the darkness of the album, Beauty and the Beast which displays 7 minutes on the clock and gives a final rendering very far from what the group usually offers.
Lofofora Ordinary Monster : A personal album from Lofofora
However, this album, darker according to Reuno, is also very personal. But it retains its universal reach.
"My madness" is a real introspection of the singer's madness, bordering on schizophrenia, a theme that we find on Frustrasong, which can easily illustrate the parallel between the hero and the monster. Other album titles are paradoxically much deeper and you would probably have to listen for long hours to detect everything Lofo wanted to express.
Lofofora Ordinary Monster: A Heavy and Dark Album
Musically, the Utopist entry announces the content of the album: a very good sound, perfectly mixed when the guitar, bass, drums and vocals divide the stage and inflict heavy blows on the listener while retaining the key. melodic.
Only the first seconds of the "visitor" give a moment of respite before very dirty guitars return to announce the return of drunkenness in order to play this marvelous song of darkness and violence.
Reuno's voice is central, it charms, strikes, leads, declares, increases the avalanche caused by other instruments. Along with the ordinary monster, Lofofora is in great shape and proves that the group is still there.
Lofofora Titles Ordinary Monster
01. Utopian
02. The escapees
03. Elixir
04. The conquerors
05. Tube shit
06. The visitor
07. My madness
08. A guy without a story
09. Cannibals
10. Frustrasong
11. Beauty and the Beast
Released October 24, 2011
Registered July 2011
Duration 50:44
Genre Hardcore punk, stoner rock
Label At (h) ome
The beginnings of Lofofora
Lofofora is a French metal group which was born in 1989, it is composed of Reuno (vocals), Phil Curty (bass), Daniel Descieux (guitar) and Vincent Hernault (drums). The name of the group refers to the peyote whose scientific name is Lophophora williamsii.
Lofofora is considered one of the pioneers of rock metal fusion (saturated guitars, raps, punk) in France. Soon after, Phil Curty (bass) and Erik "Ragout" Rossignol (drummer) met The Hammers when an impetus for a new style of music emerged. We can cite during this period the appearance of groups such as Mass Hysteria, No one is innocent, Silmarils, etc ...
The quartet's first concerts took place in the years 1990-1991. Lofofora signed, in June 1994, after a few months of negotiations with Polygram, which made it possible to finance the album recorded and mixed by Daniel Weber (Trepal Pal, Young Gods) in October, at Forces motrices in Geneva.
The first album tour takes place over 115 dates including 10 concerts in Canada. At the end of this tour the group looks at the difficult exercise of the second album. Pooh! will be composed between January and May 1996. The album Pooh! will be recorded at the Hautregard studio by André Gielen.
"Hard as Iron" was released in March 1999. It was the group's third album. This album is undoubtedly the darkest and most successful of the group with its heavy and disturbing tempos.
Several albums will follow, many tours and a group still active and still so angry.
Lofofora discography
1995: Lofofora
1996: Pooh!
1999: Hard as iron
2003: The content and the form
2005: Things that bother us (At (h) ome)
2007: Mémoire de singes (At (h) ome)
2011: Ordinary Monster (At (h) ome)
2014: The test of the contrary (At (h) ome)
2018: Simple Apparatus (At (h) ome)
2019: Vanities (At Home)
Current Lofofora Members
Reuno - vocals (since 1989)
Phil Curty - bass (since 1989)
Daniel Descieux - guitar (since 2001)
Vincent Hernault - drums (since 2009)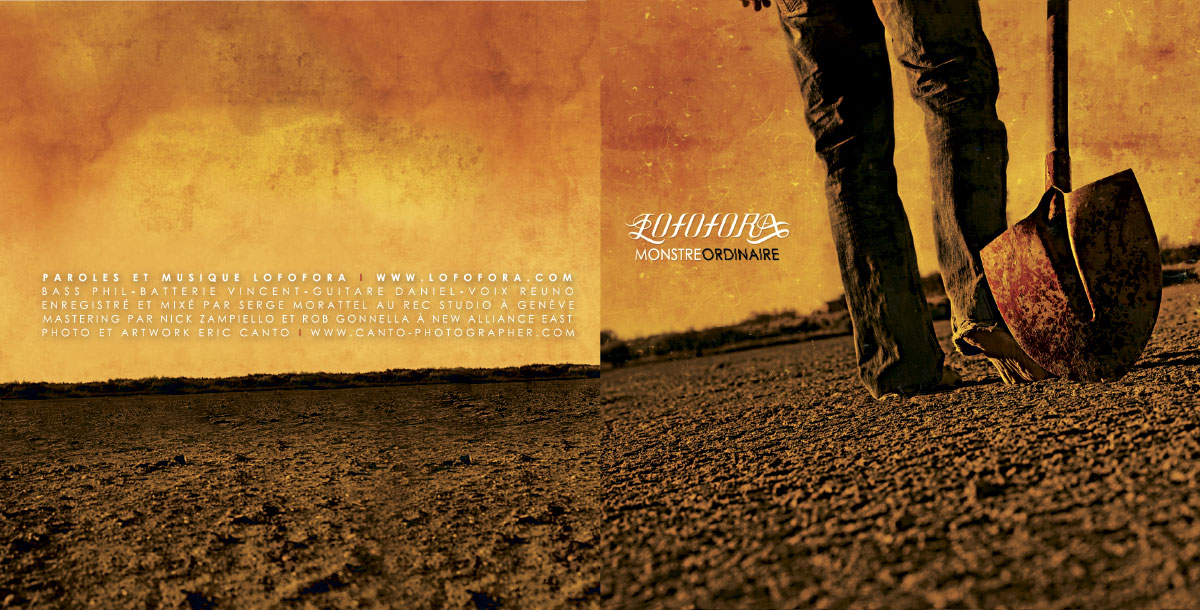 ---
Eric CANTO Photographer: Concert photos, portraits, album covers.
Visit my portfolio Visit the blog Visit the shop contact me
Bonus: Interview with Reuno
You are considered a pioneer of the French metal scene. What do you think about it ?
Reuno Lofofora: You know, we never asked for a medal. When we started we were introduced as the successors of Bérurier Noir or Trust. At the same time, Loudblast is back, and the last album is very good. We never had a complex with French, and our early punk side gave birth to a more hardcore, even metal sound. We have always been very well received on the metal scene, and the last few years have been more than favorable to us.
You recruited a new drummer again in 2009…
Reuno Lofofora: We use them! In fact, this is due to a lack of motivation on their part. It's always unfortunate that things like this happen, but mostly I see the positive side of Lofofora.
Vincent is the perfect drummer. We loved it at the start. He knew how to bring something more to the composition and has a real group spirit. You know, we are not here to feel the ass: respect is fundamental in this group, and Vincent has integrated well. He's an excellent drummer with a very good game. No space to fill, that's none of his business.
How did you view this scene over the past decade?
Reuno Lofofora: The Nu-Metal years angered many bands, just like us. Everyone wanted to get rich and famous, and eventually three-quarters of the bands disappeared from circulation. Fortunately, there are those who keep the road, for example Noï-d. The metal community has opened up and fusion music has evolved a lot. Bands are less honest and we think people like to watch new bands live.
This new album is more demanding, more metal. Is this also your point of view?
Reuno Lofofora: Absolutely. I would even say it's ugly. Some will like it, some won't, but we don't care, because we do what we want! It took a year to release the album. Doudou (editor's note: guitar) had a rather dark period, he was in England at the time. He brought a lot of riffs. He still has that little groove thing, and his beats are catchy.
The album is quite raw, with a lot of harmony on the bass. We played 3 new songs live, "Utopiste", "Les Évadés", "La Merde en Tube" and it was really terrible.
How do you see Lofofora in 10 years?
Reuno Lofofora: With varicose veins and rheumatism, my friend! I am still amazed that Lofo is still here, 20 years later. Groups are currently quite volatile. To be honest, I'm afraid of keying and I hope we still have the desire and the energy to please everyone. The secret of our longevity is simple: we have never signed a contract with major and we will never be a fad.
What is it like to hear bands say that Lofo is one of the bands that has influenced them the most?
Reuno Lofofora: It's a pleasure. When I had my first rock album, it propelled me into a life of freedom. If you can give it a taste, that's fine. When you start a group, they travel the roads because you want to share things with people in a relatively altruistic way.
Then there are two categories of people who go on stage. There are those who want to shine, to be pumped by groups. There are also those who want to share good times on stage with the viewers. And there is also the opportunity to meet people every day, which enriches our lives.
A little more than a year after the release of "The Test of the Contrary", how do you see this album in the middle of all the discography?
Reuno Lofofora: Every time we record, we try to put what's in our stomachs at the end of the hard drive. We don't try to think of the audience's reaction to this song or that song, we try to follow our instincts.
Besides, this is the second album with Vincent, our drummer, and I think he was really involved in this album, more than the previous one. Thanks to the stage experience we had from ordinary ordinary monsters, he earned his grades in Lofo and sucked more. This is a 100% album created by the band, which is still quite fresh. When you look at the whole history of the group, it's only been five or six years.
Are you still inspired by the world?
Reuno Lofofora: I watch television a lot, I am constantly informed about everything that is happening in the world. It annoys me to be fucked with a smile! I am the voice of those who listen to me. I ask questions and mostly make observations.
In the case of the album, I decided to write differently, I spent a month and a half on it to make the result more accurate and consistent. There is a lot of violence, but nothing new. I am overwhelmed by the words, which is why they are so strong!
Why this title, ordinary monster?
Reuno Lofofora: We thought we were bad guys. The monstrosity has become ordinary. It is also extravagant. You can be a monster in difference, cruelty, and frustration.
We all want to gain something, but ultimately we are eaten. It's not a concept album, but the lyrics have a common thread. I'm an ordinary guy who can easily turn into a monster on stage.
You are offering us a "The test of the concert", can you tell us a few words about the content of this album live?
Well, it was an idea that immediately arose with our record company. We recorded at La Cave à Musique in Macon, and the next day at La vapeure in Dijon, one of the best dates of this tour.
Two evenings we took the best songs live and recorded them on a CD. Then we didn't do everything. This is the list of tour dates, although some songs are coming in and others are leaving between the start of the tour and the end.
Between Lofo, Le Bal, Mudweiser, can you find the time to write new songs?
Reuno Lofofora: We're talking about it, we're trying to do something different for the next album, but there is currently nothing on laptops or computers.
You will soon be celebrating your 30th anniversary. "Hard as iron", the central element of Lofofora's work will be 20 years old. Will we be entitled to the anniversary tour with the full album?
Reuno Lofofora: We will never do that. Just like I don't want to know my future, I don't want to relive my past. Even if I don't regret what I experienced too much. The past is the past, let's live in the present.
The title "irie style", why don't you play it?
Reuno Lofofora: I won't sing that anymore. I don't think about it anymore. I have become much more religiously intolerant. I wrote "God loves the blood", which somewhat re-establishes the same motive. So I thought if people believe in Santa Claus in the clouds, why not?
No, today everyone is stupid, I no longer respect. On the day of Charlie's assassination I posted something on Facebook Lofo, I rarely post stuff and it's always controversial. Old cover from Charlie Hebdo from 1979, in which Reiser sketched a pretty good drawing, a guy with a bulging head and eyes, a machete, a knife or a gun with the words: "Crazy assassins put many colors in the gray of winter "and I noted" God is a dying fool. " 
And people fell on my face saying: "No it's not God who's stupid it's people who are mean" I want to say "go suck cock in hell".