PRESENTATION OF THE Nîmes FESTIVAL  
Every summer I cover the Nîmes festival for magazines and for the festival.
For a concert photographer, the conditions are very comfortable, the point of view is unique.
After more than 10 years of exploring these arenas, I admit that I love this unmissable festival in the south of France.
Since 1997, the Nîmes Festival invades the arenas every summer in all their diversity under the banner of contemporary music.
From French songs (Johnny Hallyday, Michel Polnareff, Renaud, Patrick Bruel ...) to metal (Slipknot, Rammstein, Metallica...), big stars of international diversity (Placebo, Foo Fighters, Bjork, Lenny kravitz, Arcade Fire, Red Hot chilly Peppers…).
To new revelations (Stromae, Shaka Ponk, Angele, Maitre Gim's ...), the Nîmes festival welcomes music legends (Sting, Santana, Daft punk, slash, Radiohead, David Bowie…) in a unique setting.
Before the next one Nîmes Festival, let's take a closer look at everything there is to know about this unique festival.
FESTIVAL DE NÎMES: AN INTERNATIONAL PROGRAM
For a long time, most cultural festivals take place in the south of France in all disciplines: theater, music, dance, street art ...
In this incredibly dense landscape, the Nîmes Festival has a unique and indispensable place today:
it offers summer entertainment for a very diverse audience by bringing together the big names in live music in all their genres in the conditions of an exceptional setting.
It is a fairly unique mix of musicians, renowned groups and stars of tomorrow, it offers the pleasure of discovery, but also the rediscovery of legendary musicians for an unparalleled experience.
NÎMES FESTIVAL: AN EXCEPTIONAL PLACE
The arenas of Nîmes perfectly illustrate the level of perfection reached by Roman engineers in the planning and construction of this very complex type of building. Indeed, it presents an almost perfect symmetry.
The oval shape is 133 meters long and 101 meters wide. The track, it measures 68 meters by 38 meters. The facade is 21 meters high is on two floors with 60 arches one above the other and an attic separated by a cornice.
A son sommet, des pierres saillantes percées étaient munies de mâts sur lesquels était accroché un velum, un immense écran qui était étalé sur le public pour le protéger de la pluie, du soleil  et de la chaleur.
Originally, all the arcades on the ground floor were open to serve as an entrance or exit. There are larger Roman amphitheatres, but it is the best preserved of all.
In Roman times, the monument could accommodate 24,000 spectators, divided into 34 rows of stands, divided into four autonomous areas or maeniana.
Chacun était desservi par une galerie et des centaines d'escaliers et de passages appelés vomitoires. Cette disposition judicieuse a permis d'éviter le risque de surcharge lors de l'afflux de spectateurs.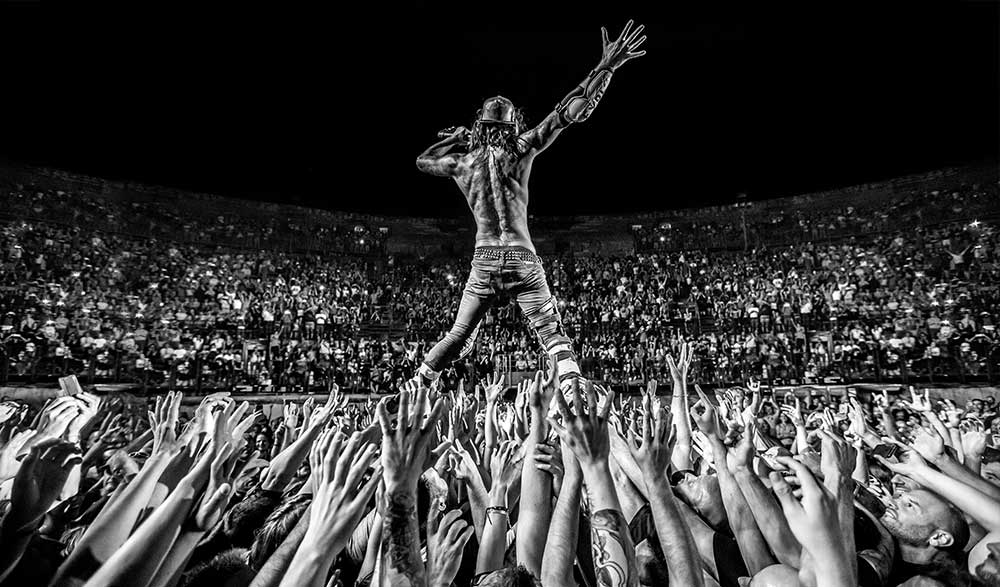 The design of the amphitheater gave everyone a glimpse of the arena. Several underground galleries under the track formed the wings.
Hatchways and a lifting system made it possible to exhibit decorations, animals or gladiators. This amphitheater undoubtedly has, at least because of the general appearance of its facade, its attic crowned with locked columns and 60 arches on each level.
Son système de transport public intérieur presque intact et une grande partie de ses tribunes (certainement claires et restaurées) conservées au XIXe siècle), le mieux conservé au monde.
Les origines des festivals de musique remontent à la Grèce antique, où de tels événements impliquaient souvent des compétitions dans les domaines de la musique, des arts et des sports. Les festivals de musique modernes aux États-Unis sont nés de l'établissement et de la philosophie de Woodstock .
Bien qu'il ne s'agisse pas du premier événement du genre (les Newport Folk and Jazz Festivals, le Milwaukee's Summerfest et le Monterey Pop Festival sont antérieurs à Woodstock), l'événement de 1969 occupe une place mythique dans l'histoire de la culture pop américaine. Les festivals ont depuis évolué du bricolage et de l'esprit communautaire de Woodstock, pour devenir des entreprises grand public qui récoltent des bénéfices et adoptent des parrainages d'entreprise, alors que plus de 32 millions de personnes y assistent chaque année, selon Billboard.
Coachella, one of the nation's most popular festivals, grossed $ 114.6 million in 2017, setting a major record for the first recurring festival franchise to earn more than $ 100 million.
"Before, they were more of a cultural communion," says Carlos Chirinos, professor of clinical music and global health at New York University. "A group of people who were into the same type of music, they would get together. It was the driving force throughout the 1970s and 1980s until it became a profitable format.
Behind the scenes of Nîmes Festival on video
HOW TO GET TO Nîmes Festival  ?
Come to Nîmes Festival by plane 
Nîmes Airport in Garons (15 kms from Nîmes) // Tel: 04.66.70.49.49 // https://www.aeroport-nimes.fr/
Come to Nîmes Festival by train 
Nîmes train station is a 5-minute walk from the Arena // For information to prepare your trip, follow timetables, book and buy a train ticket:
www.voyages-sncf.com. Information / Reservations: Special rate number: 36 35. For calls from abroad: 08.36.35.35.35
- TGV MEDITERRANEE:
The city of Nîmes is less than 3 hours from Paris, a return trip is possible during the day:
Nîmes / Paris (Gare de Lyon): 3h00
Nîmes / Paris (Charles de Gaulle): 3h30
Nîmes / Marseille: 0h55
Nîmes / Lille: 4h20
Nîmes / Lyon: 1h20
Nîmes / Montpellier: 0h30
Nîmes / Brussels: 5.15 am
INTER CITÉS Trains are in place for travelers coming from Bordeaux, Toulouse, Marseille and Nice.
Regional Express Transport: TER trains and coaches
Come to Nîmes Festival by car
Motorway access: A 54 from Arles, Marseille, Côte d'Azur, Italy // A 7 from Avignon, Valence, Lyon // A 9 from Montpellier, Narbonne, Perpignan, SPAIN
French connections: PARIS: 708 km // LYON: 246 km // NICE: 277 km // MONTPELLIER: 53 km // BORDEAUX: 528 km // PERPIGNAN: 201 km // MARSEILLE: 121 km // TOULOUSE: 288 km
International connections: BARCELONA: 390 km // GENEVA: 405 km // MILAN: 594 km
How to take advantage of Nîmes Festival ?
WHERE TO STAY ?
The 4-star Novotel Atria Nîmes Center hotel is located in Nîmes city center near Nîmes train station (400m), opposite the Arena.
The hotel offers 119 air - conditioned rooms, a private car park with 40 spaces, a Novotel Café restaurant and bar, open every day for lunch and dinner. Information and reservations: CLICK HERE
FESTIVAL:

WHERE TO PARK?
Find all the information on car parks on the website of the Tourist Office of the City of Nîmes
→ https://www.ot-nimes.fr/ ("Practical" tab → "Parkings"). The closest being the Arena car park!
RESERVE

YOUR TICKETS 
The stupid question: what is a music festival?
A music festival is a large event, usually held outdoors, that features many musicians or groups performing back to back.
Small festivals sometimes only last a day, but most of the more popular and well-known events take place over a weekend or longer.
Many large festivals have multiple stages and can usually accommodate many groups and musical numbers. Musicians are often very interested in performing to give their fans a live performance while also making themselves known to new supporters.
Festivals are usually organized according to a specific theme or genre, and usually incorporate a number of both new and old musical numbers.
It is also common to see festivals focused on certain national celebrations or ethnic traditions. Dance and elaborate costumes are often a part of the two.
Depending on the details and location, festival organizers may offer camping facilities, showers and toilet access for attendees, which can facilitate remote travel.
It is also not uncommon to find a range of food stalls, fairground games, vendors, and other attractions.
Basic concept of Music Festival
Most music festivals are like extended concerts; they include several groups playing more or less non-stop.
They can take place indoors, usually in stadiums or in performance halls, but it is much more common to find them outdoors.
Stages are often set in fields or empty grounds, and fans usually bring their own chairs and blankets to sit on while watching.
Sometimes seats are provided, but this can add a logistical challenge and do more work for the organizers.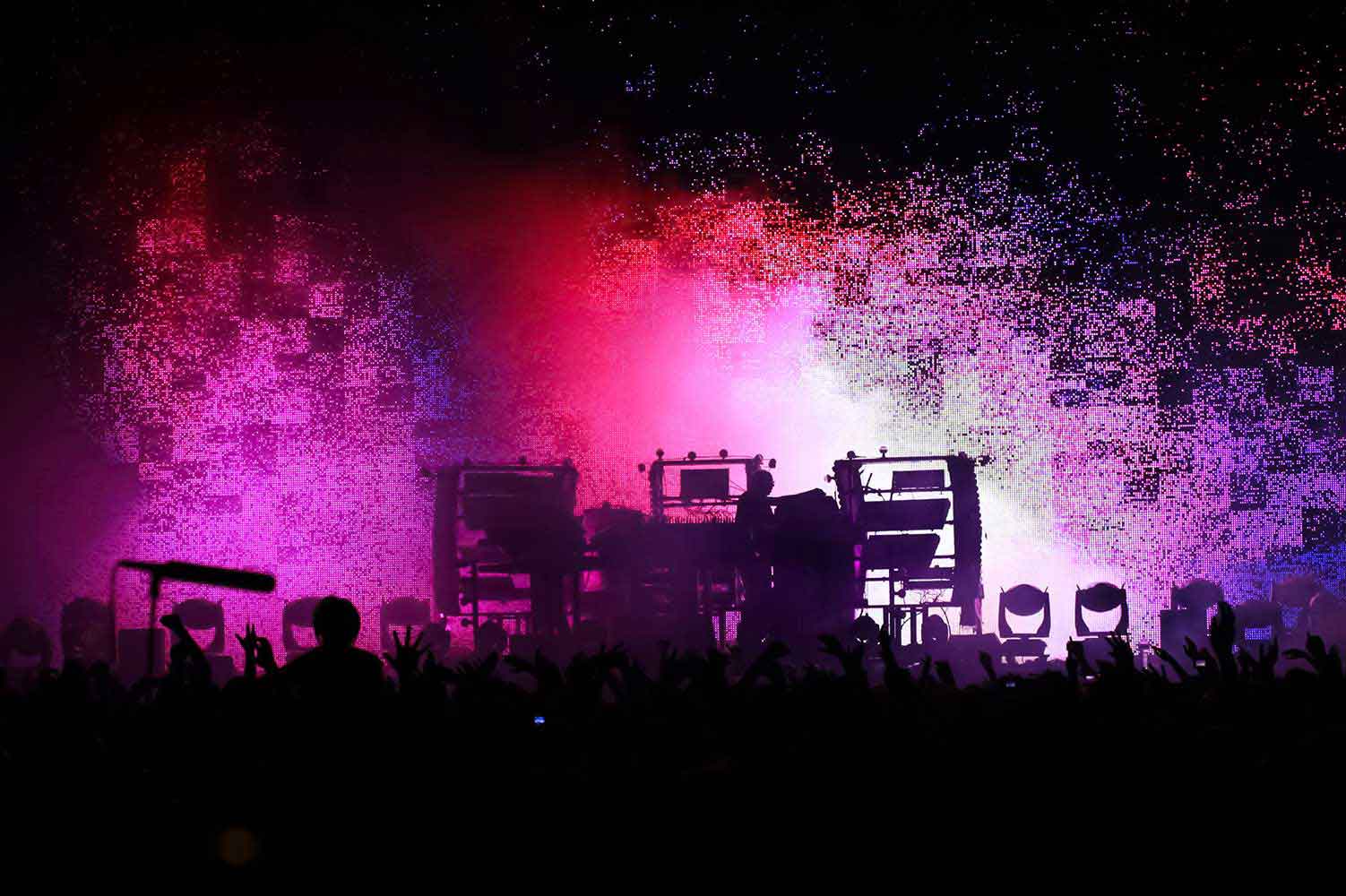 ---
Eric CANTO Photographe : Photos de concerts, portraits, pochettes d'albums.
Visit my portfolio Visit the blog Visit the shop contact me
   In BONUS: ALL THE PROGRAMS AND POSTERS OF THE NIMES FESTIVAL SINCE 1997 
Nîmes Festival 2019
June 23: ELTON JOHN
June 26 & 27: SOPRANO
June 28: KENDJI GIRAC + BOULEVARD DES AIRS
June 30: PASCAL OBISPO + ZAZIE + ANTOINE GALEY
July, 1st: SLIPKNOT + AVATAR
July 3: SLASH FT MYLES KENNEDY & THE CONSPIRATORS + RIVAL SONS
4th July: ZZ TOP + STATUS QUO
July 6: NICK MASON + ANATHEMA
July 10: JAMEL
July 11: TOTO + SUPERTRAMP'S ROGER HODGSON
July 12: M + MARCUS MILLER + TIWAYO
July 13: LOMEPAL + EDDY DE PRETTO
July 15: MARK KNOPFLER
July 17: TEARS FOR FEARS + UB40
July 18: PATRICK BRUEL + FILLS MONKEY
July 19: TWENTY ONE PILOTS
July 20: STARS 80
Nîmes Festival

 2018
June 17: TEXAS + SIMPLE MINDS
June 20: MARILYN MANSON
June 22: CALOGERO
June 23: ENNIO MORRICONE
June 28: ORELSAN
June 29: JULIEN CLERC + VERONIQUE SANSON
June 30: KIDS UNITED
July 4: IAM
July 5: VIANNEY + CATS ON TREES
July 8: LENNY KRAVITZ
July 12: JAMIROQUAI
July 13: INDOCHINA
July 17: STING
July 18: MASSIVE ATTACK + YOUNG FATHERS
July 19: BIGFLO & OLI + NAÂMAN
July 20: NORAH JONES + MELODY GARDOT + KIMBEROSE
July 22: SHAKA PONK + VITALIC
Nîmes Festival 

2017
June 20: SYSTEM OF A DOWN + CODE ORANGE
June 22: THE OLD CANAILLES + THE GIPSY
July 2: ZUCCHERO + THE PRETENDERS
July 5: RENAUD + GAUVAIN SERS
July 6: JULIEN DORE + CHRISTOPHE + OMOH
July 7: MICHEL SARDOU
July 9: MANU CHAO AND LA VENTURA TOUR + KOOLSPEED
11 July : RAMMSTEIN
July 12: RAMMSTEIN
July 13: RAMMSTEIN
July 15: IBRAHIM MAALOUF
July 16: LONDON GRAMMAR + ÁSGEIR
July 17: SCORPIONS + GUT-SCRAPERS
July 18: PLACEBO + TALISCO
July 19: THE INSUS + THE GRYS-GRYS
July 20: THE INSUS + THE GRYS-GRYS
July 21: CHRISTOPHE MAE + BENJAMIN SIKSOU
Nîmes Festival 

2

016
July 12: LES INSUS + MISS AMERICA
July 13: KENDJI GIRAC + Guest
July 14: JEAN-MICHEL JARRE + KOUDLAM + TELEPOPMUSIK
July 16: MIKA + MARINA KAYE + BRIGITTE
July 17: JOHNNY HALLYDAY + PONY PONY RUN RUN
July 18: MUSE + LAST TRAIN + TOM ODELL
July 20: DAVID GILMOUR
July 21: DAVID GILMOUR
July 22: FRANCIS CABREL "in extremis tour" + BENOIT DOREMUS
July 23: MICHEL POLNAREFF + MARVIN JOUNO
July 24: MASTER GIMS + BIG FLO & OLI
Nîmes Festival 

2015
June 24: PHARRELL WILLIAMS + BEAT ASSAILANT DJ SET
July 2: JOHNNY HALLYDAY Stay Alive + Manu Lanvin
July 3: JOHNNY HALLYDAY Stay Alive + Manu Lanvin
July 4: BEN HARPER & THE INNOCENT CRIMINALS + SELAH SUE + DENAI MOORE
July 7: NICKI MINAJ + BIG SEAN + RAE SREMMURD
July 9th : LENNY KRAVITZ + Rival Sounds
July 15: TOTO + CHRISTOPHER CROSS + CESAR JACQUOT
July 16: SANTANA + VADEL
July 20: STING + James Walsh
July 21: CHRISTINE AND THE QUEENS + ETIENNE DAHO + BENJAMIN CLEMENTINE + PEREZ
July 22: JOAN BAEZ + MAXIME LE FORESTIER + AYO
July 26: BLACK M + SOPRANO + BIGFLO & OLI
Nîmes Festival 

2014
June 28: ZZ TOP + Guest
July 2: FAUVE + François & The Atlas Mountains
July 3: - M - + RODRIGO Y GABRIELA + YODELICE
July 8: ARCTIC MONKEYS + SPECIAL GUESTS INTERPOL + Guest
July 14: SKRILLEX + Kavinsky (Outrun Live) + Baauer
July 15: THE BLACK KEYS + THE KILLS + Harold Martinez
July 22: SHAKA PONK + The Bloody Beetroots + Carbon Airways Guest
July 24: STROMAE + Cherub + Gabriel RIOS
Nîmes Festival 2013
June 29: DEAD CAN DANCE + INVITE
July 6: ASSAULT SEXION + The Shin Sekai
July 9: MARK KNOPFLER + INVITE
July 10: GREEN DAY + BLACK REBEL MOTORCYCLE CLUB + Volbeat
July 16: DEPECHE MODE + INVITES
July 17: NEIL YOUNG & CRAZY HORSE + PATTI SMITH
July 18: C2C + GUESTS
Nîmes Festival 

2012
June 27: BJORK + Guest
July 15: BOB DYLAN + Adam Cohen
July 17: BLINK 182 + SUM 41 + The All American Rejects + Skip The Use
July 18: MANU CHAO - LA VENTURA + Guest
July 19: JUSTICE + Guests
July 20: DAVID GUETTA + Digitalism + Pascal Billotet
July 21: ELTON JOHN AND HIS BAND
July 29: LMFAO + Guests
Nîmes Festival 

2011
June 30: ARCHIVE + PAUL KALKBRENNER live + GUEST
July 6: CHEMICAL BROTHERS + CRYSTAL CASTLES + THE DO + METRONOMY
July 10: SUPERTRAMP + GUEST
July 18: SANTANA + KEZIAH JONES acoustic solo + ASA
July 19: PORTISHEAD + MOGWAI
July 22: BEN HARPER + ROBERT PLANT + Asaf Avidan & the Mojos
July 23: STING "SYMPHONICITY" + YAEL NAIM
August 23: THE OFFSPRING + SHAKA PONK + KIDS IN GLASS HOUSES
Nîmes Festival 

2010
July 4: STEVIE WONDER
July 6: PINK + INVITE
July 9: ZZ TOP + JOE BONAMASSA + INVITE
July 15: GOSSIP + YUKSEK + EDITORS + VAMPIRE WEEKEND
July 19: ACQUES DUTRONC + FELOCHE
July 20: MIKA + FLORENCE AND THE MACHINE + NEWTON FAULKNER
July 21: JAMIROQUAI + WAX TAILOR + ROCK & JUNIOR
July 22: MARK KNOPFLER + KATE WALSH
July 24: M + GUESTS
2009
July 7: MOPA + METALLICA
July 9: JASON MRAZ + ALELA DIANE + JUSTIN NOZUKA
July 21: FRANZ FERDINAND + THE TING TINGS + THE VIRGINS + THE DODOZ
July 22: RAPHAEL SAADIQ + AYO + SEAL
July 23: DJ GARFLD + BIRDY NAM NAM + PRODIGY
July 24: BENABAR + ZAZA FOURNIER
July 25: DUFFY + CHARLIE WINSTON + COCOON
July 28: NINE INCH NAILS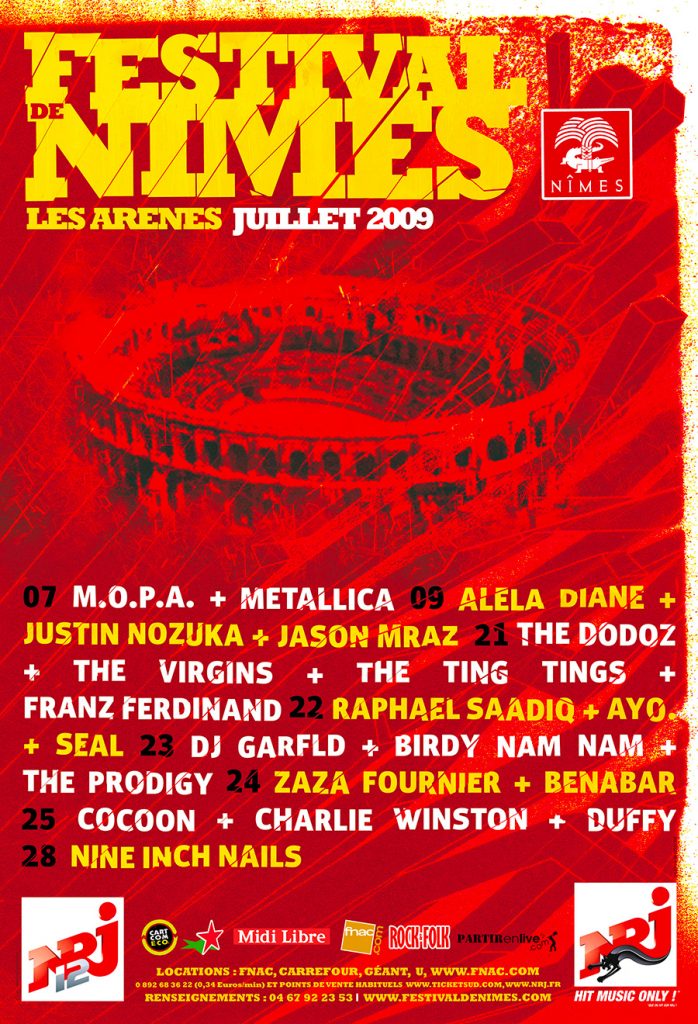 2008
July 1: JAMES BLUNT / DB CLIFFORD / NICOLE ATKINS & THE SEA
July 9: LENNY KRAVITZ / ASA / MARTINA TOPLEY BIRD
July 21: MIKA / YELLE
July 22: VANESSA PARADIS / THOMAS DUTRONC
July 26: ALICIA KEYS / LINKAGE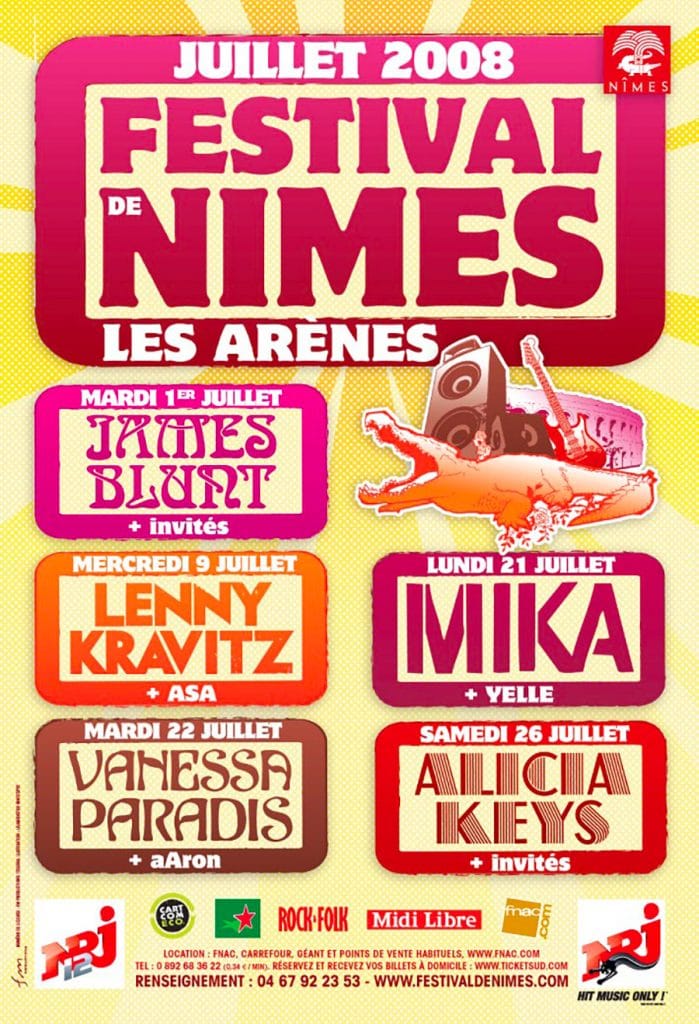 2007
July 18: MUSE / THE BLOOD ARM / THE SUNSHINE UNDERGROUND
July 19: TRYO / OURS / DOBACARACOL
July 22: ARCADE FIRE / ARCTIC MONKEYS / ALBERT HAMMOND JR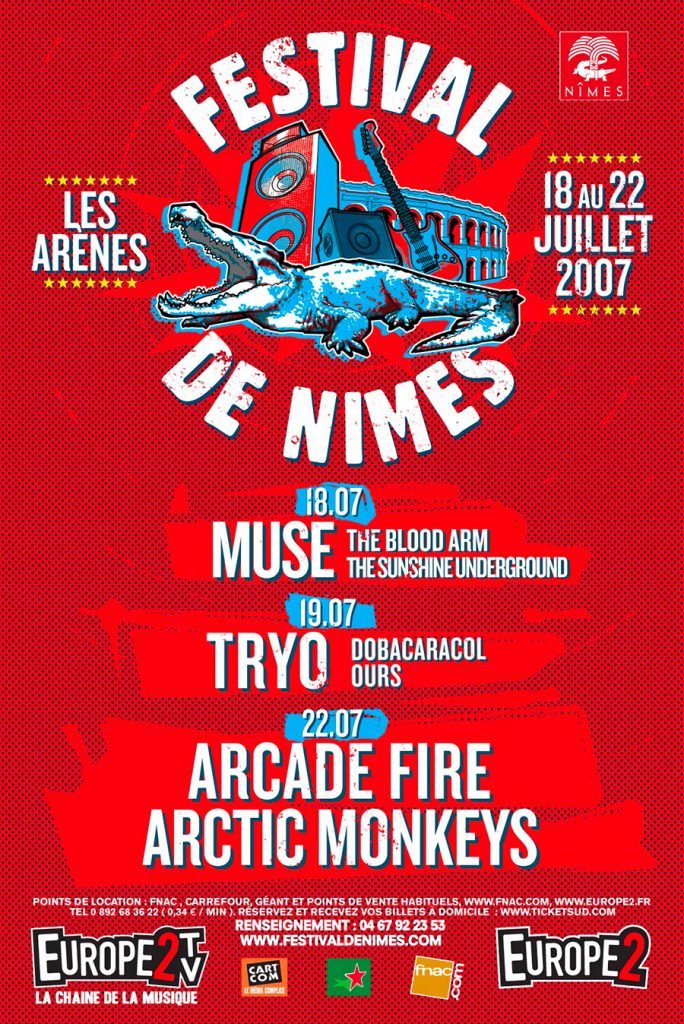 2006
July 18: SEAN PAUL / TOOTS & THE MAYTALS / KRYS
July 19: PLACEBO / DEUS
July 20: DEPECHE MODE / GOLDFRAPP
July 22: TOTO / JOE SATRIANI
July 23: TEXAS / EL PRESIDENTE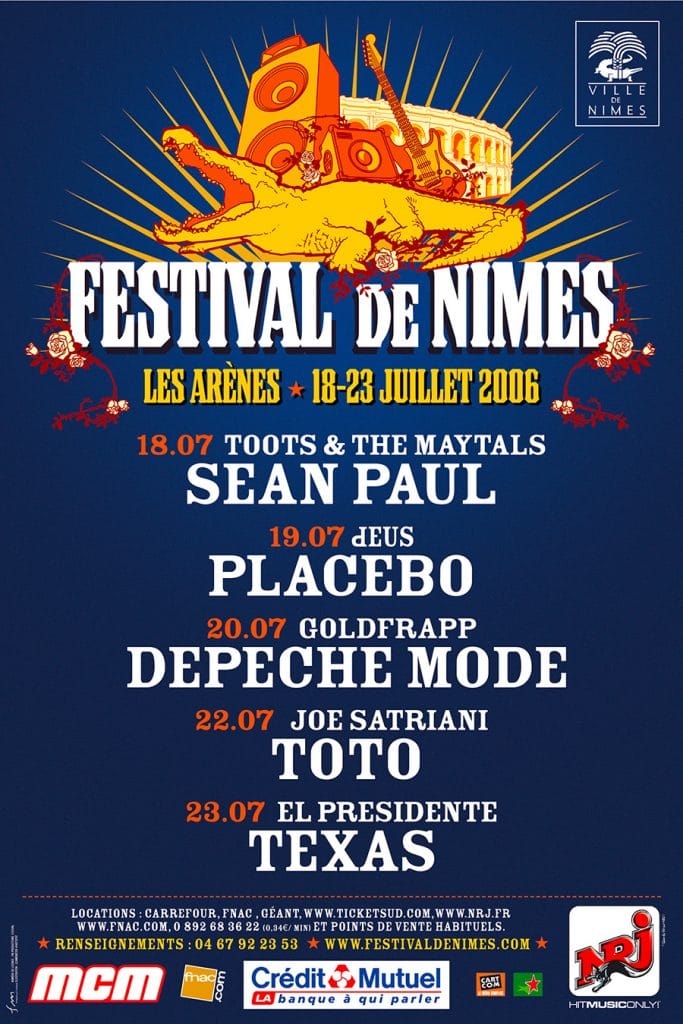 2005
July 19: JOE COCKER / FEIST
July 20: FRANZ FERDINAND / MICKEY 3D / THE SERVANT
July 21: KYO / MASS HYSTERIA / SUPERBUS
July 22: JAMIROQUAI / DAVID WALTERS
July 23: RAMMSTEIN / TORGULL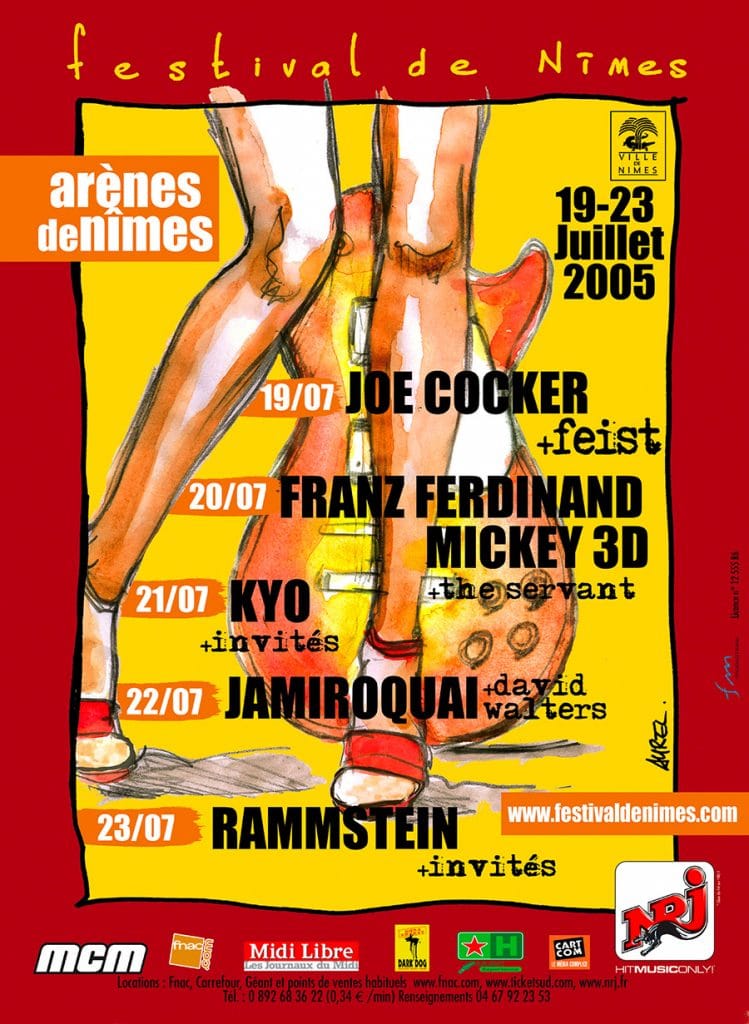 2004
July 15: PLACEBO / MIOSSEC / COLOR OF FIRE
July 22: MUSE / DIONYSOS / KINGS OF LEON / OAÏSTAR
July 23: PETER GABRIEL / THE STREETS / IDRISSA DIOP
July 24: EROS RAMAZZOTTI / SOFIA MESTARI
2

003
July 20: MASSIVE ATTACK / AMON TOBIN / THE BEES
July 22: ALANIS MORISSETTE / ASTON VILLA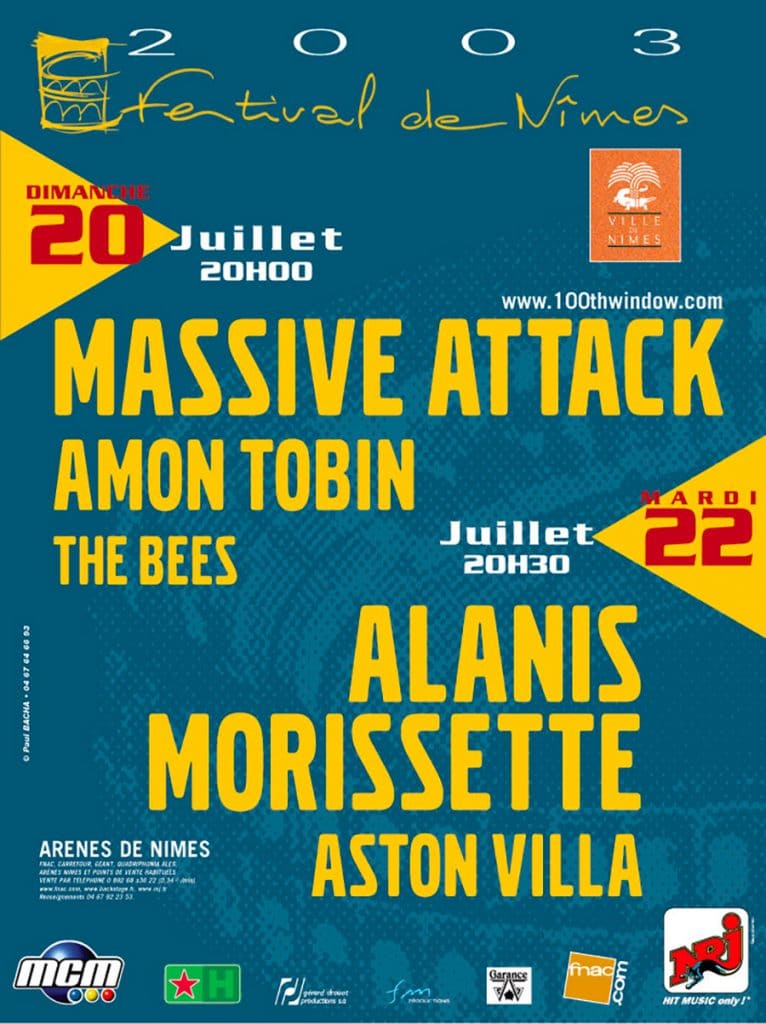 2002
July 14: DAVID BOWIE / N * E * R * D / HAWKSLEY WORKMAN and The Wolves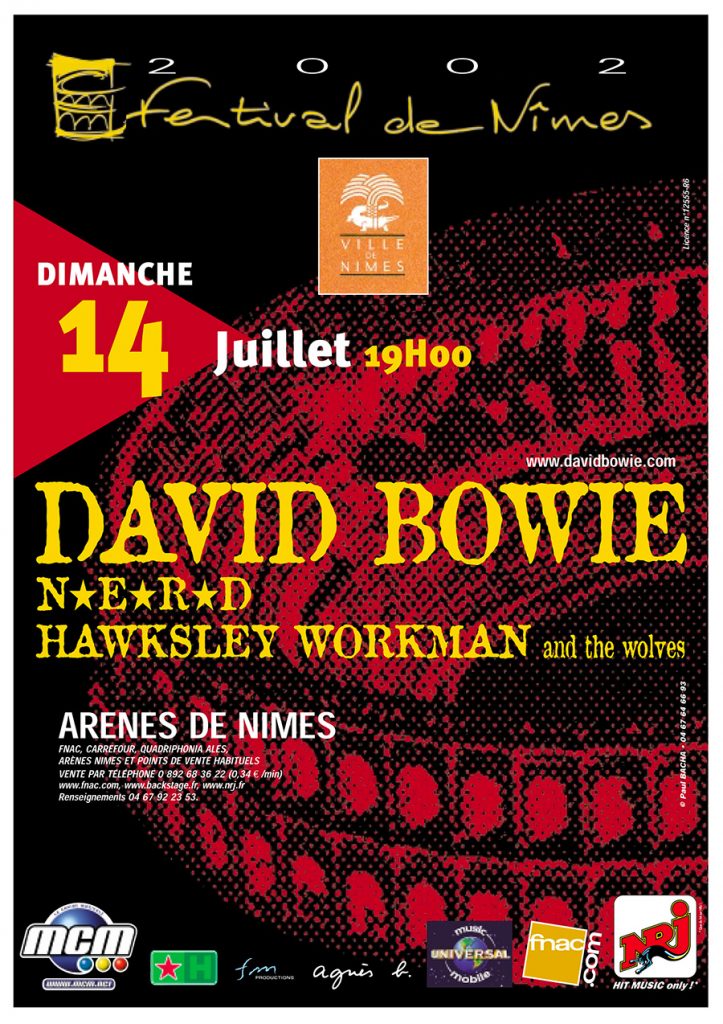 2001
July 18: BEN HARPER & THE INNOCENT CRIMINALS / BLIND BOYS OF ALABAMA
July 19: MUSE / MY FAVORITE DENTIST IS DEAD / NOIR DESIR / PJ HARVEY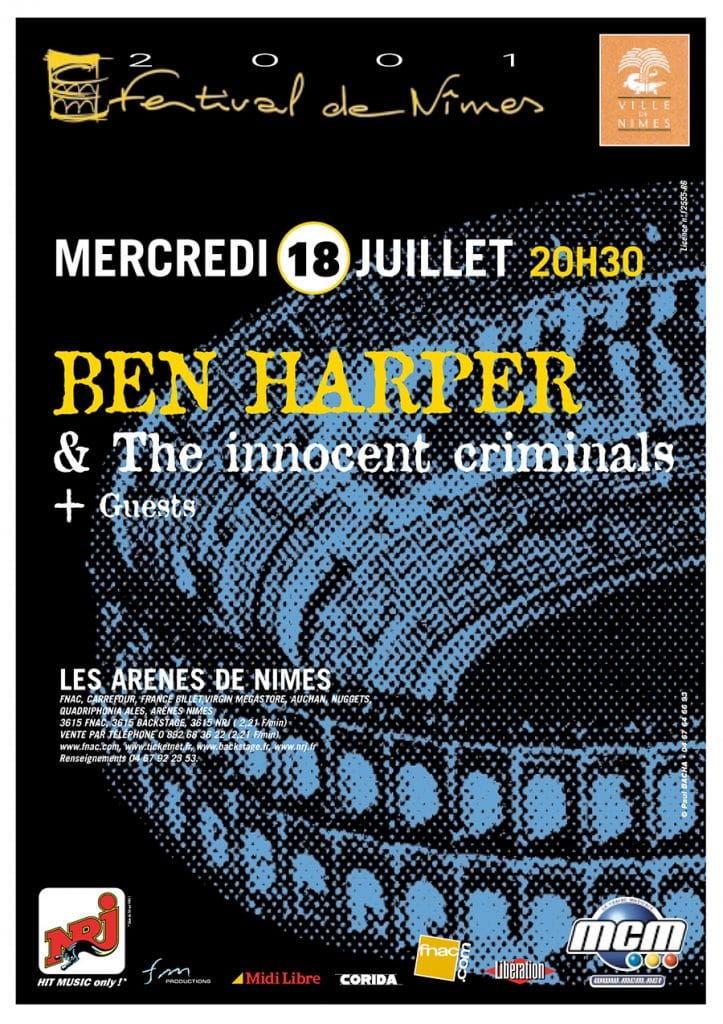 The Festival in

2000
July 26: COMPAY SEGUNDO / BANDA MUNICIPALE DE SANTIAGO DE CUBA / ORQUESTA ARAGON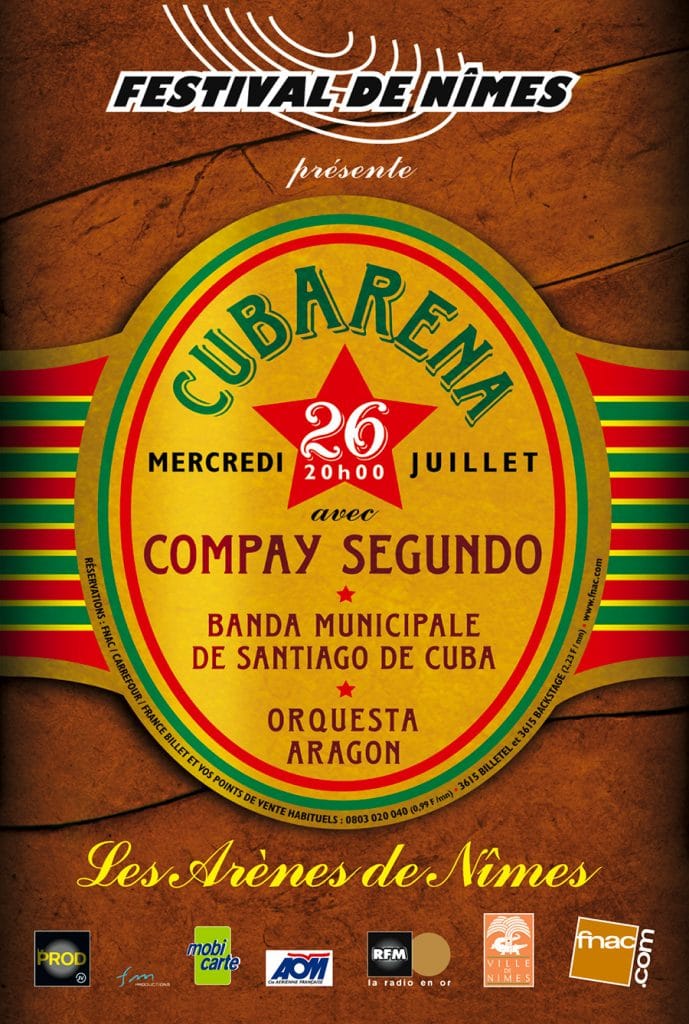 1999
July 22: THE GLADIATORS / MAD PROFESSOR / MASSILIA SOUND SYSTEM / BALTHAZAR / MATMATAH / PIERPOLJAK / BURNING SPEAR
1998
July 23: STEREOPHONICS / SINCLAIR / LOUISE ATTAQUE / THE CURE
July 24: DUBMATIQUE / FONKY FAMILY / I AM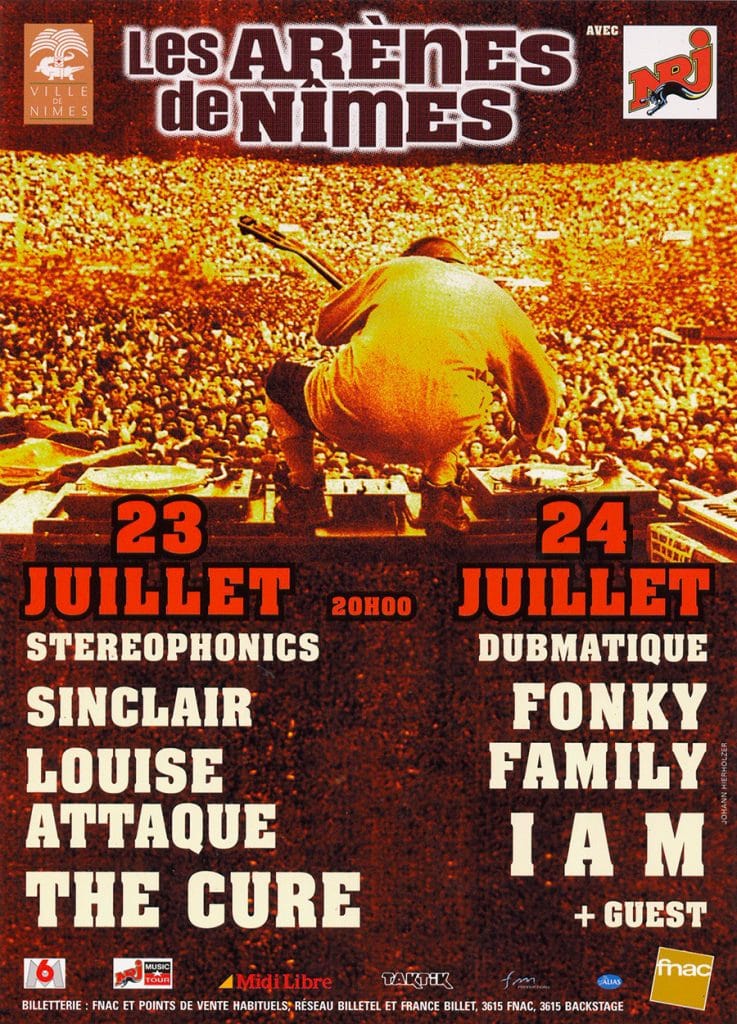 1

997
July 23: MORCHEEBA / FFF / JAMIROQUAI
July 24: SINSEMILIA / CAST / ECHOBELLY / NOIR DESIR