Who is Miles Aldridge?
Just for your viewing pleasure, the photos of the last one photographer's book British Miles aldridge. English photographer, Miles Aldridge has been passionate about the photography and rock'n roll. He also met John Lennon, Eric Clapton and Elton John on several occasions during his childhood as these artists rubbed shoulders with his father.
Biography of Miles Aldridge?
Miles Aldridge is the half-brother of models Saffron Aldridge, Lily Aldridge and Ruby Aldridge, it can be said that his family is immersed in the photography.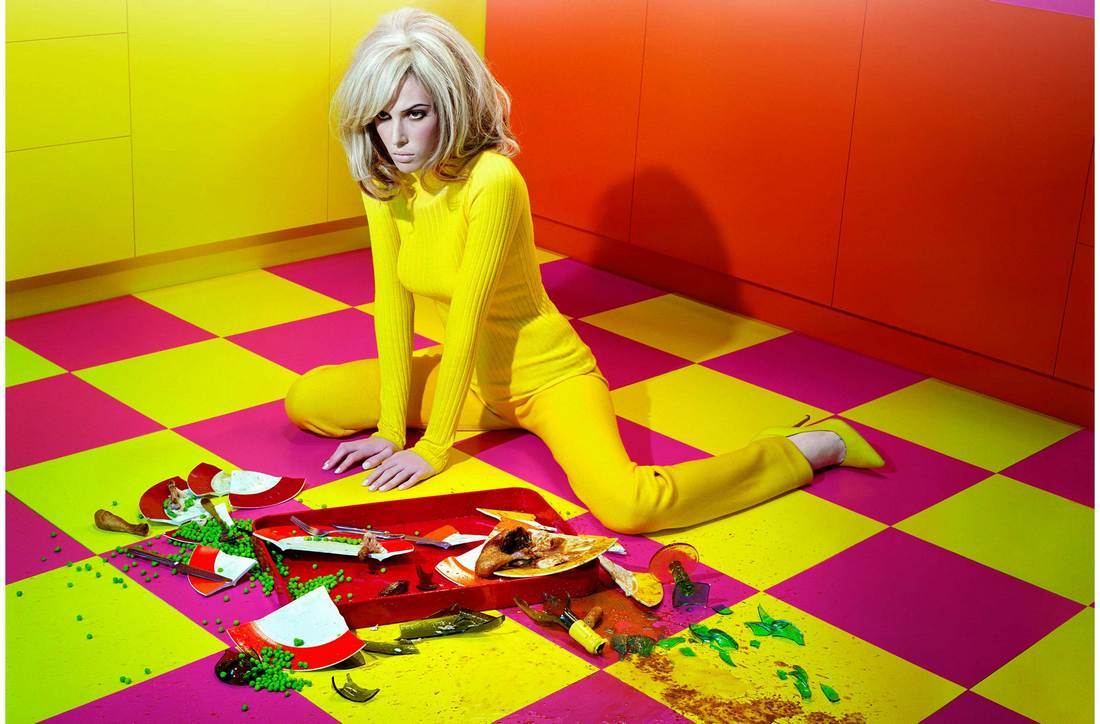 Miles Aldridge began photographing models for the American fashion monthly W. Then he worked for Vogue Japan magazines, The New York Times Magazine, GQ, The New Yorker and many more. He also contributed several years to Vogue Italy.
Advertising and fashion photographer, Miles Aldridge has shot for big names in the industry such as Karl Lagerfeld, Giorgio Armani, Yves Saint Laurent and Paul Smith. In his striking photographs, Miles Aldridge recreates new worlds: juicy, precisely arranged colors and a typical film spirit.
Miles Aldridge sums up the four topics he focuses on: glamor, friendliness, religion and ambiguity.
No wonder that the master of the staging better composes his dream and his surreal landscapes in places of everyday life.
Her young beauties, installed in the kitchen or the bedroom, sometimes evoke the incarnation of Mary Magdalene, sometimes glamorous and sensual icons. The characters in his cartoonish photos have few counterparts, as they are artificial and dramatic, like in the movies. And yet we also discover in these brilliant compositions, like mystery and morbidity.
Miles Aldridge international fashion photographer
This London-born artist has been one of the international fashion photographers most sought after alongside big names such as Guy Bourdin and David LaChapelle. Aldridge studied art before starting his career as a photographer.
Through publications in Vogue or New York Times, he became known around the world. He is inspired by great directors such as David Lynch and Frederico Fellini. Among others, the artist's works are presented in the permanent collections of the National Portrait Gallery and the Victoria & Albert Museum in London.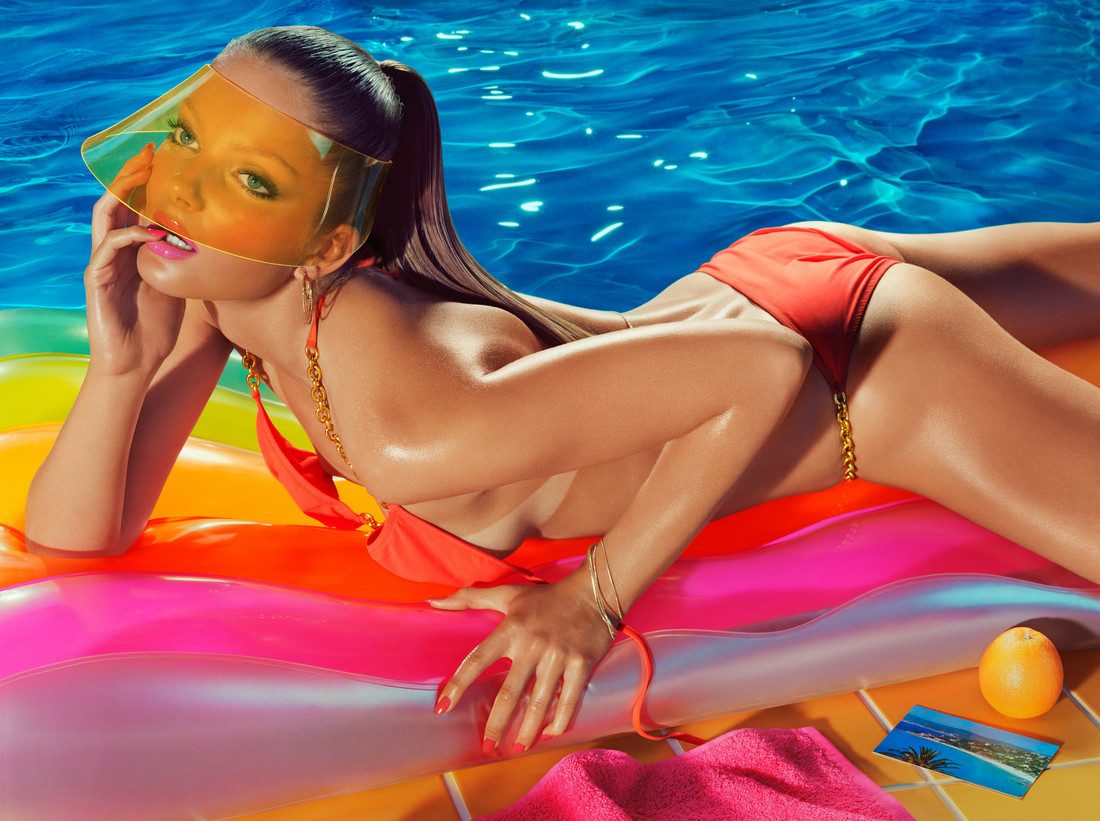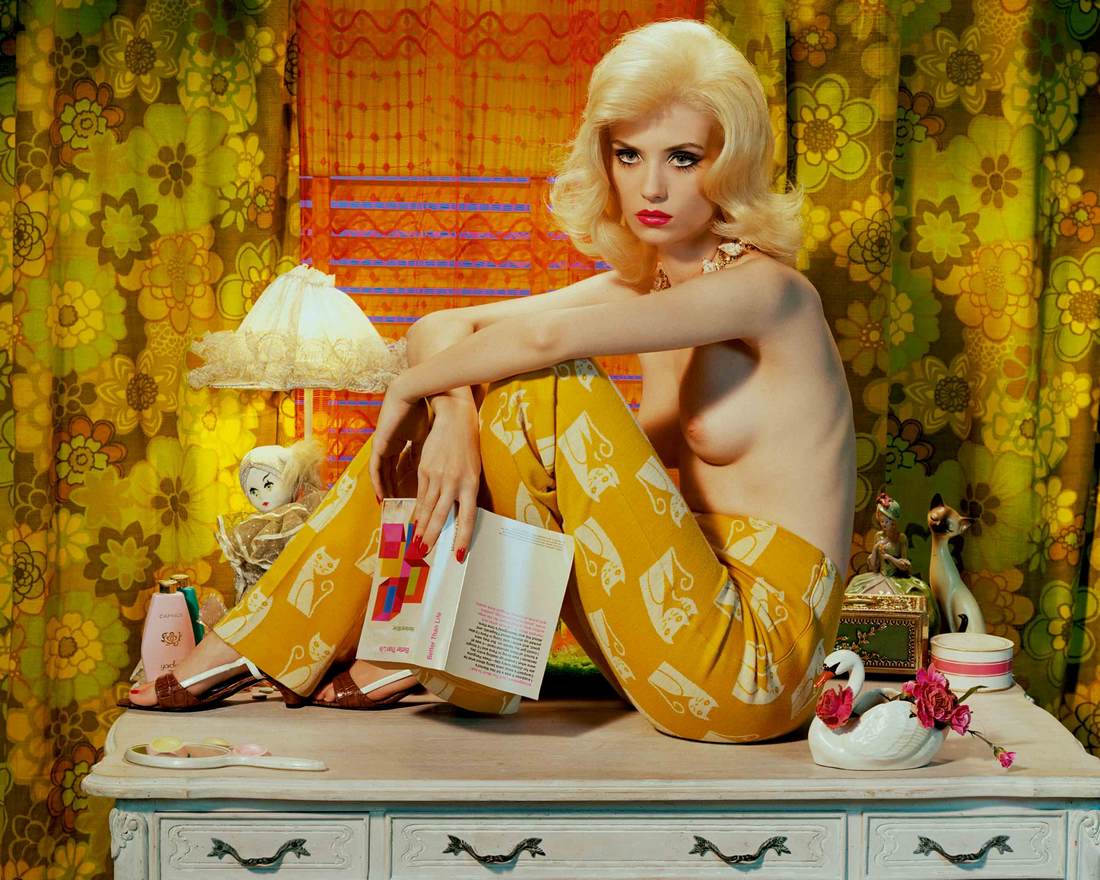 Interview with MILES ALDRIDGE
So that marks 15 years for you as a photographer. How do you feel ?
Miles Aldridge photographer : I feel quite satisfied and I think the orientation of my work has been a way forward. I think the book is a very good manifesto of the last 15 years of my work and hopefully a testament to the times I live in. When I started in the late 90s, I felt very lonely. We were coming out of the grunge era; it was the time of Corinne Day, The Face, the height of the YBA, where the models had to be "real", on real places without lighting.
I rebelled against the grungeys - I did not find the representative false naturalism! I had read a lot of JG Ballard at the time and was fascinated by the idea of a tasteless consumer society, the erotic load of modern life, where the consumerist things we covet are just another. form of self-destruction - a modern world of uncertainty, where lost souls try to grab something in order to feel content.
I did a series of dark, desperate women based on that - there was resistance to what I was saying, my exhibits weren't well received, then September 11 came along, and I thought to myself: "Did I go too far? ? Now I look back and realize that going out on the book then was good.
Did you have any difficulty completing this work, or is it a relief to have finished it?
Miles Aldridge photographer : Having created a book helps to build a universe and unify the work - especially in my photos where there is a strong signature, but with a set of rigorous rules. I still work in this universe - whether it's imagining hamburgers, Virgin Marys, domestic scenes - using these empty-faced women as a medium to question universal truths.
I guess I like to set myself tight, focused projects and then challenge myself to know how well I can achieve them. I think of Helmut Newton and director Federico Fellini - the added level of eroticism, the exciting message - and how it was possible for them to retain their signature for so many years.
Looking at these troubled and hurt women - I know there is always an autobiographical element in your fascination and your view of them, but you specifically cite your mother as the muse of "I only want you to love me".
Miles Aldridge photographer : Yes, she died very suddenly when I was about 20 years old. It was as if she was there, then left. There's this line from a song from The Cure, which says it best: "No one ever knows or loves another. I was left with a riddle about who she really was. I guess she led the way, the first of many enigmatic women who have been a part of my life.
Fifteen to 20 years later, I found myself really thinking about who she was; it's like ending up with trash and you have to put the puzzle pieces together, so yes she is in the women in my photos.
I also look at my women with a Shakespearean eye - the variant of emotions they are capable of - it's not really complicated, there's a bit of humor in there too! In fact, I think the entire Shakespearean world is enveloped in every human being.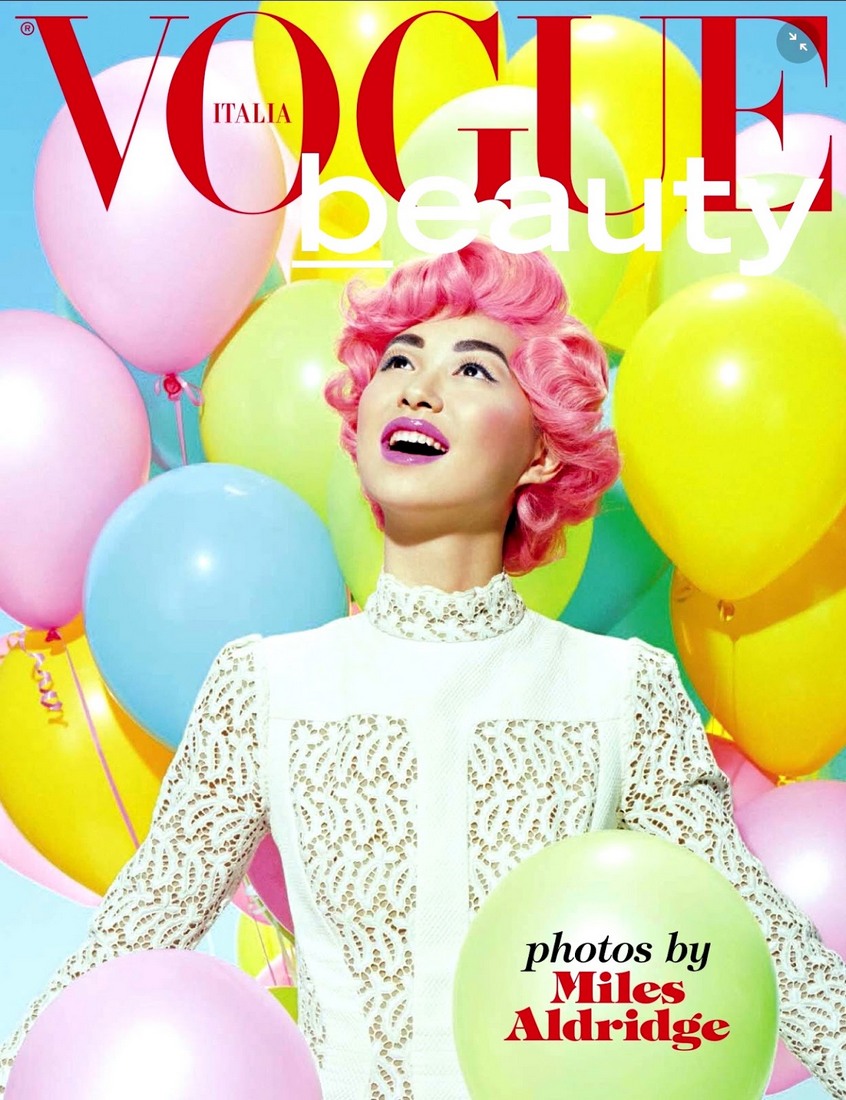 As a viewer, your images certainly appeal to you.
Miles Aldridge photographer : I think the power of the image is in the mystery - I keep creating mysteries, through this dystopian message, to initiate the intrigue. I want the viewer to be like a voyeur - look at the power of old Hollywood actresses, who sometimes weren't even in eye contact - but unlike in film, an image can capture the combination of who we are and what we are. want to be.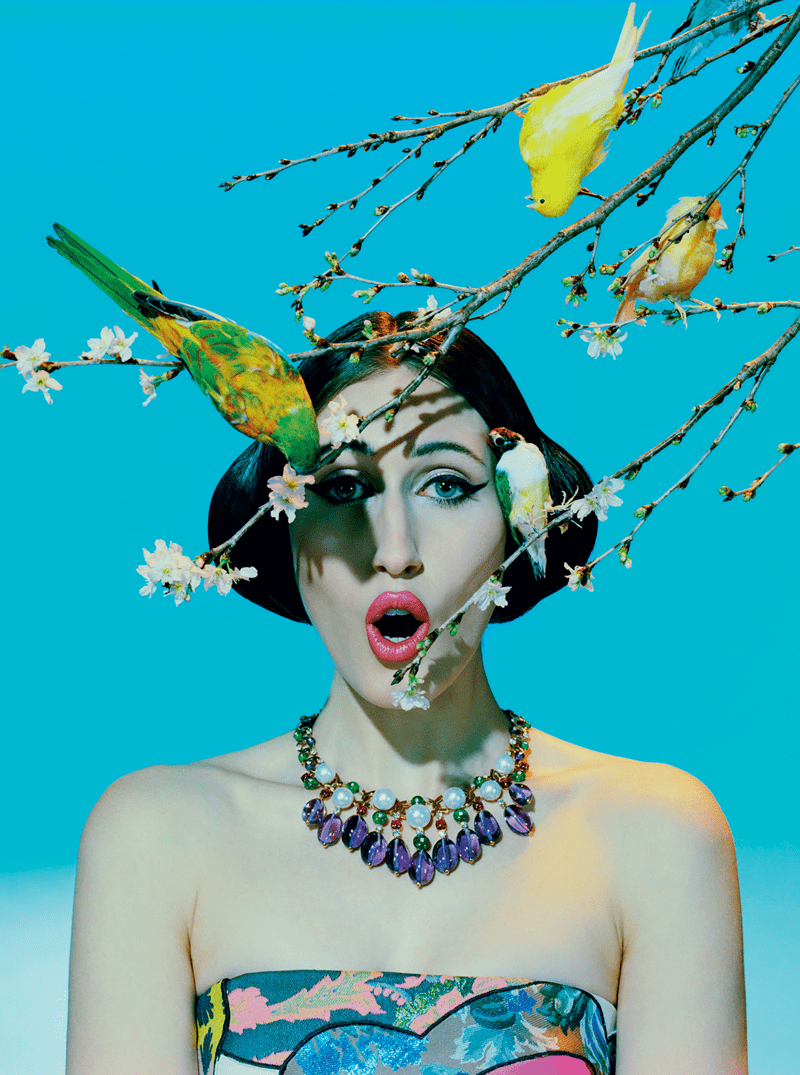 You also include drawings in your work - your initial starting point for the work. Why did you decide this?
Miles Aldridge photographer : I like the drawings. And as a photography fan myself, I would love to see the initial notes or drawings used by Newton and Penn, see where their ideas came from.
My sketches are also key to my work because I realized early on that by doing drawings I could formulate a plan of what I was thinking - I could take control and direct the work. It's amazing how if you show up in a studio with no idea, an image gains momentum and then you quickly lose control.
What is your favorite celebrity image?
Miles Aldridge photographer : It should be "Immaculate" - Alana Zimmer as the Virgin Mary [above, at the start of the slideshow]. The concept was actually very simple; a combination of sexual ecstasy and religious ecstasy in the picture - but the whole collaboration really matched.
There is an exhibition specially designed as part of the Somerset House retrospective for these five images alone. I will always remember Jean Paul Gaultier, who made a project based on Madonna, and marked on the images: "Yours are much better. Gaultier is really smart, so it's good to give him compliments! [laughs]
I was drawn to Glenn O'Brien's words in the preface: "Planet Aldridge is a world of luxury where surreality reigns. Everything is perfect, but something is wrong. Life is fashion, after fashion, but it's hardcore fashion, the end of the luxury road. You told me once that this was the most miserable your wives have ever known.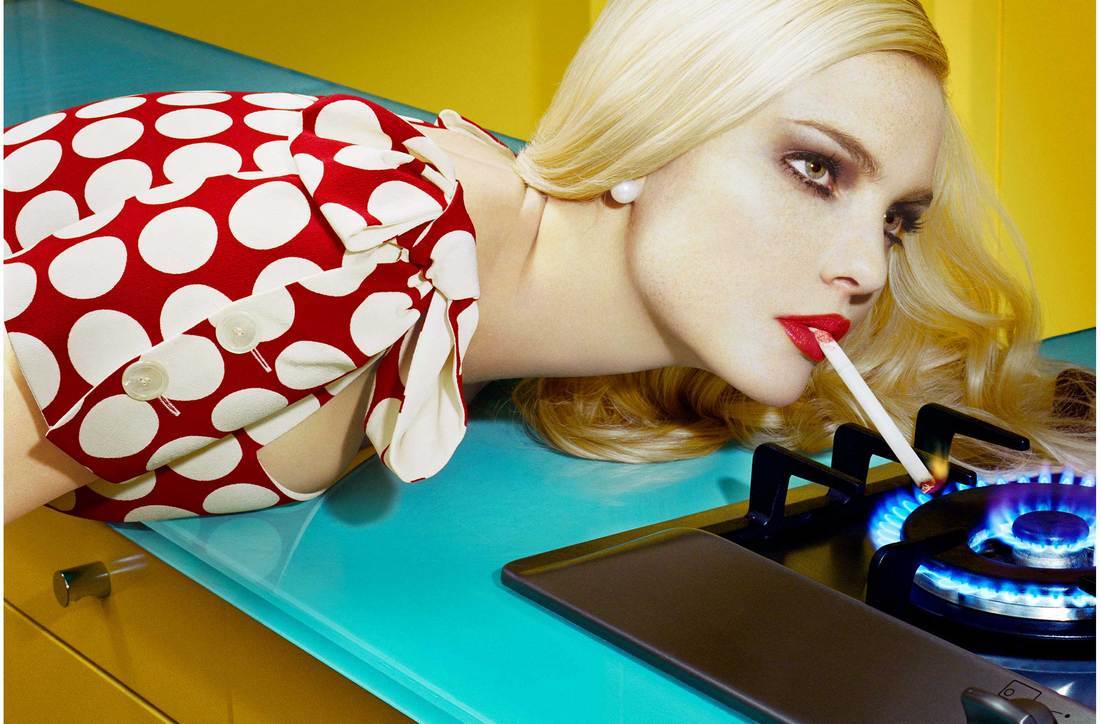 So where can they go from here, now that they have everything they've been looking for?
Miles Aldridge photographer : It's a great mystery. I've thought about this book so much and so much that I really haven't thought about the next move. After that, I'm going to have to pause, sit down, and really think about it.
In a way, however, the job is never done because forever women will be eternally mysterious to me - and I will always find that point where they are lost in thought, watched, but lacking in awareness. I have thought in the past to get into the cinema, to get these women moving, but I'm not sure it's really up to me to weave a whole story.
And how do you see the next 15 years as a photographer?
Miles Aldridge photographer : Well, all the work around the book and the exhibits went like a movie - I love the way color and women come together and act in this movie. I stuck with this movie, but I'm curious if that will still be the case in 15 years.
---
Eric CANTO Photographer: Concert photos, portraits, album covers.
Visit my portfolio Visit the blog Visit the shop contact me