Helmut newton was a great fashion photographer. He took provocative and erotically charged photos that have become the mainstay of Vogue and many other publications. The German artist's controversial sexualized imagery overturned the conventions of fashion photography and made him one of the most important photographers of the 20th century.
Newton's Early Life
Helmut Newton was born on October 31, 1920 in Berlin, Germany. He was born into a Jewish family and attended Heinrich-von-Treitschke-Realgymnasium as well as the American School in Berlin.
From a young age Helmut Newton was always interested in photography and at the age of 12 Helmut Newton bought his very first camera. From 1936, he worked with the German photographer Elsie Neulander Simon.
The rise of oppressive restrictions by the Nuremberg Laws made the work of Helmut Newton's father difficult. On November 9, 1938, his family left Germany and fled to South America. When Newton was 18, he got his passport and left Germany.
Helmut Newton got on a bus in Trieste and with 200 other people they escaped the Nazis. Their trip was to go to China, but after arriving in Singapore, he stayed there. He started working as a photographer for Straits Times and later as a portrait photographer.
Newton's life in Australia
In Singapore, Helmut Newton worked as an intern with the British authorities. He was then sent to Australia, but was released in 1942. He worked as a fruit picker in northern Victoria, then as a truck driver with the British Army. He then became a British subject and even changed his original name to Newton in 1946.
In 1946 he established his own studio and then married actress June Browne in 1948. She quit acting and later became a very successful photographer. His studio has been set up in Melbourne's trendy Flinders Lane area. Here Helmut Newton worked on fashion and theater photography.
Photography in London
Helmut Newton's reputation as great fashion photographer was ultimately rewarded when he managed to get a commission for presenting the fashions in a very special Australian supplement for Vogue magazine . This was published in January 1956. Newton got a 12 month contract with the UK edition of Vogue and he went to London in 1957. However, Newton left the magazine and went to Paris even before his contract ended.
In Paris, Newton has worked for french magazines and Germans. In 1961, he decided to settle in Paris where he continues his work as a great fashion photographer. Her style was marked as erotic with stylized scenes and sado-masochistic and fetishistic subtext, most notable of her work was the 1980 series Big Nudes. This marked the height of the erotic-urban style that was underpinned by his technical skills. He even shot several images for the Playboy.
Later years and death of Helmut Newton
In his later years, Helmut Newton lived in Los Angeles and Monte-Carlo, California. In January 2004, Helmut Newton was the victim of a major accident. His car got out of control and hit a nearby wall in the driveway of the Chateau Marmont hotel. This hotel had served for several years as a residence while living in Southern California.
Helmut Newton died at Cedars-Sinai Medical Center. He died at the age of 83. During his life, he managed to publish very many photographs. His work World without Men was published after his death.
Helmut Newton, World without men: The rise of Newton, from beginnings to glory
This book covers topics ranging from Newton's formative years to his rise to the top. Ironically, there are a lot of men to see in Helmut Newton's "World Without Men" collection.
But these guys are passers-by, admirers, watchers - the photos are all about women and their influence. "We don't need men, men need us" could be their motto. From the mid-1960s to the early 1980s, this selection of Newton's fashion editorials captures the evolution of his photographic style over nearly two decades.
Photos are accompanied by Newton's journal style text providing anecdotes and describing the circumstances of each shoot
Each page bears witness to Newton's revolutionary vision, which transformed fashion photography, and whose influence is still felt in the pages of the greatest fashion magazines.
"You never know what reactions certain images can provoke in the upper echelons of magazines. In the summer of 1971 I did a series with animals for the Vogue French. At the time all the photos were taken and retouched in the laboratory of Vogue. One of them showed a mannequin with a brown bear (see cover).
Hardcover 24 x 32.5 cm, 188 pages // Author Iris Lauterbach // Multilingual edition: French, German, English
Helmut Newton in 10 points
1. He described himself as a "terrible sissy"
Helmut Newton (1920-2004) was born Helmut Neustädter in Berlin, Germany in 1920 to successful Jewish parents. He described himself growing up as "a horrible sissy" who was "afraid of everything and everyone" and claimed to be only interested in women, swimming and photography.
Newton got his first camera at the age of 12. He took his first seven photos on a subway which he later admitted was too dark. The eighth was from the Berlin Radio Tower. By the age of 14, he was working as an assistant photographer and frequently skipped school to photograph childhood girlfriends on the streets wearing his mother's clothes. It was then, he later recalls, that he realized he wanted to become a fashion photographer at Vogue.
At first, Newton's father did not encourage his son's interest in photography. By the age of 16, however, it was clear that Newton would not be joining the family button factory, and he apprenticed to portrait, nude, and fashion photographer Else Neuländer Simon, better known as Go.
Under the German Jewish photographer, Newton learned to master large format cameras - 8x10s. After Newton left Berlin, Yva was expelled to a Nazi concentration camp and killed. Newton did what he could to keep her memory alive, describing her as "a great photographer and a fascinating woman."
2. Helmut Newton arrived at Paris Vogue via Singapore, Australia and London
In 1938, with Jews facing growing hostility in Germany, Newton's parents moved to South America, while Helmut set sail for China, disembarking en route to Singapore. There he worked briefly for the Straits Times, before moving to Melbourne in 1940.
In Australia, Newton served five years in the Australian Army and met his wife June Brunell, also a photographer, who later took the name Alice Springs. From Australia, the couple moved to London for a short time, before settling in 1961 in the trendy Marais district of Paris.
3. Helmut Newton "turned the traditional conventions of fashion photography upside down"
It was during his 25-year collaboration with Paris Vogue that Newton firmly established his international reputation and defined his signature style: black and white photographs highly stylized and erotically charged that embraced elements of glamor, fashion, eroticism, portrait and documentary, while flirting with provocative themes like voyeurism.
With its controversial scenarios, its images hypersexualized and his models combining beauty, eroticism and strength, "Newton has overturned the traditional conventions of fashion photography", explains Jude Hull, Christie specialist. "In doing so, he has carved out a reputation for himself as one of the most important photographers of the twentieth century. "
Among Newton's list of iconic images for French Vogue is the 1975 campaign for Yves Saint Laurent's tuxedo nicknamed "Le Smoking," which depicts an androgynous woman with slicked back hair in a dimly lit Parisian alley. "It was a fashion image which, in the undressed version, becomes an image par excellence of Newton," explains Hull.
For the "X-ray" series for Van Cleef & Arpels, Newton took a series of models to a radiologist to see "what was going on under all the flesh". He also wanted to see what $ 3 million worth of diamonds looked like under x-rays - the diamonds, he discovered, were completely gone, leaving only the metallic settings.
Newton is also revered for his use of recurring patterns, including mannequins, eyeglasses, mirrors, doors, and swimming pools. When we Asked him which people he liked to photograph, he replied, "The ones I love, the ones I admire and the ones I hate."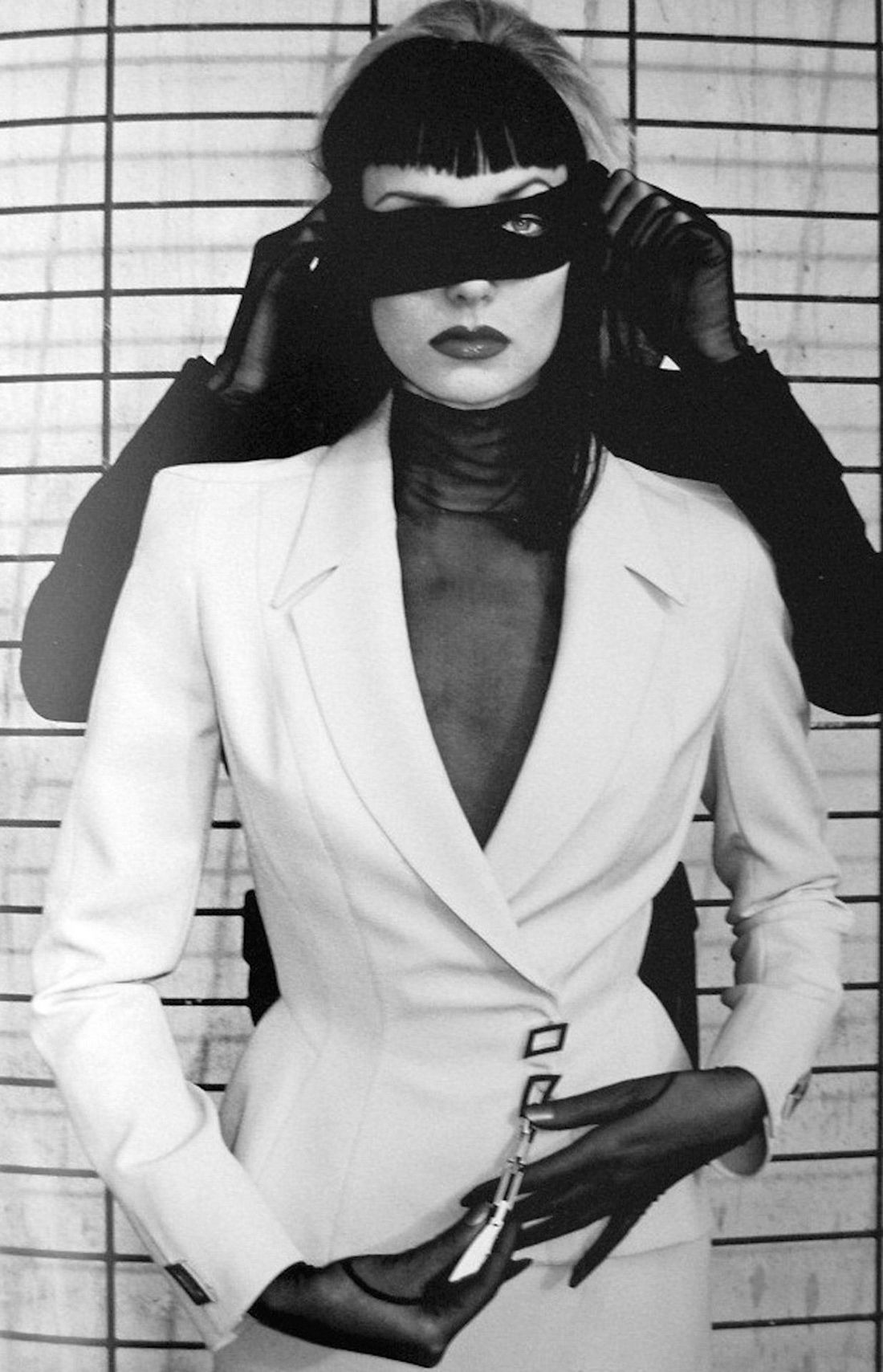 4. A pinch to death led him to "nudes, nothing but nudes"
Newton suffered a heart attack in New York in December 1971. This brush with death would greatly influence his approach to photography. "When I left the hospital, I rethought everything," he revealed in Filthy magazine in 1976. "The unnecessary work and the frenzied competition are over! Today I only take pictures for money or for fun.
Newton gave up fashion a year later to photograph "nudes, nothing but nudes", but quickly found that it was "even more boring than clothes". He returned to fashion with renewed enthusiasm, incorporating his new experience of the nude into his campaign work.
It was also around this time that he embarked on his series of nudes or semi-nudes in black and white, known as "Erotic Portraits". "They have confidence," Newton said of the models in the series. "They know I won't show anything horrible.
5. Time magazine dubbed him "The Elbow King"
In the early 1970s, Newton began working for Playboy - a collaboration that would last around 30 years. Among her most famous models for the magazine was Charlotte Rampling. In 1973, Newton photographed the actress, who would later become his muse, naked on a dining table in Arles, a glass of wine in her hand.
"This image is a prime example of not only Newton's fascination with hotel rooms, but also his interest in creating a sense of 'reportage' in his work," Hull notes. "Has Charlotte Rampling been asked to undress or is he capturing a private moment?"
The photographer's erotically charged images for Playboy magazines, Oui et Lui, among others, as well as the publication of his erotic photo book White Women, earned him the title of "The King of Kink". Newton later admitted that many of the erotic fantasies he had explored in his photograph were his own.
6. Newton's women were strong, liberated and dominant
Newton frequently positioned the sexualized female body at the heart of his work, but viewed the nude female form as a symbol of a woman's strength, control, and power.
According to Françoise Marquet, author of Helmut Newton: Work (Taschen, 2001), "He visualized women taking the initiative rather than following it; women who love and want when and who they love, and as they see fit; women full of health and vigor, enjoying the splendor and vitality of their muscular bodies, a body over which they themselves have exclusive command.
7. Apart from the series "Big Nudes", he preferred to shoot on location
Newton was a great admirer of the Franco-Hungarian photographer Brassaï (1899-1984), best known for his documentary-style street photography in the 1920s in Berlin and Paris. He was also a fan of the photo-journalistic work of German press photographer Erich Salomon (1886-1944).
In the same vein, Newton rarely worked in a studio, preferring instead to shoot on location: hotels, swimming pools and streets were among his favorite settings. His 'Big Nudes' series from the 1980s, however, is a rare, but brilliant example of his studio work, inspired by identity photographs of the German police of the terrorist gang Baader.
8. Helmut Newton had a minimalist approach to equipment
Over his five-decade career, Newton has experimented with a variety of cameras, including a Graflex Super D 4 × 5, Rolleiflex, and the Instamatic. Despite this, he almost always went for the longest lens possible.
What is particularly striking about Newton's practice, however, is his minimalist approach to the medium. The photographer once revealed that his equipment consisted of only "four bodies, five lenses, a strobe and a polaroid, all of which could fit in a bag weighing less than 40 pounds." This allowed him to take pictures anywhere.
9. Recognition, retrospectives and legacy
During his prolific career, Newton worked extensively for American, Italian, German and French Vogue, making 64 covers for the latter, as well as Marie Claire, Elle and Queen, among others. He has photographed a multitude of celebrities, as well as politicians such as Margaret Thatcher and Jean-Marie Le Pen.
During his life, his contributions to art and photography were widely recognized: he received the Grand Prix National de la Photographie in 1990 and a commendation to the Commander of the Order of Arts and Letters by the Ministry of Culture in 1996, among other honors.
10. Helmut Newton's labor market
"The Helmut Newton market has grown stronger and stronger," explains Hull. "Of his 10 best auctions, eight were made in the past five years. The large format of "The Big Nudes" makes it one of his most sought-after series.
Newton produced little color work, often adding a blue light to avoid warm tones. His preference was to produce colors unconsciously, not knowing that there was a color film in the camera. "These prints are exceptionally rare at auction and sell for high prices," Hull says.
And new collectors? They should look to Newton's Polaroids, often caught on set to check on lighting for commercial projects. "They are perhaps the only impression in this image", explains the specialist, "and prices can start from 6,000 $".
Helmut Newton's publications
Playboy's Helmut Newton - Chronicle Books, August 2005
Autobiography - Munich: Goldmann, 2005
Big Nudes - Munich: Schirmer / Mosel, 2004
Helmut Newton's illustrated - Munich: Schirmer / Mosel, 2000
Flight. 1. Sex and Power
Flight. 2. Pictures from an exhibition
Flight. 3. I was here
Flight. 4. Dr Phantasme
Pola Woman - Munich: Schirmer / Mosel, 2000
Portraits: Bilder aus Europa und Amerika - Munich: Schirmer / Mosel, 2004
Private Property - Munich: Schirmer / Mosel, 1989
Sleepless nights - Munich: Schirmer / Mosel, 1991
Welt ohne Männer - Munich: Schirmer / Mosel, 1993
White Women. - Munich: Schirmer / Mosel, 1992
---
Eric CANTO Photographer: Concert photos, portraits, album covers.
Visit my portfolio Visit the blog Visit the shop contact me