The European House of Photography (MEP) is a photo exhibition center which opened in February 1996. It is operated by an association, "Paris Audiovisuel - Maison Européenne de la Photographie", founded in 1978 by Jacques Chirac, then Mayor of Paris, at the initiative of Henry Chapier and financially supported by the City of Paris, which notably insures the building, the MEP is located at 5/7 rue de Fourcy in the 4th arrondissement of Paris.
European House of Photography: a bit of history ...
In 1979, on the initiative of Henry Chapier, Jean-Luc Monterosso, Marcel Landowski and Francis Balagna, the Paris Audiovisual Association was founded on the occasion of the International Biennial of the Month of Photos, including the The first edition took place in 1980. In view of the success of the event, the City of Paris made the Espace Photo available to the association, which is located at the current site of the Forum des Images.
The objective of the project was then to promote French and foreign photographers and more generally the photography contemporary. The premises have become too small for the development of their activities. The association was authorized by the city of Paris to settle in the former Hôtel de Cantobre, an 18th century mansion built by historian Charles-Jean-François Hénault in the Arsenal district, academics near Voltaire. The building has been renovated by architect Yves Lion.
This is how the European House of Photography was inaugurated in 1996.
With the ambitious bet of bringing together exhibition spaces, a library and an auditorium in one place, Jean-Luc Monterosso is making the MEP, the temple of photography in Paris. The success is there. Henry Chapier will chair it until December 2017 before handing over the presidency to Jean-François Dubos.
In January 2018, the appointment of Simon Baker, to succeed the post of director of the MEP, was unanimously validated by the board of directors. Its project of opening up to the international market, to new practices, to new emerging artists and to new audiences, is part of the Maison's heritage.
It has since been directed by Henry Chapier and directed by Jean-Luc Monterosso. The latter bowed on March 31, 2018. He will be replaced by the former chief curator of the London Tate photography department, Simon Baker.
The collection, dedicated to contemporary international creativity from the 1950s to the present day, today seems to consist of around 20,000 works that present photography in all its forms and at the limits of plastic art.
The European House of Photography (MEP) is a photo exhibition center which opened in February 1996. It is operated by an association, "Paris Audiovisuel - European House of Photography", founded in 1978 by Jacques Chirac , then mayor of Paris, at the initiative of Henry Chapier and financially supported by the City of Paris, which notably provides the building, The MEP is located at 5/7 rue de Fourcy in the 4th arrondissement of Paris.
European House of Photography: Mission and activities
The European House of Photography takes over the photo space, managed by the same association. It houses a library of 24,000 works (which received the name Roméo Martinez in homage to the historian of photography who died in 1990); a 100-seat auditorium (named after Bernard Pierre Wolff, in tribute to the photographer who died in 1985) and a video library with a thousand films. It also has a specialist bookstore and a café in the 18th century vaulted rooms.
It provides the public with user-friendly access to the three main distribution media for photography: exhibition printing, printed page and film. Guided tours are offered very regularly to visitors, including a special program for young audiences.
She presents "Les Coulisses de la MEP" three Wednesdays a year to get to know the House and its mission better. Lectures and cinema cycles take place in the auditorium, which are linked to the exhibitions. The hotel also hosts the restoration and photographic conservation workshop of the city of Paris (ARCP).
Founded in 1983, the company aims to implement the policy of preserving the photographic heritage of libraries, archives and museums in the city of Paris and to offer its services to other cultural heritage organizations in France and to the 'foreigner.
The MEP collection, dedicated to contemporary creation, includes more than 20,000 works, mainly photographs (film and digital) and videos (artist DVDs), as well as a large collection of works on photography for reference, including books byartists technical or theoretical writings, including many rare editions.
Each year, three to four exhibition cycles are organized on international themes, movements and artists, mainly from the second half of the 20th and 21st centuries.
Some Exhibitions of the European House of Photography:
Robert Delpire exhibition in 2009.
1998: Shirin Neshat, Women of Allah
1998: Robert Frank, The Americans
1998: Polaroid 50, art and technology
1999: Orlan, Self-hybridizations
1999: Helmut Newton and Alice Springs, Us and them
1999: David Hockney, Photographs, 1968-1997
2000: Irving Penn, A retrospective
2000: Bettina Rheims and Serge Bramly, INRI
2001: Don McCullin, Photographs 1961-2001
2001: Raymond Depardon, Détours
2002: Josef Sudek, panoramic Prague
2003: Alain Fleischer, The speed of escape
2004: René Burri, Photographs
2005: Martin Parr, 1971-2001
2005: Andy Warhol, Red Books
2005: Dmitri Baltermants, Retrospective
2006: Bernard Faucon, Retrospective 1976-1985
2006: Johan van der Keuken, Photography and cinema
2007: Larry Clark, Tulsa, 1963-1971
2007: Alessandro Bertolotti, Nude books, an anthology
2008: Édouard Boubat, Revelation
2008: Shōji Ueda, A subtle line
2008: Annie Leibovitz, A Photographer's Life, 1990-2005
2008: Sabine Weiss, Retrospective
2009: Claude Lévêque, The Twilight of the Jaguar
2009: Henri Cartier-Bresson, At sight
2010: Philippe Perrin, Top and short
2010: Elliott Erwitt, Personal Best
2010: Robert Delpire, Delpire & Cie
2011: William Klein, Rome + Klein
2011: Jane Evelyn Atwood, Photographs 1976-2010
2012: Dominique Issermann, Lætitia Casta
2012: Photography in France, 1950-2000
2013: Joel Meyerowitz, A retrospective
2015: Harry Gruyaert, Retrospective
2016: Christine Spengler, The World Opera
2017: Japanese photography 1950-2000
2019: Ren Hang, Love
European House of Photography website: https://www.mep-fr.org/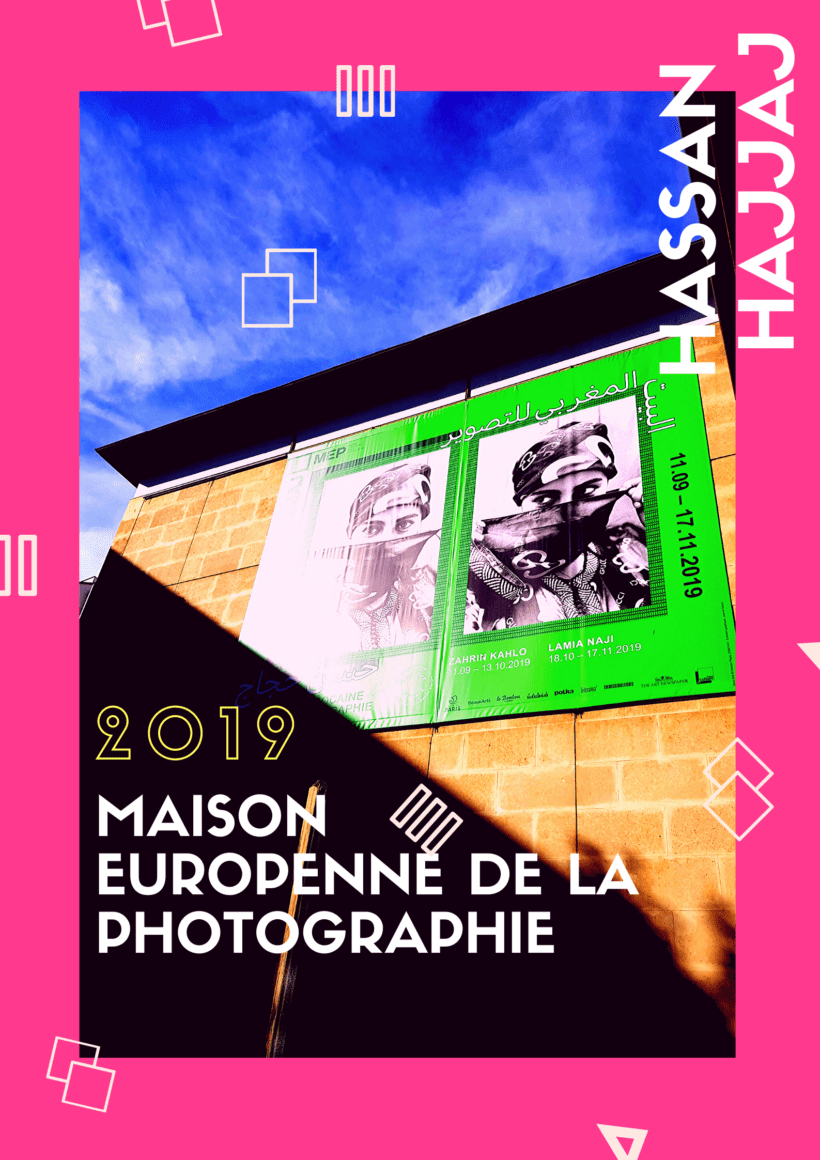 European House of Photography
---
Eric CANTO Photographer: Concert photos, portraits, album covers.
Bonus:

Interview: Simon Baker director of the European House of Photography (MEP) in Paris
Since May 2018, the British Dr Simon Baker has been appointed new director of the European House of Photography (ME P) in Paris. Simon Baker was the former curator of photography and international art at Tate. Before becoming Tate's first curator of photography, he was an associate professor of art history at the University of Nottingham, where he taught the history of photography, surrealism and contemporary art.
At Tate, he was responsible for the permanent collection, developing an acquisition strategy and organizing exhibitions. He has worked on exhibitions such as Don McCullin (2019) "Shape of Light" (2018) "Performing for the camera" (2016), "Nick Waplington / Alexander McQueen: Working Progress" (2015), "Conflict, Time, Photography "(2014)," William Klein + Daido Moriyama "(2012)," Taryn Simon,
For the future artistic program, from 2019, the MEP designates two distinct spaces for its exhibitions. The upper levels of the MEP (+2 and +3) will host medium or large-scale exhibitions presenting the work of established artists, while the Studio, at level +1 (formerly Salle Henault de Cantobre) is imagined as a gallery with a more regularly rotating program (presenting a new exhibition every six weeks), offering for the first time to emerging artists a personal exhibition in an institutional framework.
True to his commitment to showcase emerging international talent, the MEP recently presented "The Bliss of Conformity", a series by Chinese artist Guo Yingguang combining photography, video, installation and book, which explores arranged marriages in China and the emotionally distant coexistence between abstract and concrete couples. On this occasion, Simon Baker kindly answered our questions.
Marine Cabos-Brullé: How did you find out about the photographic landscape in China?
Simon Baker from the European House of Photography: Like many people outside of China, the first awareness came through publishing, seeing photo books by Chinese artists. Also, when I worked at Tate, I worked on acquiring the Martin Parr book collection; which included a large collection of Chinese photo books, both historical and contemporary.
Like almost all of my research, I feel that it all comes, in one way or another, from the world of photo books. It's something very fluid and moving, you can easily find good Chinese books in Tokyo, London or Paris.
I also visited China for the first time a few years ago. I was invited by Rong Rong to go to the Three Shadows Photography Art Center [三 影 堂 摄影 艺术 中心] in Beijing. Since then, I have always been in contact with him, and I have always followed what he was doing, collecting the books he publishes.
The last time I was in Japan, I also spent time with Rong Rong and Inri in Kyoto [Check out their work here], and I really enjoy what they do; the Three Shadows Photography Award, for example, and that's a very important contact for me.
I was on the jury for their award a few years ago with Thomas Ruff and Mika Ninagawa - a really amazing jury, it was a very meaningful experience to be in Beijing with them, and with the people they have succeeded in. to bring to China and [I was amazed at] the level of work they put forward in their exhibition and publishing programs. I saw the archives of Luo Bonian there, from which I was able to include works in an exhibition at the Tate. Rong Rong does an amazing job.
Since then, I've been to Photofair in Shanghai as well, and what's really amazing is the audience, there were around 10,000 people a day for three or four days. What you could say is that the appetite for photography in China is huge, the interest huge, the success of Photofair confirms it in its public appeal.
Then in Paris you have people who have a strong connection and an interest in photography in China. But I really consider myself to know very little. I don't speak Chinese, I haven't been to many parts of China, so my interest in this is similar to my interest in Japanese photography, which as a foreigner with interest and curiosity, who is very aware of its limits in language and in a cultural context.
MCB: What are the main characteristics of young Chinese photographers?
SB from the European House of Photography: Since there are 1.5 billion Chinese, it would be very foolish to generalize. Let's say that the Chinese photographers who have gained attention and achieved success outside of China are often those artists who have questions of identity, those who have made works on youth culture, gender identity. , gender policy and broader social issues through a kind of performative approach.
In Guo Yingguang's case, one of her main influences was Sophie Calle. I think it is no accident that she is interested in performance and radical or avant-garde attitudes towards the performance of identity and sexuality.
It's really fascinating because maybe what it tells us is something very evident in art schools outside of China. Photography has ceased to be something that is a ghetto, or a club, for technicians, on the contrary, it has started to become something that has enormous power for people who are interested in its margins. Sophie Calle is not a photographer but she uses photography in a very powerful way.
She loved Guo Yingguang's show in Arles [in 2018]. We went together and then arranged their meeting. I think there is something in the radical part of what Sophie Calle is doing that you can see in Yingguang's work. If they have anything in common, it would be the ability to use photography and performance to make fairly simple yet powerful points of our identity and identity performance.
While doing press for our Ren Hang exhibition, I found myself talking about Boris Mikhailov for the same reason: Boris Mikhailov was a photographer who started his career under a totalitarian regime, and his attitude to performance was created. in relation to these questions of good behavior. and bad behavior in context.
[Likewise] Yingguang did not conform to the so-called "good behavior", standing in the wedding park in Shanghai, where those looking for a partner are not supposed to stand in the park themselves, they're supposed to leave a sign, supposedly not there. I found it fascinating in Yingguang's video when you have these guys saying "but you're not supposed to be here" as if his presence is a huge threat to the smooth running of this process.
Also interesting is Ren Hang's use of the parks, as everyone is naked in the middle of the night. The question Boris Mikhailov poses very well is that of good behavior and the performance of social expectations in a context where one is supposed to behave in a certain way. Then all kinds of non-behavior, alternative behavior becomes political in a symbolic way.
Maybe one of the things that non-Chinese audiences like about Ren Hang is that he conforms to something that we would like to believe from our peers in China - that they don't behave.
Ren Hang said something like "all I want to do is show that the Chinese are not robots, that they have dicks and pussies", questioning the perception outside of China. that this is a very uniform and conformist society where everyone studies hard, behaves,
But maybe what I'm saying could also be a romantic wish of Western curators and pundits when we turn to photography in China. We obviously identify with bad behavior from Chinese artists because it fits with something we wish to be true about China. I am not sure this is not the case as well.
MCB: Will the works exhibited at the Studio be part of the MEP's permanent collection?
SB of the European House of Photography: We do not ask the artists of the Studio to donate to us, in fact we pay them for their collaboration and we support the production of the work. The MEP has a principle that the production costs of the shows are reimbursed in one way or another when possible through donations, but for the Studio the amounts are relatively modest, so we are not asking the early-career artists who are unlikely to have much financial independence.
But the MEP we feel, I think, that if the city of Paris supports the production of works of art, then it should not in this way also end up financing the production costs of a commercial gallery for them. sales. So we try to make deals with artists who have significant representation for some kind of donation.
However, with the artists of the Studio, we try to help them. We have a limited edition of prints with artists exhibiting at the Studio, which we sell at the boutique. The artist receives 20 copies of 100 copies which we sell for 100 €, but they can sell them as they wish; we prefer that they decide for themselves.
We are also very keen and firm to remunerate the artists who exhibit in the Studio. Questions have been raised recently in the media as to whether artists are paid at different festivals or fairs. Our attitude is that emerging artists, people who don't make a lot of money from their practice, should be supported by their exhibitions. While we can't afford to pay them a lot, we do.
MCB: What role do photo books play in understanding photographic practices?
SB from the European House of Photography: Everything, for me, fairs and events like Offprint, Polycopies or Cosmos-Arles are as global as possible. They (photo books) totally bypass the gallery system, you can see something that has been thought of, that has received some support from someone to some extent, sort of peer review as it's called. in academia.
This is the best way to think, to fully understand the intelligence or the voice of photographers.
If you see a few images online, a few photos at a fair on a gallery stand, it's very difficult to piece together anything about the position of the person who made it.
When you see a book, even if it is very modest like a self-published book, you understand the sequence, the context, and if there is a text, you can read it.
The first major attempt to explain photography was a photo book: "Nature's Pencil" [compiled by the British William Henry Fox Talbot in 1844-1846]. For me, that never ceases to be true.
You can go to a book fair, buy books from all over the world, and come home with something from Mexico, Ukraine, China, Brazil. It's a very effective means of research, much more effective - if you think about it - than going to an art fair.
Because what an art fair tells you is who can afford to be there. But a book fair is a different thing, sales are more fair, it's a little more democratic.
The photo book market is like an art market but without money, because you don't need as much money to make a book as to open a gallery, you don't need to invest as much , and the return comes back in an otherwise.
Most publishers don't make a lot of money making books, but they are very passionate about it.
While this is not always true for people who sell art, although a lot of people who run galleries are also passionate about the subject, it is more of a commercial activity. Publishing is a more romantic activity [laughs]. Well I'm sure you can have romantic gallery owners and non-romantic publishers too ...
Over the past few years, the tremendous growth of book and publishing fairs has been very pleasing to the eye. When I was at Tate, I invited Offprint to be at Tate Modern. One of the most rewarding things, as my former boss Frances Morris used to say, is, "It's the weekend when the general public talks directly to artists about their work."
For three days, without paying, you go to the table, and for example you go to La Maison de Z and there is Zhen Shi who could tell you about one of her artist books, but she could also show you her own. work.
It is an unfiltered individual exhibition and without intermediary to artists who tell you about the work, excite you, and at the end, you pay around 30 € to buy something. You pay for the experience, the book is a bonus [laughs].