Fashion lost one of its stars on Tuesday, February 19, 2019: Karl Lagerfeld. If he hated being photographed. The creator has often gone behind the photo boxes for shooter its collections, but also develop a very particular universe. Karl Lagerfeld, deceased at the age of 85 leaves behind several careers.
Karl didn't stop at sewing. A true jack-of-all-trades, he also tried his hand at illustration, editing and photography. Because if we know Karl Lagerfeld as creator and artistic director of the house of Chanel, like many other creative geniuses, Karl Lagerfeld was also passionate about photography.
Karl Lagerfeld photographer: An esthete of the photo
He was a true lover of photography. He was fascinated by the photographer's fashion shots Irving Penn, or even André Kertész.
Karl Lagerfeld starts to be interested in photography from the 1980s when he took charge of the collections of the haute couture house Chanel.
In his work, Karl liked to control everything. He took care of the brand's advertising campaigns. He not only ran the production, but took the camera - usually Hasselblad - to handle the framing. Of course, an army of assistants was present to deal with the cases, but Karl was everywhere.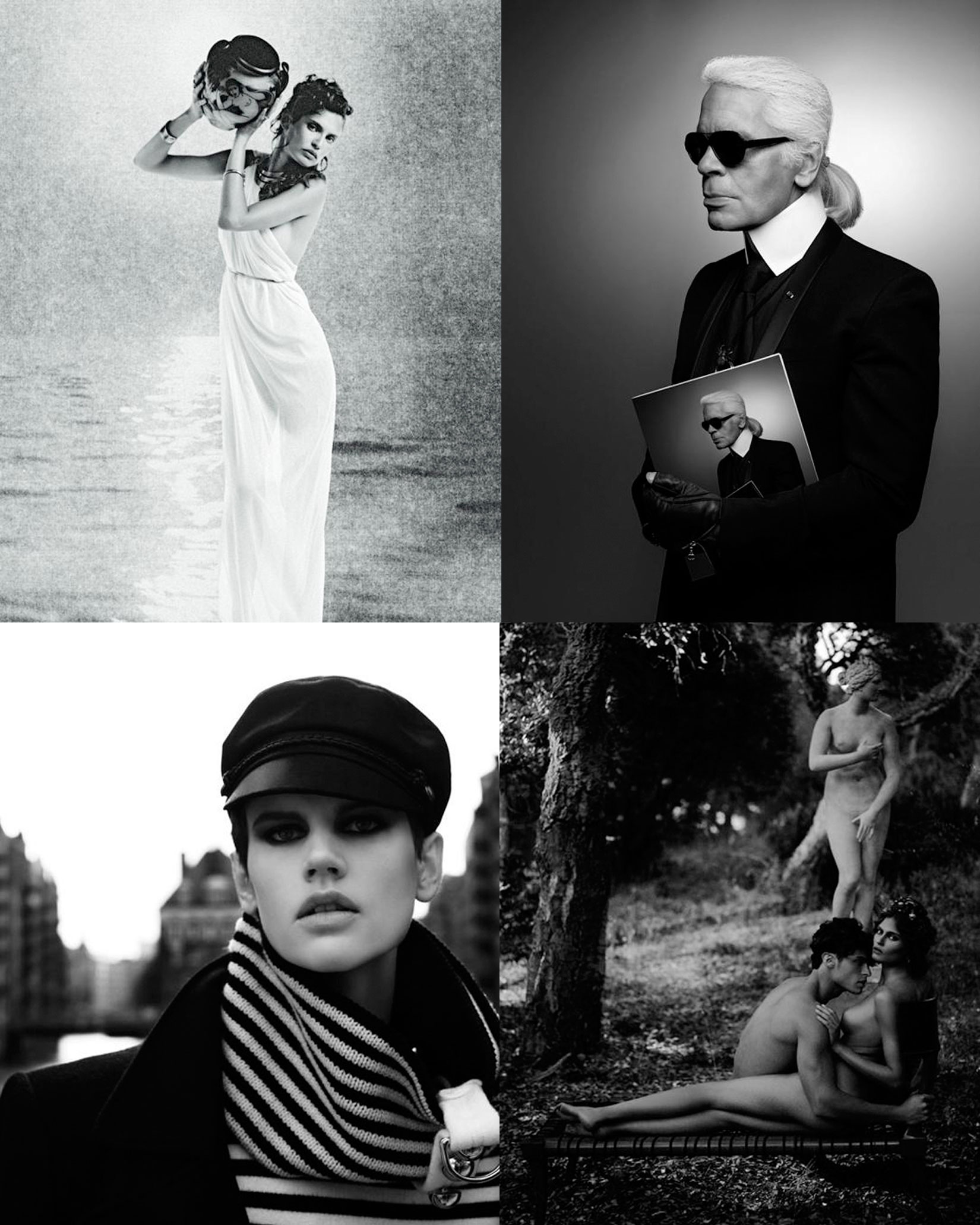 Karl Lagerfeld photographer and Hasselblad
Demanding photographer (with comfortable budgets), he photographed mainly in medium format. Many photos were taken with Hasselblad H4X cameras, but equipped with Phase1 backs (assistants want to work with Capture One…).
The German designer will also create a kind of link with the Swedish photo brand: Karl Lagerfeld will buy several Lunars to offer to his relatives and will be one of the first to use a medium format hybrid brand: Hasselblad X1D.
In addition to advertising campaigns, photographer Karl Lagerfeld has also developed his universe, making nudes, portraits and landscapes. Over the years Karl Lagerfeld has tried his hand at all photographic subjects. A lover of black and white, photographer Karl Lagerfeld does not hesitate to experiment with photographic practice in multiple ways. The paintings, refined and elegant, different in style, all evoke the extravagance and mystery, power and balance, characteristic of Karl.
Thanks to his photos, the photographer Karl Lagerfeld recreates his own world. Some say it belongs to a sophisticated world and even an eccentric universe.
Karl Lagerfeld photographer and recognition. 
He has been regularly invited to major cultural events around photography, such as the Salon de la photo in 2011, where he has presented numerous portraits of personalities.
His work as a photographer is used many times in advertising campaigns for the houses he runs or in fashion magazines. He received the cultural award from the German Photographic Society or the Lucky Strike Design Award from the Raymond Loewy Foundation and Editor Steidl published most of Karl Lagerfeld's photo catalogs.
Karl Lagerfeld photographer and exhibitions.
From the start, Karl Lagerfeld photographer was interested as much in the exhibitions, as in the printing techniques as in the compositions themselves. For him, a photo is not just an image, but a visual object whose identity depends on the techniques that gave birth to it. During his exhibition "Karl Lagerfeld, A Visual Journey" at the Pinacothèque de Paris in 2016, he presented the full range of his photographic techniques.
You could simply admire the great variety of motifs, the subtle and very personal interpretation of the photographs of photographer Karl Lagerfeld. "People often want to know what my style is when it comes to photography. I don't know, he admits. I don't have one style, but several or even… none. For me, stagnation is the worst part: in life, in fashion, in photography. "
Karl Lagerfeld photographer and publishing.
Karl Lagerfeld has published numerous photo books published by the German publisher Gerhard Steidel. Architecture, the human body and the world of luxury are his main subjects. In 1996 he won the cultural prize of the German Photographic Society. He is also the owner of the 7L bookstore - specializing in photography in particular - and of the publishing house of the same name, rue de Lille in the 7th arrondissement. A keen reader (his personal library has around 300,000 books) 66, he buys 400 new books per month (in English, French and German), which he distributes in his residences in Biarritz, Paris, Rome, Monaco or New York.
Karl Lagerfeld photographer: Photography and fashion books
Big nudes, photographs by Helmut Newton, Munich, Schirmer-Mosel, 1990, 88 p.
Photographs, preface Patrick Mauriès, Paris, Contrejour, coll. "Cahier d'Images", 1991, 55 p.Book of photographs published on the occasion of the retrospective and the launch of his perfume Photo.
My best photos, 1994
Claudia Schiffer, photographs by Karl Lagerfeld, Paris, Éditions n ° 1, 1995, [116] p. 100 photographs of top model Claudia Schiffer, chosen by her, taken by Karl on the sidelines of the posing sessions for the Chanel advertising campaigns.
Off the record, 1995
L'Allure de Chanel, Paul Morand, ill. Paris, Hermann, 1996, 210 p. The visual and textual history of an era and a fashion where the Parisian intelligentsia of the 1920s and Coco Chanel intersect.
Visionen, 1999
Casa malaparte, 1998
Tadao Vitra House, 1999
Escape from Circumstances, 2000
Akstrakt, by Eric Pfrunder, Göttingen, Steidl Verlag, 2000, not paginated.
Alan Seeger, the complete works, 2001
Villa Noailles, 2001
Portfolio, 2002
Waterdance bodywave, 2002
The Ciboure Vases: the illusion of the ideal, Karl Lagerfeld, Göttingen, Steidl, 2005, [62] p.
Back stage and front row, 2005
7 fantasies of a woman, 2006
Konkret Abstrakt Gesehen, 2007
Metamorphoses of an American, 2008
Line by Line, 2008
Abstract Architecture, 2008
You can leave your hat on, 2008
Modern Italian Architecture, 2008
Come Back of Aymeric Brias, 2010
Chanel: his life, Justine Picardie, trad. Lionel Leforestier, ill. Göttingen, Steidl, 2011, 395 p.
Passion for paper: perfume, Geza Schoen, Gerhard Steidl, Günter Grass, Tony Chambers, trad. Lionel Leforestier, Göttingen, Steidl, 2012. Book, by various authors including Kars, in which is a bottle of the Passion papier perfume by designer Geza Schoen inspired by the aroma of ink and paper.
The Little Black Jacket: A Chanel Classic Revisited, Karl and Carine Roitfeld, Göttingen, Steidl, 2012. K. Lagerfeld and stylist C. Roitfeld freely reinterpret Chanel's little black jacket worn by different actors, musicians, models or designers of fashion.
Choupette: the enchanted life of a fashion cat, photogr. Lagerfeld, edited by Patrick Mauriès & Jean-Christophe Napias, Paris, Flammarion, 2014, 123 p.
Second floor, Sam Taylor-Johnson, texts by Justine Picardie and K Lagerfeld, Göttingen, Steidl, 2014, 64 p.
Chanel shopping center, Göttingen, Steidl, 2015, 160 p. Chanel Fall / Winter 2014-2015 show at
Grand Palais in Paris.
The Agenda according to Karl: 2015, edited by Patrick Mauriès and Jean-Christophe Napias, graphic design and ill. Charles Ameline, Paris,
Flammarion, 2014,. 2015 diary with aphorisms by K. Lagerfeld and the dates of fashion highlights: Fashion week, Chanel shows, etc.
---
Eric CANTO Photographer: Concert photos, portraits, album covers.
Visit my portfolio Visit the blog Visit the shop contact me
Interview with KARL LAGERFELD on his approach to photography 
KARL LAGERFELD PHOTOGRAPHER : How I started out in photography is, in a way, the key to my whole approach to fashion. I think the photographer can do it all. You are not the best photographer or some lousy poor creature just because you make press kits. 
One of the reasons I started was press kits - no famous photographer wanted to do them. One season, three different photographers produced the press kits. All three times the work went in the trash and I said, "That's enough. 
This is how I started. Press kits are no fun because they need to be black and white and manipulated in such a way that they can be used for daily newspapers. Press kits should be prepared one week to ten days before the end of the collection.
A lot of times I photograph unfinished dresses, so I have to know how to fake them, how to make them look finished. It was four and a half years ago, but I was already prepared for it. 
I draw very well. I have drawn portraits all my life. When I was a child, I wanted to be a portrait painter. Anna Piaggi, the Italian fashion editor, published a book of several of these designs that I made. Sketching and arranging things is, for me, what I've always wanted.
ANDREW WILKES: Tell me about your photography.
KARL LAGERFELD PHOTOGRAPHER : I do a lot of company portraits and portraits for royalty. These friends use the photographs for themselves - for their homes, for their friends. They order a hundred prints. I do my portrait with a Sinar 8x10. I often use very strange sets. I will show twenty portraits during my next exhibition. 
It is something very special. There is only one print of each negative and it belongs to the subject. At these exhibitions, nothing is for sale. On the other hand, for a charity exhibition at the Hamilton Gallery in London, fifty-nine photos were for sale, and all were sold on opening day.
AW: Do you collect photography?
KARL LAGERFELD PHOTOGRAPHER : Yes. I collect works from the end of the 19th century and the beginning of the 20th century. Steichen, Stieglitz, a little Baron de Meyer-I have a handsome one. Also, Käsebier, Demachy, Paul Citroen, Kertész, Coburn, Kühn, Munkácsi and Early Lartigue. The Lartigues were given to me as a gift. In fact, a large part of my photo collection is made up of freebies, it's endless. I love Paul Strand and Minor White. I also collect Helmut Newtons, tons. 
Very beautiful and huge. The last thing I got from him was a beautiful photo of David Lynch and Isabella Rossellini where Lynch had Isabella's hand in her hand - a wonderful photo. Today I think I would rather collect photography than collect paintings. New artists such as Peter Lindbergh, Bruce Weber and Steven Meisel-they are my favorites at the moment.
AW: Do you think fashion photography is becoming as valuable as fine photography?
KARL LAGERFELD PHOTOGRAPHER : For me, old-fashioned photos are works of art. Steichen, for example. What is as beautiful as a Steichen? It may have become an inferior commercial product because there were too many prints available.
AW: Do you think photography is an art? Can a photograph compare to a Monet or a hopper?
KARL LAGERFELD PHOTOGRAPHER : For me, modern photographs touch me personally because they date from my time. Monet feels far from me now. Early 20th century photographers are as good as Monet and the rest of the painters in a way - but you should never compare - it's like [comparing] sculpture and painting - it's something else.
AW: What does a Lagerfeld shoot look like? Do you prefer the control of a studio or the spontaneity of localization work?
KARL LAGERFELD PHOTOGRAPHER : I have very bad work habits. Sometimes I start at ten in the evening and at ten in the morning I am still working. I can be slow, well not slow, but it takes a long time. I don't believe in those thirty-five minute jobs. 
I have a big team. We are often between fifteen and twenty people; make-up artists, stylists, models, scouts. I work with almost everyone I started working with from the start. You can't spend nights and days with people you don't like or know. I do not want. I don't have to. 
It's fun to be in a studio and I think it's fun to be outside. I actually like being outside a lot, but there are photos that require a backdrop. You know, these sets are paintings that a Parisian scene painter does for me. A backdrop like this costs between 5,000 $ and 10,000 $. He was once very famous and struggled to make copies of real paintings. He is incredible.
AW: Do you like the restrictions on your job when shooting for Chanel or KL, and do you impose restrictions on yourself?
KARL LAGERFELD PHOTOGRAPHER: Yes. I am the photographer but also the client, and I am in the wonderful position of being the center of my own life. For Chanel, Fendi and KL, I can do whatever I want. Many photographers cannot decide, even with big budgets, what they want. 
My restrictions are my own restrictions. I know what goes in the trash and what doesn't. After all, we're in business, and the better, the more money I can do with other things. So I can afford to play more and experiment with fewer commercial projects.
AW: Alexander Liberman commented on the fun of "the accident" in photography. The "controlled or unplanned accident" is the field of photography which he believes enables discovery. What do you think of that kind of excitement or spontaneity?
KARL LAGERFELD PHOTOGRAPHER: Yes, I love the idea, but you can never say that will happen. Obviously, you can't prepare for it. I think it's even more interesting when you have a strange event on your film that you haven't seen yourself. 
It could be an accident with a light or something else. Often times you end up with something that you never thought of before. Most of my photos start out as a sketch, however. I do not go into too many surprises. Most of all, I want exactly what I had planned.
KARL LAGERFELD PHOTOGRAPHER: Do you conceptualize your fashion photography?
KARL LAGERFELD PHOTOGRAPHER : Yes. I look at the product. I know what the photo must look like to be right. I am my own client and for Chanel they love what I do. Actually, Chanel wants to show off the dresses, but I'm careful to be different, much more subtle, because I want the image to be different. 
For example, my work for Fendi is very different. It is based on German and Russian fairy tales or a mood like that found in De Chirico paintings.
AW: Fashion photography, as well as clothing design, therefore borrows directly from fine art and popular culture. Do you pay attention to pop music, videos, movies and street culture as sources of mood and inspiration?
KARL LAGERFELD PHOTOGRAPHER: Everything gives me inspiration. I think Madonna is divine. I think she is. I'm not sure I'm the right photographer for her; but I think she's great. All of these areas of popular culture helped catch up with the 80s. I don't believe in my eyes closed. I am like an antenna on a building, I receive all these images.
AW: American fashion photography seems to deal with the graphic representation of clothing, while European more often deals with mood or fantasy. Do you know the source of this difference? Does "seeing" clothes stop counting?
KARL LAGERFELD PHOTOGRAPHER: There is a very simple explanation. America is more market oriented than Europe. European executives whose companies have interesting clothes and who commission great photographers do not have the budget to do large advertising campaigns. 
If you only have one or two pages, you had better create an atmosphere. On the other hand, if you have hundreds of pages, like with Chanel, you can show the dresses. KL is less commercial that way, but you can still see the dress. I do more atmospheric work with my personal photography.
AW: Let's talk about commissioned / commercial photography. Usually, a fashion photograph has commercial limits. Many critics believe this is what separates commercial work from fine photography. What is your opinion and what limits do you find when photographing?
KARL LAGERFELD PHOTOGRAPHER: You know, a commission is not something that makes the photo less attractive. The photographer who is very honest, even with a commission, will make a special effort. The job is a job and the commissioned job is valid work. 
Sometimes with a commission you have to put up walls; I think it's very healthy. If everything is open, the choice is too limitless. Helmut Newton always says he likes restrictions. Many of Helmut's advertising jobs are worth as much as his personal work for exhibitions, books or portraits. 
But Newton sometimes doesn't care and he doesn't like fashion anymore. And the drama of fashion is that if you don't like fashion anymore, it doesn't like you. We can even lose touch with the fashion "feeling" because we may think that we have more vision of women than clothes, but people's taste for women is changing. 
I think the professional who doesn't like fashion or thinks fashion is no longer interesting should come out. This does not mean that he is not a good photographer, but that he is no longer a good fashion photographer. Often times, fashion photographers who become well known create a mold whereby they think they are too good for the job. 
They need to be remembered that they will be remembered not for what they later do in a different genre, but for what they did during the height of their fame as fashion photographers.
AW: There is often a special relationship between a photographer and a designer. Who have you worked with at this level?
KARL LAGERFELD PHOTOGRAPHER: Helmut Newton, Bruce Weber, Peter Lindbergh.
AW: Do you prefer black and white or color photography?
KARL LAGERFELD PHOTOGRAPHER: I prefer black and white, but what I also like is hand painting photos.
AW: Do you make your own dye?
KARL LAGERFELD PHOTOGRAPHER: Yes, I do it mostly with my social portraits and with gifts to friends. I made an impression for Princess Caroline of Monaco and it took ten hours. It takes so long that I don't even own one myself.
AW: What cameras are you currently working with?
KARL LAGERFELD PHOTOGRAPHER: For me, a camera is the toy of all adults today. Everyone has a camera, it is one of the few toys that adults can have. 
I have a Sinar 8x10, which is my newest. But I did most of my work with a Hasselblad. I love the Leica 6. I love the physical touch and the sound. I think a camera is very physical.
AW: Did you shoot a lot of movies at the same time?
KARL LAGERFELD PHOTOGRAPHER: Very little. My assistants sometimes push me to do more. I have a vision of the thing and not two. I am not a photographer who shoots three hundred rolls of film.
AW: Is your printer in Paris?
KARL LAGERFELD PHOTOGRAPHER: I have two printers for my color and one for black and white. I have my photos printed on Canson Mi-Teintes drawing paper. A special printer does my color prints for exhibitions; sometimes the photos are two meters high.
AW: What role do you think fashion photography will play in the years to come?
KARL LAGERFELD PHOTOGRAPHER: You know, I don't separate fashion photography from fine photography. They are part of the same thing. There will undoubtedly be great new photographers.
AW: Can commercial work be important after the moment of its initial impact? Will this work remain important and continue to have lasting value?
KARL LAGERFELD PHOTOGRAPHER : If it's good, it's possible, and when people forget that it was at the origin of the advertisement or the editorial staff. Look, many of the photographs collected today have been commissioned for magazines. 
Simply, whatever is good will survive; the rest must go in the trash. Any good photographer can do bad photography because of mood, bad weather, atmosphere, or the product. But good photos endure.
Interview taken from the archives of Aperture Magazine - Winter 1991