enri Cartier Bresson was born in 1908. He took his first photos in 1930 in Ivory Coast, then in Spain, Italy, Mexico and Morocco. In 1947, he founded the Magnum agency with Robert Capa, among others. He died at the age of 96 in 2004. Henri Cartier Bresson is a photographer of legend. 
"The photo is the concentration of the gaze. It is the eye that tirelessly turns, always ready, on the lookout . The photo is an immediate drawing. It is question and answer. "
Henri Cartier Bresson famous photos.
Henri Cartier-Bresson is a French photographer and filmmaker known to be the pioneer of street photography. His black and white images are among the most iconic in the world of photography, some of which feature great political moments of the 20th century. Henri Cartier-Bresson , nicknamed the Eye of the Century, an exceptional artistic eye. He realistically photographs street scenes and scenes from everyday life. His framing is always impeccable, so that he does not have to crop his photos afterwards.
He coined the term "instantaneous" or "decisive moment", the title of his book published in 1952. "Decisive moment" describes this precise moment when the photographer decides to take a photo. "Taking a photo is to recognize in a fraction of a second both the fact itself and the ability to organize the visually perceived shapes that give it meaning," he explains. Born August 22, 1908 in Chanteloup in Seine-et-Marne, Henri Cartier-Bresson will study painting with André Lhote before becoming a photojournalist in the 1930s.
These photos are featured in all introductory photography courses to inspire how they work. Maybe the name doesn't ring a bell at the moment, but you will probably recognize some of these photos.
"Without emotion, if there is no shock, if you don't respond to that sensitivity, you shouldn't take a picture. It is the image that makes us. This is how Henri Cartier Bresson perceives photography. His whole existence has been shaped by the search for the perfect photo In the right place at the right time.
Inspired by the surrealist movement, the Chanteloup-en-Brie, born in Paris, took the cubism of André Lhote and the dialectical realism of Jean Renoir to shape the leg of its photographer. Leica de Cartier-Bresson captured key moments in 20th century history, from the liberation of Paris in 1944 to the Cuban crisis during the Cold War, including Gandhi's death. The man is still famous for his photojournalist work, especially under the banner of Magnum Photos, a photographic cooperative which he co-founded, although his personal work certainly shaped his legend.
A time close to the French Communist Party in the 1930s, without being part of it, HCB defended issues close to his heart, such as the situation in Tibet. Here are the ten milestones in the life of a man who witnessed his time.
Henri Cartier Bresson: August 22, 1908.
Henri Cartier Bresson was born in Chanteloup-en-Brie, a small town about forty kilometers east of Paris. This son who is attracted to art, in particular photography and drawing, categorically refuses to take charge of his father's affairs. HCB first turned to painting and sharpened his creative eye on the orders of cubist painter André Lhote, who was also an engraver, sculptor or even an art theorist.
Henri Cartier Bresson: 1930.
After various encounters that characterize him as André Lhote and make him discover photography (Max Ernst, André Breton, Gretchen and Peter Powell), Henri Cartier Bresson goes to Ivory Coast, Cameroon, Togo, to discover Sudan. The 22-year-old enjoys traveling. During this trip, he produced his first report, Impressions d'Afrique.
Henri Cartier Bresson: 1933.
Between two trips, Henri Cartier Bresson visited the Association of Revolutionary Writers and Artists chaired by Louis Aragon. This association close to the Communist Party brings together artists and thinkers seduced by the Marxist current. He will befriend Robert Capa and David Seymour, two photographers with whom he founded Magnum Photos. He worked for the newspaper Ce Soir, founded by the PCF in 1937 and directed by Aragon.
Henri Cartier Bresson: 1937.
Henri Cartier Bresson married Ratna Mohini, an Indonesian dancer who introduced him to Asia and dance. These two points will inspire his work on the movement of the body in space. He went from 1937 to 1940 to touch the cinema while he was a student of Jean Renoir, the second son of the painter Auguste Renoir.
Henri Cartier Bresson: 1947.
After World War II, when he was captured by the German army - his PCF activism certainly served him well - Henri Cartier Bresson was co-founder of Magnum Photos. The aim is to cover important events around the world with the desire for complete freedom of expression. The French enter photojournalism. His first report on behalf of this cooperative led him to meet Gandhi. Always in the right place at the right time, HCB receives the last interview with the father of the Indian nation before his death, whom he will take care of.
Henri Cartier Bresson: 1948.
Henri Cartier Bresson decides to go to China for eleven months. The tense situation between the forces of Mao Zedong and General Chiang Kai-shek will once again offer the photographer a moment in history as the Chinese Communist is taken from Beijing to Nanjing south of the capital. A few years later, in 1955, Henri Cartier-Bresson experienced the upheavals of Stalin's death in the heart of the Soviet bloc. These photo reports will ensure his fame in the world of journalism.
Henri Cartier Bresson: 1969.
After various trips - notably to Cuba during the advent of Fidel Castro - Henri Cartier Bresson records the demonstrations of May 1968 with his film. He then crossed France and published Vive la France, one of his famous human and mechanical photographic works, to name just one. There is the famous Fotorue de Vaugirard in Paris during the student uprising month "Enjoy without obstacle".
Henri Cartier Bresson: 1972.
Henri Cartier Bresson is married a second time to Martine Franck and father of a little Mélanie. He brakes and leaves Magnum Photos. He now prefers his family life and stands out from the new wave of photojournalists in the cooperative. Then he becomes a teacher. He died in the Alpes-de-Haute-Provence in 2004 and left a great legacy in photography and journalism.
Henri Cartier Bresson: 1974
In 1974, Bresson broke away from the Magnum Photos agency and gave up his status as a partner, but left the agency with the management of its archives. He then devoted himself to drawing.
Henri Cartier Bresson died in 2004

 in Montjustin in Provence.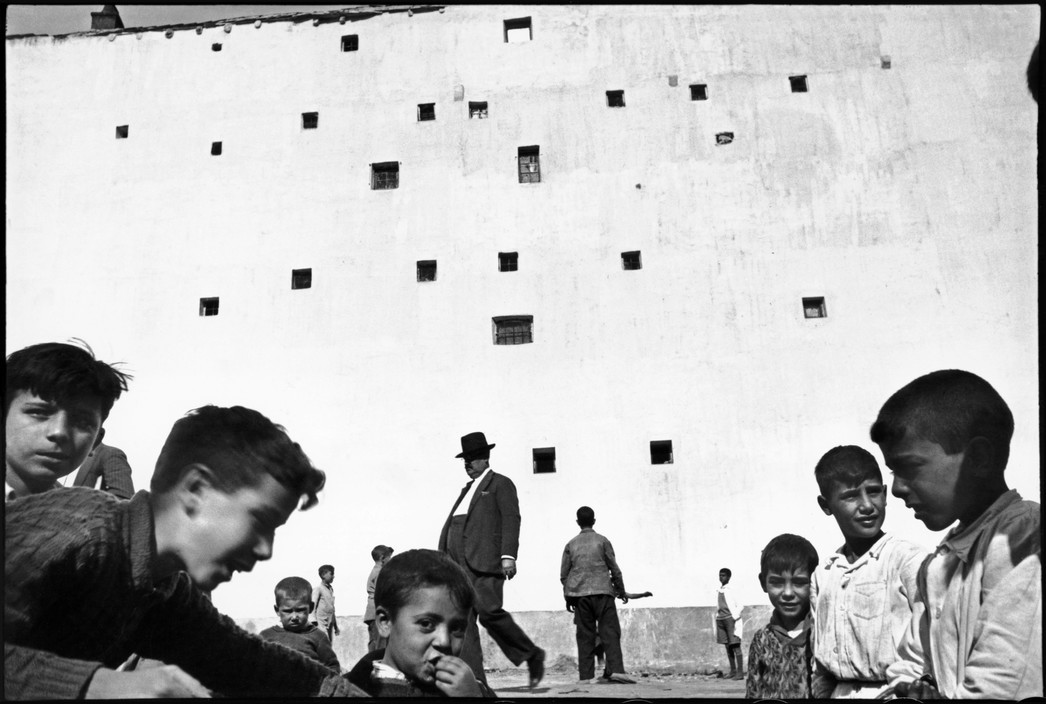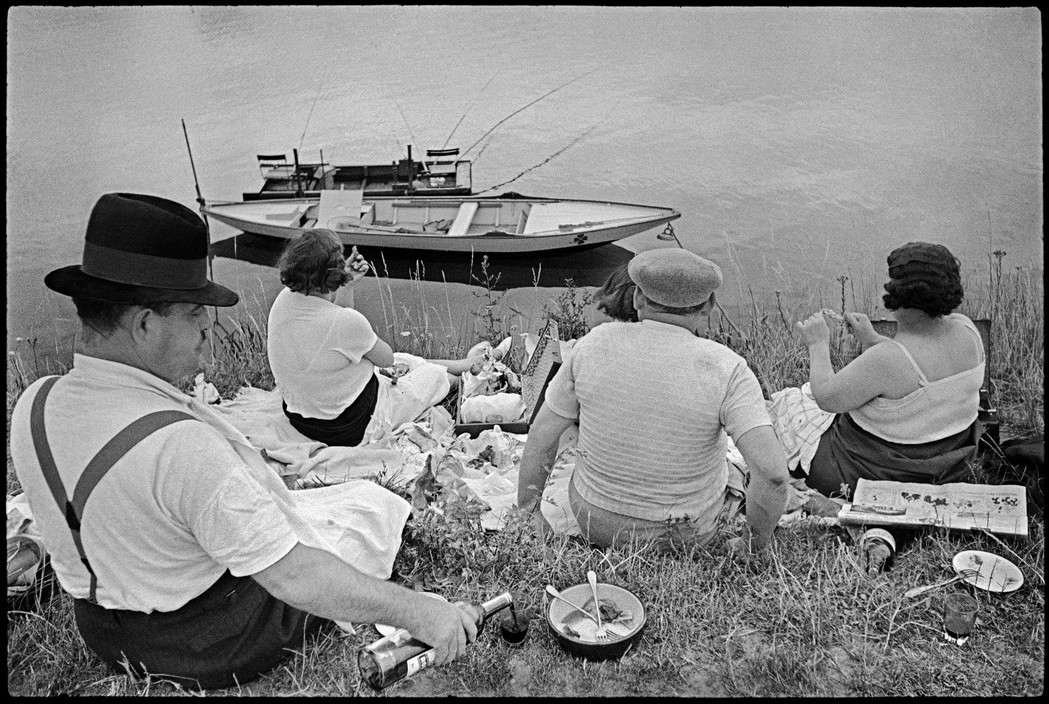 Henri Cartier Bresson famous photos
---
Eric CANTO Photographer: Concert photos, portraits, album covers.
Visit my portfolio Visit the blog Visit the shop contact me
Bonus: 10 things we can learn from Henri Cartier-Bresson
1. The art of geometry
If you look at the work of Henri Cartier-Bresson, he applied geometry to his images in a poetic way. If you look at the composition of his images, he has incorporated vertical, horizontal and diagonal lines, curves, shadows, triangles, circles and squares to his advantage. He also paid special attention to executives.
Don't just see the world as it is, look for shapes and geometry that also occur naturally. Open your mind and divide your surroundings into different formal elements. Look for lines that can lead to your subjects or squares that can frame your image. Get poetic with your footage and incorporate interesting actors and scenes when you go out on set.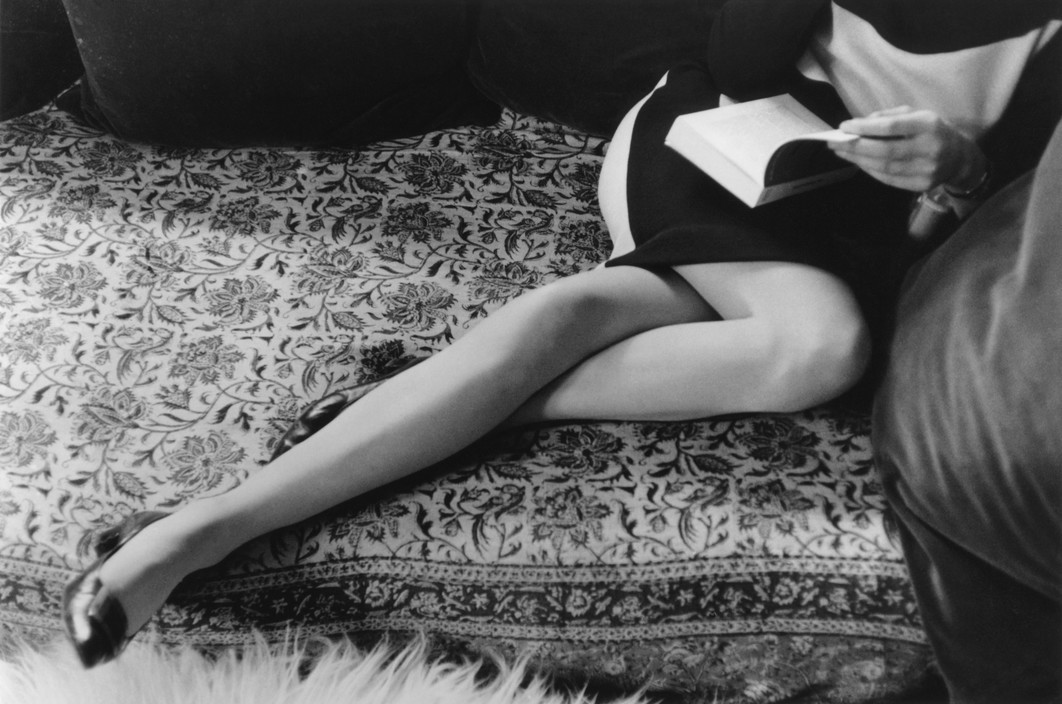 2. The Journey
Henri Cartier-Bresson has traveled the world and toured places like India, all of Europe, the United States, China and Africa. When he traveled the world he was able to capture a different slice of life and learn more about the local people he was with. For example, when he was filming in India, he stayed there for about a year and immersed himself in the culture.
3. The patience of the photographer
When Henri Cartier-Bresson spoke of "The Decisive Moment", he said that sometimes it would be spontaneous, but sometimes you had to be patient and wait for it. Regardless, he was very methodological when he went out and photographed, and only kept his images if every element of his image (the people, the background, the framing and the composition) was perfect.
When taking photos and seeing fascinating scenes, wait for the right person to come by to complete your image. While you don't want to camp for hours just to wait for the right time, be patient. You don't always have to go out and search for photo opportunities. Let them come to you.
While it is good to take street photos in your backyard, it is good to travel as often as possible. Explore different countries and cultures, and it will help inspire your photography and open your eyes.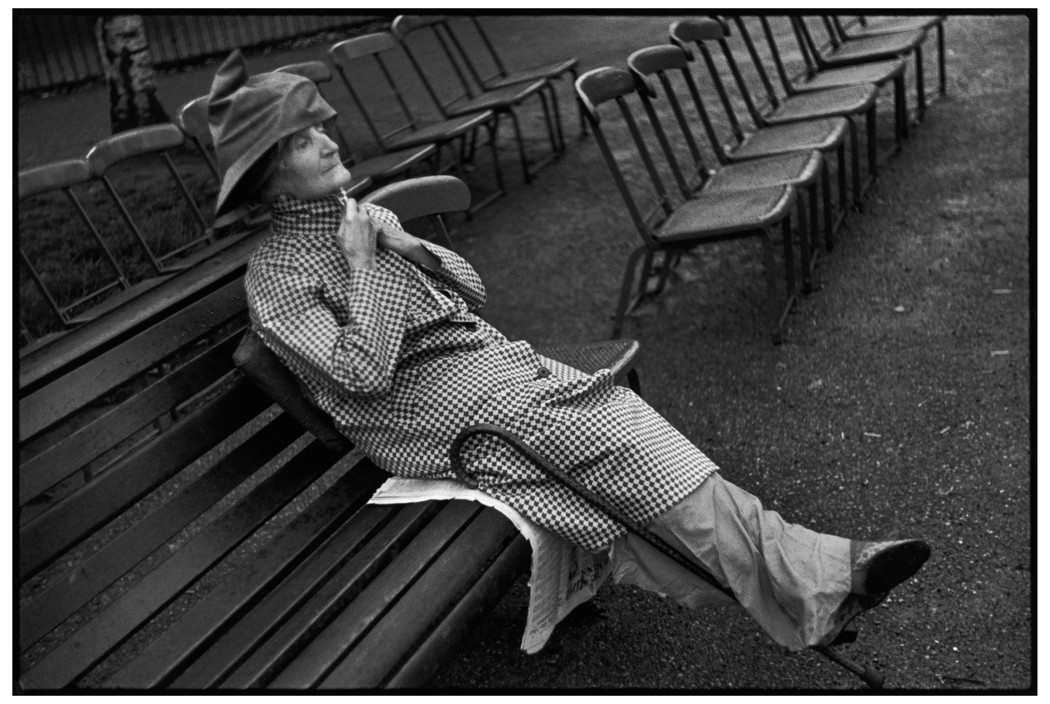 4. The 50mm lens
Although Henri Cartier-Bresson photographed with several different lenses while working for Magnum, he would only shoot with a 50mm if he was shooting for himself. By sticking to this lens for decades, the camera has truly become "an extension of his eye."
Apply the same mindset when you go out and shoot. Use different focal lengths to see the world differently and to experience, but ultimately staying with one focal length will help solidify your artistic vision. You will be able to see natural framing lines in your everyday life and know exactly how your photos will appear when shooting from certain angles and distances.
5. Pictures of children
One of my favorite photos of Henri Cartier-Bresson is this little boy carrying two bottles of wine under his arms, with the triumphant smile of a champion. When I saw the image for the first time, it struck me in the heart because it reminded me of my own childhood. Henri Cartier-Bresson was a master at taking photos of children in their natural playful state, creating images that convey a beautiful nostalgia to his viewers.
These days it is incredibly difficult to photograph children. However, children are excellent subjects to photograph when it comes to street photography. In my experience, I have noticed that they don't mind being in front of the camera and often ignore it. Therefore, you can capture their true essence: playful, curious and often mischievous.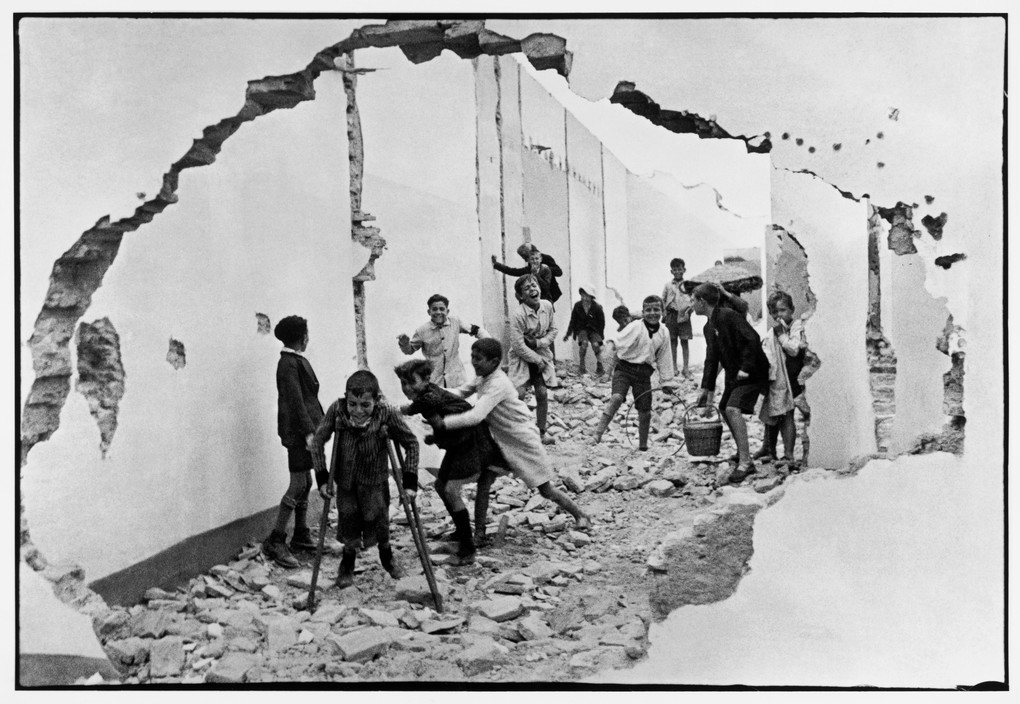 6. Do not crop
Henri Cartier-Bresson was fiercely opposed to cropping. He believed that every time you took a photo it should always be done behind closed doors. If his framing or composition was a bit off, he would ignore the image.
However, as a caveat, one of his most famous photos (the jumping man) was cropped, as Henri Cartier-Bresson said he had to photograph him looking through a fence.
While my personal philosophy is a bit more lax on cropping, I still think it's best if you can do your street photography without cropping. If you crop too often, you become lazy with your framing when photographing, which will interfere with your photographic vision.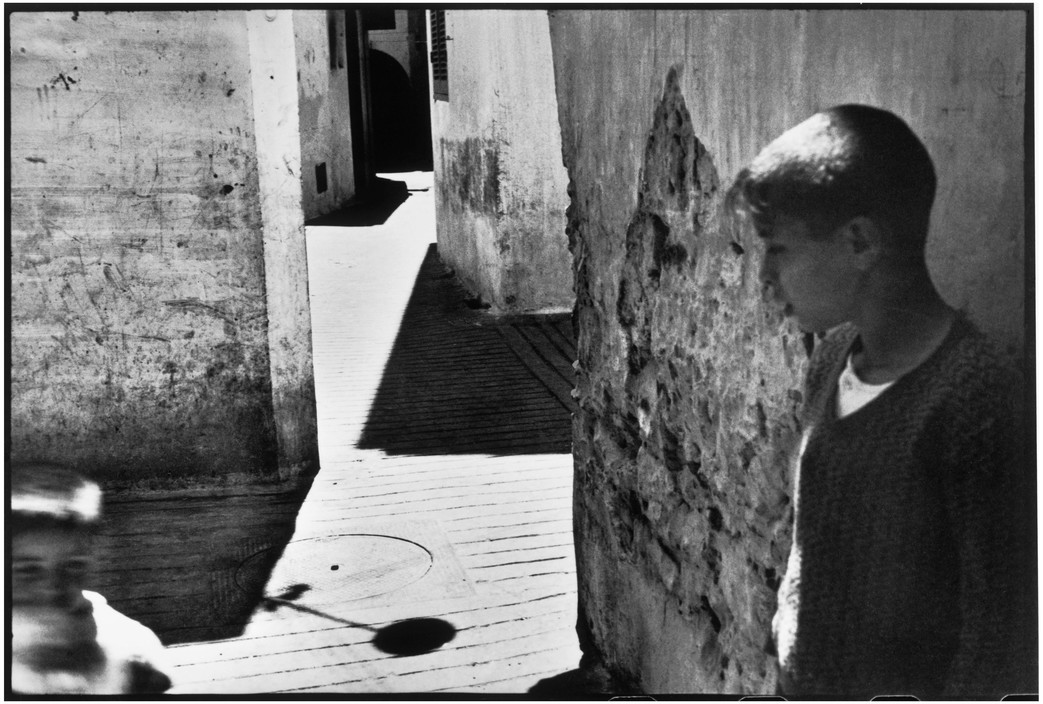 7. Discretion
When Henri Cartier-Bresson photographed in the streets, he remained as low-key and unobtrusive as possible. I even read that he would cover his chrome Leica with black tape and even sometimes with a handkerchief to make it less noticeable when he was photographing. Most of the images he captured of his subjects were camera-oblivious, and therefore truly sincere.
If you want to shoot in the same way, wear clothes that blend in with your surroundings and work quickly and don't linger. If you see Henri Cartier-Bresson filming videos, you can see that he has the dexterity of a feline and is quite agile and quick. If you see a scene you want to capture, quickly raise your camera to your eye and step forward before anyone notices you.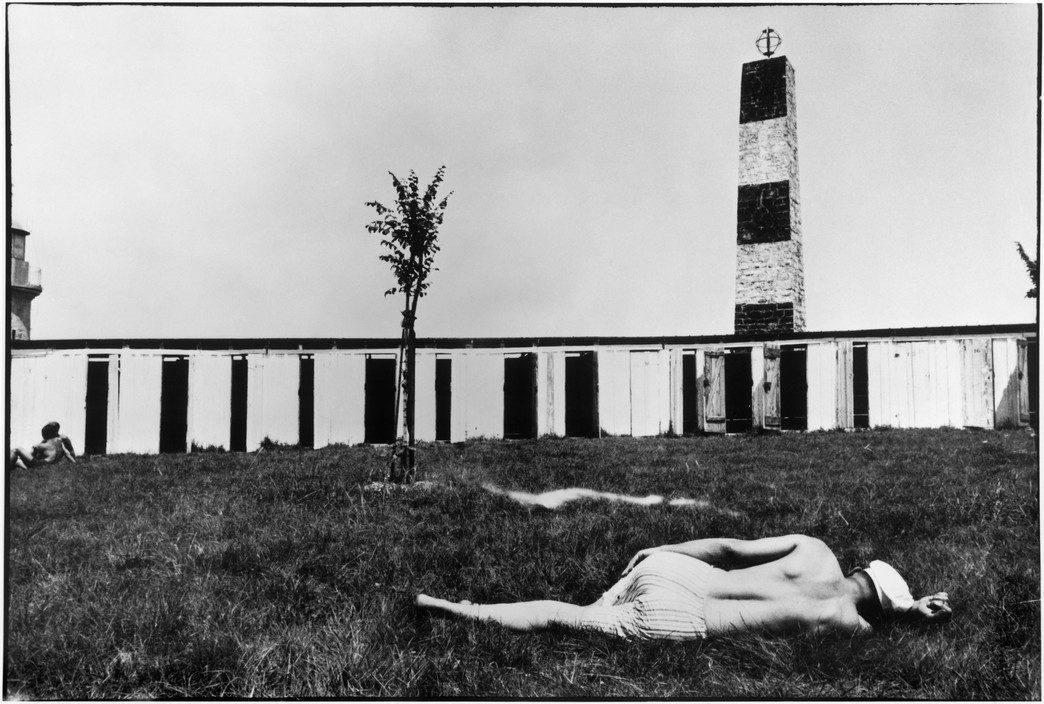 8. See the world like a painter
Before Henri Cartier Bresson embarked on photography, he was first interested in painting. Once HCB discovered photography, he applied the same classic painting aesthetic to his images. For HCB, composition was essential, and his images mirror that of Romantic painters before him. Interestingly enough when he was much older he actually denounced photography and focused the rest of his life on drawing.
In order to become a better street photographer, study the work of painters. Find out how they use framing, composition, people, and scenes. One painter that I find absolutely fascinating is Edward Hopper, who was basically a street photographer with a brush. Don't just limit your inspiration to photography books, explore other forms of classical, modern, surreal and abstract art as well.
9. Don't worry about the treatment
Although Henri Cartier Bresson knew how to process and develop his own film, he never did it alone. He would go out, photograph and send his photos to people he trusted, who would develop them for him. This gave him a huge advantage, as it would allow him to spend less time in the darkroom and more time photographing.
In the modern, digital age, photographers are too preoccupied with post-processing. If you take a bad photo, no amount of "photoshopping" can improve it.
10. Always look for more
Henri Cartier Bresson never had much emotional attachment to his images. In one documentary, interviewers tried to surprise him by printing and showing him all of his classic and previous work on the walls of the gallery where they were interviewing him. However, HCB looked at them with little interest and told them that once he took a photo he would just go ahead and look for the next photo.
There is no magic in the picture. The photo is magical. In its ability to capture a snapshot and serve it to us. The camera is a magic box that generates a certain fascination. But photography is technical. It requires learning skills. Creative genius and intuition only work with great work.
If you have a large portfolio of images, try to get even better images. Don't become content and complacent. Always look for greatness.