L'histoire de Fender : Fender Stratocaster & Télécaster
Leo fender
Clarence Leonidas "Leo" Fender was born in 1909 and raised in California. His parents, Clarence Monte Fender and Harriet Elvira Wood, owned a thriving orange grove located between Anaheim and Fullerton, California. Leo showed an interest in DIY electronics at a very young age.

His uncle, who ran an auto-electric workshop, had a great influence on him. Leo was fascinated by radios and quickly began fixing them in a small store in his parents' house.
After graduating from Fullerton High School, Leo attended Fullerton Junior College where he studied to become an accountant. He continued to learn electronics and tinker with radios and other electrical devices. Leo has never had formal training in electronics.
He later became an accountant and learned a bit about how to run a business.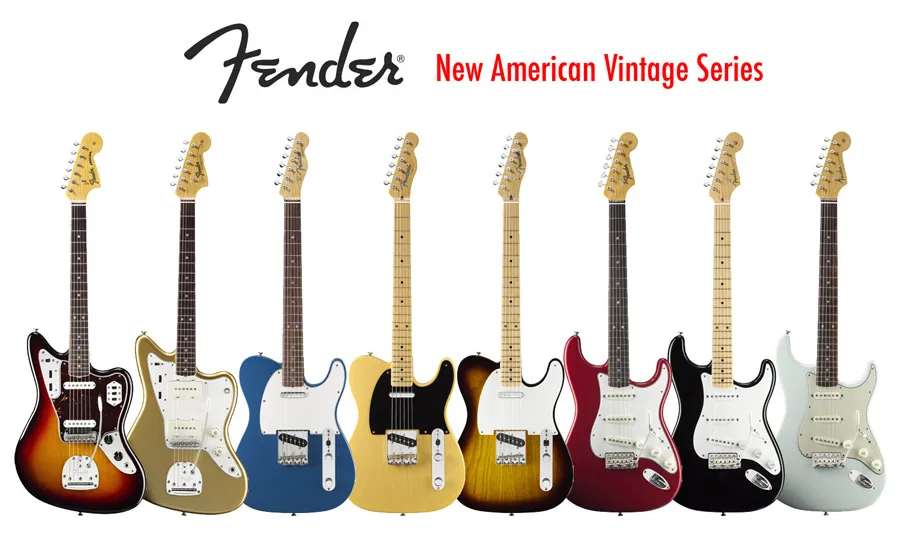 While working as an accountant, a local band leader asked Leo if he could create a sound system for the band to use at Hollywood dances. You couldn't drive to Guitar Center or Sam Ash back then. These weren't "out of the box" items. He was eventually hired to build six of these sound systems.
Leo married his first wife, Esther Klosky in 1934 and took a responsible job with the California Highway Department in San Luis Obispo.
However, his government position was eliminated due to cutbacks. After losing another job as an accountant at a tire company due to downsizing after just six months, Leo was fed up with the balancing numbers.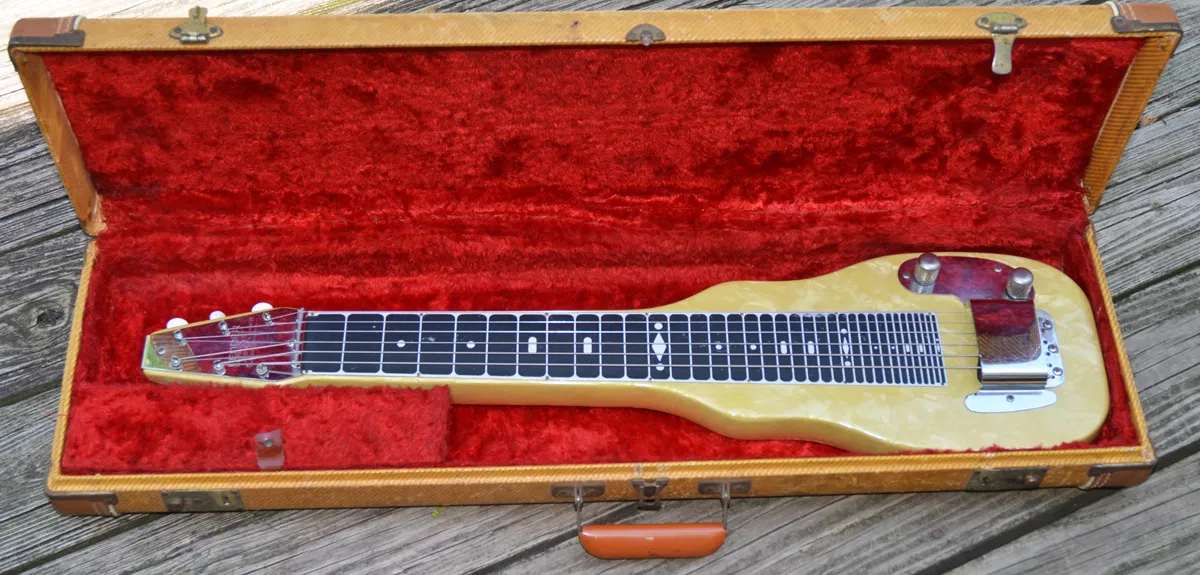 In 1938, with a loan of 600 $, Leo and Esther returned to Fullerton, and Leo established his own radio repair shop, "Fender Radio Service".
The beginning of the history of Fender
This is where the story begins. He opened his small shop to repair radios, phonographs, home audio amplifiers, sound systems and musical instrument amplifiers.
By the late 1930s, they were all based on vacuum tubes with the original designs based on research developed and released into the public domain by Western Electric, which manufactured equipment for telephone companies.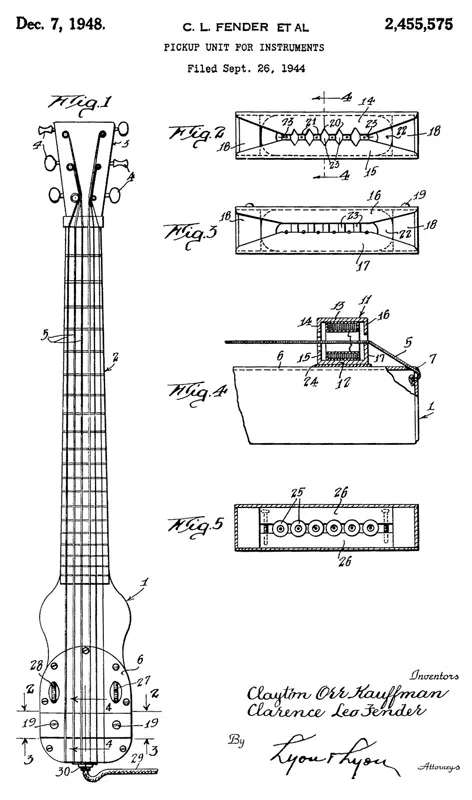 Leo's showcase business also had records for sale and self-designed PA systems for rental.
Leo began to build amplifiers based on his own designs or modifications of designs, which he felt had improved their quality and usefulness.
The Fender Radio Service was one of the few places around Fullerton to buy records or have a radio repaired.
Leo was a smart businessman and supplied any items or devices for his small business that could potentially turn a profit.
Local musicians and band leaders started coming to Leo for sound systems, which he built, rented and sold.
They also visited his store for the amplification of acoustic guitars which were beginning to be used in big band and jazz, and for "Hawaiian" or "lap steel" electric guitars which were becoming very popular.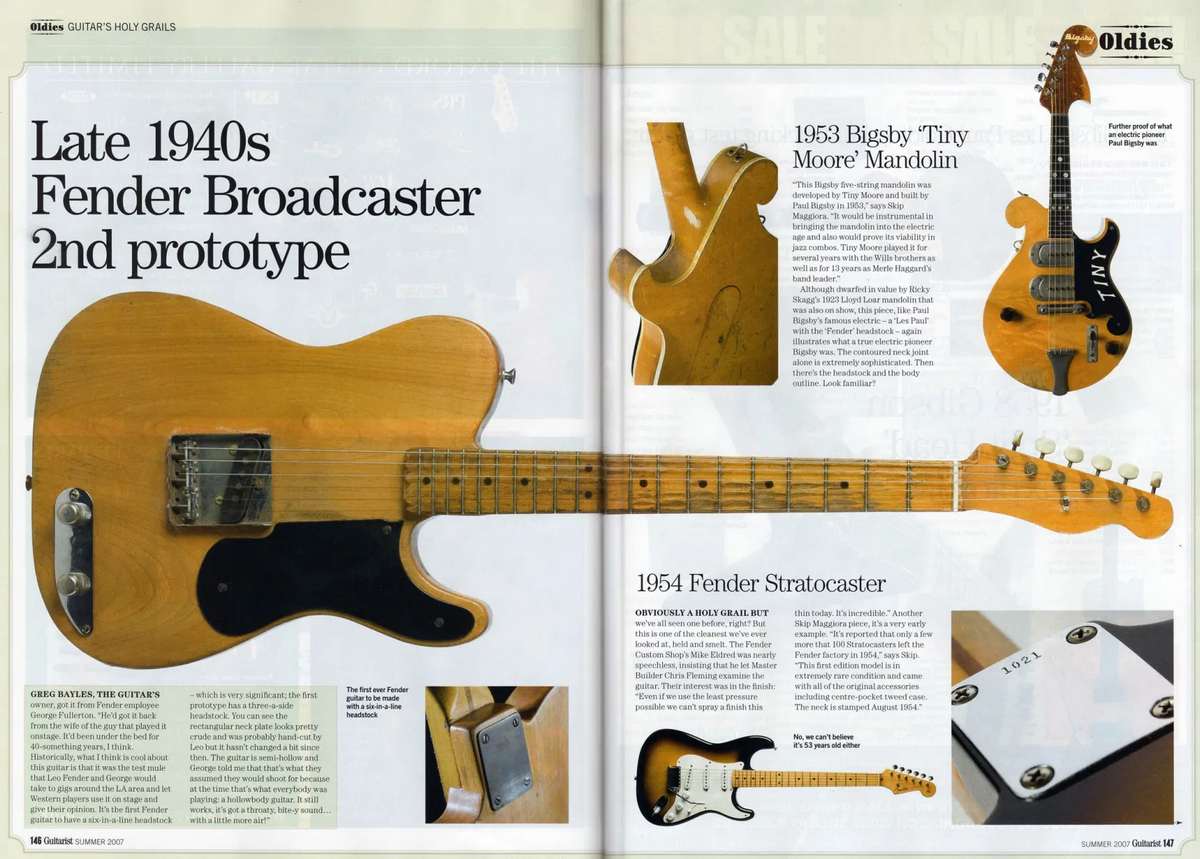 During World War II in the early 1940s, Leo met Clayton Orr "Doc" Kauffman who was a musician and formally the chief designer of electric guitars for Rickenbacker, who had been making and selling lap steel guitars for a decade.
Doc Kauffman invented and patented one of the first mechanical vibrato units, Vibrola (sometimes called "Kauffman Vibrola" or "Kaufman vibrato") in 1935. He quickly became Leo's business partner and they founded the K&F Manufacturing Corp to design, manufacture, and market electrical amplifiers and instruments.
K&F began production in 1945 with Hawaiian lap steel guitars (incorporating a patented pickup) and vacuum tube (or valve) amplifiers sold in sets. By the end of the year, he became convinced that manufacturing was more profitable than repairing and he decided to focus on this business instead.
It is important to realize that this was at the end of the great war and Kauffman had already seen unsuccessful attempts at profit at Rickenbacker. Kauffman was not convinced by the prospects with Leo and was afraid of losing the money he still had.
Kauffman and Fender parted company in early 1946. At that time Leo renamed the Fender Electric Instrument Company. The original service workshop remained open until 1951, although Leo did not personally supervise it after 1947.
So that's when "Fender" as a company was born. A custom lap steel guitar made in 1946 for his friend Noel Boggs was believed to be the very first product to feature the now familiar Big "F" logo.
En 1948, l'ingénieur George Fullerton a été embauché par Leo, commençant un partenariat et une amitié qui dureraient plus de 40 ans. George a travaillé avec Leo sur de nombreux designs de guitares et d'amplis. Il a également joué un rôle important dans la marque en introduisant des couleurs dans les modèles de guitare. Le premier était connu sous le nom de «Fullerton Red» du nom de George Fullerton.
Deux autres personnes qui ont joué un rôle important dans les premiers succès de la marque étaient le musicien / ingénieur produit Freddie Tavares et le génie du marketing Don Randall.
Rickenbacker was the exclusive distributor of Fender's early Hawaiian Lap Steel guitars and amplifiers. Don Randall brought together what original Fender partner Doc Kauffman called "a sales distributor unlike any other in the world."
It was Don Randall who suggested Leo design a Spanish-style guitar to complement the Hawaiian-style steels that Fender was selling around 1948. Leo began working on the design.
No one knows how much Doc Kauffman, Les Paul, Don Randall or Paul Bigsby's Merle Travis guitar had on Leo's initial design of Fender's first solid body electric guitar.
It is likely that Leo was well aware of Bigsby's strong body as they knew each other socially and were both based in California. Leo was not a guitarist. It may have been a downside, but it probably allowed him to "think outside the box" in what he thought his guitar design should be.
Leo spent a lot of time talking with local country and western musicians he knew. He has rented APs to many of them. Fender had lap steel guitars made for a few years. Leo developed a good idea of what they wanted in an instrument.
He determined that many musicians at the time may have owned a guitar. If the guitar was damaged or the frets were worn, repairs would be expensive and time consuming. If their guitar was repaired, they wouldn't be able to make a living. Working musicians would appreciate a guitar that is inexpensive, easy and quick to repair.
Many small combos were now playing boogie-woogie, rhythm and blues, western swing and honky-tonk in roadhouses and dance halls, which Leo said created a growing need for louder, less guitars. expensive and more durable.
Ever since Leo rented sound equipment, he was well aware of the feedback issues with electrified hollow-body guitars. Leo was there to design what he thought was a better guitar for working musicians.
Leo could look at something and immediately discern the easiest way to do whatever needed to be done, "Les Paul said. "He was a good, honest guy who made a simple guitar.
THE FIRST FENDER: THE ESQUIRE
LA ESQUIRE
After some prototypes and some player testing and feedback, then possible improvements, Leo was ready to launch the first solid body guitar. The first guitar was the Esquire 1950, so named because it sounded regal.
The Esquire had a single pickup, a 25.5-inch full scale, and no truss rod. The first one shown in the 1950 catalog was actually painted black with a white pickguard.
I guess this fits the "royal" theme. Even though Esquire magazine was popular at the time, no one complained about the name. Leo had felt that the rock maple he used for the shafts would be strong enough and that a pull-up bar would not be necessary.
This turned out to be a false start as some necks had strain issues. Only about fifty were probably made. What followed was a more refined model.
In 1951, Leo offered the first mass-produced Spanish-style solid-body electric guitar, which had two pickups and a truss rod. One of the issues was that the first pre-orders were actually for the only Esquire pickup, which was a bit cheaper to make.
The solution was therefore to give a new name to the new two-pickup model and to end the Esquire one pickup model. Radio was a king at this time and Leo was a radio repairman, so the name reflected that, as the Broadcaster was called.
Le diffuseur a été présenté au public par la marque en 1951, avec un prix de 169,95 $ plus 39,95 $ pour le cas. Doté de l'ajout d'une tige de truss réglable et a été la première guitare  officiellement publiée avec 2 micros (bien que certains Esquires de transition à 2 micros existent).
BUT it was short lived… the name was soon changed. It is estimated that 50 to 500 diffusers were built, although most experts agree that there probably were no more than 200 instruments produced in the roughly six months that the name of the broadcaster has been used.
FENDER CONTACT BY GRETSCH
Almost immediately, Fender was contacted by the Gretsch Company of Brooklyn, New York by telegram. Gretsch informed Fender that they had a registered trademark on the name, Broadkaster, which was used for their drums.
La marque étant une jeune entreprise, a reconnu ce dilemme et savait qu'elle avait besoin d'un changement de nom rapide. Leo  était un gars qui a vécu la Grande Dépression et qui était assez frugal.
So, to save money and not slow down production, he asked the workers at the factory to simply cut Broadcaster off the decals to make the guitar just say Fender. Collectors then nicknamed these guitars "without wheels".
Fender Champion Lap Steels, which Leo was making as early as 1948, shared many design cues for the Broadcaster. The first head pickups on the Fender Broadcaster were identical to the Champion Lap Steel.
It is not uncommon to find many vintage Lap Steel champions missing their original pickups, knobs, or pots as players able to buy them from low-cost pawn shops after the late 1960s.
THE FENDER TELECASTER
Soon the guitar was renamed. A lot of people were buying televisions for the first time, so the name chosen was Telecaster. With the Telecaster, Leo wanted to change the guitar world forever.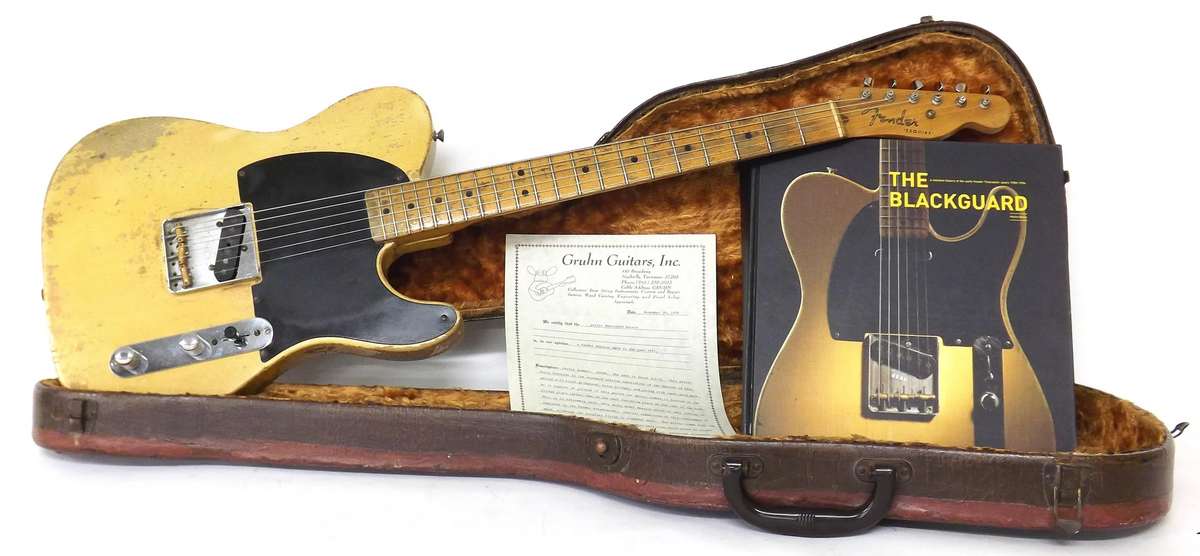 The Fender Telecaster was a fully solid guitar with a bolt on rock maple neck. The idea was that if the frets were worn or the neck damaged, you could replace the neck with a new one with four screws.
THE BODY OF THE FENDER TELECASTER
The body was ash, after Fender tried other woods. The prototype bodies were made of pine, but easily dented as pine is a soft wood. Ash was probably used as it is a harder wood that has a nice grain that could show through the finish and was easy to acquire.
The body was routed for the pickups and the control plate which could easily allow access to the electronic parts. The Telecaster, was a solidly built guitar that could be used to stop a bar fight and still stay tuned!
Once the Telecaster was introduced, the Esquire became a lower cost version. It came with a pickup, but most had the body was routed for two pickups and covered by the pickguard.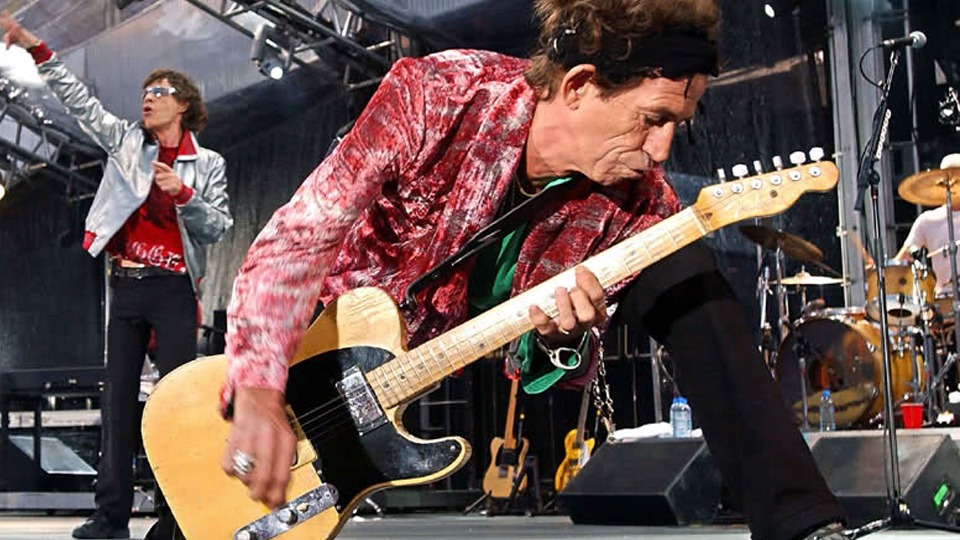 The player can always add a second pickup later, if they wish. Sales of the Esquire eventually declined and the model was discontinued in 1969. It was however reissued several times.
Some may wonder who created the first solid body electric guitar.
What we do know for sure is that Leo drastically improved on earlier designs which could be mass produced and would not require a highly skilled luthier to build.
Leo wanted to mass produce these guitars and he built a factory to achieve it.
Other builders, like Paul Bigsby, had no factory desire and only made handcrafted guitars. One of the main differences between Bigsby and Fender was their business models.
Leo, had a factory with employees to meet. This surely helped dictate how the Telecaster was designed and built.
LA TELECASTER « HOMEMADE »
la marque a fabriqué la plupart des pièces de la  Telecaster dans sa propre usine. Une bonne partie du génie de Leo était de pouvoir «outiller» l'usine et de concevoir le processus de construction en utilisant une main-d'œuvre locale.
Il n'y avait pas de «maîtres constructeurs» chez la marque à l'époque. La plupart des travailleurs de l'usine étaient des femmes et des travailleurs migrants formés à l'intérieur de l'usine. Leo a conclu un accord avec VC Squier Company pour fournir des cordes pour ses nouvelles guitares électriques vers 1950.
Jimmy Bryant was one of the early supporters of the Telecaster. He was a top country player who was very popular with Speedy West (on pedal steel which was actually custom made by Paul Bigsby).
Jimmy was an early guitar hero and other players were very interested in this new Fender guitar he was playing. Jimmy Bryant was used in early sales publications.
La  Telecaster qui avait l'air un peu rudimentaire, par rapport aux guitares traditionnelles, s'appelait de nombreux noms, comme la pagaie de canoë, la planche, etc. Cependant, la Telecaster était un succès à peu près depuis le début, mais Leo ne s'est pas arrêté là.
The early Esquire, Broadcaster, "no-caster" and Telecaster are known as Blackguards because they all shared a black pickguard from 1950 to 1954. At the end of 1954, the Telecaster became Whiteguard.
LA PRECISION BASS
LEO FENDER INVENTS THE FIRST ELECTRIC BASS
In 1951, Leo invented the first mass-produced solid body electric bass, the Precision Bass (P-Bass) with a 34-inch scale.
Leo understood the problems faced by acoustic double bass players, who could no longer compete for volume with other musicians. Carrying a big doghouse bass was not an easy task as they are big and bulky.
The Precision Bass was named to reflect the fact that it was fretted and allowed bassists to play with "precision".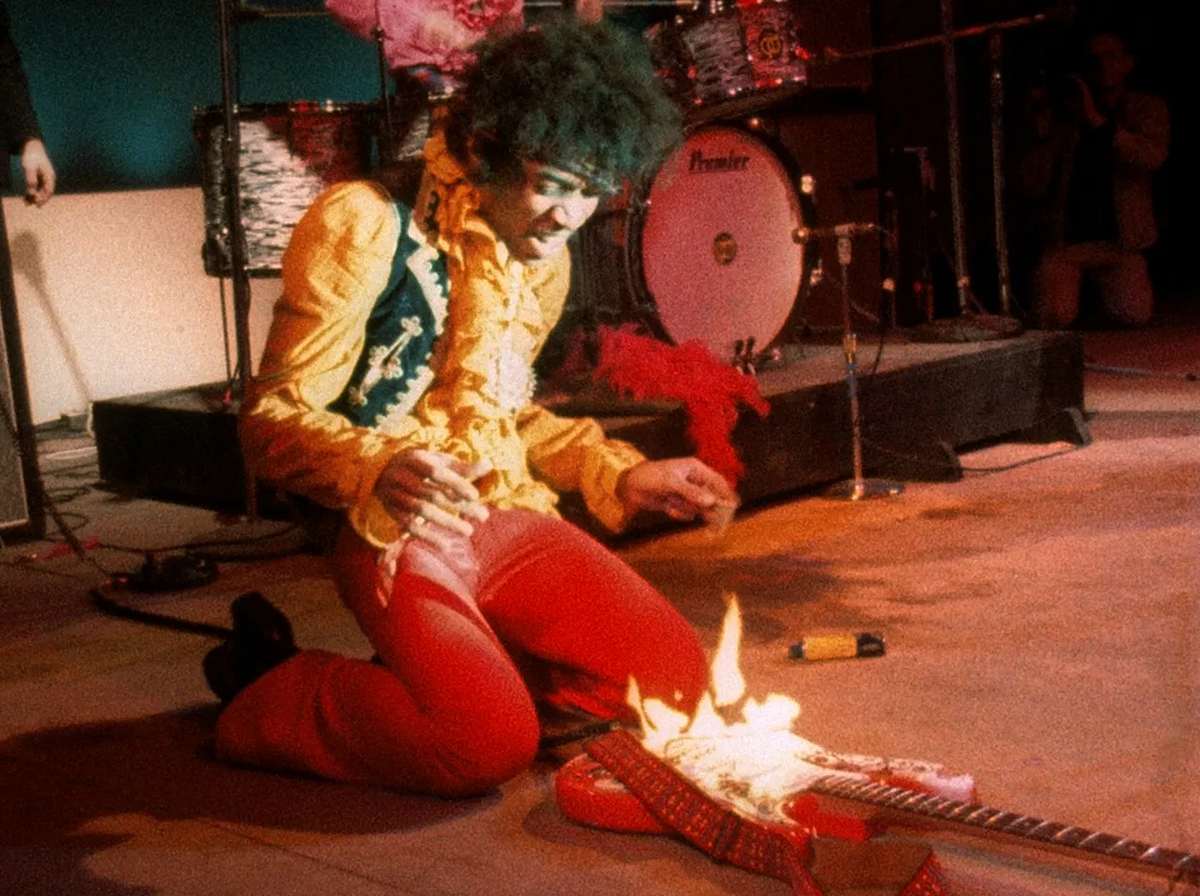 LEO FENDER INVENTE LE  BASSMAN
la marque a également présenté un amplificateur de basse, le Bassman, un amplificateur de 25 watts avec un haut-parleur de 15 ″ (plus tard mis à jour à 45 watts et quatre haut-parleurs de 10 ″ et souvent adopté par les guitaristes).
This early success certainly caught Gibson's attention. Gibson had passed on the idea of solid body electric guitars, but soon realized that they had to react quickly. The name call wouldn't matter anymore.
Gibson contacted Les Paul, who had been trying for several years to buy the idea of the solid body guitar. Les Paul was a top notch player with successful records.
Gibson introduced the 1952 Les Paul Gold Top solid body guitar in 1952. This endorsement deal with Les Paul was one of the longest and most successful contracts in the guitar world.
Les Paul had shown Gibson his "log" created from a piece of solid 4X4 wood to which "wings" had been added from a standard archtop guitar body to create a recognizable guitar shape that he had in mind. made it possible to play seated in the early 1940s.
OW Appleton also released his APP guitar on Gibson in 1943 which looks a lot like an early Gibson Les Paul. Gibson had no interest in a solid body guitar. After the Fender Telecaster, Gibson finally had to take solid body guitars seriously.
LA STRATOCASTER
En 1954, la marque a répondu avec un tout nouveau design qui, selon Leo , remplacerait la Telecaster. La Stratocaster a été conçue par Leo , Bill Carson, George Fullerton et Freddie Tavares.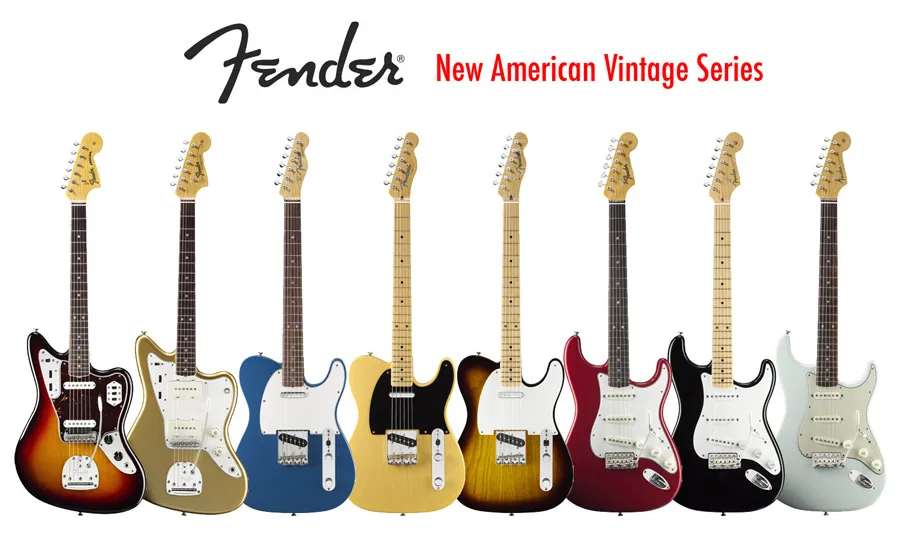 Freddie Tavares (who also helped design the classic Bassman amp). Tavares was a talented Hawaiian musician and inventor who actually played the lap steel swoop on the beginning of the Looney Tunes theme.
He was a good guitarist and steel guitar virtuoso, playing several hundred recording sessions, radio shows and movie soundtracks before working for Leo.
FENDER STRATOCASTER FIRST GUITAR TO HAVE 3 PICKUPS
The Stratocaster had a unique 'double cutaway' space age body shape that featured body contours for player comfort and was well balanced. The Fender Stratocaster was the first guitar to feature three pickups and a spring-loaded tremolo system.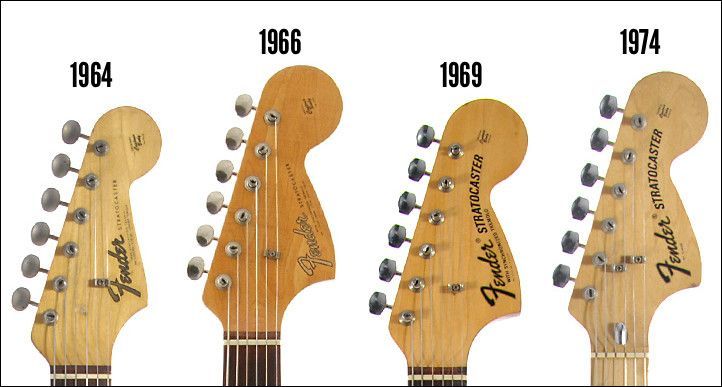 The tremolo system is actually misnamed because it is actually a vibrato (later called the tremolo on their amps a vibrato). The Stratocaster's double cutaways have made it easier for players to access higher positions on the neck.
The new spring-tensioned tremolo would keep the guitar relatively smooth when used. The Fender Stratocaster is still the most popular and copied electric guitar in the world.
Vibrato is a modulation effect that varies the pitch. Tremolo is also a modulation effect, but it uses varying amplitude or volume of the signal.
So technically your guitar's "tremolo arm" is a vibrato that varies the pitch of the strings, and vibrato as it is called on some amps, is actually a tremolo that varies the volume of the amplified signal.
True "vibrato" effects can be found on some pedals and effects processors, but rarely built into amps. Tremolo changes the signal electronically, so it's not what you find on your guitar that uses a mechanical string system to change the pitch.
THE FIRST PLAYERS OF FENDER STRATOCASTER
The first Stratocaster players who helped propel this model for Fender were Buddy Holly, Dick Dale and Hank Marvin of the Shadows (group that originally supported Cliff Richard) who played one of the first Strats introduced to Britain.
En 1965, George Harrison et John Lennon ont acquis  Stratocasters et les ont utilisés pour Help !, Rubber Soul et des sessions d'enregistrement ultérieures; le solo de guitare à double unisson sur «Nowhere Man» est joué par Harrison et Lennon sur leur Sonic Blue Stratocasters.
However, The Beatles weren't playing live at the time, so few people knew Strats was in the studio. It was later that George Harrison transformed his Sonic Blue Stratocaster into the iconic Rocky guitar when he painted his own.
La  Stratocaster dispose de trois micros à simple bobinage, avec la sortie sélectionnée à l'origine avec un commutateur à 3 voies (comme le commutateur de la Telecaster).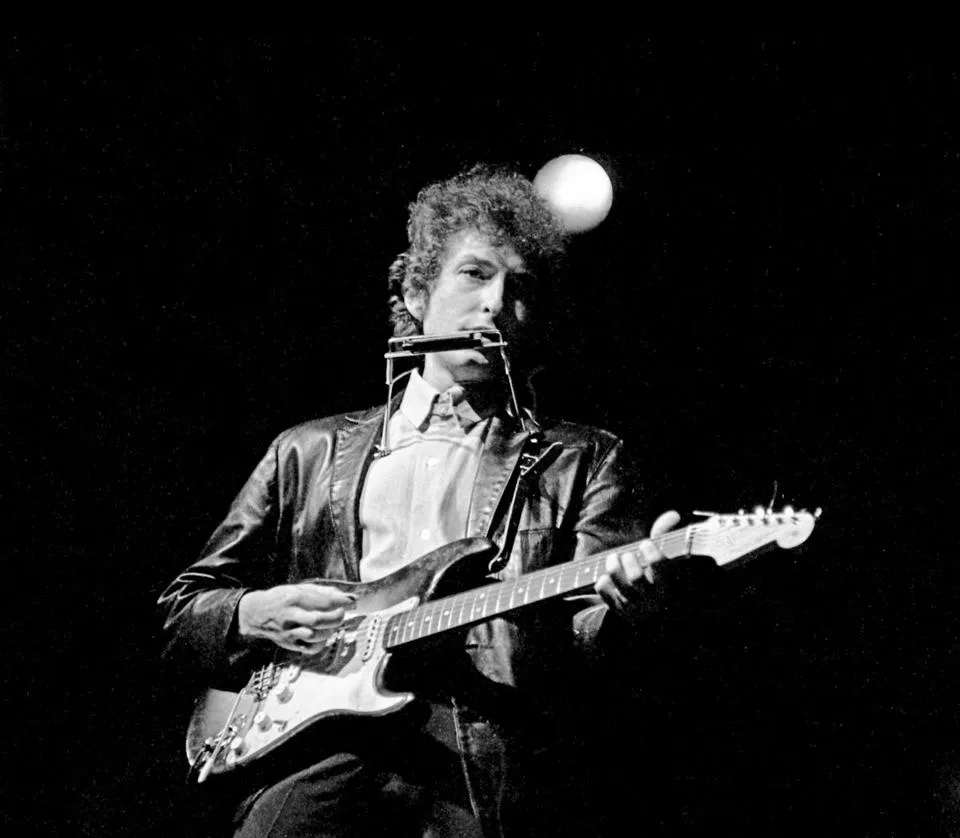 The player quickly discovered that by blocking a matchbook or other item in the switch, they could get different sounds between the 1st and 2nd position (the bridge and middle pickups could be selected), and similarly , the middle and neck pickups could be selected between the 2nd and 3rd position.
Ceci est devenu connu sous le nom de ton charlatan Stratocaster. En 1977,la marque a finalement ajouté un sélecteur à 5 positions facilitant ces combinaisons de micros.
The "quack" tone of the center and bridge pickups has been popularized by players such as David Gilmour, Rory Gallagher, Mark Knopfler, Bob Dylan, Scott Thurston, Ronnie Wood, Ed King, Eric Clapton and Robert Cray.
Avec toutes ces innovations et améliorations, Leo s'était attendu à ce que la  Stratocaster remplace totalement la  Telecaster, qui paraissait grossière en comparaison.
Surnommé «la planche», c'était une hypothèse décente. Mais les joueurs tout en acceptant grandement la  Stratocaster voulaient toujours des téléviseurs et ils étaient très demandés. Depuis, la Telecaster et la Stratocaster sont en production constante.
Fin 1954, a apporté une Telecaster mise à jour. Cela a commencé ce qui a été connu comme l'ère de la garde blanche.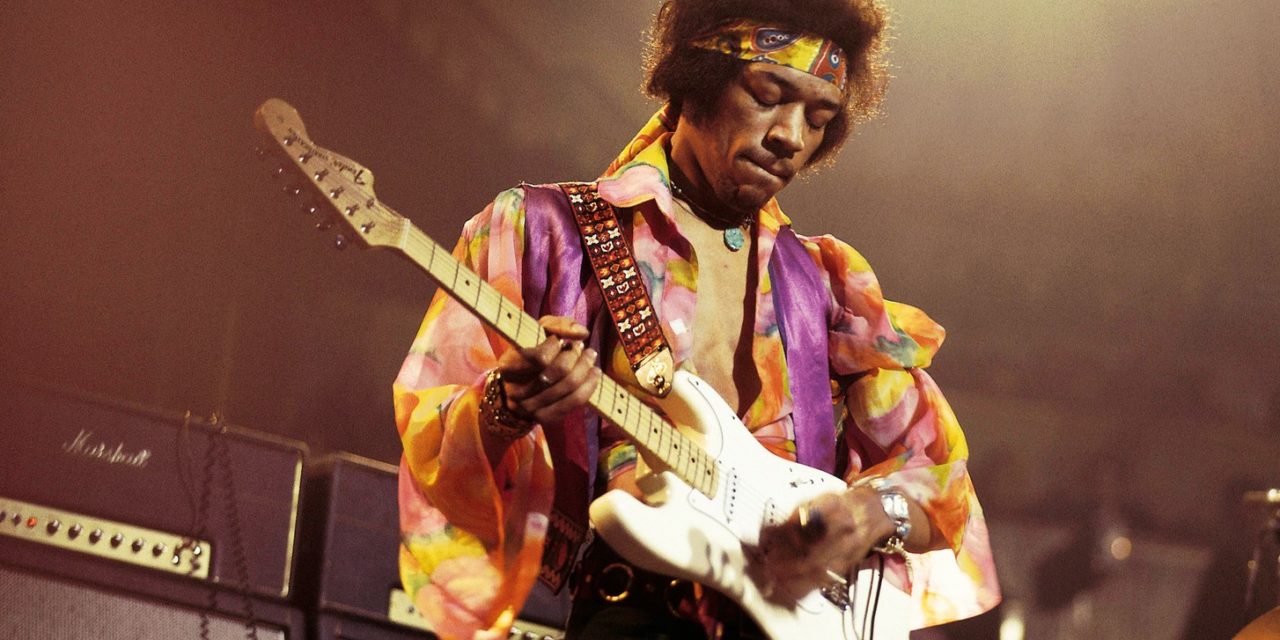 Des artistes country comme Buck Owens, Don Rich, Merle Haggard, Waylon Jennings, Luther Perkins, Marty Stuart et Roy Nichols ont joué presque exclusivement à  Telecasters pendant les années 1960.
Buck Owens and Don Rich have been seen on TV shows like Hee Haw and The Buck Owens Show regularly playing sparkling custom broadcasters built by Fender.
Rock and blues artists also loved the Fender Telecaster. Players like Jimmy Page, Keith richards, Jeff Beck, Bruce Springsteen, Chrissie Hynde, Andy Summers, Nancy Wilson, Mike Bloomfield, Muddy Waters and Albert Collins performed on Fender Telecasters.
The B-Bender was invented in 1968 by musicians Gene Parsons and Clarence White of Nashville West and The Byrds. Gene Parsons, drummer and mechanic, worked with Clarence White to transform his Fender Telecaster from 1954.
They added a string pulling mechanism so that by pressing down on the guitar strap, the B string could be raised an entire tone (from B to C sharp). After Clarence's untimely death, his guitar was purchased by Marty Stuart as his number one guitar.
The Fender Musicmaster and Duo-Sonic guitars were introduced in 1956 as student models. These models were requested by the Fender sales department.
Both models featured a bolt-on maple neck with a shorter scale which was considered ideal for young beginner guitarists and other players with smaller hands. The Musicmaster and Duo-Sonic had a scale length of 22.5 inches and 21 frets.
LA  JAZZ MASTER
LA  JAZZMASTER UN CORPS HAU

T OF RANGE
En 1958, la marque a présenté la Jazzmaster, un corps solide haut de gamme qui était à l'origine destiné aux joueurs de jazz. La conception décalée facilitait le jeu de la guitare assis.
C'était la première guitare de la marque à avoir une touche en palissandre et aussi la première à avoir une tête plus grande. Les micros comportaient des micros à simple bobinage de style plat plus gros (un peu comme un P-90) avec une électronique unique pour permettre la polyvalence des sons.
Leo totally expected the Jazzmaster to replace the Fender Stratocaster with its new body shape and newly designed floating tremolo. It was Fender's most expensive guitar to date.
The Jazzmaster, never reached his target of jazz musicians. Instead, it quickly became an instrument that surf players loved.
LA F JAGUAR
La Jaguar a été introduit en 1962. Doté d'une échelle de 24 pouces (la plupart des guitares Fender ont une échelle de 25,5 pouces). La Jaguar est rapidement devenue populaire auprès des groupes de surf en vogue.
Les micros ressemblent plus à une Strat, mais étaient mieux protégés pour moins de ronflement. Il partageait un corps offset et une commutation électronique similaires. la marque a également présenté les guitares Duo-Sonic et Mustang.
These two offset guitars have never been as successful as the Fender Telecaster and the Fender Stratocaster. Especially after Jimi Hendrix pushed the Fender Stratocaster into the Stratosphere in the late 1960s. Fender's Fender Stratocaster has been the favorite model of virtuoso guitarists such as Eric Clapton, Buddy Guy, Jeff Beck, Bonnie Raitt, David Gilmour and Stevie Ray Vaughan.
Jimi Hendrix's most enduring visual image is his hit at the 1967 Monterey Pop Festival when he lit his burning Fender Stratocaster and knelt behind it, causing the flames to soar higher.
However, these Fender offset guitars found a whole new audience with Indy, Garage and Punk rockers as they began to play these original and unusual Fender guitars.
Jazzmaster and Jaguar were well-built, quality guitars that could be bought at fairly low prices as there wasn't much of a vintage market for these guitars from the late 1970s to the 1980s.
Once players like Ric Ocasek of The Cars, Tom Verlaine of Television, and Elvis Costello struck big with the iconic Jazzmaster, vintage prices began to soar.
Finding a vintage model in good condition at an affordable price has become quite difficult. This prompted Fender to bring the reissues.
En 1960, la marque a introduit une nouvelle basse, un «modèle de luxe» de la Precision Bass. Ce modèle comprenait des caractéristiques qui, selon Leo, plairaient aux musiciens de jazz (comme le ferait sa guitare Jazzmaster).
The new Jazz Bass had a thinner neck and the body was less symmetrical than the Precision, more like the recently introduced Jazzmaster and Jaguar guitars.
The two pickups opposed to the single split pickup on the standard Precision Bass gave it a totally different sound.
LA  MUSTANG
En 1964, à la suite de la sortie de la nouvelle Mustang, le Musicmaster et le Duo-Sonic ont été redessinés en utilisant des ébauches de cou et de corps Mustang. Le corps de la Mustang était plus grand et légèrement décalé.

Ces modèles étaient désormais proposés en 22 frettes avec une échelle de 24 pouces. Une échelle de 24 pouces est la même que la  Jaguar mais un pouce et demi plus courte que la  Stratocaster et la r Telecaster (échelle de 25,5 pouces) et trois quarts de pouce plus courte que la Gibson Les Paul. La guitare  Mustang a été abandonnée en 1982.
The short range of the Fender Mustang, combined with a unique and extremely direct tremolo arm, would make the Mustang a cult guitar later in the 1990s. Like the Jazzmaster and Jaguar, these models were inexpensive in the 1980s and could be found in pawn shops. After being taken over by players like Kurt Cobain, vintage prices rose and there was demand for the Mustang again. Fender reissued the Mustang in the 1990s.
In 2012, Fender released a Kurt Cobain Signature Mustang. This model is based on Kurt's modified Mustangs he played during the In Utero tour.
En 1966, Fender a publié la Mustang Bass. Un nouveau corps de basse a été conçu pour cela avec un style de corps décalé similaire à celui de la guitare Mustang, et une échelle courte (30 pouces) a été utilisée.

A still very popular FENDER Telecaster
The Fender Telecaster is as popular as many believe, "Leo got it right the first time around. »Players like Vince Gill, Jeff Beck, James Burton, Brad Paisley, Mike Campbell, Tom Petty, Steve Cropper, Jim Weider, Jim Campilongo, Muddy Waters, Brent Mason, Luther Perkins, Jimmy Page, Keith Richards, Mart Stuart, Arlen Roth, Keith Urban, Chrissie Hynde, Johnny Hiland, Nancy Wilson, Merle Haggard, Waylon Jennings, Sheryl Crow, Mike Stern, Joe Strummer, Jerry Reed, and John 5 have played broadcasters most of their careers.
Le cœur de la gamme d'instruments de Fender – la Telecaster (1950), la  Stratocaster (1954), la  Jazzmaster (1958), la Jaguar (1962), la Mustang (1964), la Precision Bass (1951) et la Jazz Bass (1960) – reste en grande partie inchangée par rapport à la originaux. De nombreuses variantes à différents prix sont disponibles chez Fender et ces modèles ont également inspiré de nombreux autres fabricants pour leurs «prises» sur ces modèles classiques.
With the introduction of its new American Vintage Series guitars, Fender offers faithful reproductions of the Fender classics that look, feel, sound and play as close to the original models as possible. They represent what Fender today thinks those classic models were when they were new and Leo still ran the business.
FENDER AMPS
LES AMPLIS HAUT DE GAMME
Fender being a company that builds amps to match their guitars was a big part of their early success. What's an electric guitar without a good amp anyway? Leo understood this from the start. Fender built amps that were tough and sounded great from the start.
The military demonstrated during World War II that electrical circuits had to be robust. Leo was a good student of circuit design and understood that traveling musicians needed amplifiers that were built well and didn't break down on the road.
In 1946, Fender designed and began manufacturing the Deluxe, Professional, and Dual Professional, as well as the Princeston, a 4-watt practice amp.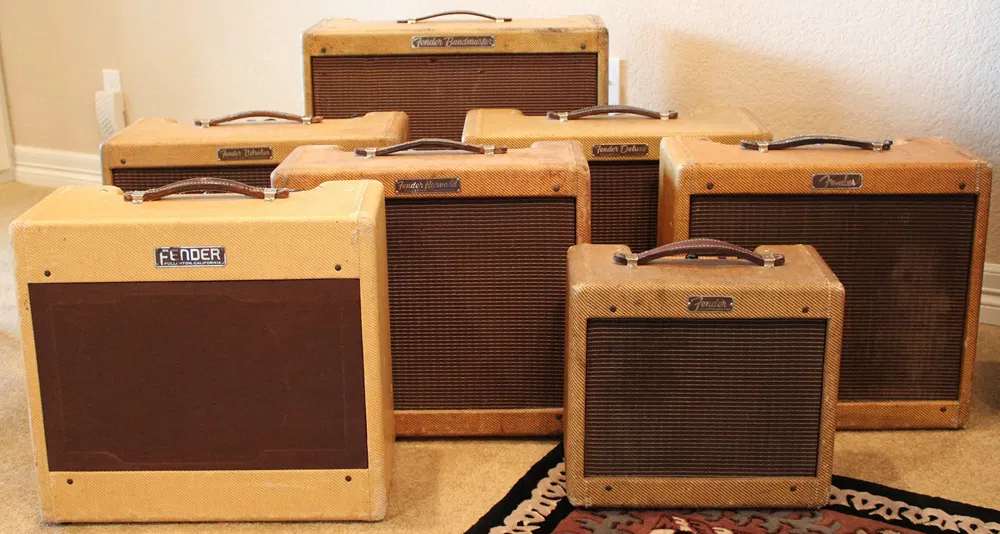 Growing from 18 to 45 watts, they are by far the most powerful amplifiers commercially produced. With a heavy steel chassis, chrome control plates and thick pine housings covered with tweed fabric, these amplifiers were extremely rugged. They met the musicians quite quickly.
Woody cars were in vogue in the 1930s to 1940s. Leo, who is very fond of cars, may have inspired him with the design of the woody amp or it may just be that the wood has not yet been thought of. Even radios looked a lot like furniture back then.
FENDER TWEED
Fender Tweed first used on amps from 1946 to 1960 - Covered with the same type of "tweed" fabric used for luggage at the time.
Early cabinets had relatively small, rounded-angled speaker openings, called "TV facades"; they were replaced in 1953 by upper and lower "wide panels" and those of 1955 by "narrow panels".
The original tweed amp line included the Champion / Champ, Princeton, Deluxe, Professional / Pro and Super models. The 1950s saw the addition of the Bassman (1952), Bandmaster and Twin (1953), Tremolux and Harvard (1955) and Vibrolux (1956).
In 1948, Fender began the "Champion" practice amp series, which was eventually called "The Champ" and became one of the most popular amplifiers ever built. The Champ had the lowest power output and the simplest circuitry of any Fender tube amp. The Champ only had one power tube. Fender marketed it as a student and practice amp, but its three or four watts and simple, good-sounding circuitry made the Champ popular in recording studios.
At the other end of the line, the Twin came to use four 6L6 or 5881 wattage tubes to produce 50, and later a whopping (for the time) 75 watts.
THE FENDER BASSMAN
The 1952 Fender Bassman was designed as a bass amplifier to accompany the new Fender Precision Bass. It was quickly discovered by guitarists as an excellent guitar amp.
So like some other models planned by Fender, found a wider and different audience. The Bassman is ALWAYS a sought-after guitar amp with some players feeling it as the best ever.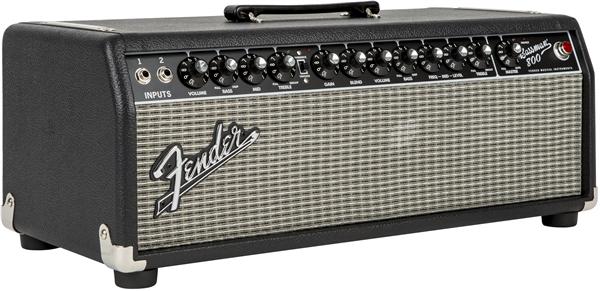 Interestingly, Leo was looking for the cleanest, purest, and most reliable amps he could produce. Pretty much it did, but players soon found that by saturating these pure tube amps, crunch and distortion was produced.
This was certainly not the intention of Leo's first creations. Eventually, harmonics and distortion began to make their way into popular music. This of course changed everything!
In 1952 the Bassman was introduced as a combo amp with a fifteen inch (1 × 15) speaker, but in 1955 acquired its classic 4 × 10 ″ speaker setup. Considered one of the finest and purest Fender amps ever built by some players, Ask Brian Setzer…
The Fender Brownface series was introduced in 1959 and discontinued in 1963 - Fender switched from Tweed coatings to Tolex coatings for the new "brownface" amps, so called for their front mounted brown control panels.
Fender actually produced blonde and brown amplifiers between 1960 and 1964, with a complete overhaul of circuitry, cabinetry, and control layouts.
* Around this time, Fender introduced the Concert, Vibrasonic, Showman and Vibroverb - and a brand new Princeton. Fender Blonde amplifiers were produced between 1960 and 1964.
The Fender Blonde amps had an all-new head and cab piggyback design (the Tremolux, Bassman, Showman and Bandmaster) as well as a few combo amps including the top-of-the-line Vibrasonic.
Most of the combos were brown, except for the later Twins, which Fender changed from brown to blonde in 1961, and the Champ, which kept its tweed until 1964. They featured two colors of grill cloths - beef and corn.
The Brownface generation included tremolo circuitry on most models and introduced the spring reverb as a separate unit and in the Vibroverb.
Fender also began to use the Oxford, Utah, and CTS speakers interchangeably with the Jensens. Jensens and Oxford remained the most common during this period. In general, they used the speaker that they could most economically and easily obtain.
In late 1963, some Fender amplifiers switched to early blackface panels. Other amp models from 1963, especially the Vibroverb, which was the first Fender amp with built-in reverb, remained brown.
Fender still offered the 4 watt amps at 85, but the difference in volume was greater, due to the improved, crisp tone of the 85w Twin.
Fender Blackface amplifiers were produced between 1964 and 1967 - switching to a black Tolex coating, silver grille cloth, and a black control panel. Early piggyback blackface amps (as well as the Princeton) had white knobs. After 1964, amps bypassed black knobs.
En 1964, la marque a changé le trémolo du complexe «vibrato harmonique» à un circuit plus simple et moins coûteux basé sur un coupleur optique, qui ne nécessitait que la moitié d'un tube à double triode 12AX7. Toujours à l'ère du blackface, ils ont ajouté des versions de réverbération interne de plusieurs amplis populaires, y compris le Princeton Reverb, Deluxe Reverb, Super Reverb, Pro Reverb, Twin Reverb et Showman Reverb.
la marque a arrêté les cosmétiques blackface à la fin de 1967. Ils les ont ramenés pendant une brève période en 1981, et les ont à nouveau interrompus l'année suivante. Ces amplis blackface sont à nouveau disponibles en réédition et certains estiment qu'ils sont les meilleurs amplis jamais fabriqués.
Randall Smith, founder of Mesa / Boogie Amplifiers, noted that Blackface amps had a "cleaner sound" than previous versions, which inspired him to make "dirtier" amps.
FENDER SILVERFACE AMPS
Fender Silverface amplifiers were built between 1967 and 1981 - the first Fender Silverface amps when Blackface transitioned with the new business owner of Fender, CBSs are sometimes referred to as drip amps.
The drip edge is actually a piece of aluminum trim that is attached to the edges of the front grille on some early Fender silverface amps, like a thin aluminum "frame" around the grille cloth. Fender ditched the trim after the first two years. So it's an easy way to identify a first silverface amp.
Silverface Fender amps have undergone changes on some models more than others.
For example, the Twin Reverb and Super Reverb combos, as well as the Dual Showman Reverb and Bandmaster Reverb piggyback heads were equipped with a master volume control.
Other models, such as the Deluxe Reverb, haven't been changed much except for cosmetic changes.
Also during this time, Fender introduced its first solid-state transistor amplifiers. CBS now at the helm spent a tremendous amount of time and money preparing for what they believed to be the future of instrument amplifiers.
Who could blame them as tube or vacuum valves had been around since the early 1930s. Solid state amps seemed to offer cheaper, more rugged, and better quality amplifiers. But as we now know, it didn't really work out that way.
One reason is that early solid-state amps didn't warp like a tube amp, they tended to sound harsh and didn't produce the nice harmonics players were used to when pushed to higher volumes. .
They were also not as reliable as expected and fixing one on the road was difficult. Even today, tube guitar amps are very popular.
Fender's first solid-state amplifiers were introduced in 1966. At the time, they were the company's "flagship" line and were aimed at making tube designs obsolete.
The amplifiers were given the names of traditional Fender models, the first including "Dual Showman", "Twin Reverb" and "Bassman". The other products in the range were the "Solid-State Reverb Unit" and the "Solid-State Public-Address System".
The "Super Reverb", "Pro Reverb", "Vibrolux Reverb" and "Deluxe Reverb" amplifiers followed in 1967. In 1969, other transistor amplifiers were introduced, including the "Zodiac" series and the Super Showman system.
Fender's first solid-state amplifiers were the subject of a massive marketing campaign, but ultimately turned out to be a major disaster.
Sloppy manufacturing, early conceptions of semiconductor technology failed due to thermal problems due to insufficient cooling, and the general lack of knowledge regarding the "safe" powers of transistors caused many problems.
Due to the very bad reputation of solid-state amplifiers, the whole solid-state line was shut down in 1971. The bad experience kept Fender away from solid-state amplifier technology for the next ten years.
Après l'ère Silverface, la marque a trouvé le marché rempli de concurrence qui avait renforcé la conception d'amplificateurs de guitare à un énorme groupe de joueurs en manque. La musique avait radicalement changé, les sons forts et distordus dominaient la radio.
Mesa-Boogie started out by modifying small Fender amps into much more powerful combos that could produce fantastic dirty tones. Marshall had copied the first Fender Bassman circuit in the UK, to satisfy their local customers with a bigger, more powerful amp. Marshall was everywhere now.
la marque a constaté que de nombreux guitaristes étaient moins intéressés par les amplis country «propres» et souhaitaient désormais des commandes de tonalité plus polyvalentes et, peut-être plus important encore, une plus grande quantité de distorsion.
la marque a rapidement ramené des amplis blackface qui ont essayé de répondre à certains de ces besoins. Certains de ces amplis étaient vendus à la même époque que les amplis à face argentée.
Les amplificateurs de la série II ont été produits de 1982 à 1986 – L'ère Paul Rivera a vu les derniers amplis de la marquefabriqués à Fullerton. Paul Rivera était alors directeur marketing (avant de fonder seul Rivera Amps).
Certains amplificateurs de la série tels que le Deluxe Reverb II et le Twin Reverb II. Beaucoup de ces amplis avaient le son clair normal de la marque et en plus un canal de gain à voix moyenne «commutable», conçu pour rivaliser avec les amplis de la série Mesa Boogie Mark Series qui avaient gagné en popularité. y compris à nouveau le Yale Reverb, le Studio Lead, le Stage Lead, le London Reverb, le Montreux et un numéro à semi-conducteurs du Showman.
RED KNOB AMPS
Red Knob amplifiers were produced from 1987 to 1993 - named for their bright red control knobs with black control panels with white letters. The Red Knob amps, with their high gain channels, had their own sound, not much like the old classic Blackface and Silverface models.
En 1996, la plupart des fabricants d'amplificateurs Fender ont déménagé à l'usine Ensenada au Mexique. Aujourd'hui, la plupart des amplificateurs de la marque (et d'autres marques produites en série) utilisent tous des circuits imprimés.
No old-fashioned turret boards or point-to-point wiring are done, making tube amps much harder to repair. This makes amplifiers easier, faster and cheaper to manufacture. Many gamers also believe that it changes the sound.
Fender amps are probably the circuits most copied by bouquet amp manufacturers. Many of them use the old style point-to-point wiring diagrams without any printed circuit boards used.
Many bouquet makers add their own modifications and "takes" to classic designs. These amps will cost you a lot more, but there is an active market for this quality product.
As with Fender guitars, what's old is new again with reissues as these classic designs never seem to go out of style with players. These re-releases of classic Fender amps are not clones, but are quite popular.
FENDER OF OUR DAYS
In 2007, Fender announced the acquisition of Kaman Music Corporation, owners of the Hamer Guitars, Latin Percussion, Toca, Ovation and Genz Benz amplifiers, as well as many others, and exclusive distributor of the Sabian and Takamine Guitars cymbals.
Aujourd'hui, les marques Fender incluent également des amplis Gretsch, EVH, Jackson, Squire, Chavel, Olympia, Orpheum, Tacoma Guitars et Brand X. la marque a vendu certaines de ces sociétés et actifs.
la marque est devenu l'un des principaux fabricants mondiaux de guitares et d'amplis en répondant aux besoins des musiciens et en créant des produits de qualité.
---
Eric CANTO Photographe : Photos de concerts, portraits, pochettes d'albums.
Visit my portfolio Visit the blog Visit the shop contact me