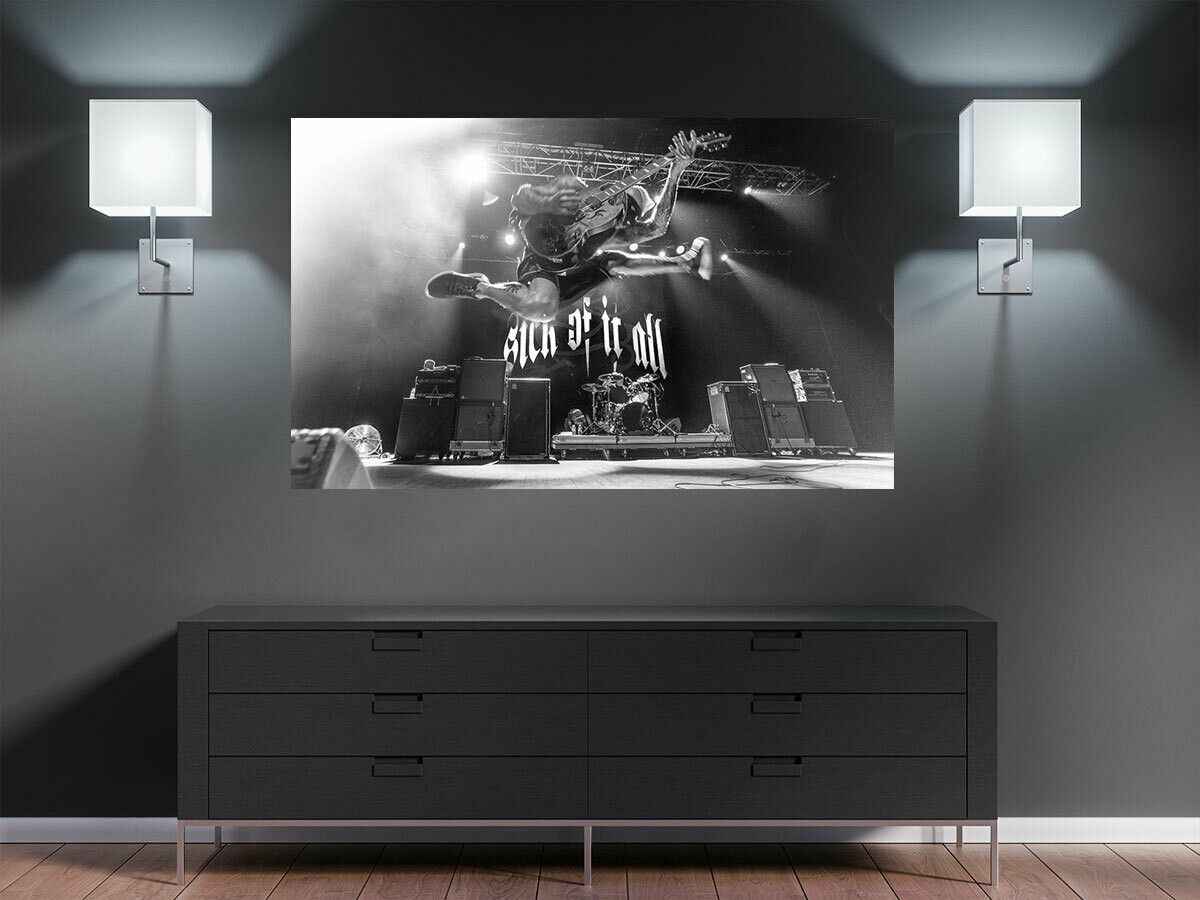 Limited edition black and white art photography on the shop
Buy a Photo printing sur ericcanto.com en toute confiance : notre collection de photographies de musique provient des plus grands concerts et portraits de groupe francais et internationaux. Tous les tirages sont en série limitées.
---
Eric CANTO Photographer: Concert photos, portraits, album covers.
Visit my portfolio Visit the blog Visit the shop contact me
Black and white photography: a contemporary artistic expression
Despite technological advances, the black and white photography, in particular the photo of black and white portrait, is still a means of contemporary artistic expression, a certain value which remains elegant. The black and white photo is extremely poetic, so you can sublimate an object while introducing depth.
Free of colors, one black and white portrait photo or a black and white photo of a concert or a musician directs the viewer to a more artistic view of the photograph, emphasizing the model's body and skin texture.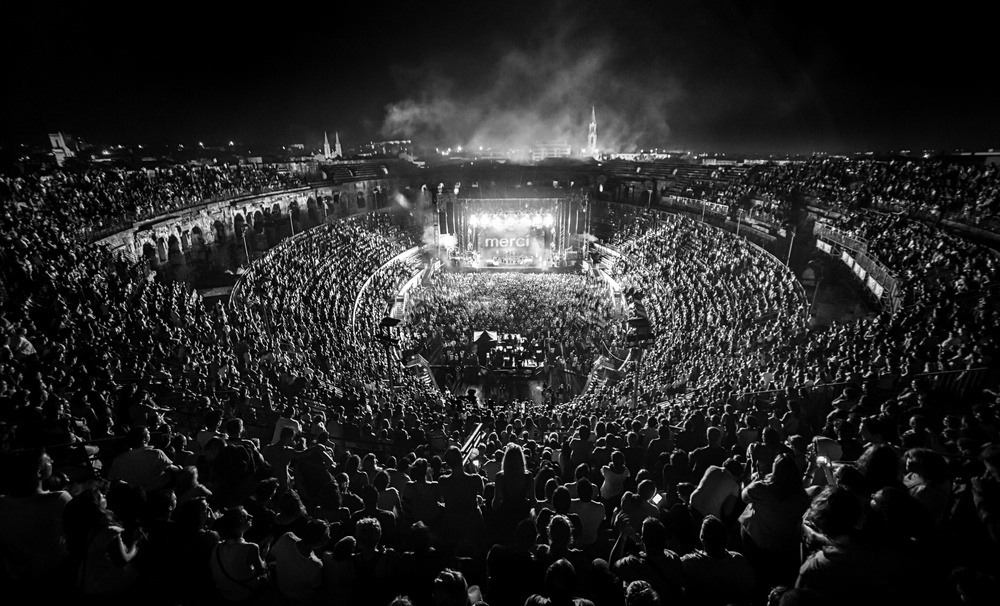 When the color photo stays true to reality for a while, the black and white photo gives the viewer the opportunity to interpret it. It is all these characteristics that over the years have made black and white photography an important decorative element, offering a wide range of shades that complement interior design.
Discover from our collection of black and white photos several main subjects of today's photography: a musician in black and white or a concert photo in black and white. The photos available on the ericcanto.com shop are also in black and white, artistic photos in limited and numbered prints.
Black and white photography is a classic in concert photography.
The monochrome black and white photo allows you to bring out the contrasts by working with nuances, thus emphasizing the theme of the photo. Getting Rid of Colors, a black and white portrait photo or a black and white photo of an artist steers the viewer towards a more artistic take on photography, emphasizing the model's body and skin texture. .
Come and discover our black and white photo offer. Our limited edition black and white photo gallery is just waiting to admire their beauty. In this section you will find black and white live photos, black and white photos of musicians and even black and white concert photos.
Despite the appearance of color film, black and white photography has remained timeless since the 1960s.
Some of the greatest contemporary photographers have really focused their artistic work on black and white, which is widely used in reportage and journalism, allowing the viewer to focus on the situation itself, while the colors direct the viewer towards aesthetic perception: photographs are often more artistic and original in black and white than in color. 
The black and white photo allows immediate interest in the scene being photographed. In this way, a black and white photo allows you to deliver the necessary messages, more directly than a color photo.
It is easier to give the image an aesthetic unity in black and white. Taking black-and-white photos ensures consistency thanks to the chrome of the image and removes imperfections if the shooting conditions were not optimal.
Black and white photography: Why?
The World Press Photo Award "Photo of the Year 2015" went to Warren Richardson in February for a black and white photo. The black and white photo also appeared in all other categories. Why not shoot in color? For the last time, World Press Photo awarded "Photo of the Year" to a black and white photo in 2009 for a photo taken in the United States by Anthony Suau.
In 2016, Warren Richardson received this prestigious award for an equally monochrome image. Why do many photographers still create black and white photos when their raw files are colored? When does a photographer decide to work in black and white photography?
The choice between color and black and white photo mainly depends on the subject and how each photographer wants to put it. "In black and white, I have the impression of penetrating the essence of my story," explains Kadir van Lohuizen. I black and white photography for a long time and it seems to me that it is better - and I still can be - better in black and white, even though half of my work today is colored.
His colleague Jon Lowenstein, represented by the same agency, Noor, continues: "It's also a question of feelings, I feel freer when I photograph in black and white. The photographers therefore focus more on shapes, compositions, lights and shadows. "I usually don't take pictures from the Netherlands, but this photo is part of a series about fishermen in North Holland, an area known for its natural beauty.
The light is constantly changing and it is wonderful for black and white photography, "says its author.
Black and white photography: the search for aesthetic unity
In July 2013, photographer Viviana Peretti produced a piece called Dance Like a Woman at a beauty pageant for transgender people in Bogota. Everyone wears traditional Colombian costumes and bambuco dances, regional and folk dances from the Andes.
He explains why the whole series is black and white: "It seems to me that most photographers focus on color when dealing with topics such as beauty and the transgender community.
We are fascinated but we don't pay attention to what is going on. Like Kadir van Lohuizen, she sees color as "entertainment". " 
However, it is about the content of the subject, of these people, not the color of their clothes ", underlines the Dutch photographer. "
"Black and white is also more abstract, less focused on the physical description of the scene, on the details. Without red blood, the horror is treated in a more indirect way, explains Fred Ritchin, author of Beyond Photo.
THE
he three photographers agree on one thing: the choice between color and black and white cannot be made when editing after work. "Because working in color or in black and white are two different ways of seeing and showing," explains Kadir van Lohuizen. "I only use color if I think it's a more powerful tool for telling my story or if it's part of the story. "
In his Via PanAm project on migration in the Americas, Kadir van Lohuizen photographed families spread between the United States and El Salvador. He started working on black and white stories and other colorful stories. He finally mixed them up in the book.
"Before, I thought we shouldn't mix these two up, but now I think if we have a good reason and if it helps in the story, why not? The difference between the two media makes it possible to distinguish different places: his work done in El Salvador is in black and white, that in the United States in color.
When you look at the winners of various awards (World Press Photo, Lucas Dolega Award, etc.), you get the impression that you are seeing more and more black and white works by independent photojournalists.
"Many photographers come back to long-term magazine projects because all the major agencies have local correspondents in each country to report the news", explains Jérôme Huffer, responsible for photography at Paris-Match.
They feel they add aesthetics and a timeless accent, creating black and white. This is all the more true as the big news agencies produce colorful news images: "It is easier to achieve the aesthetic unity of black and white work.
Whether night, day, summer or winter, black and white photo transfer instantly ensures consistency thanks to the chrome of the image and removes imperfections if shooting conditions were not optimal . There is more room for maneuver to play with tones and contrasts, whereas in color these interventions can be seen very quickly. "
The problem is, most magazines publish color photographs. "In the field of the illustrated press, it seems that the opposition between black and white and the color image press was radicalized in the sixties", explains Vincent Lavoie, professor in the history department of the art from the University of Quebec-Montreal.
Color, inspired by inexpensive reproduction techniques and, above all, by the growing popularity of color television, has appealed to editors of current photo reports. The Vietnam War, the first color television conflict, spurred its use in the illustrated press, which helped polarize the debate over the ethical meaning of color photojournalism. " 
As a result, "the color market is larger than black and white. You have to work in color and make your work digestible if you want to publish easily, "says Jon Lowenstein.
For an Italian photographer who takes 90% of his black and white photos, "few photo editors go beyond dogma, so it's more complicated to sell black and white works to magazines they typically publish. in colour". Her work in Colombia took first place in the Arts and Culture category at the Sony World Photography Awards in 2014, but she never managed to sell the magazine.
"It is indeed rare that Paris-Match publishes contemporary themes in black and white," notes Jérôme Huffer. There is no card that tells us to refuse, but we believe that the color has a very important informative value.
And then on fifty-eight pages of our warm hearts we already publish the subjects of the archives in black and white. To balance the magazine, we try not to reproduce too many monochrome objects.
Paris-Match also emphasizes the content of the form: "Most of the time, we publish a subject based on what it says, so as not to celebrate the aesthetics of the photo. However, sometimes we publish a portfolio such as the black and white tour of Sebastião Salgado, a photographer whose myth is at least as important as his work in itself. " 
So if photographers have been using black and white since the invention of photography, language matters today. What are the intentions outside of technology? Do what "Black and white is a technique used to try to reflect what you see, smell and understand in the world," says Jon Lowenstein.
If it is not connected to a gesture, it loses its meaning. It is important that we speak our truth based on what we see. "