MUSE: the story of an extraordinary trio.
MUSE is a band evolving from their alternative rock origins in the late 90s to an explosive force that fused progressive rock, electronica and pop. This English trio Muse has carved out a niche for itself as a genre-scrambling power that balanced intergalactic science fiction and government conspiracy theory.
Initially plagued by Radiohead comparisons on the first Showbiz (1999), the trio steadily matured for a decade, incorporating a wide range of sonic inspirations ranging from the awe-inspiring rock arena of Queen to the R & B-funk of Prince on Black. Holes & Revelations (2006) at the grind skrillex dubstep on The 2nd Law (2012).
While their albums consistently surpassed international charts, Muse has also built a reputation for the best live performance with award-winning concerts that often featured big-budget, U2-esque stage setups, selling stadiums around the world.
The core of the group includes guitarist / vocalist Matthew Bellamy, bassist Chris Wolstenholme and drummer Dominic Howard, a trio of friends who started playing music together in their hometown of Teignmouth, Devon.
MUSE: Showbiz (1999)
The British trio Muse is equal parts punk and progressive rock.
Like most progressive rockers, Muse approaches their work like opera, from their love of huge song structures to the soprano tunes of lead singer Matthew Bellamy.
Between that and the fact that Muse - whose members are all in their twenties - are gu
Ideas from John Leckie (producer of Radiohead's The Bends), it's easy to dismiss them as talented Radiohead clones.
Their debut, Showbiz, matches Thom Yorke's penchant for majestic agony - screams and the word self-destruct peppered the title song - but with a more offbeat and decidedly more jagged edge than their elders. "Uno" mixes a tango rhythm with powerful chords; the single "Muscle Museum" sets Latin guitar and piercing distortion on a majestic, waddling bassline.
Acoustic numbers such as "Unintended" serve as unabashed romanticism like a tender truffle. Showbiz isn't a maverick masterstroke, but it's passionate and loud and also unexpectedly sweet - a great first shot from three guys barely old enough to drink on their tour of the United States.
MUSE Origin of Symmetry (2001)
Origin of Symmetry is the second studio album by the English rock band Muse , released July 17, 2001 by Mushroom Records and Taste Media. Its title and theme come from a concept proposed by theoretical physicist Michio Kaku in his book Hyperspace.
Origin of Symmetry has been a critical and commercial success in the UK, peaking at number three on the UK Albums Chart and achieving BPI Platinum status. Four singles were released from the album: "Plug In Baby", "New Born", "Bliss" and "Hyper Music" / "Feeling Good".
Muse developed Origin of Symmetry during their tour for their debut album Showbiz. "Feeling Good", a cover, was written for Broadway by Anthony Newley and Leslie Bricusse in 1964, and first recorded by Nina Simone for her 1965 album I Put a Spell on You.
The title derives from the 1994 book Hyperspace by theoretical physicist Michio Kaku, which suggests the title The Origin of Symmetry for a future book on the discovery of supersymmetry, a reference to The Origin of Species. According to songwriter Matt Bellamy: "Everyone's been writing about the origin of life, so now they're going to start looking at the origin of symmetry; there is a certain stability in the universe and to find out where it came from would be to find out. if God exists. "
Recording took place at Ridge Farm Studios in West Sussex and Real World Studio in Wiltshire, and additional recordings were made at David Gilmour's Astoria houseboat studio, Richmond and Abbey Road studios in London, and Sawmills Studio in Fowey, Cornwall. The album was mixed at Sawmills and mastered at Sony Music Studios in London. Origin of Symmetry was produced by Muse with David Bottrill and John Leckie (who worked on the band's debut album, Showbiz).
Songs like "New Born", "Plug In Baby" and "Bliss" were recorded with producer Bottrill in the middle of the tour in late 2000, at Ridge Farm Studios in West Sussex. The songs were recorded in just a few days, so the band then had to re-master the songs with the help of John Cornfield after completing the Showbiz tour in order to make them fit for an album release.
The relatively stripped down character of these songs helped create contrast for the recording of the rest of the album. "New Born", "Plug In Baby" and "Bliss" were considered the "backbone of the album", with the other material being more experimental and ambitious.
Musically, Origin of Symmetry has been described as alternative rock, progressive rock, hard rock, and space rock. The album saw the band experimenting with new instruments and dynamics. Dominic Howard (drums) expanded the standard rock drum kit with various other items of his own, including a balaphone and even animal bones on "Screenager". Matt Bellamy also used an organ at St Mary the Virgin Church, Bathwick to record "Megalomania".
Due to the pipe organ requirement, this song is rarely performed live by Muse, perhaps the most notable occasion being at the charity concert of Muse at the Royal Albert Hall.
In a retrospective review, BBC Music's Natalie Shaw wrote that Origin of Symmetry "shows a band with the drive and absolute ambition to create a standalone wonder that not only awakens the ghosts and clichés of prog's pompous past, but adds entirely his own voice, "adding that many elements of the band's later sound on albums such as Black Holes and Revelations could be traced back to the album.
In her 2011 work Revolution Rock: The Albums That Define Two Ages, author Amy Britton argued that on Origin of Symmetry Bellamy "has advanced the sound of MUSE that he won a new title - the guitar hero of this generation, "highlighting" Plug In Baby "
MUSE Absolution (2003)
Absolution is the third studio album by the English rock band Muse . It was released on September 15, 2003 in Japan, September 22, 2003 in the UK by East West Records and Taste Media, and September 30, 2003 in the US by Warner Bros. Records.
Absolution has a noticeably darker and musically heavier tone, with a lyrical emphasis on theological and apocalyptic concepts.
The album reached number one on the UK Albums Chart. It also produced the group's first top 10 singles hit, with "Time Is Running Out" peaking at No. 8 on the UK Singles Chart. In 2009 he was voted by Kerrang! as the second best album of the 21st century to date.
Muse returned in 2003 with his third album, Absolution, an apocalyptic sci-fi romance epic that became the band's big American breakthrough and Britain's first number one.
Starring the radio hits "Time Is Running Out" and "Hysteria", Absolution eventually went platinum in the US and triple platinum at home. On their follow-up, the band pushed further into outer space and incorporated more beat-oriented influences.
Released in 2006, Black Holes & Revelations marked the band's brightest and most dynamic ensemble to date, topping the UK albums chart in its first week and earning Muse its second consecutive number one album at home. .
In America, the album broke into the Top Ten thanks to the force of funky, - single "Supermassive Black Hole" and uplifting anthem "Starlight".
Taking advantage of their expanding international reach, the group toured Europe, America, Australia and Asia to support the effort, and their dynamic stage performance won several group awards for the best live concert, including accolades from the NME Awards, Q Awards. and the Vodafone Live Music Awards. (It was also captured on HAARP Live at Wembley in 2008.)
MUSE: Black Holes & Revelations (2006)
Since forming in 1997, alternative rock trio Muse have ambitiously created a sound of their own, blending elements of glam, pop and symphonic music into a rock hybrid. While British fans have praised Muse for years, it wasn't until 2003 that Americans discovered the band and gave them their legitimate props for Absolution.
Whether or not you championed Absolution's great drama, it was obvious that Muse is a strong and unique band, and Black Holes and Revelations, the follow-up, upholds these strengths with passion. Rich Costey joins Muse in the co-production of this 11-song set; together they create the band's most accomplished and meticulous album to date.
"Take a Bow" sets the scene by layering a full rock orchestration with waves of synthesizers and percussion, all developing to singer / guitarist Matthew Bellamy's painful observance of a world torn apart by its own. instability.
Although frequently compared to Queen's Freddie Mercury and Radiohead's Thom Yorke, Bellamy makes perfect sense as a vocalist here, and he, drummer Dominic Howard and bassist Chris Wolstenholme carry equal weight as instrumentalists.
The sultry, swashbuckling 'Supermassive Black Hole' and the razor-sharp, paranoid 'Assassin' are perfect examples of Muse's categorical willingness to deliver the biggest rock & roll package possible, while 'Starlight' proves they can. write an anthem worthy of the radio. without jeopardizing their ethics.
Bellamy yells "You and I must fight for our rights / You and I must fight to survive" during the tumultuous Rush-like megalomania of the "Knights of Cydonia", and it's true - they totally fought for their art. on this topic. It may have taken the Americans four albums to get to the program… the whole world should be watching.
MUSE: The resistance (2009)
The trio spent the remainder of 2008, as well as the start of 2009, in the recording studio, only to finally emerge with The Resistance in September.
Incorporating epic orchestral reach into the album's closing trilogy "Exogenesis" and channeling Depeche Mode and Queen elsewhere, the album reached number one in more than a dozen countries, while debut single "Uprising" became their most popular American song to date.
The group launched another world tour, headlining and supporting U2. In 2011, Bellamy and the company were asked to write the official theme for the 2012 Summer Olympics, which were held in London, and the group returned with the triumphant rock anthem "Survival". The song also became the first single from their upcoming album, 2012's The 2nd Law.
An outlier in their catalog, the album featured the electronic pop single "Madness," an experimental dubstep influence, and a pair of tracks written and sung by Wolstenholme.
The road-hungry group embarked on another full-scale tour to promote The 2nd Law, and their spectacular show at the Olympic Stadium in Rome - complete with pyrotechnics, video walls and acrobats - was filmed in ultra-high definition for the live concert movie at the Olympic Stadium in Rome, published in December 2013.
MUSE: The 2nd Law (2012)
Throughout their careers, it has always been clear that Muse doesn't just do the same thing over and over again, as they have evolved from their early days when they were (perhaps unfairly) labeled as an impersonator. of Radiohead in the providers of some of the most epic symphonic rock since Queen graced the stage.
On their sixth album, The 2nd Law, they continue to shake things up, diving deeper into the electronic rabbit hole as they experience a sound that relies less on Matthew Bellamy's heroic guitar, resulting in an album that is a little mixed up.
Incorporating some of the most elegant production the band has ever had with a more synthesized sound, the album certainly manages to feel different from Muse's previous work.
While this certainly continues with their tradition of always pushing their sound in new directions, their excursions into dubstep and dance music on tracks like "Madness" and "Follow Me" sound more like remixes than original songs. .
Songs like these definitely have the backbone of Musepistes, but the production that is built around them feels almost foreign. This feeling is really felt on "Panic Station", which sounds like a cousin of "Supermassive Black Hole", but where the latter was built on a solid foundation of heavy guitars, the former is over-produced in what looks like the version of the group. from Genesis "That's it".
While there are plenty of moments like these, there are also plenty of places where they get it right, with the album opening "Supremacy" and the Olympic anthem "Survival" leading the way. from the peloton with their symphonic arrangements giving the album the kind of radical grandeur that people expect.
The most surprising experience, however, comes from "Save Me" and "Liquid State," putting themselves in the limelight as a singer and songwriter for the first time.
The two songs work well together, the first feeling like a kind of drifting introduction to the other's heavy bass player, providing the album with a pair of songs that feel like a throwback to the Origin of Symmetry days and Absolution, while feeling different. enough that they are not an obvious step backwards. With so many different experiences going on, The 2nd Law can feel a bit disjointed at times.
Fortunately, the sense of drama Muse have cultivated over the years provides just enough glue to bind the album together so fans don't have too much of a problem navigating its choppy waters, and although all of the group's experiences don't necessarily pay off, the album feels like a worthy testing ground for ideas that will take the band boldly into the future.
Muse: Drones (2015)
Muse, and Matt Bellamy in particular, don't care about the Drones: their seventh album is political through and through, a bold statement regarding the dehumanization of modern warfare.
As Muse is not a subtle group - any suspicion that they were is erased by the illustration of a hand controlling the joystick of a desktop drone controlling a joystick directing drones - it's hard to avoid their conclusion that war is bad, but this tendency to write everything in bold and italic capital letters is a boon when it comes to music, especially here where they've teamed up with legendary hard rock producer Robert John "Mutt" Lange.
Always a fan of oversized guitar riffs and bigger drums, Lange also allows the trio to indulge in a bit of Floyd ian fantasies - the 'Drill Sergeant' custom dialogue is straight out of The Wall - but it passes. a great deal of Drone to sharpen Muse's synthesis of every rock arena idea ever tried.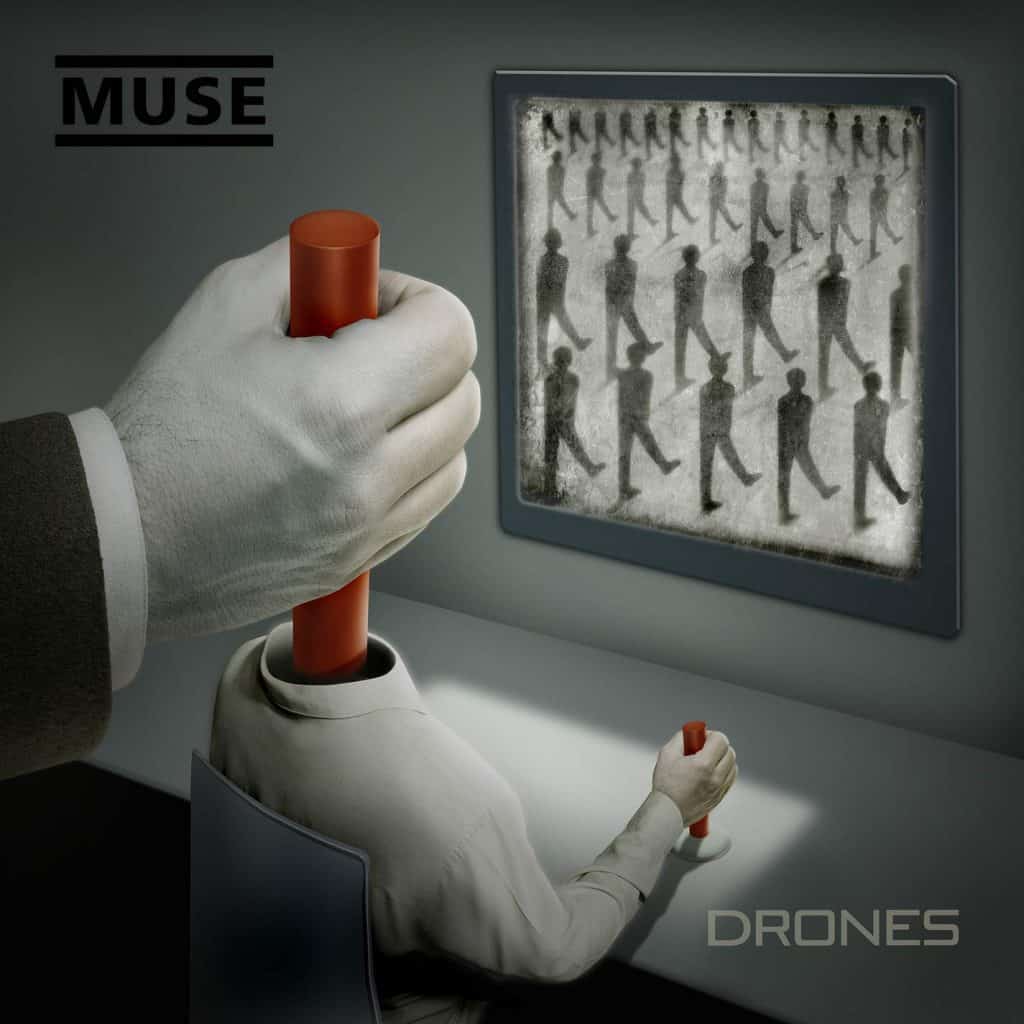 Echoes from other bands can certainly be heard - an early Radiohead influence still lingers, largely thanks to Bellamy's vocal phrasing, but that can soften to a Coldplay-like glow, as elsewhere they aim for the majesty of U2 and the speed of showboating. by Van Halen ("Reapers" opens with an erupting hurricane of pyrotechnics with finger strokes), but this absurdly overloaded synthesis is undeniably that of Muse, so thunderous that it drowns all the good intentions of the group.
MUSE: Simulation Theory (2018)
When Muse returned to the studio, they took a step back from the electronic textures of The 2nd Law, reverting to a heavier rock sound.
In early March 2015, Muse released the singles "Psycho" and "Dead Inside," the first offerings from their seventh longtime studio player, Drones.
Released in June of that year, the concept album was their fifth consecutive UK number one album and their first chart-topping release, earning them a Grammy Award for Best Rock Album in February 2016.
drones that flew over the audience, were filmed and theatrically released in the summer of 2018. At that point, the band was already promoting their eighth, 80s-inspired neon album, Simulation Theory, with singles "Dig", "Pressure" and "Dark Side".
The effort was released in November and became their sixth consecutive UK summit.
Muse | Live at Rome Olympic Stadium 4K (Full concert)
---
Eric CANTO Photographer: Concert photos, portraits, album covers.
Visit my portfolio Visit the blog Visit the shop contact me