Dita Von Teese did a wonderful series for ELLE china a few years ago. It was the photographer Albert Sanchez who made this magnificent series of portraits. The opportunity to take a look back at the iconic Dita von Teese who is much more than Marilyn Manson's ex-wife…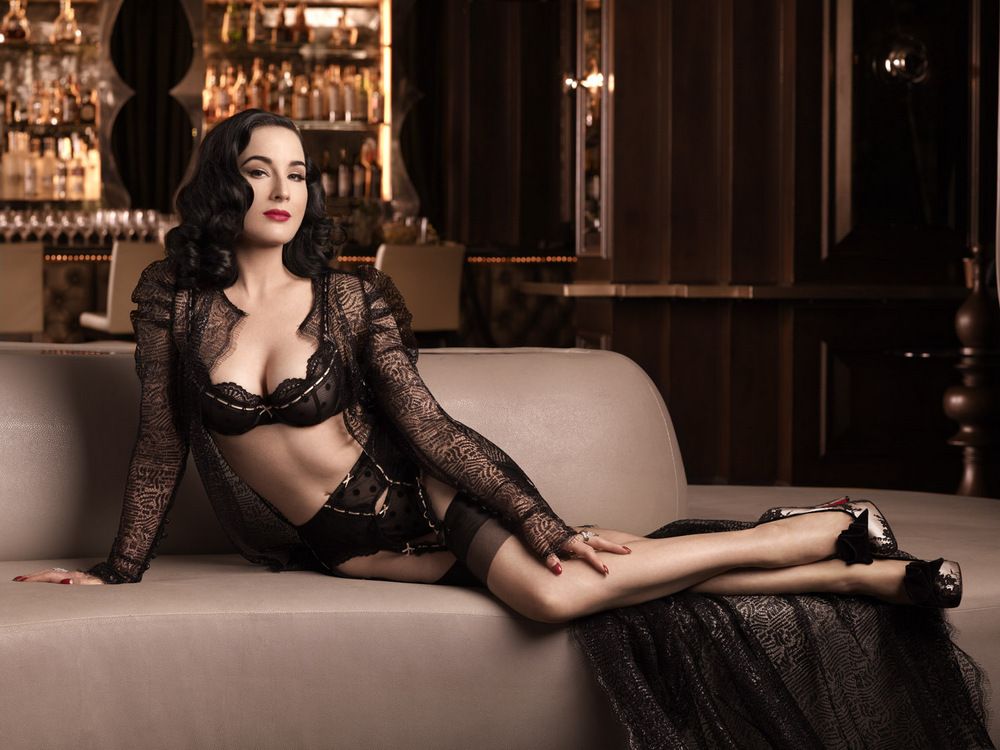 Dita von Teese: presentation
Dita von Teese is an American erotic dancer. She was born on September 28, 1972 in the United States in Rochester, Michigan. Dita von Teese is the youngest of a family of three. Her fascination with 1940s cinema and retro style began during her childhood and then was nurtured by her mother who bought her clothes for her to dress.
His mother also enjoys old films from the golden age of Hollywood, and it is under her influence that Dita von Teese developed a fascination with actresses of this era, including Betty Grable. She received ballet lessons early on and became a dancer in a local company at the age of thirteen. Even though she had long wanted to become a professional ballerina.
Later, Dita von Teese introduced elements of classical dance into her burlesque shows, where she regularly performed pointe shoes.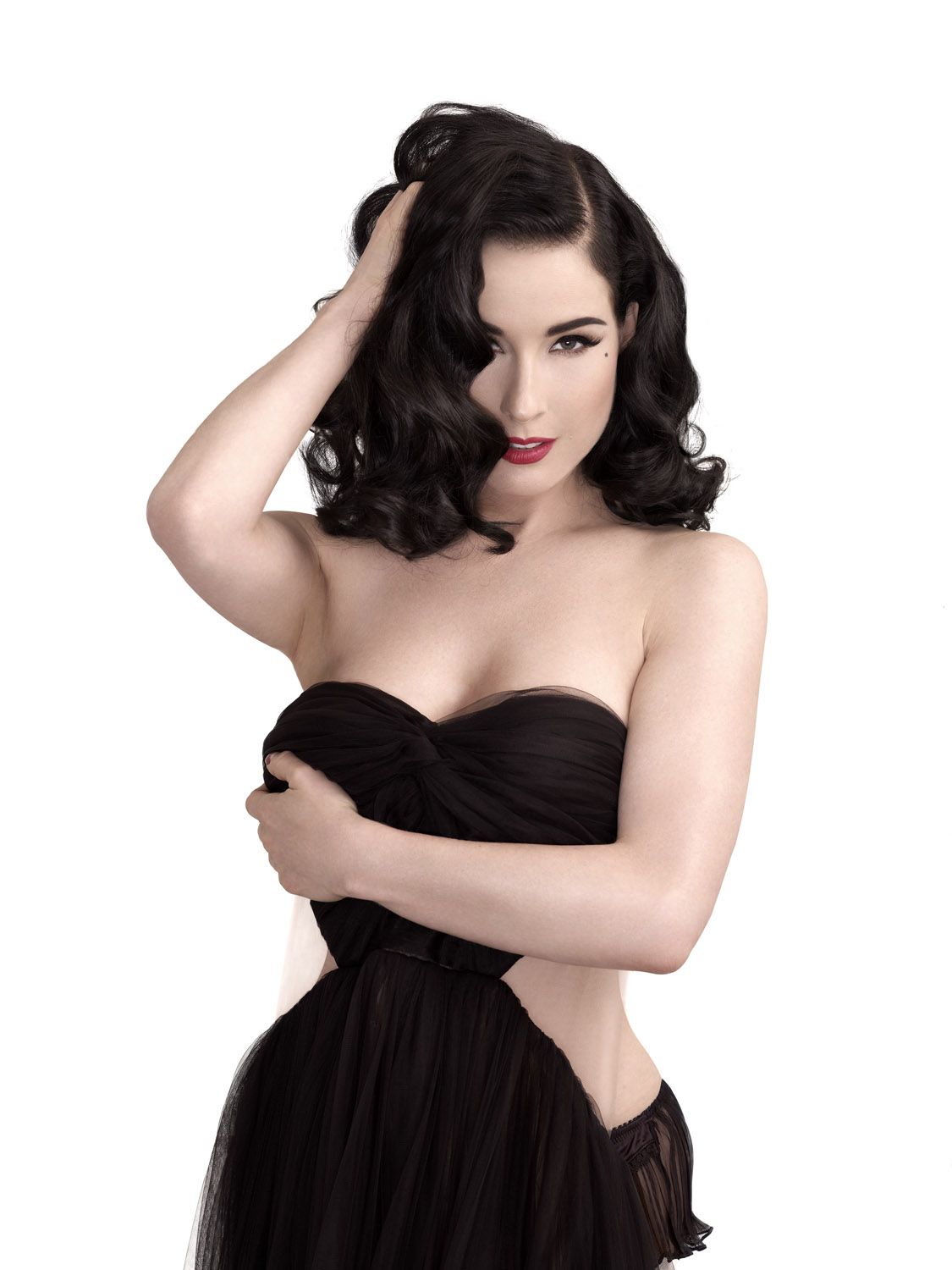 His passion for costumes gradually led him to the careful aesthetic of the fetishism. She becomes a model and poses on the covers of many international magazines (erotic and fetish included) such as Playboy (in December 2002), Tatler, Penthouse (in April 2007), Citizen K, Maxim, Bizarre and Inked. Dita Von Teese draws inspiration from many 50s burlesque stars for her shows, such as her show with a giant martini glass or champagne.
Dita von Teese discovers her favorite film Ziegfeld Follies in the Pink Room, a very special play from her childhood. Especially Betty Grable, who has become her favorite actress.
The sentimental life of Dita Von Teese turns out to be less tumultuous than her numerous photos of nude pin-ups suggest. She had a long history with rock metal singer Marilyn Manson whom she met in 2001. The couple married in 2005 and divorced two years later.
Subsequently, for nearly three years, she lived with the French Louis-Marie de Castelbajac and, since 2012, she is in a relationship with the singer Theo Hutchcraft. Dita Von Teese started taking ballet lessons at a young age and even joined a company at the age of 13. She regularly uses her skills as a ballet dancer in her shows.
She is also passionate about lingerie and becomes a saleswoman in a specialized shop at the age of 15.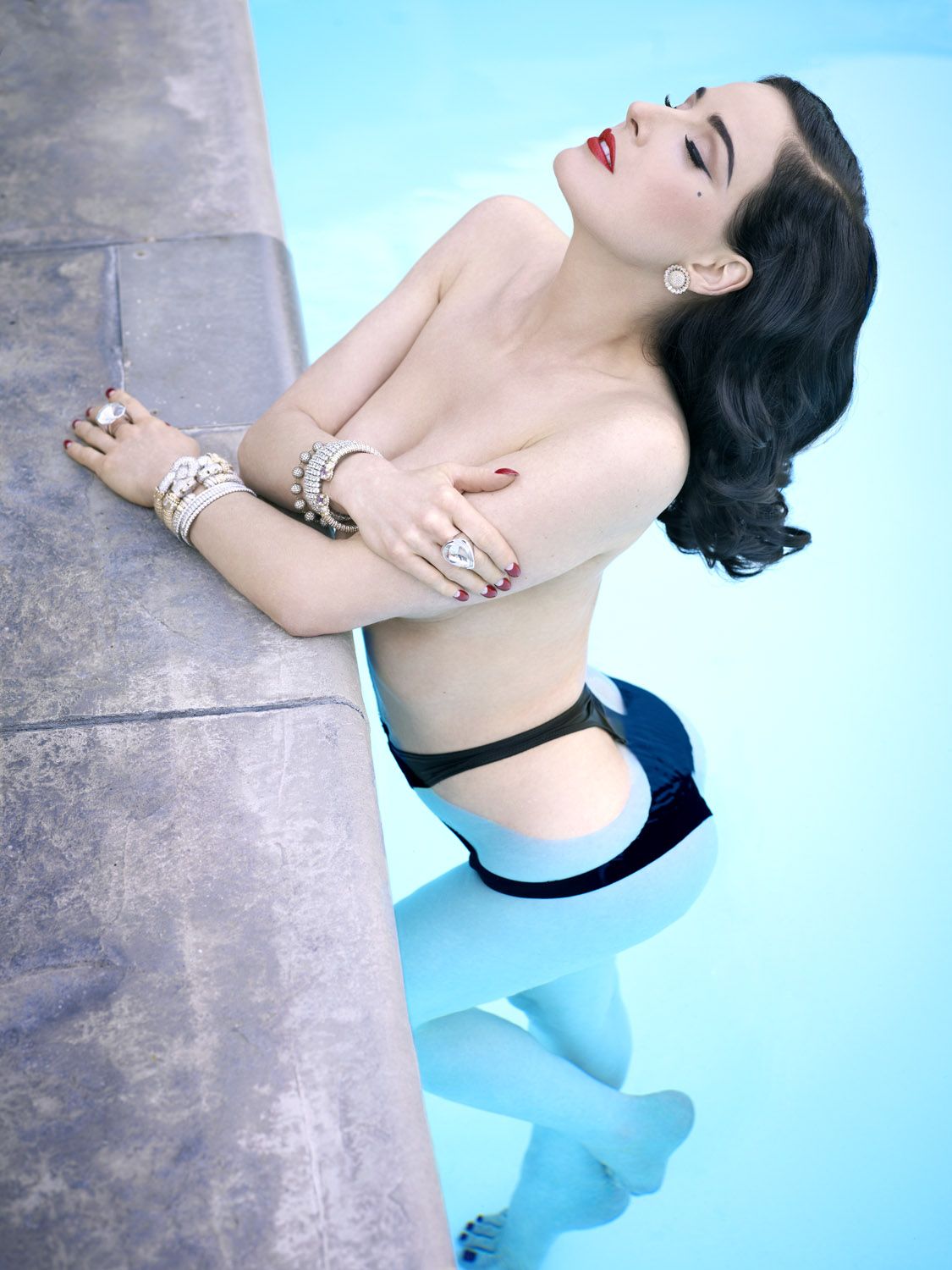 It was at this time that she discovered the famous pin-up Betty Page. She identifies with her and goes so far as to dye her blonde hair black, a color that will never leave her. Subsequently, Dita Von Teese joined the university where she studied historical costumes, possibly considering becoming a costume designer on set.
In the end, his career is quite different. At 19, she went to a bar and was very disappointed with the performance of the dancers. She tells the owner of the place that she could do a lot better and he hires her. She quickly stood out for her looks and her dancing skills, which allowed her to start a modeling career.
It can be found in one of the many magazines, starting with Playboy, Penthouse, Citizen ...
His marriage to Mailyn Manson earned her increased notoriety and she gradually became an international icon, symbol of a femme fatale wielding art with the codes of fetishism. She even writes a book called The Art of Glamor and Fetishism.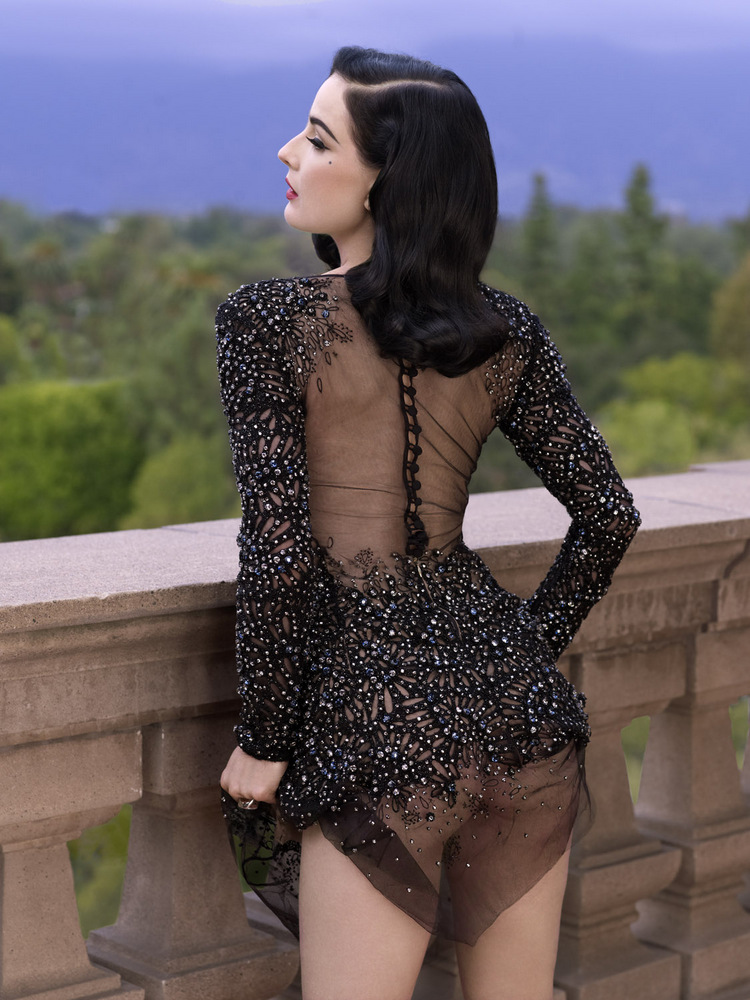 Indiscretions on Dita von Teese
Dita Von Teese loves France and especially Paris. She likes to live there during her European tours. So it's no surprise that she fell in love with a Frenchy. It was in this case with Louis-Marie de Castelbajac that she maintained a love affair for three years.
A vocation can sometimes come from roundabouts, even a little rough. If Dita Von Teese developed a passion for fine lingerie very early on, it is because she secretly leafed through her father's Plyaboy magazines.
Her pseudonym Dita Von Teese was created when she made her first cover of Playboy magazine. It comes from her passion for silent film actress Dita Parlo.
She borrowed his first name from him. As for the name, she got it from a… directory. Originally it was Von Treese, but a typo changed him.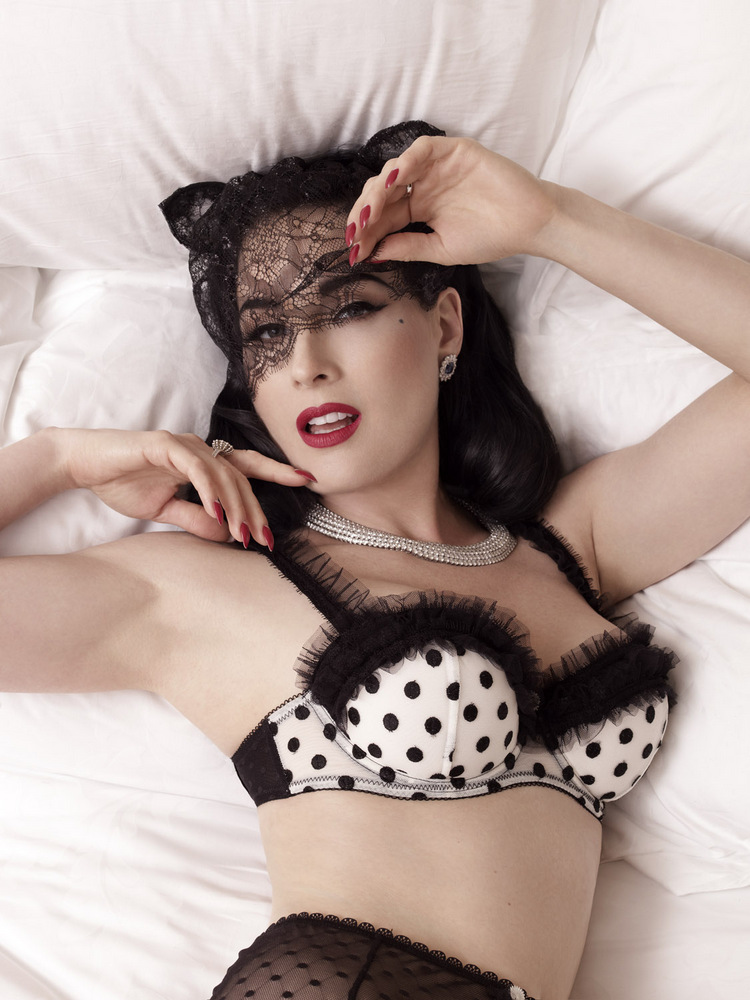 Dita Von Teese signature
Dita's signing was born from a meeting with the one who became her best friend, Catherine D'Lish. D'Lish had already chipped off in a glass of champagne and thinking of a duet act, they thought about which drink would represent Dita the most.
A bottle of Dom Pérignon was chosen; thereafter, she will repeat this number several times in a Martini or absinthe cut, notably in the video for the industrial metal band Marilyn Manson. It was following the success of the performance Le Bain, in an oversized cocktail glass, that the alcohol brand Cointreau proposed a partnership to Dita Von Teese.
The bath number of the Be Cointreau-versial show lasts 11 minutes and consists of a sophisticated stripping of the leaves around a giant glass filled with Cointreau, then a bath in said glass where Dita sprinkles alcohol using a sponge shaped like lime shavings.
Today, she presents herself as a burlesque performer.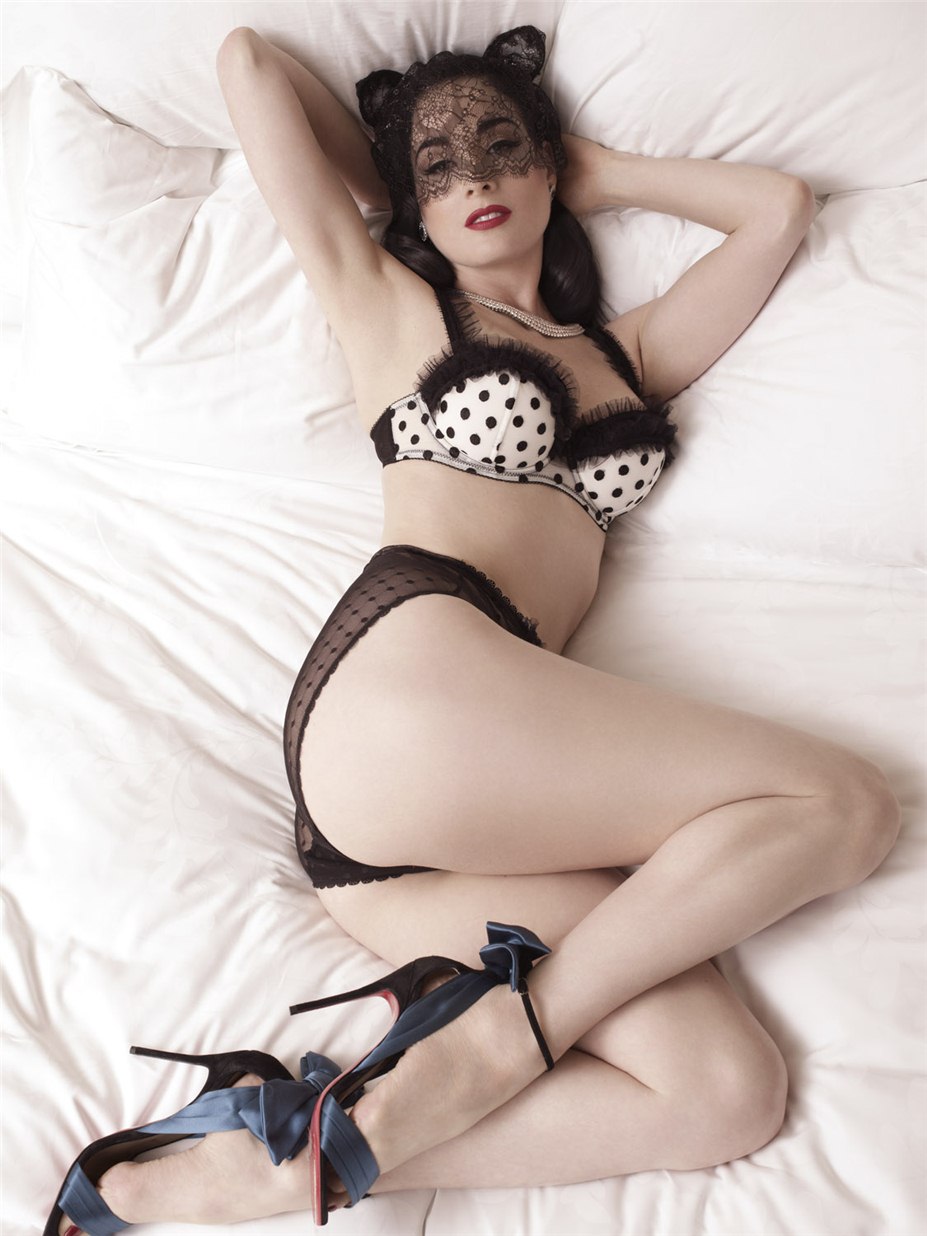 Dita von Teese and the business
She was the advertising face of cosmetics brand M A C for their Viva Glam VI campaign as well as for lingerie brand Frederick's of Hollywood and Agent Provocateur, and most recently for Wonderbra. Renowned for her elegance and her sense of fashion, she is also the "darling" of great fashion designers such as Christian Louboutin, Louis Vuitton, Cartier or even Jean Paul Gaultier for whom she has paraded.
In 2002, the Spanish sculptor Stephan Saint Emett produced 99 copies of a polychrome resin statuette in his effigy, inspired by a photo by Christophe Mourthé with whom she has been collaborating since 1998. In 2003, she posed forpi. A DVD of his 2009 Crazy Horse Cabaret show has been released.
In 2010, it adorned the planes of the company Virgin Atlantic which make the connection between the airports of Heathrow in London (United Kingdom) and McCarran in Las Vegas (Nevada, United States) as well as the bottles of Perrier20.
In February 2011, she appeared in an episode of the CSI series.
In 2014, she appeared in the music video for the song Ugly Boy by the South African group Die Antwoord. She also sings in the title Gucci coochie of the same group.
In 2018 she released an application with exclusive photos and videos for her fans.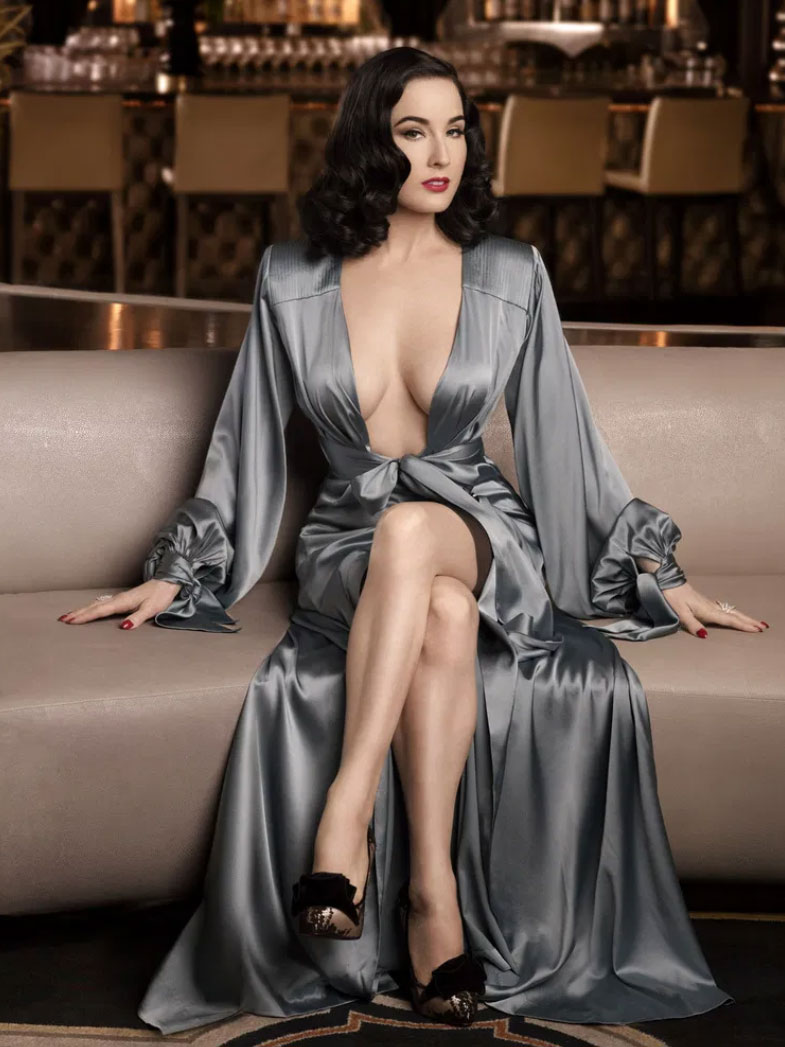 DITA VON TEESE: her productions
Filmography of DITA VON TEESE
2013: Skum Rocks!
2012: Bettie Page Reveals All
2011: CSI: Crime Scene Investigation (TV): Agnes La Plouffe / Ellen Whitebridge
2010: Crazy Horse, Paris with Dita Von Teese
2007: High on Heels
2007: Saint Francis
2005: The Death of Salvador Dali: Gala
2004: Blooming Dahlia: Elizabeth Curt
2003: Doppelherz
2002: Naked and Helpless
2002: Bound in Stockings
2001: Tickle Party: Volume 2
2001: Slick City: The Adventures of Lela Devin: Lela Devin
2000: Decadence
1999: Pin-Ups 2
1999: Playboy: Girlfriends 2
1998: Matter of Trust
1995: Romancing Sara: * Allison *
Video clips with DITA VON TEESE
2014: UGLY BOY [archive], DIE ANTWOORD
2013: Disintegration, Monarchy (en)
2013: Up in the Air, Thirty Seconds to Mars
2003: (S) Aint
2003: mOBSCENE, Marilyn Manson
2003: Para-noir, Marilyn Manson
Discography DITA VON TEESE
DITA VON TEESE: Studio albums
2018: Dita von Teese, composed and produced by Sébastien Tellier
---
Eric CANTO Photographer: Concert photos, portraits, album covers.
Visit my portfolio Visit the blog Visit the shop contact me