I often go shoot in the gym Paloma Nimes. A quality program and 2 recent and perfectly equipped concert halls. Paloma Nimes is located at the motorway exit. For concert photographers this is a must see. I had the pleasure of shooting a lot of groups there live or for a portrait : Julien Doré, Orelsan, Christophe, Suicidal tendencies, Svinkels, Aaron, Slayer, Gonzales, Machine head, Agnes Obel….and many more. You want to know more ?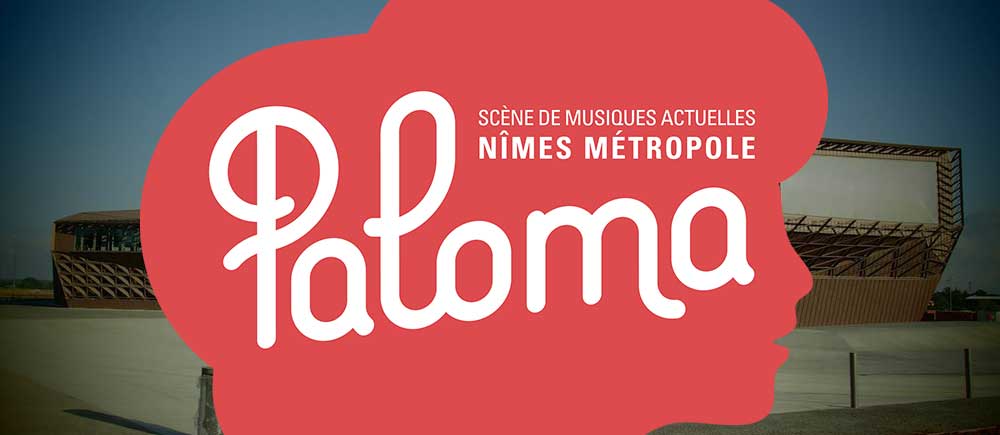 The room: Paloma Nîmes
Paloma Nimes is the contemporary music scene (SMAC) of Gard and the urban community of Nîmes Métropole in Occitanie. This magnificent hall is located in Nîmes and was commissioned on September 7, 2012. It notably includes a main auditorium that can accommodate 1356 seats (1104 seats + 252 seats), a smaller "club". The hall can hold about 300 seats and rehearsed seven recording studios.
A little more than six years after the grand opening of the SMAC - Scène de Musiques Actuelles - by Paloma Nimes has reached its rhythm. A huge complex dedicated to concerts and musical creation, the stages of which have already been visited by many famous artists. A place where also singers, musicians and technicians, thanks to which the passage to Nîmes will remain an unforgettable memory.
With a patio that can accommodate 400 people, a large hall and a club, Paloma cultivates the difference of a musical vessel that remains in tune with the artists. After returning to Nîmes as part of the release of their first album, Omoh chose Paloma as a base. An essential place for Baptiste and Clément, accompanying the adventure of Julien Doré, both in full preparation for the concert.
In many SMAC rehearsal rooms, two musicians from Nîmes collaborated with a technician to perfect the rendering of all their songs while taking care of every detail.
Paloma is a place where artists are welcome to visit. It offers a variety of amenities: in addition to bedrooms and recreation areas, there are a variety of games for you to choose from, and the great kitchen can be followed by custom wooden scrapers Artist activity! Behind the curtain of the large stage ceiling, enter the intimate atmosphere of Paloma.
The project was designed by the construction company TETRARC. For research, the architect collaborated with CMB on building economics and OPC, E2C Atlantique for structural research, AREA for fluid and thermal research, architecture and technology for stage science and Workshop Rouch for research acoustic.
The Paloma Nîmes project: current music
"Current" or "amplified" music combines all the so-called "emerging" styles of music, where electricity, sound amplification and new technologies are used as main elements of musical creations and lifestyles: rock, pop and genres. assimilated, French song, blues, metal, hardcore, reggae, ragga, electronic music, dub, hip-hop, world music, jazz and improvised music ...
The following does not count as "current music": classical, popular, contemporary music and French diversity, which is strongly supported by the cultural industry.
In addition to carrying out communication tasks (concerts in both venues), Paloma Nimes also has poles of support for the practice of professional and amateur music, as well as poles of cultural action for a variety of audiences.
Since its opening, Paloma Nimes has hosted a variety of artists, including Dionysos, Shaka Ponk, Camille, Public Enemies, Fouls, Mass Hysteria, Stromae, IAM, Fauve, Julien Doré, Christine and Queens, Têtesraides, Darkside and many others. Since 2013, the organization has hosted a independent music festival "This is not a love song".
What is an SMAC? 
"Scène de Musiques Actuelles" is a label of the Ministry of Culture and Communication. It describes small and medium capacity music venues, which play a fundamental role in distribution and cultural activity.
The "SMAC" combines several rooms and missions: concert halls, rehearsal rooms, accompaniment of musicians and creation as well as the setting up of cultural actions (in connection with schools, neighborhood associations, prisons, etc.) . The SMAC label was awarded to Paloma on February 4, 2014.
Six rehearsal studios in Paloma Nîmes 
The studios of Paloma Nimes consist of six rehearsal studios of 24 m² to 70 m² in shimmering colors. They are suitable for rehearsing songs, preparing for a concert… The team is also available to provide personalized artistic and technical advice adapted to all musicians.
Denis Lavie and Julien Francioli are happy to welcome musicians of all kinds, whether they are solos, in groups, amateurs, professionals, young or old. Musicians are welcomed and accompanied, whether it is a leisure or professional practice.
Various discovery workshops are offered throughout the year (sample tests, maintenance of your guitar, tuning the drums, guitar and computer combination, etc.).
Musicians will also find a chill out space where they can read magazines, books, and music, browse classifieds, and try a vanilla cloud cappuccino.
It's also a trouble-shooting point where upbeat musicians find sets of drumstick strings and other cables so they can rehearse when they forget. Paloma Nimescreated a Facebook page especially for musicians, where everyone can share their music video, concert or information that is only useful to normal musicians.
How to be programmed in Paloma Nîmes:
Are you a musician, a group? You can receive the "Musicians" newsletter and be informed of all musicians' meetings, fill out the form on the website of Paloma Nimes. Paloma has created a special page for musicians on Facebook where everyone can share their music video, concert or other useful information for all musicians. Paloma Nimes also offers two support systems: La Factory and Manu.
THIS IS NOT A LOVE SONG: the Paloma Nîmes festival
THIS IS NOT A LOVE SONG Festival, it is above all a collaborative project with a strong identity. The festival is based on an independent culture and intends to put discovery and risk-taking at the center of its project while building a new relationship with the public.
The festival is based on the concept of independent music and the groups that defend it, whether they are influenced by different influences or by innovative or experimental sounds. An accepted philosophy that goes beyond music is also reflected in a way of life in which audiences are essentially no different from performers.
Driven by real cohesion, the festival program draws its strength from a readability between genre references, headliners and artists of tomorrow and brings a modern vision to this aesthetic. THIS IS NOT A LOVE SONG draws attention to the new independent scene and asserts itself as a festival of discovery capable of presenting new sensations and favorites.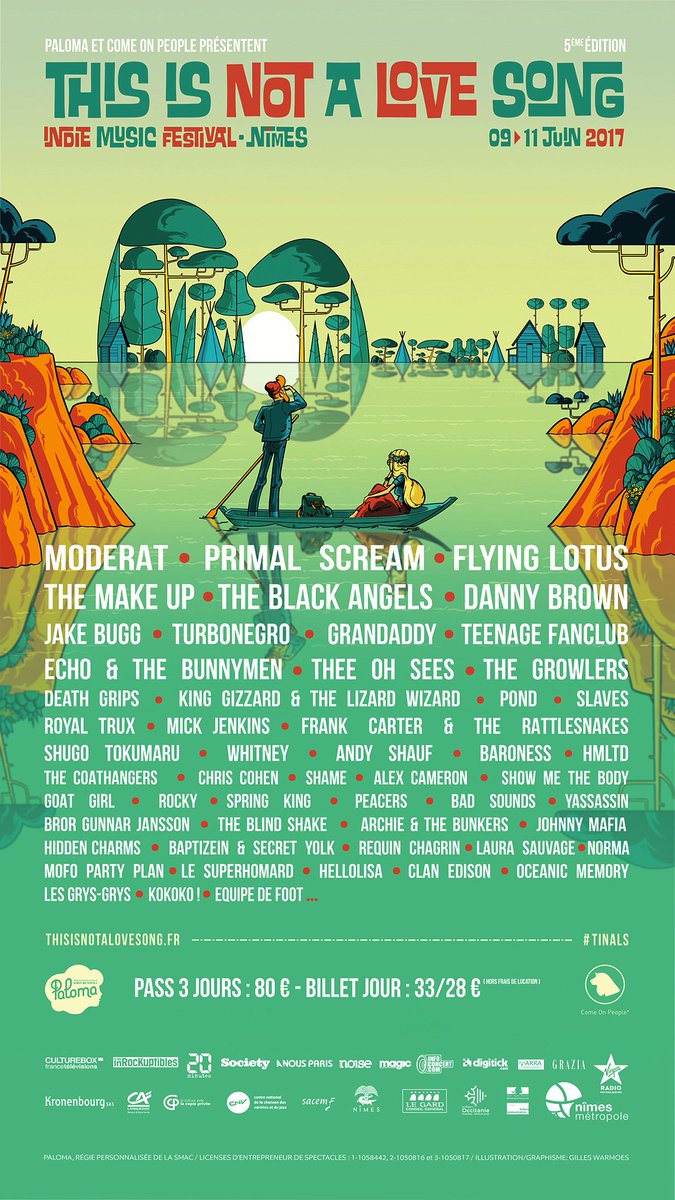 A daring artistic program that makes the choice between curious or unusual artists. In addition to the artists who set "standards", but are exceptional, because rare on the national territory, the festival also broadcasts its programming with better known artists, known beyond independent culture and who want to be demanding, but not elitists.
THIS IS NOT A LOVE SONG was also created in a desire to question the place of the public in festivals and to offer a different relationship between organizers, artists and festival-goers. It is about offering a real collective experience.
Make the public a real actor of the festival with the many workshops, where you can learn, create, craft and express yourself. Do not only offer a place on a human scale, but also a space equipped for a unique atmosphere and open to as many people as possible.
the Festival This Is Not A Love Song is based on a team of professionals and music lovers. Paloma, the current music scene in Nîmes, which was born in September 2012, is working on this event with Come On People, an association from Nîmes which is particularly interested in indie music.
THIS IS NOT A FESTIVAL in Paloma Nîmes is stopping to resume better…
THIS IS NOT A LOVE SONG Festival press release
"We have often said that THIS IS NOT A LOVE SONG should be a fleeting and moving parenthesis. Automation, the editions that follow mechanically, have never been part of our promises or our desires. True freedom cannot be proclaimed, it is exercised. We believe today that the time has come, the time to rewrite the new album, the time to find new inspiration, to shape a new adventure.
Because it is still necessary to know how to dream, innovate and reinvent THIS IS NOT A LOVE SONG in 2020. It becomes green and arises, for one season, to design for the future, to imagine what our festival would look like tomorrow. Yes the world is changing and we couldn't get along without thinking about who we are and how we want you to travel tomorrow.
Like all of us, we also want new horizons, incredible landscapes. But it cannot be translated today without thinking about what we are producing. Step aside and find the questions that have revived us for many years: Can we wear a festival party in an environmental emergency?
After 7 years of existence, are we still free and independent in our artistic choices? What new common experiences can we offer to enlightened and responsible citizens? How to interact with new cultural practices?
Faced with a constant increase in artistic and security costs, what economic solutions will the unique festival still provide?
This is why, for a year, we decide to initiate a reflection on our future: do not let the festival take its place in its original form in 2020, but offer eccentric musical encounters, artistic performances, reflection workshops, meetings and round tables which will interrupt the season.
Think together and come back better in 2021 for new adventures, engaged, passionate, exciting, joyful, festive and social. See you soon. Paloma and Come On People groups "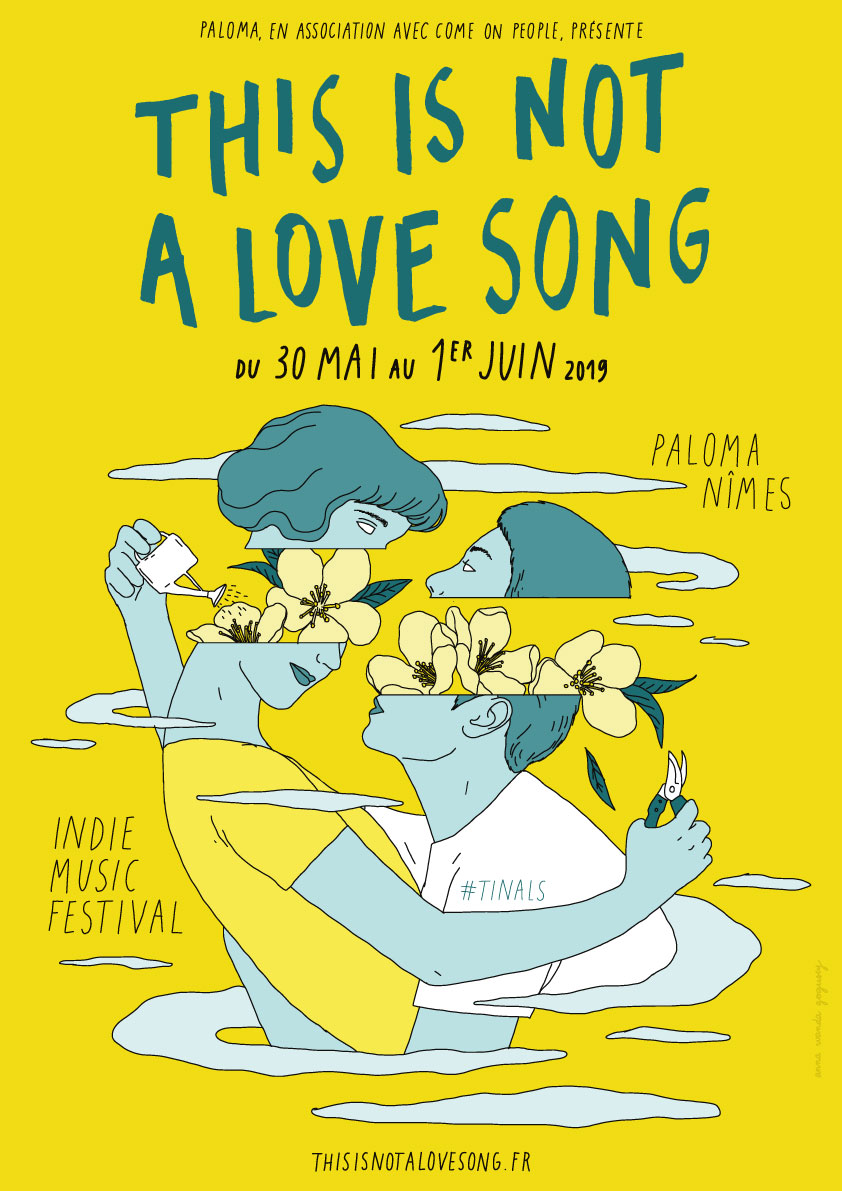 ---
Eric CANTO Photographer: Concert photos, portraits, album covers.