" Motorhead Lemmy is not a biography of Lemmy Kilmister, the seething soul of Motorhead. It's much better. Greg Olliver and Wes Orshoski followed Lemmy over a two-year period.
They accompanied him backstage on a tour, or night after night, he revives the legend, this rock'n'roll typhoon that crosses the sound barrier and culminates with worship " Ace of Spades At his Los Angeles home.
Discover the film "Motorhead Lemmy" in full version
Rock'n Roll and pizzas mix with Rainbow, the bar where Lemmy spends his days hanging out on his slot machine like a Texas retiree in Las Vegas. The guy is a middle finger on his own. He is the spirit of rock.
We must bow to him. Dave Navarro, Nikki Sixx, Billy Bob Thornton, Slash, Ozzy Osbourne Joan Jett, Henry Rollins, Alice Cooper, Ice T and many other rock stars… for them, "Lemmy embodies what they haven't been for a long time. "
A true legend and icon of the heavy metal and hard rock scene for 40 years, Lemmy marked his time by his style of play, his hoarse voice and his excesses.
Embodying the "sex, drugs and rock'n'roll" state of mind, Lemmy kilmister was a force of nature, with impressive longevity.
Marked by dozens of records and tours, his career is also marked by escapades and anecdotes as improbable as each other, which would suffice to write a novel.
Motorhead Lemmy tells it perfectly.
Motorhead Lemmy : a viper in a jar of alcohol ...
In 2006, Lemmy Kilmister gave an interview to Liberation. He expressed his distaste for vegetables and described himself as "remarkably preserved despite living in excess, much like a viper in a jar of alcohol".
The opportunity all the same to discuss his health problems, and in particular his healthier blood, according to the latest analyzes.
"Keith Richards had the means to have his blood changed, but I don't have his money," Lemmy explained to whom doctors reportedly explained, while he was hospitalized in London in the early 1990s:
"You see, if you are given pure blood, you will die… please don't donate blood! It is so poisonous you would kill someone! "
Motorhead Lemmy: a way of life ... crazy
Considering his lifestyle, Lemmy has had unexpected longevity. He attributed it to the fact that he had never used heroin, a drug he had seen many friends take away.
However, he was far from hostile to other drugs, such as LSD and amphetamines.
According to legend, he couldn't stop using drugs, otherwise his body would have stopped functioning. He himself said he couldn't sleep for two weeks after taking it.
His alcohol consumption was also impressive.
In the documentary Live Fast Die Old, we learn in particular that he consumed a bottle of Jack Daniel's per day for 30 years (which, if we do the math, would be equivalent to some 10,000 liters consumed in his life).
Lemmy had told The Guardian he had switched to orange vodka to manage his diabetes. Despite his health problems, he said he was "indestructible" and had no intention of stopping.
 Motorhead Lemmy: Roadie by Jimi Hendrix
Before Lemmy Kilmister became Motörhead's undisputed and charismatic leader, he rode his bump elsewhere.
Between the late 1960s and early 1970s, he played in several other groups, such as The Rockin 'Vickers, Sam Gopal and especially Hawkwind, a still active space rock group in which dozens of musicians played.
The rocker was also a roadie, that is to say a technician who accompanies groups on tour. And not for strangers. In the late 1960s, he follows Jimi Hendrix and prepares his guitars.
"When he played, it was magic. Time and space stood still, "said the Motörhead frontman, describing Hendrix as" a really nice guy "and" very polite ".
 Motorhead Lemmy: A voice from beyond the grave, a boom microphone ...
On stage, Lemmy sang with an unusually high microphone, a habit he had kept from the beginning of the band. This unusual position forced him to sing with his head turned upwards, which he said prevented him from seeing the few spectators at the time.
Another possible explanation, relayed by Rolling Stone, the position of his microphone allowed him to look upwards, "as if he was delivering an angry sermon or screaming in front of a brute much bigger than him".
Unless it's just a way to keep its sturdy tone.
 

Motorhead Lemmy: No marriage but two sons ...
Lemmy was never married, not really a follower of a stable and orderly family life, and had two sons.
In a portrait made public after his death, Liberation recalls that he was abandoned by his father and that this experience, like his lifestyle, probably played a role in relations with these two children. 
Shis first son, Sean, was born when Lemmy was only 17 years old. Adopted later, he never met his father.
In the documentary Lemmy, the singer refers when he says the child's mother found him, but "didn't have the courage" to tell her son who his father was.
Lemmy's second son, Paul, was born in the mid-1960s. He didn't know his father until he was 6, and they met regularly.

OFFICIAL "MAKING OF LEMMY"
 Motorhead Lemmy: A Collection… of Nazi Objects
A follower of provocation, Lemmy also became known for his penchant for items related to Nazism and the Third Reich.
Objects that he kept at home but that he also sometimes wore on stage, arousing controversies and accusations of ideological sympathy, even if the rocker always denied it and that his point of view left no doubt.
"I only collect objects, I don't collect ideas," explained Lemmy, who considered himself more of an "anarchist".
He acknowledged his fascination with Nazi (but also Napoleonic) uniforms by explaining that "bad guys always got the best stuff" while British soldiers have khaki uniforms that made them look like "swamp frogs".
 Motorhead Lemmy: Unbridled Sexuality
Like other rockers, Lemmy has built his sulphurous image on his excessive consumption of alcohol and drugs, but also on his unbridled sexuality.
In 2006, Maxim magazine also ranked him in its top 10 "living sex legends", awarding him no less than 2,000 conquests. "I never said 2000, I said 1000.
But I'm probably around 1200 now, "Lemmy told the Monthly Men's Magazine.
"I started it a long time ago and have never been married, so I never took a break. Lemmy also sometimes suffered from these sexual excesses, mostly passing out on stage after a slight "exhaustion".
The Motörhead frontman has also repeatedly expressed his love and respect for women, whom he considers to be equal in all areas.
Lemmy remains one of the last true rock legends. By his work, his way of life, by his so particular way of having crossed his time.
Motorhead Lemmy AUTHOR (S) - DIRECTOR (S)

Greg Olliver

, 

Wes orshoski

Motorhead Lemmy PRODUCTION / DIFFUSION Damage Case Films & Distribution
To buy the Blu-Ray and see all the bonuses: Click here
---
Eric CANTO Photographer: Concert photos, portraits, album covers.
Visit my portfolio Visit the blog Visit the shop contact me
Learn more about Motorhead
Motorhead was a British heavy metal band from London, England. The group was formed by bassist and singer Lemmy Kilmister in 1975 and disbanded in 2015 after the latter's death.
He was part of the new wave of British heavy metals, which permeated the British heavy metal community.
New vitality. Motorhead united in the late 1970s and early 1980s. Usually as a trio, Motorhead had some success in the early 1980s and several singles entered the UK singles list.
The Overkill, Bomber, Ace of Spades and most importantly No Sleep'til Hammersmith albums reinforced Motorhead's reputation as one of the UK's greatest rock bands.
Motorhead is regarded in heavy metal as one of the main influences of speed and thrash, Lemmy Kilmister admits he hates the term, preferring to describe the band's sound as "rock and roll".
Motorhead's approach to their music has remained straightforward throughout the life of the band, preferring to play what its members liked, regardless of "what other people think."
During the 40 years of their career, the group has sold more than 35 million albums worldwide. Motorhead's texts cover topics as broad as war, sex, good versus evil, drug use, and life on the road.
The band's logo was created in 1977 by artist Joe Petagno for the needs of the Motorhead album. The group ranks 26th in the VH1 ranking of the 100 largest metal groups.

The heirs of Motorhead
Metallica
Among those who consider themselves most influenced by Motörhead are of course
Metallica
, and Lars Ulrich was even the junior president of the Motorhead fan club.
The group will pay tribute to them, in particular the album The Lemmy's aka
Metallica
, recorded on Lemmy's 50th birthday in Whiskey A Go-Go in Los Angeles. Big Four groups say Motorhead has a lot of influence.
The album consists of 8 Motorhead songs played by Metallica and 12 songs played by Motorhead.
On this live album, Four Horsemen includes Overkill (with Lemmy), Damage Case, Stone Dead Forever, Too Late Too Late, The Chase Better than the Catch and (We Are) The Road Crew.
Other thrash groups like Sodom or Sepultura say so. The Venom, pioneer of Black Metal, also declares itself under the influence of Motorhead.
Dave Grohl and Guns N 'Roses
Dave Grohl, leader of Foo Fighters and former drummer Nirvana, is also a huge Motörhead fan.
He founded the band Probot and Lemmy around him, we also see Dave Grohl in a Motorhead T-shirt in his Music Video, as Axl Rose of Guns N 'Roses in the clip Estranged, M Shadows Avenged Sevenfold at Hellfest 2014, as well as Bad Religion's Greg Graffin in bonus Live at the Palladium DVD clips.
The band frontman Rancid also made no secret of his love for Lemmy and Motorhead, so we see that he took on the same appearance as Lemmy in his band Lars Frederiksen and the Bastards, adopting a beard style or a flat iron. iron on the neck.
Airbourn
The Australian group Airbourne pays homage to Lemmy and Motorhead by the song " It's All for Rock'n'Roll". In the music video for this track, Lemmy appears several times, leading a difficult career (probably a reference to the "roadie" period) or on stage.
On the other hand, we see in the clip a stage structure similar to that implemented during the concerts of Motörhead for the track "Bomber".
Dee Dee Ramone, who composed over half of the Ramones songs, was also a huge Motorhead fan.
Lemmy will record a song dedicated to Ramones on a 1916 album titled RAMONES
Of this, Ramones frontman Joey said, "Lemmy's song for us is the biggest tribute, like Lennon is doing the same. "
There have been many tribute groups, mostly British, such as Motörheadache and I'm Not Motörhead from Portsmouth in Great Britain.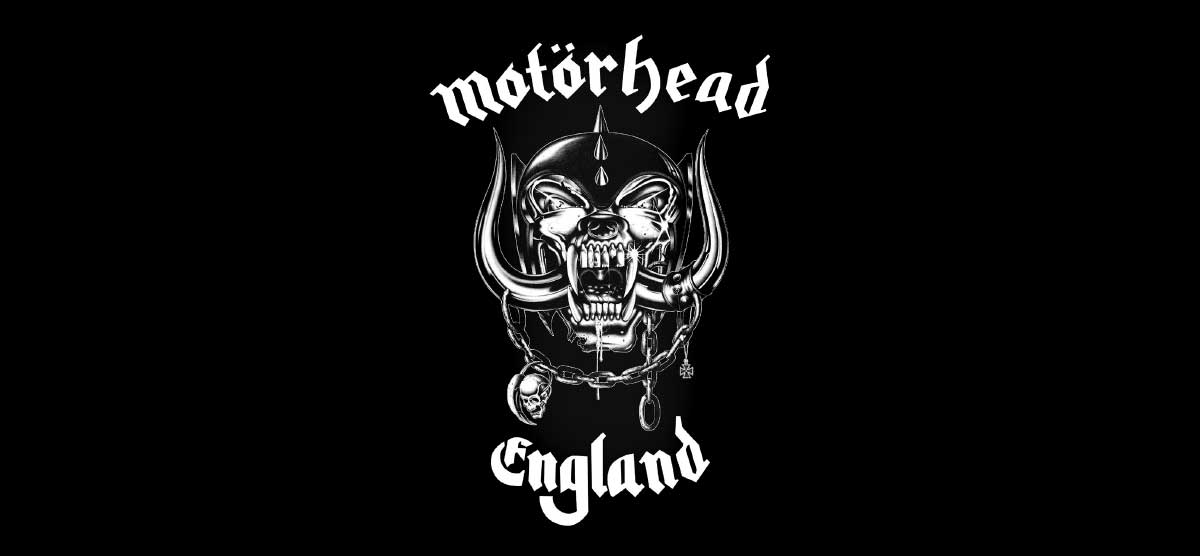 Motorhead studio albums
1976 : 

On parole

1977 : 

Motörhead

1979 : 

Overkill

1979 : 

Bomber

1980 : 

Ace of Spades

1982 : 

Iron fist

1983 : 

Another Perfect Day

1986 : 

Orgasmatron

1987 : 

Rock 'n' roll

1991 : 

1916

1992 : 

March ör Die

1993 : 

Bastards

1995 : 

Sacrifice

1996 : 

Overnight Sensation

1998 : 

Snake Bite Love

2000 : 

We Are Motörhead

2002 : 

Hammered

2004 : 

Inferno

2006 : 

Kiss of death

2008 : 

Motörizer

2010 : 

The Wörld is Yours

2013 : 

Aftershock

2015 : 

Bad magic

2017 : 

Under Cöver
Motorhead Live Albums
1981 : No Sleep 'til Hammersmith
1988 : No Sleep at All
1999 : 

Everything Louder Than Everything Else

2003 : 25 & Alive: Live at Brixton Academy
2011 : The Wörld Is Ours - Vol. 1: Everywhere Further Than Everyplace Else
2012 : The Wörld Is Ours - Vol. 2: Anyplace Crazy as Anywhere Else
2016 : Clean Your Clock
2019 : Fright internship (live 2004)
Motorhead Videos
1982 : 

Live In Toronto - Castle Hendering

 (VHS)
1984 : 

Another Perfect Day EP

 (VHS)
1985 : 

Birthday party

 (VHS)
1986 : 

Deaf Not Blind

 (VHS)
1988 : 

EP

 (VHS)
1991 : 

Everything louder Than Everything Else

 (VHS)
2001 : 

25 and Alive Boneshaker - Steamhammer - SPV

 (DVD)
2002 : 

Motörhead EP

 (DVD)
2002 : 

The Best of Motörhead

 (DVD)
2003 : 

The Special Edition EP

 (DVD)
2004 : 

Everything Louder Than Everything Else

 (Live 1991) (DVD)
2005 : 

Fright internship

 (Live 2004) (DVD)
2010 : 

Lemmy The Movie

 (DVD)
2011: The Wörld Is Ours - Vol. 1 - Everywhere Further Than Everyplace Else (DVD)
2012: The World Is Ours - Vol. 2 - Anyplace Crazy As Anywhere Else (DVD)
2016: Clean Your Clock (DVD)
BONUS: Lemmy's last interview
Motorhead icon, Lemmy, laughed at appearing onstage as a ghost after his death in one of his last interviews.
The 14-minute conversation was recorded by German TV station ZDF in late November, weeks before the December 28 death.
His manager Todd Singerman revealed this week that Lemmy had become too fragile to do interviews and sound checks on his last tour.
Drummer Mikkey Dee said his colleague "spent all his energy" on the road in December.
Despite looking sick and tired, Lemmy was in a good mood during the ZDF interview. When asked if he intended to continue playing, he joked, "After death?
No. I'll have to stop then, I think. You never know ... I could haunt somewhere. Spoiling someone else's gig. Tears For Fears or someone - appear in the middle and say "Everyone! ""
He said of the longevity of his band: "40 years is a joke. It's ridiculous. The press didn't like us. They gave us six months to live. They are all gone and I am still here. Pity. "
He referred to the recent death of former drummer Philthy 'Animal' Taylor, saying, "I feel like I've known Phil my whole life. He was a fool - and I admire that in a person.
I think he lost his will to live. He did a lot of bad drugs and lived with the wrong people. It was too much for his constitution. So far, I have survived, because I made it up, more or less. "
Lemmy added, "I don't recommend the lifestyle because most people die from it.
A lot of my friends are dead, which shouldn't be the case. They had a lot more music in them. But that's how life is - it all depends on luck.
Looking ahead, he said: "I will do it for as long as possible. I'm 70 in December and it's a bit ridiculous after that. But I'll see how I feel. "
He also spoke about the terrorist attacks in Paris, punk music, songwriting, Elvis, Little Richard, Carl Perkins, Lars Ulrich and the rejection of the title of "godfather of heavy metal".