Photography Meetings Arles
 The Arles Photography Meetings (formerly Rencontres internationales de la Photographie d'Arles) is an annual festival of photography summer founded in 1970 by Arles photographer Lucien Clergue, writer Michel Tournier and historian Jean-Maurice Rouquette.
With a program mainly made up of new productions, the Rencontres d'Arles has acquired an international dimension. In 2017, more than 125,000 spectators were able to discover the 48th edition of the festival. In 2018, the festival broke a new record with 140,000 visitors.
Some sites, such as the 12th century chapels or the 19th century industrial buildings, are open to the public for the duration of the festival.
Arles Photography Meetings
Thanks to the Rencontres d'Arles, many photographers have been unmasked, which confirms the importance of the festival as a springboard for photography and contemporary creation. In recent years, the Rencontres d'Arles have invited many curators and have entrusted some of its programs to personalities such as Martin Parr (2004), Raymond Depardon (2006) or the designer of Arles Christian Lacroix (2008) or even Nan Goldin (2009).
Grâce aux grâce au soutien du ministère de la Culture, le festival a pu étendre et développer ses activités, devenant ainsi l'un des événements majeurs du calendrier culturel européen. Chaque année, le festival attire environ 200 000 visiteurs, ce qui en fait l'une des destinations touristiques les plus populaires en France.
Le festival est organisé autour d'un thème central, qui sert de point de départ à un large éventail d'expositions, de conférences, de films et d'autres événements. L'objectif du festival est de promouvoir la photographie contemporaine et d'encourager le dialogue entre les artistes, les critiques et le public.
L'un des points forts du festivalest le « musée en plein air », qui présente une sélection des meilleures photographies contemporaines du monde entier. Cette année, le musée sera ouvert de juin à septembre. Un autre point fort est la « Nuit de la photographie », qui a lieu le premier samedi de chaque mois. Cet événement est l'occasion pour les photographes de présenter leur travail à un public plus large.
Events
The opening week des Rencontres d'Arles offers events focused on photography (nocturnal screenings, visits to exhibitions, debates, symposiums, parties, book signings, etc.) in historic places in the city, some of which are specially open for the opportunity.
The most important moments of the last conferences are: the Night of Europe (2008), in which a broad panorama of European photographic identities was presented; parade of shows by Christian Lacroix during the closing evening of the festival (2008); and the Patti Smith concert on the occasion of the 20th anniversary of Vu agency (2006).
Night of the year
The night of the year is the unmissable festival of the Rencontres d'Arles. It takes place in Papeteries Étienne in the Trinquetaille district. This opening night of the week opens up the variety of artistic practices associated with the image. It presents the favorites of the year, offers artists, institutions, magazines a license ...
The night of the year is nine screens for around thirty performances. The event begins at the end of the day with the BYOPaper - Bring Your Own Paper17 campaign. 40 artists are selected to stick their prints on the walls of the stationery.
A jury made up of the management team of the Rencontres d'Arles and the team of the photo lifestyle magazine Fisheye selects the 40 projects each year. In 2017, Papeteries Étienne hosted the night of the year for the third time in a row, attended by more than 5,000 visitors.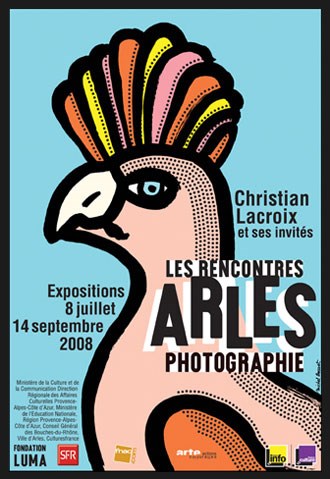 Cosmos-Arles Books
Cosmos-Arles Books is a satellite event of the Rencontres d'Arles dedicated to new editorial practices. Over the past fifteen years, large format photographic publications, trade books, and e-books have become important experimental materials for photographers and artists.
Photography is rediscovered there as a means of expression and dissemination, and the hybridity of forms that are specific to it undoubtedly finds its richest field of expression. To embody this energy, the artistic direction of the Cosmos Arles books will be taken over by Olivier Cablat and Sebastian Hau (Cosmos) and Sam Stourdzé, director of the Rencontres d'Arles.
Evenings at the Ancient Theater 
The open-air nocturnal projections of the Roman theater in Arles show the work of a photographer or a photography specialist, accompanied by concerts and performances.
Each evening is the subject of a unique creation. During the 2009 edition of the festival, 8,500 spectators attended the evenings of the Ancient Theater, on average 2,000 spectators per evening and 2,500 for the closing evening and the performance of Nan Goldin's ballad of sexual addiction, accompanied by a Tiger Lillies concert. During the 2013 edition, more than 6,000 spectators attended the evenings with photo projections or around 1,500 spectators per evening.
Colloquiums and debates Arles Photography Meetings 
During the opening week of the Meetings, meetings and debates are organized during which the photographers present are invited to talk about their work or to answer questions asked by the public about the photos exhibited.
The latest editions of these events have therefore turned to photography on different subjects: can we still imagine today a black and white aesthetic for photography? (2013), How do social networks affect creativity and information? (2011) Breaks, a central concept in today's photography (2009), Le duty in photography: freedom or coercion (2008), operations and changes in the photo market (2007)…
Photography workshops for Arles Photography Meetings 
The exchange between professional photographers and practitioners of all levels has been a constant issue since the creation of the Rencontres d'Arles. Each year, the photo courses allow participants to engage in a personal creative process as close as possible to the aesthetic, ethical and technological issues of photography.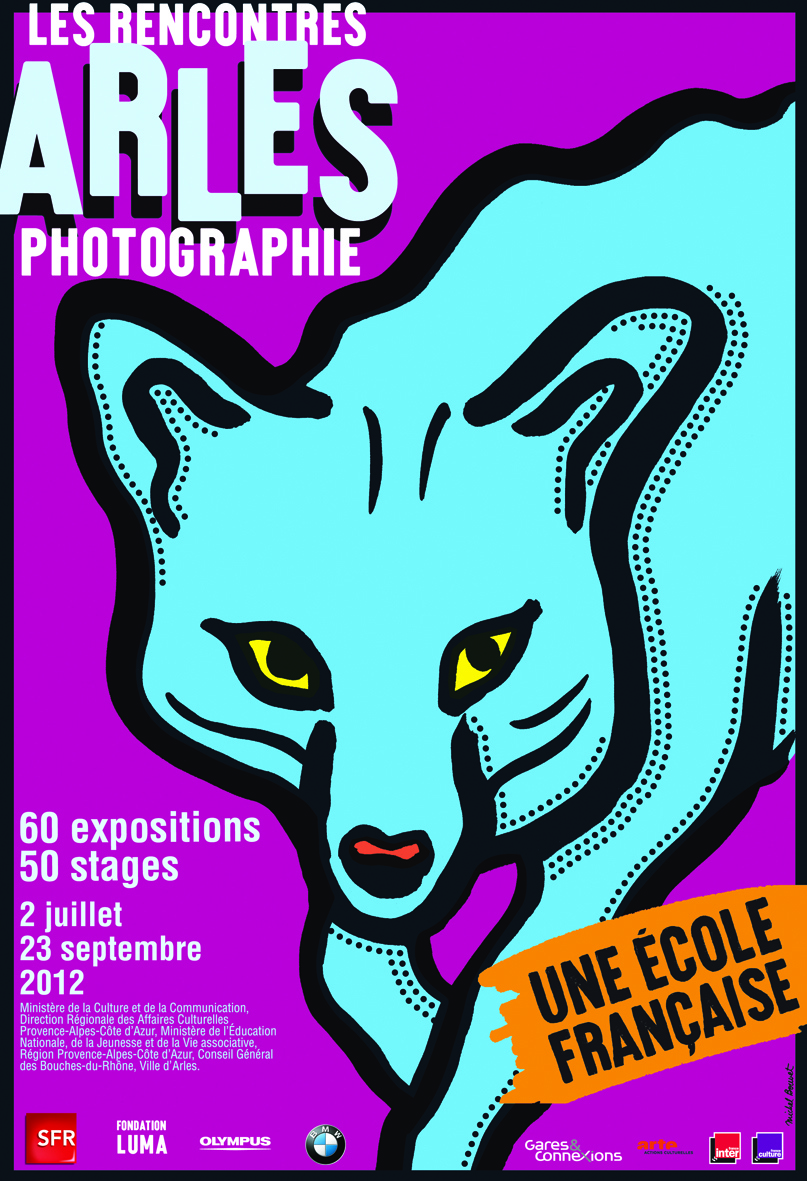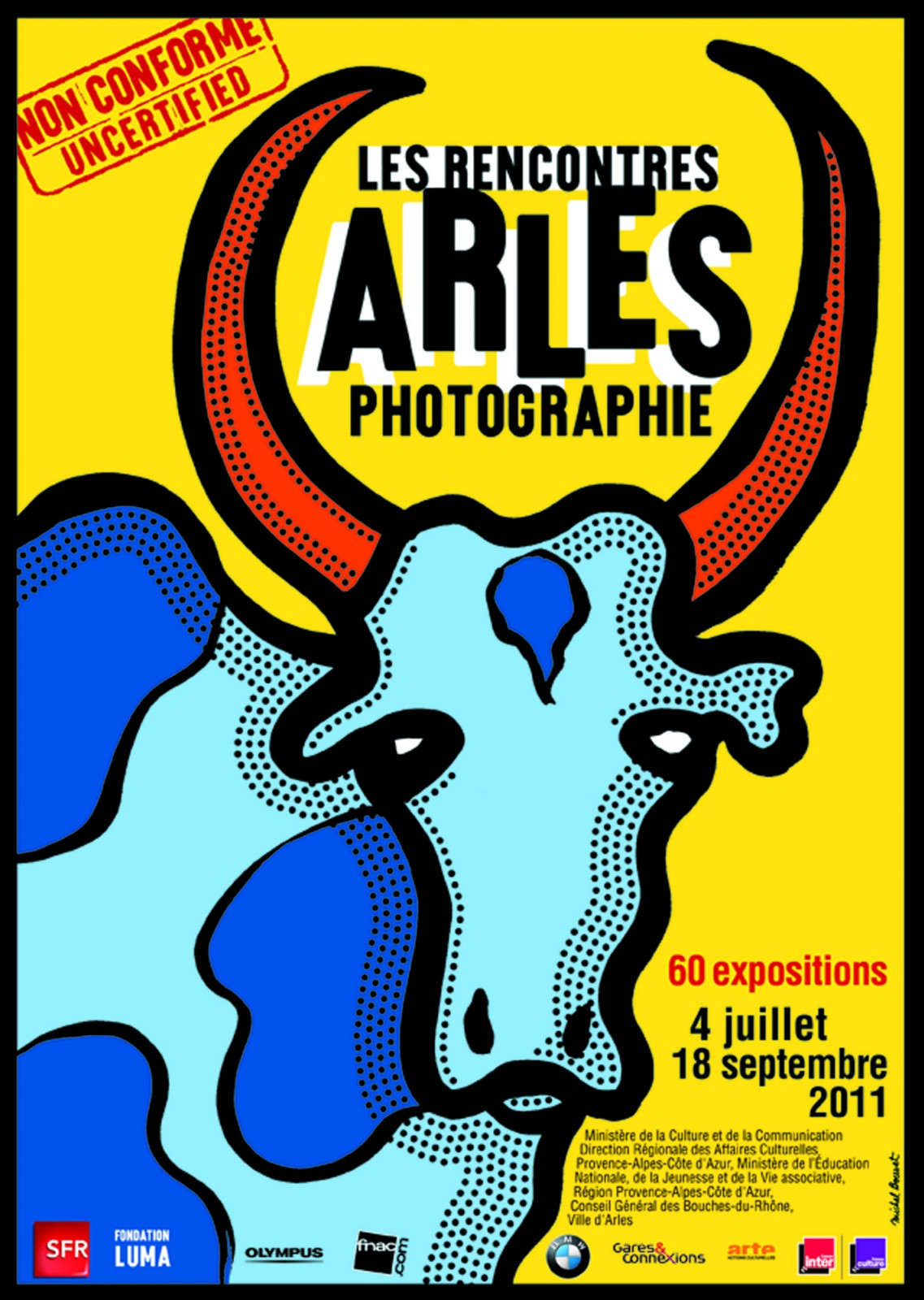 Big names in photography have regularly trained directors of the Rencontres d'Arles: Abbas, Guy Le Querrec, René Burri, Mary Ellen Mark, Paul Almasy, Antoine d'Agata, Martin Parr, Joan Fontcuberta, Jean Mezière etc.
Back to school in pictures
Since 2004, the "Back to school in pictures" event has been at the heart of the educational policy developed by the Rencontres d'Arles. During the first two weeks of September, students from CP to Master visit the exhibitions, which are supervised by specialized mediators.
Building on the festival program, the event aims to introduce young people to the visual arts and is part of a broader policy of cultural democratization. Indeed, "Back to school in pictures" can affect several thousand students, a significant number of whom are entering the world of contemporary art for the first time.
Luma Dating Dummy Book Award
In 2015, the Rencontres d'Arles launched a promotional award for the publication of a model book. With a production budget of 25,000 euros, this new award is open to any budding photographer and artist who uses photography on the proposal of a book model that has never been published. The production of the winning edition begins in the fall after the end of the festival and will be presented at the next edition of the Rencontres d'Arles.
Photo Folio Review & Gallery
Launched in 2006, Photo Folio Review & Gallery offers photographers portfolio readings during the festival's opening week and the possibility of exhibiting their images during the Rencontres d'Arles. During these readings, the photographers make their work available to international photography experts from various fields: publishers, curators, directors of institutions, directors of agencies, gallery owners, collectors, critics and artistic directors.
The Rencontres d'Arles Prize
Since their creation in 2002, the Rencontres d'Arles Awards have allowed the discovery of new talents at the Rencontres d'Arles. Their formula was developed in 2007 to keep three annual prizes, awarded throughout the summer in Arles and awarded at the closing ceremony of the festival's specialized week: the Discovery Prize (25,000 euros), the author of the Prix du Book (8,000 euros) and the Historical Prize Book Prize (8,000 euros) During the 2015 edition, a new prize, the Photo-Text Prize (6,000 euros).
The Budget of the Arles Photography Meetings 
The budget for the 2015 edition of the meetings was 7 million euros, of which 38% came from public funds, 43% from own income (mainly ticketing and derivatives) and 17% from sponsorship and private partnerships.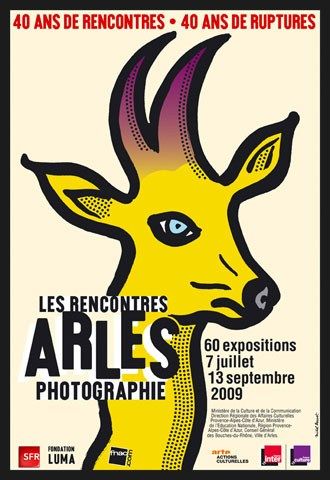 Les expositions par Année 
2010 : 41e edition (July 3 - September 19)
Argentina Walk : Léon Ferrari, Marcos Adandia, Leandro Berra, Marcos Lopez, Sebastiano Mauri, Gabriel Valansi, Rock walk : Mick Jagger, Jean Pigozzi, Claude Gassian, I am a cliché, Echoes of the punk aesthetic, Andy Warhol, Billy Name, Stephen Shore, Robert Mapplethorpe5, Dan Graham, Peter Hujar, David Wojnarowicz, Bruce Conner, Destroy All Monsters, Sue Rynski, David Lamelas, Dennis Morris, Jamie Reid, Album Covers, Linder, Alain Dister, Robert Malaval, Beautiful day ahead, Katharina Sieverding, Rhona Bitner, Céleste Boursier-Mougenot, Christian Marclay, Meredith Sparks, Wolfgang Tillmans, 
Film walk : Ernst Haas, Shoot! Existential photography, Michel Campeau, Clear room (s), note (s) on the photograph, Polaroid in danger!, Zhang Dali, Augusto Ferrari, Self-portrait photographers, where are they?, 
Walk with the friends of the Luma Foundation : Fischli / Weiss, Luke Fowler / Peter Hutton, Discovery Award 2010, Artists presented by Tom Eccles, Anne Colier, Liz Deschenes, Roe Ethridge, Artists presented by Liam Gillick, Marlo Pascual, Gilad Ratman, Solmaz Shahbazi, Artists presented by Hans Ulrich Obrist & Philippe Parreno, Hans Peter Feldmann, Shannon Ebner, Kazuo Shinohara, Taryn Simon, Trisha Donnelly, Darius Khondji, Artists presented by Beatrix Ruf, Annette Kelm, Elad Lassry, Leigh Ledare, Author's Book Award and Historical Book Award 2010, 
Witness passages walk : A journey through the Marin Karmitz collection, France 14, ReGeneration2, Paolo Woods, ENSP (class of 2010), SFR young talents, Lea Golda Holterman, 
Outside the walk : No Scoop, Télérama culture cover, Ivan Mikhailov, Clicks and classes, Walk-create, Mario Giacomelli, Klavdij Sluban, 1950-2010: Picto is 60 years old, Patrick Bouchain, François Deladerrière, Galerie Vu ', François Halard, Peter Klasen, Pierre Jahan
 2011 : 42e edition (July 4 - September 18)
Chris Marker, photos from the New York Times, Robert Capa, Pentti Sammallahti, JR, Wang Qingsong, Dulce Pinzon,…
 2012 : 43e edition (July 3 - September 23)
The 30 years of the ENSP, Josef Koudelka, Amos Gitai, Klavdij Sluban & Laurent Tixador, Arnaud Claass6, Grégoire Alexandre, Édouard Beau, Jean-Christophe Béchet, Olivier Cablat, Sébastien Calvet, Monique Deregibus & Arno Gisinger, Vincent Fournier, Marina Gadonneix, Valérie Jouve, Sunghee Lee, Isabelle Le Minh, Mireille Loup, Alexandre Maubert, Mehdi Meddaci, Collection Jan Mulder, Alain Desvergnes7, Olivier Metzger, Joséphine Michel, Erwan Morère, Tadashi Ono, Bruno Serralongue, Dorothée Smith, Bertrand Stofleth & Geoffroy Mathieu, Pétur Thomsen, Jean-Louis Tornato, Aurore Valade, Christian Milovanoff8,
2013 : 44e edition (1er July - September 22)
Hiroshi Sugimoto, Sergio Larrain, Guy Bourdin, Alfredo Jaar9, John Stezaker10, Wolfgang Tillmans11, Viviane Sassen12, Jean-Michel Fauquet, Arno Rafael Minkkinen, Miguel Angel Rojas, Pieter Hugo13, Michel Van den Eeckhoudt, Xavier Barral14, John Davis, Antoine Gonin15, Thabiso Sekgala, Philippe Chancel, Raphaël Dallaporta, Alain Willaume, Cedric Nunn, Santu Mofokeng, Harry Gruyaert, Jo Ractliffe, Zanele Muholi, Patrick Tourneboeuf, Thibaut Cuisset, Antoine Cairns, Jean-Louis Courtinat, Christina de Middel, Stéphane Couturier, Frédéric Nauczyciel, Jacques Henri Lartigue, Pierre Jamet, Raynal Pellicer, Studio Fouad, Erik Kessels.
 2014 : 45e edition (July 7 - September 21)
Exhibitions: Lucien Clergue, Christian Lacroix, Raymond Depardon, Léon Gimpel, David Bailey, Vik Muniz, Patrick Swirc, Denis Rouvre, Vincent Pérez, Chema Madoz, Élise Mazac, Robert Drowilal, Anouck Durand, Refik Vesei, Pleurat Sulo, Katjusha Kumi, Ilit Azoulay, Katharina Gaenssler, Miguel Mitlag, Victor Robledo, Youngsoo Han, Zhang Kechun, Pieter Ten Hoopen, Will Steacy, Kudzanai Chiurai, Patrick Willocq, Ciril Jazbec, Milou Abel, Sema Bekirovic, Melanie Bonajo, Hans de Vries, Hans Eijkelboom, Erik Fens, Jos Houweling, Hans van der Meer, Maurice van Es, Benoît Aquin, Luc Delahaye, Mitch Epstein, Nadav Kander.
 2015 : 46e edition (July 6 - September 20)
Artistic director: Sam Stourdzé

Exhibitions: Walker Evans, Stephen Shore, Robert Venturi, Denise Scott Brown, Toon Michiels, Olivier Cablat, Markus Brunetti, Paul Ronald, Sandro Miller, Eikoh Hosoe, Masahisa Fukase, Daido Moriyama, Masatoshi Naito, Issei Suda, Kou Inose, Sakiko Nomura , Daisuke Yokota, Martin Gusinde, Paolo Woods, Gabriele Galimberti, Natasha Caruana, Alex Majoli, Paolo Pellegrin, Ambroise Tézenas, Thierry Bouët, Anna Orlowska, Vlad Krasnoshchok, Sergiy Lebedynskyy, Vadym Trykoz, Lisa Barnard, Robert Zhao Farhui, Julián Barón, Delphine Chanet, Omar Victor Diop, Paola Pasquaretta, Niccolò Benetton, Simone Santilli, Dorothée Smith, Rebecca Topakian, Denis Darzacq, Swen Renault, Paolo Woods, Elsa Leydier, Alice Wielinga, Cloé Vignaud, Louis Mattonet Pablo Mendez.
 2016 : 47e edition (July 4 - September 25)
Artistic director: Sam Stourdzé

Exhibitions: Sid Grossman, Ethan Levitas, Garry Winogrand, Peter Mitchell, Eamonn Doyle, William Klein, Christian Marclay, Bernard Plossu, Charles Fréger, Sara Galbiati, Peter Helles Eriksen, Tobias Selnaes Markussen, Maud Sulter, Laia Abril, Piero Martinello, João Pina, Stéphanie Solinas, Yan Morvan, Alexandre Guirkinger, Don McCullin, PJ Harvey & Seamus Murphy, Yann Gross, Alinka Echeverría, Maurizio Cattelan & Pierpaolo Ferrari, Augustin Rebetez, Frank Berger, Stephanie Kiwitt, Basma Alsharif, Daisuke Yokota, Marie Angeletti, Christodoulos Panayiotou, Nader Adem, Sarah Waiswa, Beni Bischof, Sara Cwynar.
 2017 : 48e edition (July 3 - September 19)
Artistic director: Sam Stourdzé

Exhibitions: Joel Meyerowitz, Michael Wolf, Audrey Tautou, Kate Barry, Roger Ballen, Marie Bovo, Mathieu Asselin, Gideon Mendel, Karlheinz Weinberger, Samuel Gratacap, Mathieu Pernot, Niels Ackermann, Sébastien Gober, Yves Chaudouët, Guillaume Herbaut, Eleonore Lubna, Dominique Auerbacher, Gabriele Basilico, Alain Ceccaroli, Despatin & Gobeli, Robert Doisneau, Tom Drahos, Pierre de Fenoÿl, Jean-Louis Garnell, Albert Giordan, François Hers, Josef Koudelka, Christian Milovanoff, Sophie Ristelhueber, Holger Trülzsch, Dune Varela, Christophe Rihet, Masahisa Fukase, Julián Barón, Ricardo Cases, Federico Clavarino, David Hornillos, Alejandro Marote, Óscar Monzón, Bernardita Morello, Miren Pastor, Michele Tagliaferri, Fosi Vegue, Antonio M. Xoubanova, Julie Balagué, Vincent Fillon, Bruno Fontana, Jean Noviel, Camille Richer, Meead Akhi, Azadeh Akhlaghi, Ali & Ramyar, Saba Alizadeh, Hoda Amin, Hawar Amini, Abbas Attar, Fatemeh Baigmoradi, Dadbeh Bassir, Erfan Dadkhah, Solmaz Daryani, Gohar Da shti, Alireza Fani, Hamed Farhangi, Arash Fayez, Shadi Ghadirian, Jassem Ghazbanpour, Azin Haghighi, Ghazaleh Hedayat, Bahman Jalali, Rana Javadi, Poolad Javaher Haghighi, Alborz Kazemi, Babak Kazemi, Kaveh Kazemihi, Mehregan Kazemihi, Mehregan Kazemi , Abbas Kiarostami, Gelareh Kiazand, Abbas Kowsari, Yalda Moaiery, Sasan Moayyedi, Mehran Mohajer, Mehdi Monem, Amir Mousavi, Sahar Mokhtari, Tahmineh Monzavi, Mehran Naghshbandi, Azin Nafarhaghimaghi, Nikrahoo Nafarhaghimaghi & Mortrahoo Nafarhaghimaghi, Azin Nafarhaghimaghi, Mehran Naghshbandi, Azin Nafarhaghimaghi Narzi, Nikrahoo Zaker Zamezamezamezamezamezamezamezamezamezamezamezamezamezamezamezamezamezamezamezamezamezamezamezamezamezam Rastani, Ghazaleh Rezaei, Behnam Sadighi, Majid Saeedi, Omid Salehi, Hasan Sarbakhshian, Jalal Sepehr, Bahram Shabani, Noushin Shafiei, Hashem Shakeri, Jalal Shams Azaran, Sina Shiri, Arya Tabandehpoor, Takhazamdi Tabateehpoor, Takhazamdi Tabatian Tirafkan, Mehdi Vosoughnia, Mohsen Yazdipour, Hasti Zahiri, Maryam Zandi.
 2018 : 49e edition (July 2 - September 23)
Artistic director: Sam Stourdzé

Exhibitions: William Wegman, Robert Frank, Raymond Depardon, Paul Graham, Taysir Batniji, Laura Henno, Michael Christopher Brown, Jane Evelyn Atwood, Gregor Sailer, Baptiste Rabichon, Ann Ray, René Burri, Jean-Luc Godard, Dmitry Markovet Picasso.
2019 : 50e edition (July 1 - September 22)
Artistic director: Sam Stourdzé

Exhibitions: Edward Weston, Lucien Clergue, Eve Arnold, Abigail Heyman, Susan Meiselas, Helen Levitt, Libuše Jarcovjáková, Alberto García-Alix, Ouka Leele, Pablo Pérez-Mínguez, Miguel Trillo, Tom Wood, Ying Ang, Matthew Casteel, David Denil , Yvonne De Rosa, Isa Ho, Chia Huang, Hou I-Ting, Dominique Laugé, Manuel Rivera-Ortiz, Evangelía Kranióti, Man Ray, Germaine Krull, Berenice Abbott, László Moholy-Nagy, Florence Henri, Claude Martin-Rainaud, Philippe Chancel, Randa Mirza, Camille Fallet, Guillaume Simoneau, Laurence Aëgerter, Lionel Astruc, Erick Bonnier, Marjan Teeuwen, Pixy Liao, Yann Pocreau
The exhibitions of 2000s
2000 : 31e editing
Tina Modotti, Jakob Tuggener, Peter Sakaer, Masahisa Fukase, Herbert Matter, Robert Heinecken, Jean-Michel Alberola, Tom Drahos, Willy Ronis, Frederick Sommer, Lucien Clergue, Sophie Calle…
2001 : 32e editing
Luc Delahaye, Patrick Tosani, Stéphane Couturier, David Rosenfeld, James Casebere, Peter Lindbergh, Jonathan Abbou ...
2002 : 33e edition (July 6-September 8)
Guillaume Herbaut, Baader Meinhof, Astrid Proll, Josef Koudelka, Gabriele Basilico, Rineke Dijkstra, Lise Sarfati, Jochen Gerz, Collection Ordoñez Falcon, Larry Sultan, Alex Mac Lean, Alastair Thain, Raeda Saadeh, Zineb Sedira, Serguei Tchilikov, Jem Southam, Alexey Titarenko, Andreas Magdanz, Sophie Ristelhueber…
 2003 : 34e edition (July 5-October 12)
Collection Claude Berri, Hou Bo4, Lin Tianmiao & Wang Gongxin, Xin Danwen, Gao Bo, Shao Yinong & Mu Chen, Hong Li, Hai Bo, Chen Lingyang, Ma Liuming, Hong Hao, Naoya Hatakeyama, Roman Opalka, Jean-Pierre Sudre, Suzanne Lafont, Corinne Mercadier , Adam Bartos, Marie Le Mounier, Yves Chaudouët, Galerie VU, Harry Gruyaert, Vincenzo Castella, Alain Willaume, François Halard, Donovan Wylie, Jérôme Brézillon & Nicolas Guiraud, Jean-Daniel Berclaz, Monique Deregibus, Youssef Nabil, Tina Barney…
 2004 : 35e edition (July 8-September 19)
Dayanita Singh, The Lodz Ghetto Archives, Stephen Gill, Oleg Kulik, Arsen Savadov, Keith Arnatt, Raphaël Dallaporta, Taiji Matsue, Tony Ray-Jones, Osamu Kanemura, Kawauchi Rinko, Chris Killip, Chris Shaw, Kimura Ihei, Neeta Madahar , Frank Breuer, Hans van der Meer, James Mollison, Chris Killip, Mathieu Pernot, Paul Shambroom, Katy Grannan, Lucien Clergue, AES + F, György Lörinczy…
 2005 : 36e edition (July 5-September 18)
Collection William M. Hunt, Miguel Rio Branco, Thomas Dworzak, Alex Majoli, Paolo Pellegrin, Ilkka Uimonen, Barry Frydlender, David Tartakover, Michal Heiman, Denis Rouvre, Denis Darzacq, David Balicki, Joan Fontcuberta, Christer Strömholm, Keld Helmer-Petersen ...
s 2006 : 37e edition (July 4-September 17)
American photography through the French collections, Robert Adams, Cornell Capa, Gilles Caron, Don McCullin, Guy Le Querrec, Susan Meiselas, Julien Chapsal, Michael Ackerman, David Burnett, Lise Sarfati, Sophie Ristelhueber, Dominique Issermann, Jean Gaumy, Daniel Angeli, Paul Graham, Claudine Doury, Jean-Christophe Béchet, David Goldblatt, Anders Petersen, Philippe Chancel, Meyer, Olivier Culmann, Gilles Coulon, Gilles Leimdorfer,…
2007 : 38e edition (July 3-September 16)
60 years of Magnum Photos, Pannonica by Koenigswarter, Le Studio Zuber, Indian Album Collections of the Alkazi Collection, Alberto Garcia-Alix, Raghu Rai, Dayanita Singh, Nony Singh, Sunil Gupta, Anay Mann, Pablo Bartholomew, Bharat Sikka , Jeetin Sharma, Siya Singh, Huang Rui, Gao Brothers, RongRong & inri, Liu Bolin, JR…
2008 : 39e edition (July 8-September 14)
Richard avedon, Grégoire Alexandre, Joël Bartoloméo, Achinto Bhadra, Jean-Christian Bourcart, Samuel Fosso, Charles Fréger, Pierre Gonnord, Françoise Huguier, Grégoire Korganow, Peter Lindbergh, Guido Mocafico, Henri Roger, Paolo Roversi, Joachim Schmid, Georges Tony Stoll, Patrick Swirc, Tim Walker, Vanessa Winship, Marikel LAHANA, Sung-Hee Lee, Christophe Mattern…
2009 : 40e edition (July 7-September 13)
Robert Delpire, Willy Ronis, Jean-Claude Lemagny, Lucien Clergue, Elger Esser, Roni Horn, Duane Michals, Nan Goldin (guest of honor), Brian Griffin, Naoya Hatakeyama, JH Engström, David Armstrong, Eugene Richards, Martin Parr, Paolo Nozolino…
---
Eric CANTO Photographer: Concert photos, portraits, album covers.
Visit my portfolio Visit the blog Visit the shop contact me