Où a lieu le Main Square festival?

The music festival  Main Square Festival  se déroule le premier week-end de juillet dans la Citadelle d'Arras. Le festival aura lieu le 30 Juin, 1er et 2 Juillet 2023. Une des caractéristiques de ce festival est son programme international et l'emplacement de la citadelle d'Arras, classée au patrimoine mondial de l'UNESCO.

A fairly magical place for a concert photographer with a sumptuous program. Metallica went through Main Square but also Prince…
Main Square Festival: the beginnings in 2004
The Main Square Festival began in 2004 with a single
placebo concert
in the center of Arras and ten years later it became a
important festival in France
and even in Europe. This year, it should receive more than 130,000 spectators in the castle (Citadel) which has lived since 2010.
Since its inception, the main square has played some of Arras's biggest music stars. Its history is also marked by controversy and setbacks, which date back to ten years of festivals.
In July 2004, it was not called the main square and it was not yet a festival. The first part was provided by the Nordic rock band Gomm. The first edition was an outdoor placebo concert organized by producer France Leduc under the luxurious decoration of Arras Grand Place.
Main Square Festival: The 2005 edition
The 2005 edition is very similar to the previous edition - same date, same decoration, same price - but the organization commissioned another production company to use it. As a result, it was not officially considered a version of the Grand Place.
There are two headlines on the show: Kyo's Frenchman (still a follower of the popular Le Chemin) and Canadian pop / punk group Sum 41.
Main Square Festival: The turn of the 2008 edition
The 2008 edition marks a new stage in the history of the festival: it now spans three days and is now supported by a global production giant: Live Nation.
The festival is now able to attract several great international caliber such as The Chemical Brothers and Radiohead, which will offer a grandiose and enchanting show on the Grand'Place thanks to connections with the Belgian Rock Werchter Festival, which takes place the same weekend
The main square becomes a great war machine which creates tensions with the merchants of the Grand-Place, forced for example to sell only the partner beer of the festival. Mika, BB Brunes and a dozen other groups and artists are also in the program of the festival that year. With more than 60,000 spectators present, this edition is a great success.
That year, Live Nation also offered two "extras" on the Grand Place outside the festival's programming: a concert on July 7 by Céline Dion, then another by Metallica, on August 8, under the label "Rock en France ".
L'histoire du Main Square Festival
The Main Square Festival can accommodate around 30,000 festival-goers per day
Où acheter ses Billets pour le Main Square Festival ?
La billetterie ouvrira ses portes le 30 novembre 2022 à 10h. Pour le moment seul le site du Festival annonce les premières programmations mainsquarefestival.fr/
Pour le moment sont annoncés Maroon 5 le vendredi 30 juin, Aya Nakamura et Orelsan le samedi 1er juillet, Macklemore  et David Guetta le dimanche 02 juillet.

Comment aller au Main Square Festival?
Cette édition du Main Square Festival se déroulera dans la Citadelle d'Arras, le 30 juin, 1er et 2 juillet 2023. L'entrée publique du festival s'effectue par la Porte Royale de la Citadelle, depuis le Boulevard du Général De Gaulle.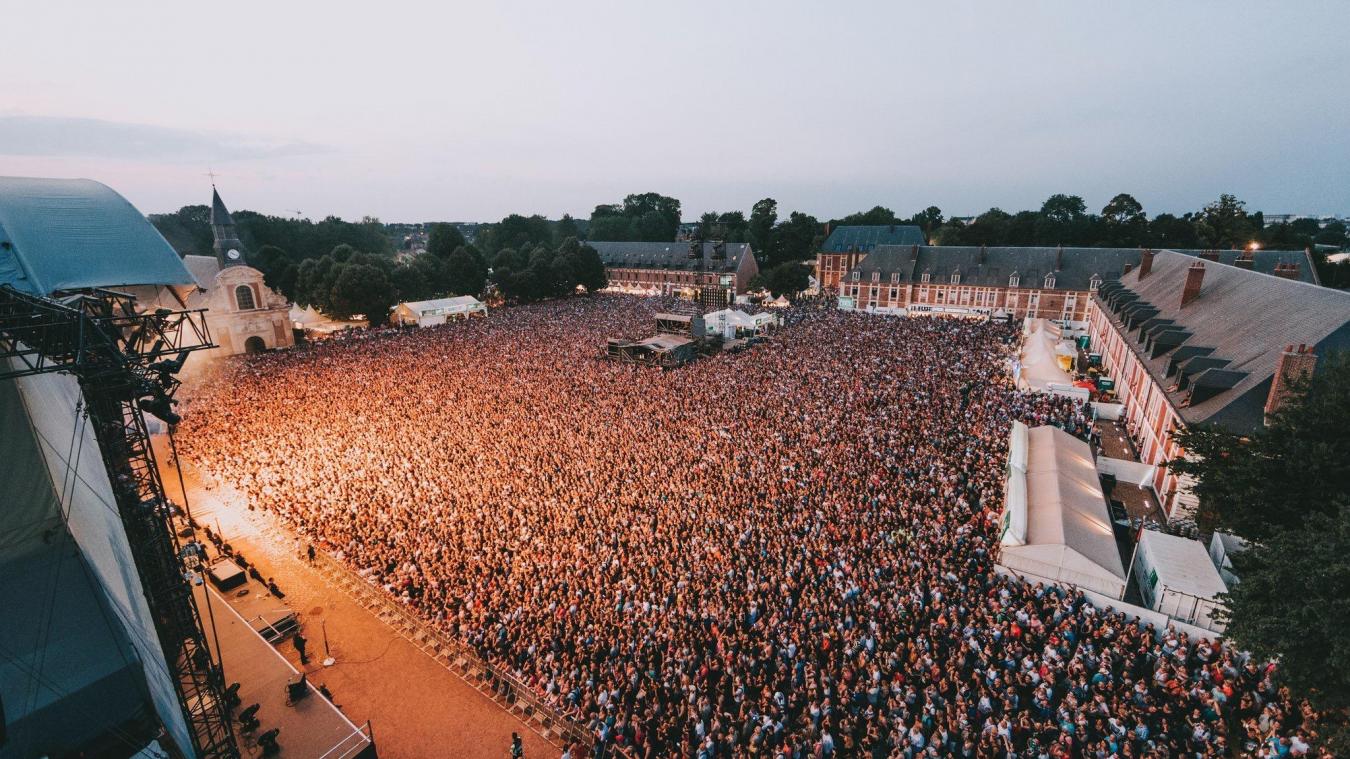 Main Square Festival programme : les 7 dernières années
Main Square Festival – Edition 2022
Louane, SCH, Angèle, DJ Snake, Yungblud, Sting, Feu ! Chatterton, Niska, Alan Walker, Matthieu Chedid, Black Eyed Peas, Vald, Twenty One Pilots, Skip The Use…
Main Square Festival - Edition 2020
Twenty One Pilots • Sting • -M- • Black Eyed Peas • Pixies • LP - Nekfeu • Sum 41 • Cage The Elephant • Alan Walker • Vald • Therapie Taxi • Koba LaD • Supertramp's Roger Hodgson • Larkin Poe • Jehnny Beth • Brass Against • RÜFÜS DU SOL • Alec Benjamin • Last Train • Caballero & JeanJass • Tones And I • Izia • Marcel and his orchestra • Henri PFR • Yuzmv • Madeon
Main Square Festival - Edition 2019
DJ Snake • Christine and The Queens • Damso • Martin Garrix • Ben Harper & The Innocent Criminals 6Charlotte de Witte • Skip the Use • Cypress Hill • Angèle • Lomepal • Arnaud Rebotini • Editors • Eddy de Pretto • Jain • Bring Me The Horizon • Macklemore • Christine and the Queens • Bekar • Edgär • Editors • Rival Sons • Tamino • Bigflo and Oli • Bring Me the Horizon • The John Butler Trio • Idles • Jonathan Wilson • Old Tree'z • Bisou Bisou • Caravan Palace • Gavin James • Miles Kane • Lizzo • The Cardboard Rappers • Agar Agar • Shame • Warhola • Todiefor • Masego • Maggie Rogers • Matt Corby
Main Square Festival - Edition 2018
Depeche Mode • Queens of The Stone Age • Orelsan • Nekfeu - Jamiroquai • Liam Gallagher • IAM • Justice • Girls in Hawaii • The Breeders • The Courteeners • Youngr • Wolf Alice • The Blaze • Jungle • Pleymo • Tom Walker • Portugal. The Man • Romeo Elvis • Kid Francescoli • The Hunna • Double T • PVRIS • Black Foxxes • Baasta! • Okay Monday • Loïc Nottet • Damian Marley • BB Brunes • Nothing But Thieves • Gojira • Boris Brejcha • Paul Kalkbrenner • Feder
Main Square Festival - Edition 2017
Radiohead • System of a Down • Major Lazer - Biffy Clyro • Vitalic • Machine Gun Kelly • Die Antwoord • Jain • Kaleo • Kungs • Dirtyphonics • Xavier Rudd • June Bug • Savages • The Woman • Seasick Steve • Mark Lanegan Band • Highly Suspect • Above and Beyond • Frank Carter And The Rattle Snakes • Don Broco • The Inspector Cluzo
Main Square Festival - Edition 2016
Les Insus (Phone) • Macklemore & Ryan Lewis • The Offspring • Iggy Pop - Disclosure • Louise Attack • Jake Bugg • Ellie Goulding • Birdy Nam Nam • Lonely The Brave • Mass Hysteria • Yelawolf • Jeanne Added • Flume • Boys Noize • Cardri • Bear's Den • Nathaniel Rateliff • Marina Kaye • X Ambassadors • Nekfeu • Salut c'est cool • EVRST • Tiggs Da Author • A-Vox • LEJ • Years & Years • Odesza • Walk off the Earth • The Struts • Last Train • Band of Horses • Ghinzu • Editors • Cayman Kings • The London Souls
Main Square Festival - Edition 2015
Lenny Kravitz • Muse • Shaka Ponk- Pharrell Williams • Lilly Wood • Mumford & Sons • Skip The Use • Patrice • Rudimental • Hozier • Twin Atlantic • Tiken Jah Fakoly • The Script • Rival Sons • IAM • Lindsey Stirling • BRNS • ILoveMakonnen • Isaac Delusion • James Bay • Oscar and the Wolf • Kodaline • Royal Blood • Sam Smith • Rone • Charli XCX • The Avener • Fakear • Circa Waves • The Arrogants • A-Vox • Tim Fromont Placenti • Sheppard • Coasts • Josef Salvat
---
Eric CANTO Photographe : Photos de concerts portraits, pochettes d'albums.
Visit my portfolio Visit the blog Visit the shop contact me
---
The uncertainty of the 2020 edition
The Main square festival 2020 canceled?
Will there be a Main Square 2020 festival? As the country is closed for two weeks to deal with the Covid-19 epidemic, the number of calls for cultural events is increasing. Will there be a festival in the main square that will take place in Arras from July 3 to 5? The first warning shot at summer festivals was released on March 18.
On that day, the bands at the legendary English festival Glastonbury announced that the 2020 edition, which was scheduled to take place June 24-28, would not take place. Since then, the question of canceling these events has inevitably been justified. And what will happen to the festival in the main square scheduled for a week after the festival in England?
Those who follow the festival's news on Facebook will have noticed that the festival's communication is now focused on how to deal with times of confinement while highlighting the artists scheduled for this 2020 edition.
Nothing about a possible cancellation. Apart from this message reminding the sanitary rules: "Only together can we guarantee a summer full of music, entertainment, travel, sports, and friendships. "
The first shock regarding summer festivals was given on March 18th. That day, the teams of the legendary English festival Glastonbury announced that the 2020 edition, which was to take place from June 24 to 28, would not take place.
Obviously, since then, the question of canceling these events has become legitimate. And what will happen to the Main square festival scheduled a week after the English festival?
Glastonbury Festival "We are so sorry to announce this, but we are going to have to cancel Glastonbury 2020. Tickets for this year will roll over to next year. Full statement below and on our website. "
Mayor Arras Frédéric Leturque really doesn't know any more: "We are meeting in mid-May to assess the situation. There is no going back today. We are paying close attention to the situation. We were lucky that the market place took place in early July. He contacted the festival director, Armel Campagna, who said "it is still a bit early" to answer the question. Like everyone else, he remains suspended on the decisions of the government.
To be continued ...