The concept of the book
They enter the stage, pushing aside the celebrity's curtains with one hand, and in front of them, suddenly, thousands of looks impatient for the ceremony to begin ... They face the audience and immediately a mask covers their face, like a second skin . And yet the mask sometimes cracks. A sudden shyness, a moment of withdrawal, of doubt or of rage.
A fleeting and sincere return to oneself, like a word exchanged between the being and his double. So the human is exposed and transcends the character… This series of concert photos proceeds from this idea, or more precisely from this quest: to catch in the act, in the middle of a spectacle of collective blindness or behind the stage, this fragile in-between, this suspended moment when the artist reveals himself to him even as it is and not as you think you see it.
The author of the book "A MOMENT SUSPENDED IN TIME"
" Jphotography of the artists on stage, on tour, in studio, backstage, I do concert photos from a decade.
These 10 years have allowed me to meet a lot of musicians, to cross France, Belgium, to land in London, in Montreal, to go to bed in tour buses in Switzerland to wake up in Germany, to travel more than 100,000 km,…
… To take my photos with Bjork in a bathrobe in his dressing room, to eat between The Hives and Disclosure, to ride a quad with Slipknot, to be invited to the world's largest Apple store in London to give a conference ...
… To create the last 6 album covers for Mass Hysteria, the "ordinary monster" by Lofofora, the Jazz album by Olivia Ruiz, the first Bukowski, by shooting Suicidal tendencies or Ghost in a toilet, drinking shots while watching Lemmy play pinballattend nearly 700 concerts...
… To be official photographer of major festivals, to test alcohol from the boxes to Eurocks, at Hellfest, at Sonisphere, at Heavy Montreal, to Main Square, in Garorock, in tiny or very large venues, to take end-of-concert photos with 50,000 people raising their arms, to drink a few beer trailers, to go to bed too late and wake up too early, to cross this frenzy to capture a few moments. "
Concert Photos from the book:
Slipknot, The Cure, Muse concert photos, Public Enemy, concert photos of Rihanna, The Kills, Alicia Keys, Suicidal Tendencies, U2, Kiss, Korn, Aaron, Arthur H, Jay Z, concert photos of Kiss, photos concert by Rammstein,
Jack White, concert photos of Mass Hysteria, Agnes Obel, concert photos of Iggy Pop, M, concert photos of Slash, No One Is Innocent, concert photos of Bjork, Neil Young, Asgeir, Airbourne, Aqme, Depeche Mode,
Concert pics of Nin Inch Nails, Olivia Ruiz, The Arrs, Refused, concert pics of Paul Mc Cartney, Lenny Kravitz, Walls Of Jericho, Massive Attack, Kezia Jones, Stromae, Sting, The Bloody Beetroots, Sick Ofit All, The Dead Weater, Motorhead, Arctic Monkeys, Rodriguez Jr, Jane's Addiction, Flea, Lee Fields, concert photos of Jamie Cullum, Tricky, Royal Republic, Dead Weather, Bring Me The Horizon, etc…
ORDER THE BOOK
Characteristics of the book:
208 page book
Large format: 24 x 32 cm
 Weight (approx): 1.52 kg
 The French language
 Paper: 150 g / m2 - coated mod. satin
 French format
 Brochures sewn on round back + Matching slicer
 Cover laminated on cardboard 24 / 10th
 Responsible purchasing and printing charters
 Imprim'vert label
 FSC (Forest Stewardship Council)
 PEFC ™ (Program for the Endorsement of Forest Certification)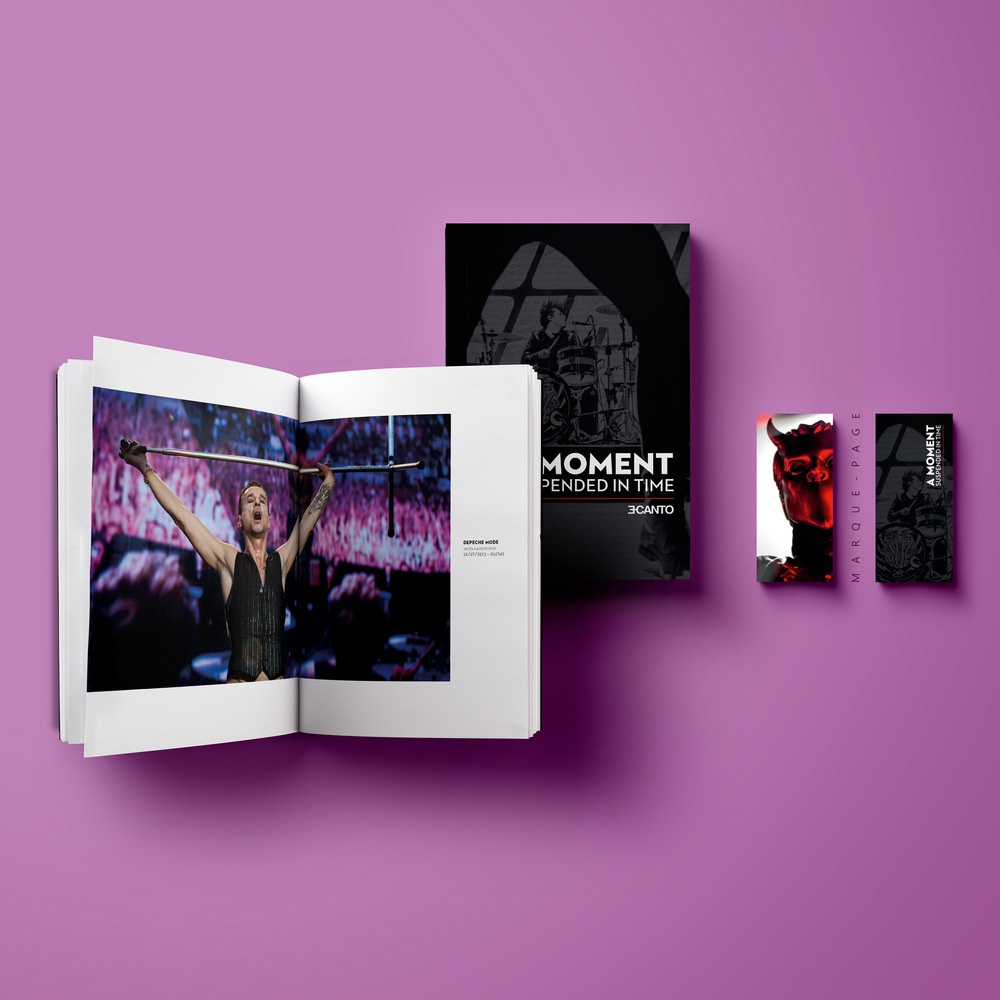 Concert photo book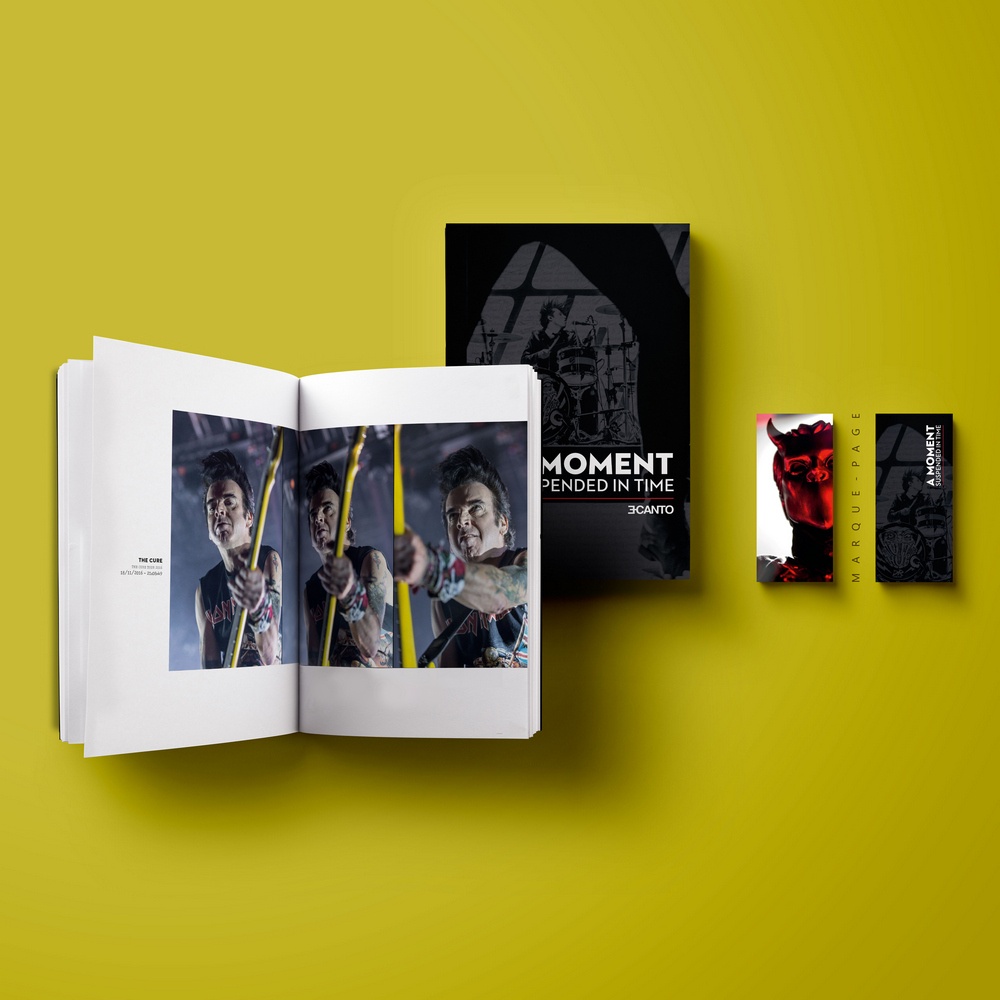 Concert photo book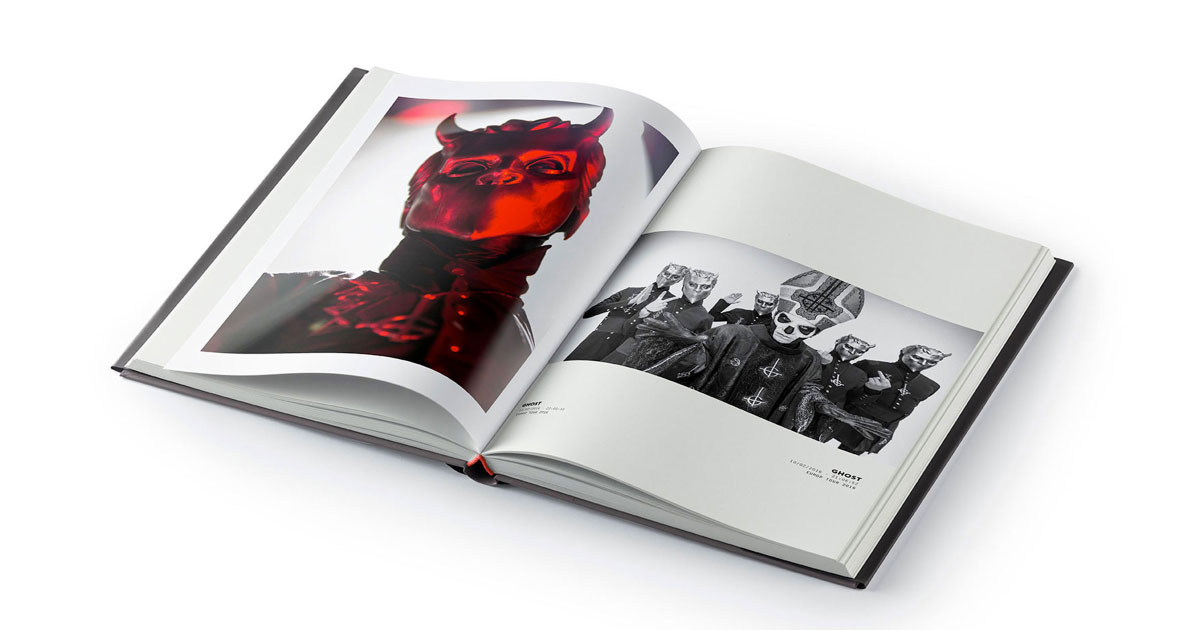 ---
Eric CANTO Photographer: Concert photos, portraits, album covers.
Visit my portfolio Visit the blog Visit the shop contact me
---
Concert photo book: Interview for Daily Rock by Nicolas Keshvary
Eric Canto, well known in the world of photography and music, is an outstanding photographer, with crazy talent and a huge heart. But let's stop the flattery, because if, to this day, he is very humble, he would risk quickly taking a big head.
On the occasion of the upcoming release of his book "A suspended moment in time", he reveals the secrets of his conception to us, in a rather relaxed atmosphere! The first words of the book sum up the idea of this book: 
" They enter the stage, pushing aside the celebrity's curtains with one hand, and in front of them, suddenly, thousands of looks impatient for the ceremony to begin ... They face the audience and immediately a mask covers their face, like a second skin . "
First of all Eric, not all of our readers know you yet, so can you introduce yourself in a few words?
I've been doing concert photos for ten years now, for labels, magazines and artists. I do concert photos, but also portraits, the design of album covers for press photos and the communication that revolves around their release.
 A lot of people know you through your work with the Mass Hysteria. Who are the other artists that you have worked with?
 Indeed, I am mostly known in the metal world thanks to the Mass Hysteria albums that I made, but I have also worked with groups like Lofo, or Unswabbed. But I'll surprise you, I also worked with Olivia Ruiz, and quite recently with comedy artists like Pierre Emmanuel Barré.
I mainly work on favorites depending on the encounters I can make, but the base remains above all metal and rock.
 Out of all of your artistic work on the different albums, which one, to your taste, is the most successful or successful?
 In fact there are two, not rather three in the end (laughs)! I'm pretty happy with the last Mass (Dark Matter) studio album, because it was "delivered in pain".
There was a lot of thought and a sharp work following eight months of discussion with Yann, who has very strong ideas and who knows where he wants to go precisely, whether musically or graphically.
For "Failles" it was easier, because he was looking for a "mouth", suddenly I looked for many months in foster homes and other places for a mouth.
For "Dark Matter" he had a precise idea of the model, the material, and we exchanged for a long time to achieve this result. The photo shoot that was done 3 months before the album was released was drastic and military. I like this cover, because we synthesized everything we wanted to do, an interesting variation.
The other cover that I like a lot is that of Lofofora "Ordinary Monster", because I did not have a lot of indications to arrive at the final project. Reno came by saying to me "I'm looking for a visual that can represent ordinary monstrosity without going through the simple cliché of the boss in a suit and tie as a monster".
It had to be much thinner. It was necessary to think, to seek, to test this idea of this type who moves away with his shovel with the vision of the guy on the ground who would have taken it. There is nothing monstrous or bloody, but one could well imagine that something had happened. To show this part of monstrosity that is hidden in each of us.
So we talked about what you did in the past, but you have new news, it's the release of your book. How did this idea come about?
The idea came to me a little over 8 months ago to make a concert photo book and someone reminded me on the subject some time later and told me about the participatory mode for the financing of this last.
I went on a concept to see if people were going to buy in or not. The idea of a concert photo book spoke to me, but was it going to speak to others?
SI was not interested in bringing out a book of concert photos in so many copies just for the fun of it.
The idea was to show my concept, just like I can do for an album cover and see if it might interest people or not, while being in control of what I wanted to do without any direction from anyone. .
And crowdfunding really makes it possible to do that, and to have complete freedom to do whatever I want to do. I hardly do an exhibition, but the idea of compiling my photos to present them started to germinate when I found the frame of what I wanted to do.
 Considering the multitude of pictures that you have been able to take, how did you choose the concert photos for the book?
 I'm not interested in showing a series of unrelated concert photos. Looking at his own photos and those of others, we notice over the years the path that the photographer takes.
In my case I noted that I was looking for very specific moments in my concert photos, whether in terms of the framing or the subject, moments when the artist is stripped with generally a light behind and few objects, and there is like a moment of wavering, a moment suspended.
I think it must come from my studies in psychology which makes me wonder about the presence of a person in front of a crowd of 50,000 people and what can be going on in his head at that moment.
To be honest, I don't just question myself, it fascinates me. The idea that an artist or a group puts on a mask at some point to face the public and endure the pressure that awaits them interests me a lot.
I realized that this is what I was looking for in most of my photos and decided to work with a writer friend and asked him to write down this idea in word on my photos that I had brought to him.
He wrote a text that expresses exactly what I wanted to say, and I decided to use it as a medium.
 Speaking about it, I remember an interview some time ago with Corey Taylor, the singer of Slipknot at the Eurockéennes where I asked him whether the contribution of the mask, which allows you to let go completely, is not a frustration at the end of not being recognized.
He told me that as soon asOnce the mask is put on, there is no longer any limit and that is saving, because we can afford anything. The mask is for him something liberating, a valve. 
So the content of the book is not a compilation of concert photos, these suspended moments reflect what can be found that can also be found backstage, in a dressing room, or behind the stage.
These are not necessarily dramatic moments, but it can be moments of laughter before going on stage for example.
Your book coming out in October, are you going to do a whole series of photos by then, is the choice of photos definitely made or could it still change by then?
 The choice will inevitably evolve, I have a lot of material and I will work with a graphic designer friend who does a fabulous layout job, to find the perfect connection between photos in graphics. It's not going to be the photo race.
I really have the freedom to do as I want without going through the approval of anyone, like a job that I can do for an artist and which must be validated upstream. It is also for me a possibility to put my work in perspective by keeping control at each moment of the creation of the book.
Bonus: 10 tips for capturing concert photos.
1. Turn off your flash
You're there and if you're lucky you might even be in the pit. The first main rule is to turn off your flash, whether it's on your phone or your camera. If you don't, you will invariably bore the band or artist and secondly, the pictures usually won't be that good. 
Try to use the existing lighting conditions. Often the lighting in small rooms will not be great; try to use it to your advantage by getting more creative with your angles.
2. Work quickly
If you're in the pit (the protected area between the stage and the crowd barrier) there are usually three songs and you only have 10-15 minutes to get the shots you need. 
Shoot diligently and make sure to cover as many angles and different group members as you can.
3. Observe and be aware
Watch how the group moves on stage, observe the interaction between the members of the group. Try to make sure you get a range of expressions, make sure your photos are clean without the microphones, etc. do not obstruct the singer's face.
4. Aim to get their best side
Are the images flattering? The members of the group are human; if a photo shows someone in a negative or unflattering way, throw it out. Shots showing emotion, raw energy, and dynamic expressions are great, but avoid overt double chins or bad angles as much as possible.
5. Master your camera
Whether you're shooting with a basic DSLR or even an iPhone, know what settings you'll be using ahead of time. My advice - if possible - is to shoot in RAW and with the camera in manual mode. Use an application such as Photoshop to edit your images.
SIf you are not familiar with imaging software, it can seem quite intimidating at first. But once you get used to it, it will dramatically improve the quality of your images.
6. Alternate the framing
Try to photograph a range of shapes and angles, take larger photos showing the artist in relation to the staging. One of the biggest mistakes people make is trying to crop too tightly. 
Try a mix of portraits and landscapes. If you have the opportunity to move around, shoot the artist from different positions. Try to incorporate the crowd in your photos, it can add atmosphere to your images.
7. Don't overdo the retouch
If you're using a photo editing app, don't overdo it. A recent trend is to oversaturate images and make them appear as if they had been taken in HDR, this can give a cartoonish effect and should be avoided.
8. Respect the audience
Whether shooting from the crowd or in the pit, always respect the audience and other photographers. Do not hold your camera in the air for long periods of time, show courtesy and respect, especially to the public who will have paid for their ticket and who may have even stood in line to get to the forward to see its view interrupted by you and your camera. 
9. Search on youtube…
If the band or artist is famous enough, search for YouTube videos from their current tour or check out the latest footage online. This will give you an indication of the shooting conditions and lighting, etc. Also, if you can expect some shots or other exciting times during the show.
10. Benefit from the experience
Shooting concert photos can be extremely difficult, but also a lot of fun.
Practice your art: most small rooms will allow you to use your camera, so shoot. Learn to be constructive with your images. Organize a website to illustrate your work. 
Once you have a portfolio, start reaching out to local groups and local venues and eventually you can start building a relationship that hopefully can one day get you paid for your images.