Je suis très heureux de vous annoncer la sortie de mon premier livre: "A MOMENT SUSPENDED IN TIME"
10 années de photo dans la musique, 700 concerts et prés de 100.000 km pour un livre composé de photos live, de portraits, de photos backstage.
• Livre de 208 pages
• Grand format : 24 x 32 cm
• Poids (approx) : 1,7 kg
• Langue : français
• Papier : 150 g/m2 – Couché mod. satiné
• Brochures cousues dos rond + Tranchefil assorti
• Couverture contrecollée sur carton 24/10ème
• Label Imprim'vert
• FSC (Forest Stewardship Council)
• PEFC™ (Program for the Endorsement of Forest Certification)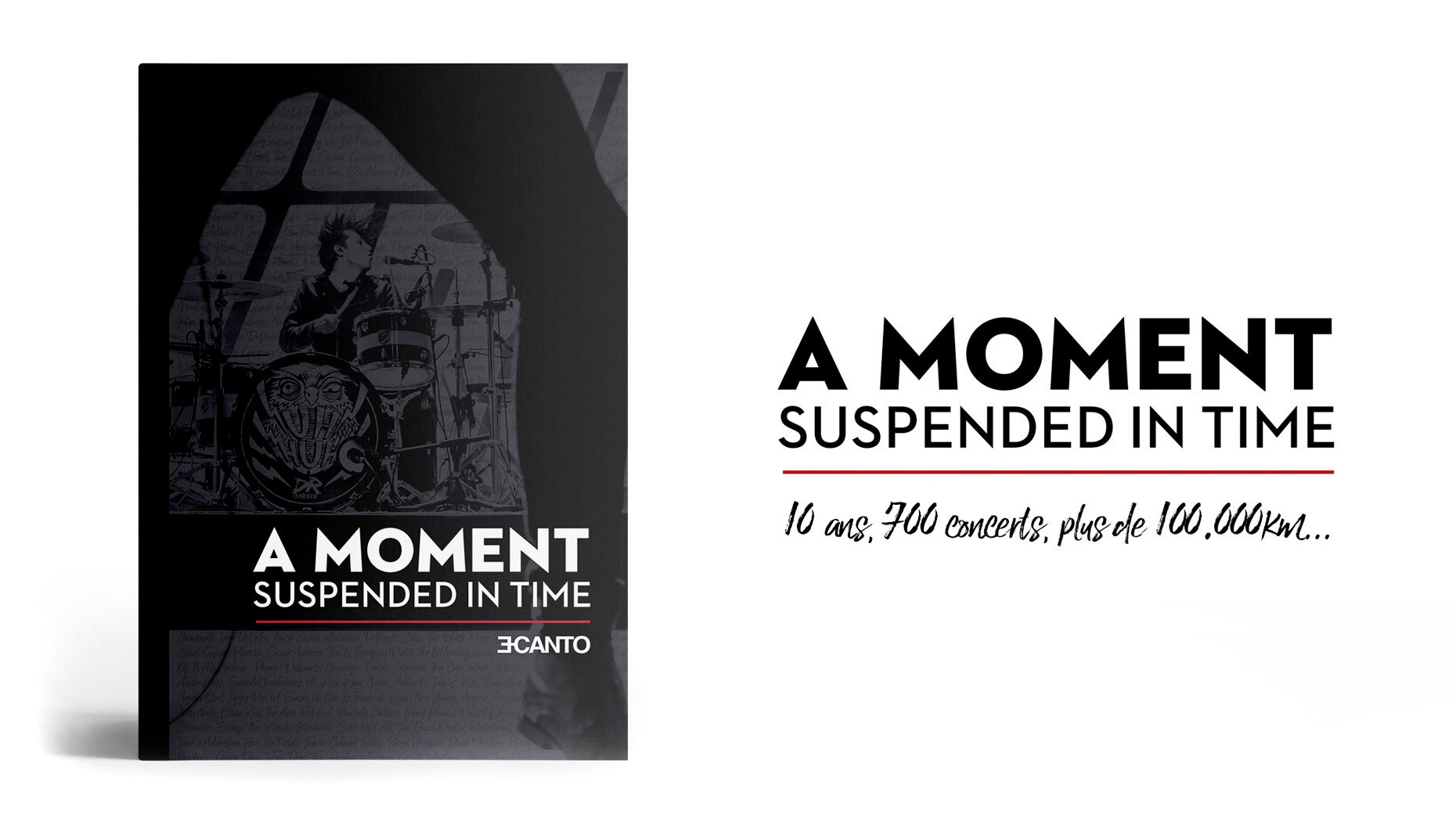 Le livre: Ils entrent en scène en écartant d'une main les rideaux de la célébrité, et face à eux, soudain, des milliers de regards impatients que la cérémonie commence… Ils font face au public et aussitôt un masque couvre leur visage, comme une seconde peau. Et pourtant le masque, parfois, se fissure. Une timidité soudaine, un moment de repli, de doute ou de rage. Un retour sur soi fugace et sincère, comme un mot échangé entre l'être et son double. Alors l'humain s'expose et transcende le personnage… Cette série de photos procède de cette idée, ou plus justement de cette quête : prendre sur le fait, au beau milieu d'un spectacle d'aveuglement collectif ou derrière la scène, cet entre-deux fragile, ce moment suspendu où l'artiste se révèle à lui même tel qu'il est et non tel qu'on croit le voir.
Photos du livre: Slipknot, The Cure, Muse, Public Enemy, Rihanna, The Kills, Alicia Keys, Suicidal Tendencies, U2, Kiss, Korn, Aaron , Arthur H, Jay Z, Kiss, Rammstein, Jack White, Mass Hysteria, Agnes Obel, Iggy Pop, M, Slash, No One Is Innocent, Bjork, Neil Young, Asgeir, Airbourne, Aqme, Depeche Mode, Nin Inch Nails, Olivia Ruiz, The Arrs, Refused, Paul Mc Cartney, Lenny Kravitz, Walls Of Jericho, Massive Attack, Kezia Jones, Stromae, Sting, The Bloody Beetroots, Sick Ofit All, The Dead Weater, Motorhead, Arctic Monkeys, Rodriguez Jr, Jane's Addiction, Flea, Lee Fields, Jamie Cullum, Tricky, Royal Republic, Dead Weather, Bring Me The Horizon, Casseurs Flowters , Green Day, Julien Dore, The Prodigy, Slayer, Ghost, Machine Head, The Hives, Gossip, Gonzales, Oasis, Benjamin Clementine, Christophe, Elton John, Miossec, Gallows, No One Is Innocent, Robert Plant, Ben Harper & The Innocent Criminals, Lana Del Rey, Limp Bizkit, Metallica, Deftones, Eths, The Black Keys, Zucchero, Chemical Brothers, Missy Elliot, Gojira, Placebo, Skunk Anansie, The Xx, Gregory Porter, The Offspring, Lenny Kravitz, Blink 182, Rival Sons, Sick Of It All, Archive, Pharrel Williams, Converge, Down, Leonard Cohen,Zz Top, Marilyn Manson.
Commander le livre : CLIQUEZ ICI